5

/

5

(

2

ratings)
Riccione - Villages & Castles
Italy Bike Tours
Bike Riccione and explore Italy's most beautiful coast!
Interested in the Adriatic bike tours? No need to be intimidated by the mileage and the climbs of other Riccione cycling tours, now there is something for the more leisure minded cyclist.

Cycling Riccione allows escape from everything, take your time and follow itineraries that gently take you away from the chaotic traffic of the coast, from noisy and crowded places to submerge yourself in nature. The air is cool and lightly-fragranced with the smell of damp earth in the fields, of cut grass, of haystacks and the sweet and persistent scent of trees in bloom.

This is why Riccione can be defined as "a cycling tourist's paradise". Numerous paths of all kinds, varying in length and difficulty, attract thousands of enthusiasts each year, thanks also to the diverse scenery in this area. There are numerous different itineraries to choose from, ranging from a peaceful ride on flat terrain cycling along the coast and streams, to more demanding routes with steep slopes that lead to a host of medieval castles. If you desire a day trip by train, you can easily reach Tuscany which is only 38 miles (60 km) from Riccione.

If you prefer more mileage, challenge and road bike cycling, please take a look at our road bike version, Riccione.

Be sure to take a look at all our bike tours in Italy!

Pricing depends on time of booking. Please contact us.

extra

options

Payable upon arrival:

Excursion to San Marino: £ 6 $ 11 € 8 NOK 77 kr 71 $ 9 Excursion to bike shop "Boghetta" Bellaria: £ 6 $ 11 € 8 NOK 77 kr 71 $ 9 Per diem Garmin GPS: £ 16 $ 27 € 20 NOK 192 kr 177 $ 23   Per km assistance and bicycle recovery in case of a fall or accident:  £ 0 $ 1 € 1 NOK 5 kr 4 $ 1 Masseur and physiotherapist, 30 minutes:  £ 24 $ 41 € 30 NOK 288 kr 265 $ 35

Sportster 6061 Alloy  Hybrid:
Weekly: £ 87 $ 149 € 109 NOK 1045 kr 964 $ 125 ​Daily: £ 20 $ 34 € 25 NOK 240 kr 221 $ 29

Scott E Venture Electric Sportive:
Weekly: £ 111 $ 190 € 139 NOK 1332 kr 1230 $ 160 Per Diem: £ 22 $ 38 € 28 NOK 268 kr 248 $ 32

please

note

Price given is general price per person. Rates vary depending on season, availability and time of booking. Please call us for details. The earlier you book,  the better the price obtained

Rates are per person based on double occupancy.

Information to read before you book.

We recommend purchasing bike trip insurance.

† Currency exchange rate set 90 days before travel.

Travel

Fly to Bologna, Ancona, Rimini or Forli

Local Travel

Train or transfer to Riccione

Climate

Check local weather conditions prior to departure as that will help you prepare for the trip. Average high/low temperature in °F for Riccione, Italy is: March 53/37, April 60/44, May 69/51, June 77/59, July 80/62, Aug 80/62, Sept 73/57, Oct 64/50, and November 55/41

Remarks

Hotel Dory offers an entire itinerary for the non cycling companion. Ask us!
E bikes are now available!

---
Skill
Level
Routes are along side roads and some times cycle paths that are of dirt. There are five guided itineraries a week.covering between 25 to 38 miles. The terrain varies from flat to hilly with some slightly longer climbs that alternate with delightful descents. Ideal for "fair weather"cyclists with normal fitness and training. You will cycle bout 4 to 5 hours on your daily excursions.
Where
You'll Stay
The comfortable, modern Hotel Dory
What's
Included
All inclusive Services
Welcome drink, presentation of routes
Super half board: (Breakfast buffet, lunch buffet from 2 - 4 pm, dinner buffet
Water, wine, soft drinks with dinner
Every Monday, barbecue in the country house with wine and desserts
Sandwiches, bananas, water during rides
Traditional Romagna dinner with tasting of local homemade products and limoncino tasting session
Admission to the Aqua Wellness Area complete with swimming pool, whirlpools, Turkish bath, and sauna
Nirvana Spa (massage chair)
Transfer service from Rimini airport and railway station (8 am to 10 pm)
15 touring cycles available for around town
15 Nordic Walking carbon poles for hiking
5 Guided excursions
Laundry service for biking gear and shoe dryer (must purchase laundry bag @ €8)
Shoe drying facilities
50 detailed cycling routes
Mechanical assistance
Replacement bike if needed
In house mechanic for small repairs and fine tuning
Fully equipped workshop and washing area
Storeroom for personal bikes
Internet point and wireless connection
Idea formula, accommodations in "Dorine" room (12/14 m square) or mini apartments (27 - 31 m square), 50 m. distance from main hotel
Includes all of the above, plus:
€10 Euro Token to be spent at cyclists' market (minimum stay of 5 days)
Style formula, accommodations in Superior room (15 - 19 m), Junior suite (23 - 27 m square), or Fashion and Feeling Suite (Attic rooms of 50 m square)
Includes all of the above, plus:
Draft sodas and hot drinks, all you can drink all day
Complimentary T Shirt
€ 20.00 token to be spent at cyclists' market (minimum stay of 5 days).
Transfer service from Forlì, Ancona, Bologna, Rimini airports and Riccione train station from 8 am to 10.00 pm)
Daily admission to Riccione Swimming Municipal Pool
Assistance in case of falls
Special services for none biker / accompanying person
One cooking lesson on how to make pasta
Transfer to the barbecue Vecciano
Nordic walking sticks
2 weekly Nordic walking excursions: 3/4 hours, 7/8 km each
Boat excursion from April to September aboard an authentic "Goiter Sorrentino"
Transfer to and tasting of oil, wine, and cheese
One balsamic vinegar tasting
What's
Not Included
Helmet rental
Hybrid bicycle rental (Leicester Comfort Aluminum 6061 PG, Shimano 8 speeds)
Extra
Stay
Because this is a hotel based tour, you can shorten or lengthen your stay
Tour
Dates
Arrival daily, February through June, and September through November 2018
Day-To-Day
Itinerary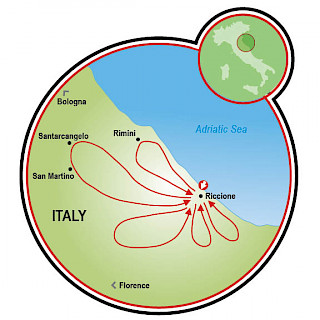 Bi weekly excursion programs:
Arrival to Hotel Dory
Santarcangelo
Albereto Castle and Vecciano
Tour of the Malatesta Castles
Rest day
Roman Rimini and Tasting of typical products
Gradara Castle
Departure or extension of stay
* Routes cover between 25 and 38 miles. (40 - 60 km) a day
SATURDAY:  Arrival to Hotel Dory
Individual arrival to Hotel Dory. Riccione is known as the "Green Pearl" of the Adriatic, precisely for the lush greenery that distinguishes it. Whoever chooses this location not only finds himself in the most renowned, fun and fashionable spot along the Adriatic coast, but also has the chance to combine enjoyment with passions for sport, nature and open air. In fact, apart from being by the sea, Riccione is surrounded by a scenic countryside, ideal for cycling. 
SUNDAY: Santarcangelo
Our first destination is the unique village of Santarcangelo, an ancient medieval village in the heart of Romagna, with its fortress, ancient
town center, caves and old press. We will follow a stretch that was where the tracks of the old Rimini-San Marino railway once lay.
MONDAY: Albereto Castle and Vecciano
This route follows narrow roads that wind their way through vineyards to the municipal tower of Montescudo (13th century) for a brief visit to the ancient medieval ice house and a well-earned coffee break.The small castle of Albereto is only a short distance away and offers excellent views of the ancient republic of San Marino and the sea.  You pass through Marano Nature Park, a habitat favored by majestic white herons, buzzards and birds of prey. After a short climb, you reach Vecciano for a well-deserved lunch break at the family house in the country.  Grilled meat, typical local cheeses, pasta served with tomatoes from the vegetable garden and lots of good wine will be served. You will also pay a visit to the old vinegar cellar to try some balsamic vinegar.
TUESDAY: Tour of the Malatesta Castles
Through corn fields, fields of sunflowers and olive groves, you will see some of the castles built by the powerful dynasty of the Malatesta –Montefiore, Mondaino and Saludecio – and also try some delicious "fossa cheese".
WEDNESDAY: Rest day
THURSDAY: Roman Rimini and Tasting of typical products
You  visit Rimini, Tiberius' Bridge and the Arch of Augustus, built by mighty Roman emperors. Then it is off  to the hills near Rimini to try some local products; a taste experience of the typical flavors of the land.
FRIDAY: Gradara Castle and the love story between Paolo and Francesca
After passing through the village of San Giovanni, the ancient granary of the Malatesta,and trying some traditional country-style bread, you head to Gradara, with its imposing fortified walls, the first outpost in defense of the coast.
SATURDAY: Departure or extension of your stay
San Bartolo Park
The Concha Valley and Vecciano
The Ancient Republic of San Marino
Rest Day
The Great Marechhia Valley and tasting of local products
Onferno and the nature reserve
Departure
*Routes cover between 25 and 38 miles. (40 - 60 km) a day
SUNDAY:  San Bartolo Park
Heading south, through the countryside of the Marche, with its fields of intensely-fragranced onions and cabbage, you reach Mount San Bartolo, on a cliff top that drops down to the sea, to follow the panoramic route with its extraordinary views of the coast.
MONDAY: The Concha Vaolley and Vecciano
An easy and gently-rolling route along the Concha Valley with a visit to an ancient "wash-house" and then on to Vecciano for an outdoor barbecue, a visit to the family's vegetable garden and the old vinegar cellar, with an opportunity to taste the famous balsamic vinegar.
TUESDAY: The Ancient Republic of San Marino
You scale Mount Titano, with its traditions and well-preserved mediaeval sites, taking the easier route. We'll have enough time
to visit the 3 towers and the narrow streets of one of the oldest republics in the world.
WEDNESDAY: Rest Day
THURSDAY: The Great Marechhia Valley and tasting of local products
Dominated by the ancient castles that overlook it, the Marecchia Valley helps you relive the emotions of ancient wayfarers heading to Rome. On the return journey, you stop to taste some local cheeses, olive oil, wine and typical products.
FRIDAY: Onferno and the nature reserve
On the border with the Marche region, under wild and majestic ravines live numerous species of animals, some protected others living wild: boars, porcupines, foxes and bats. You follow a road with little traffic and from the crest of a ridge, the wind and silence accompany you throughout the journey….
SATURDAY: Departure
Your bike tour in Italy will end after breakfast 
You can view all of our bike tours in Europe or look at our featured bike trips, specials, and news.
Email or Call 800-951-4384 +1 570-965-2064
---