5

/

5

(

1

review)
Riccione Bike Tour
Italy Bike Tours
Bike Italy along the beautiful Adriatic Coast!!
During this cycling vacation in Italy, you will stay at one of Italy's famed bike hotels, Hotel Dory. From the all inclusive services tailored to cyclists, to the incredible food, to the staff and guides, to unbelievable routes, it really is all about the bike, here.

Itineraries lead along rivers, pass through sixteenth-century villages, and climb to medieval fortresses. Cyclists will travel through charming territories on the border between Romagna, the Marche, and Tuscany. Hotel Dory has a program that has been tried, tested and perfected over the years with incredible and knowledgeable tour guides and varying levels of difficulty.

Even if you are taveling with a non- biker, there are plenty of other things to do. The hotel offers Nordic Walking poles, a cooking lesson, day trips to Ancona, Bologna or the UNESCO World Heritage town of Ferrara.

This is is a biker's dream, which is why we have also added Villages and Castles , for more leisure cycling.

Bring your passion, bring your energy, you can even bring your non cycling partner, as there is lots to do!

Highlights:

Incredible itineraries of varying difficulty levels
World class bike rentals available
All inclusive services for cyclists
Professonal cycling guides
Knowledgeable and attentive staff
Food, of course! (Afterall, you are in Italy)
Authentic expereriences that include a barbeque at the farm where you can visit the vinegar cellar and taste the locally produced balsamic

Make sure you take a look at our many other bicycle tours in Italy!

Prices vary depend on time of booking. Please provide us with your check-in and check out date and we will send a proposal to you.

All bikes are payable on arrival.

Road bike rental available (does not include  insurance):

Scott Addict Gravel 20
Weekly (6 days): $ 460 £ 228 $ 398 € 249 $ 470 kr 2807 $ 284 Additional day: $ 76 £ 37 $ 65 € 41 $ 77 kr 462 $ 47 Scott Addict 10
Weekly (6 days): $ 368 £ 182 $ 318 € 199 $ 375 kr 2243 $ 227 Additional day: $ 65 £ 32 $ 56 € 35 $ 66 kr 394 $ 40 Scott Solace 10
Weekly (6 days): $ 312 £ 155 $ 270 € 169 $ 319 kr 1905 $ 192 Additional day: $ 55 £ 27 $ 48 € 30 $ 57 kr 338 $ 34 Scott CR1 Pro Carbon
Weekly (6 days): $ 257 £ 127 $ 222 € 139 $ 262 kr 1567 $ 158 Additional day: $ 42 £ 21 $ 37 € 23 $ 43 kr 259 $ 26  

(All racing bikes are fitted with a pump, computer, spare tire repair kit, free water bottle and Look, Shimano SPD or normal pedals. The hotel can provide pedals: Look, Shimano SPD, Shimano SPD-SL or normal pedals. However, we recommend bringing your own pedals and do not forget your shoes!

extra

options

Optional insurance that covers damage of bike due to accident or fall: $ 30 £ 15 $ 26 € 16 $ 30 kr 180 $ 18 Weekly helmet rental: $ 22 £ 11 $ 19 € 12 $ 23 kr 135 $ 14 Excursion to San Marino: $ 15 £ 7 $ 13 € 8 $ 15 kr 90 $ 9 Hiking excursions (Tues. and Sun. are free), other days on demand with min. of 5: $ 28 £ 14 $ 24 € 15 $ 28 kr 169 $ 17 Per km assistance and bicycle recovery in case of a fall or accident:  $ 1 £ 0 $ 1 € 1 $ 1 kr 6 $ 1 Masseur and physiotherapist, 30 minutes:  $ 55 £ 27 $ 48 € 30 $ 57 kr 338 $ 34

please

note

Rates are per person based on double occupancy.

A non-refundable admin fee of 20 Euros per person is included in the deposit amount.

Information to read before you book.

We recommend purchasing bike trip insurance.

† Currency exchange rate set 90 days before travel.

Travel

Fly to Bologna, Ancona or Rimini

Local Travel

Please tell us which airport you will arrive to and we will assist with travel details.

Climate

Check local weather conditions prior to departure as that will help you prepare for the trip. Average high/low temperature in °F for Riccione, Italy is: March 53/37, April 60/44, May 69/51, June 77/59, July 80/62, Aug 80/62, Sept 73/57, Oct 64/50, and November 55/41.

Recommended

Bring your own pedals and cycling shoes. Helmet and bike bottle is provided free of charge.

Remarks

Shorter or longer stays acceptable by request. Helmet available for rental. Also available for an extra fee, 2 Vespa, 125 cc scooters and electric bikes Available for non-cycling guests: A barbecue at the hotels country home, transfer included , A hiking excursion, a minibus excursion to San Marino, a cooking class, Nordic walking poles, weekly markets at Rimini and Riccione, the wellness center.

---
Where
You'll Stay
The comfortable, modern Hotel Dory.
What's
Included
All inclusive Services
Welcome drink, presentation of routes
Super half board: (Breakfast buffet, lunch buffet from 2 - 4 pm, dinner buffet)
Water, wine, and soft drinks with dinner
Every Monday, barbecue in the country house with wine and desserts
Sandwiches, bananas, and water during rides
Traditional Romagna dinner with tasting of local homemade products and limoncello tasting session
Admission to the Aqua Wellness Area complete with swimming pool, whirlpools, Turkish bath, and sauna
Transfer service from/to Rimini airport and railway station (8 am to 10 pm)
15 touring cycles available for around town
15 Nordic Walking carbon poles for hiking
5 Guided excursions (several groups of different levels, each with a maximum of 15 to 18 cyclists)
Laundry service for biking gear and shoe dryer (must purchase laundry bag @ €8)
50 detailed cycling routes
Mechanical assistance
Replacement bike if needed
In house mechanic for small repairs and fine-tuning
Fully equipped workshop and washing area
Storeroom for personal bikes
Internet point and wireless connection
Idea formula
All-inclusive services plus accommodations in "Dorine" room (12/14 m square) or mini apartments (27 - 31 m square), 50 m. distance from main hotel includes all of the above, plus:
Transfer from/to Rimini airport and railway station (8 am to 10 pm)
€10 Euro Token to be spent at cyclists' market (minimum stay of 5 days)
Style formula
All-inclusive serives plus accommodations in Superior room (15 - 19 m), Junior suite (23 - 27 m square), or Fashion and Feeling Suite (Attic rooms of 50 m square)
Includes all of the above, plus:
Draft sodas and hot drinks, all you can drink all day
Complimentary T-Shirt
€ 20.00 token to be spent at cyclists' market (minimum stay of 5 days).
Transfer service from/to Ancona, Bologna and Rimini airports and from Riccione railway station (8 am - 10 pm) + € 9.00 per journey for every racing bicycle transported, for stays of at least 6 nights stay and booked at least 2 weeks in advance
Daily admission to Riccione Swimming Municipal Pool
Assistance in case of falls
Special services for none biker
One cooking lesson on how to make pasta
Transfer to the barbecue Vecciano
Nordic walking sticks
2 weekly Nordic walking excursions: 3/4 hours, 7/8 km each
Boat excursion from April to September aboard an authentic "Goiter Sorrentino"
Transfer to and tasting of oil, wine, and cheese
One balsamic vinegar tasting
What's
Not Included
Road bike rental available, payable upon arrival.
Look, Shimano SPD, Shimano SPD-SL or normal pedals provided. We recommend bringing your own pedals and cycling shoes
Tourist tax
Tour
Dates
2020
Preferred arrivals are on Saturday from March through November. Arrivals on other days are possible upon request. 
Skill
Level
This Italy bike tour is considered moderate to difficult, choose to ride for your level of fitness (see Day-to-Day).
Day-To-Day
Itinerary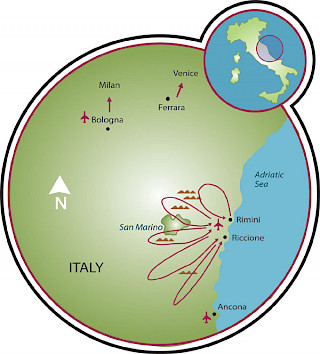 You can choose from various levels of difficulty and miles to bike each day. There are several groups of different levels departing each day. Below are examples of itineraries between 30 and 90 miles.  Every day, except on Wednesdays and Saturdays you can go out with a guide who accompanies the different groups. Every evening the route of the next day will be discussed.
1. The "Cappucino Light" group cycles between 60 to 70 km per day, average speed 16-18 km/hr. For cyclists who are not as well-trained and enjoy climbing at a lower and less intensive speed. The distances are shorter and the average speed is moderate.
2. The "Cappuccino" group rides between 70 to 90 km  per day with an average of 19 - 21 km/hr. This is for cyclists who not only love to cycle but also to enjoy nature and landscapes. Recommended for fairly well trained cyclists.
3. The "Super Cappuccino" is designed for the more competitive minded cyclist. This group covers 80 - 100 km but at a speed of 22-24 km/hr. Recommended for only well trained cyclists.
4. The "Limoncino" group is for very well-trained riders who desire a constant challenge and are accustomed to high mileage. Average speed about 26 - 28 km per hour  and from 90 to 120 km per day.
Sample of a weekly program:

Saturday: Arrival and accommodation in room, assembly or pick up of rental bike. Take a ride around Riccione at your leisure! Welcome drink at 6, presentation of program.
Sunday:  
9.30 am: Ready, set, go!!! All the groups are off and the fun is about to begin! To insure the formation of groups at a uniform level, after an hour or about 20/25 km, in a pre-established place, it is possible to change groups.
Monday:
After 3 to 4 hours of cycling all the groups will meet in Vecciano at the "country house". Barbecue with piada, grilled meat and vegetables, pizza, spaghetti, focaccia and lots of good wine! Special tasting of family balsamic vinegar.
12.00 pm: Anyone accompanying cyclists can join the fun thanks to a minibus transfer service.
5.30 pm Cyclist's street market
Tuesday
8.30 am: A day dedicated to special excursions with an early departure and return envisioned at around 3.00/4.00 pm. The different itineraries will be presented to you upon arrival.
7.00 pm: Oktoberfest BEER evening with dinner and unlimited free beer for everyone at the restaurant followed by "Disco 90`s party" with Dj Maurino every week.
Wednesday
Rest day, free excursions or excursions based on the suggestions of the guides
In the morning, trip by minibus and visit to one of the most famous cycle shops in Romagna and in the afternoon, a  visit to the Republic of San Marino is possible.
7.00 pm: traditional "Romagna dinner" with tasting of typical local products, all homemade, Sangiovese wine and limoncino tasting session
Thursday
Excursions for all groups based on the program.
The "Cappuccino Light" will go on a tour that includes a stop to sample some typical products such as olive oil, wine, cheeses, cold cuts and cakes at a holiday farm.
Friday
Excursions for all groups based on the program. In the evening "Flavors and Fragrances Dinner". At 9.00 pm, evening with photos and prizes.
Saturday
Check-out
Looking for more?  View all our featured bike trips, specials, and news or look at our full list of bike tours in Europe.
Email or Call 800-951-4384 +1 570-965-2064
---