5

/

5

(

1

rating)
Riccione
Italy Bike Tours
Bike Italy along the beautiful Adriatic Coast!!
This Riccione bike tour takes you along the breathtaking coast of the Adriatic. It was here in the hills of this Eastern part of Emilia Romagna that Marco Pantani, the great legend, prepared for his wins in the Tour de France and the Giro Libero. We have chosen this excellent bike hotel for you to be able to join a group of your level to train in the mountains. If you have a traveling partner who's not a biker, there are plenty of other things to do. The hotel offers Nordic Walking poles, a cooking lesson or what about a day trip to Ancona, Bologna or the UNESCO World Heritage town of Ferrara.

Riccione cycling is a bikers dream, which is why we have also added "The Bikeness group Villages and Castles" for the biker who wants to get know the land and people, and of course to discover the pleasures of the local gastronomy in great company. You will have the opportunity to fully enjoy all the delights here cycling in Italy.

Make sure you take a look at our many other bicycle tours in Italy!

Please call for pricing. Rates will depend on time of booking.

Road bike rental available:

Scott racing bike CR1 Carbon: £ 111 $ 190 € 139 NOK 1332 kr 1230 $ 160

Speedster alloy: £ 87 $ 149 € 109 NOK 1045 kr 964 $ 125 .

(The hotel can provide pedals: Look, Shimano SPD, Shimano SPD-SL or normal pedals. However, we recommend bringing your own pedals if you rent the Scott racing bike.)

extra

options

Excursion to San Marino: £ 6 $ 11 € 8 NOK 77 kr 71 $ 9 Excursion to bike shop "Boghetta" Bellaria: £ 6 $ 11 € 8 NOK 77 kr 71 $ 9 Per diem Garmin GPS: £ 16 $ 27 € 20 NOK 192 kr 177 $ 23   Per km assistance and bicycle recovery in case of a fall or accident:  £ 0 $ 1 € 1 NOK 5 kr 4 $ 1 Masseur and physiotherapist, 30 minutes:  £ 24 $ 41 € 30 NOK 288 kr 265 $ 35

please

note

Rates are per person based on double occupancy.

Information to read before you book.

We recommend purchasing bike trip insurance.

† Currency exchange rate set 90 days before travel.

Travel

Fly to Bologna, Ancona or Rimini

Local Travel

Please tell us which airport you will arrive to and we will assist with travel details.

Climate

Check local weather conditions prior to departure as that will help you prepare for the trip. Average high/low temperature in °F for Riccione, Italy is: March 53/37, April 60/44, May 69/51, June 77/59, July 80/62, Aug 80/62, Sept 73/57, Oct 64/50, and November 55/41.

Recommended

Bring your own pedals and cycling shoes. Helmet and bike bottle is provided free of charge.

Remarks

Shorter or longer stays acceptable by request.Helmet available for use. Breakfast only formula available, please call for details. Also available for an extra fee, 2 Vespa, 125 cc scooters and electric bikes Available for non-cycling guests: A barbecue at the hotels country home, transfer included , A hiking excursion, a minibus excursion to San Marino, a cooking class, Nordic walking poles, weekly markets at Rimini and Riccione, the wellness center.

---
Where
You'll Stay
The comfortable, modern Hotel Dory.
What's
Included
All inclusive Services
Welcome drink, presentation of routes
Super half board: (Breakfast buffet, lunch buffet from 2 - 4 pm, dinner buffet
Water, wine, soft drinks with dinner
Every Monday, barbecue in the country house with wine and desserts
Sandwiches, bananas, water during rides
Traditional Romagna dinner with tasting of local homemade products and limoncino tasting session
Admission to the Aqua Wellness Area complete with swimming pool, whirlpools, Turkish bath, and sauna
Nirvana Spa (massage chair)
Transfer service from Rimini airport and railway station (8 am to 10 pm)
15 touring cycles available for around town
15 Nordic Walking carbon poles for hiking
5 Guided excursions (4 groups of different levels, each with a maximum of 15 to 18 cyclists)
Laundry service for biking gear and shoe dryer (must purchase laundry bag @ €8)
Shoe drying facilities
50 detailed cycling routes
Mechanical assistance
Replacement bike if needed
In house mechanic for small repairs and fine tuning
Fully equipped workshop and washing area
Storeroom for personal bikes
Internet point and wireless connection
Idea formula, accommodations in "Dorine" room (12/14 m square) or mini apartments (27 - 31 m square), 50 m. distance from main hotel
Includes all of the above, plus:
€10 Euro Token to be spent at cyclists' market (minimum stay of 5 days)
Style formula, accommodations in Superior room (15 - 19 m), Junior suite (23 - 27 m square), or Fashion and Feeling Suite (Attic rooms of 50 m square)
Includes all of the above, plus:
Draft sodas and hot drinks, all you can drink all day
Complimentary T Shirt
€ 20.00 token to be spent at cyclists' market (minimum stay of 5 days).
Transfer service from Rimini airport and Riccione train station from 8 am to 10.00 pm)
Daily admission to Riccione Swimming Municipal Pool
Assistance in case of falls
Special services for none biker / accompanying person
One cooking lesson on how to make pasta
Transfer to the barbecue Vecciano
Nordic walking sticks
2 weekly Nordic walking excursions: 3/4 hours, 7/8 km each
Boat excursion from April to September aboard an authentic "Goiter Sorrentino"
Transfer to and tasting of oil, wine, and cheese
One balsamic vinegar tasting
What's
Not Included
Road bike rental available, payable upon arrival.
Look, Shimano SPD, Shimano SPD-SL or normal pedals provided. We recommend bringing your own pedals and cycling shoes
Tour
Dates
2018 Dates
Preferred arrivals are on Saturday. Arrivals on other days are possible upon request.
Skill
Level
This Italy bike tour is considered moderate to difficult, choose to ride for your level of fitness (see Day-to-Day).
Day-To-Day
Itinerary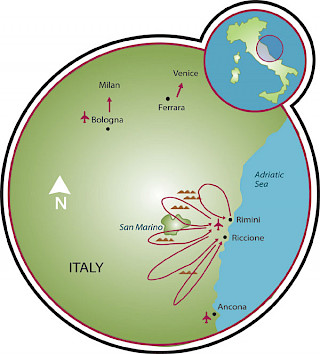 You can choose from various levels of difficulty and miles to bike each day. There are usually 3 or 4 groups of different levels departing each day. Below are some examples of between 30 and 90 miles each day. Every day except on Wednesdays and Saturdays you can go out with a guide who accompanies the different groups. Every evening the route of the next day will be discussed.
1. The "Cappucino Light" group cycles between 65 to 75 km per day, average speed 17-19 km/hr. For cyclists who are not as well-trained and enjoy climbing at a lower and less intensive speed. The distances are shorter and the average speed is moderate.
2. The "Cappuccino" group rides between 80 to 100 km  per day with an average of 20-22 km/hr. This is for cyclists who not only love to cycle but also to enjoy nature and landscapes. Recommended for fairly well trained cyclists.
3. The "Super Cappuccino" is designed for the more competitive minded cyclist. This group covers the same distance but at a speed of 23-25 km/hr. Recommended for only well trained cyclists.
4. The "Limoncino" group is for very well-trained riders who desire a constant challenge and are accustomed to high mileage. Average speed about 26 - 28 km per hour  and from 90 to 120 km per day.
You must not feel obligated to go with a group because you can also cycle on your own with route descriptions, although you will miss out on the advantage of the guides who know the area so well. 
Please ask us and we will send you a sample of weekly rides for each level.
Looking for more?  View all our featured bike trips, specials, and news or look at our full list of bike tours in Europe.
Email or Call 800-951-4384 +1 570-965-2064
---