3.5

/

5

(

2

reviews)
Road of 100 Castles - Münsterland Bike Tour
Castles and charm on a bike tour in Germany
On this bike tour in Germany (and on the 8-day version you actually venture into Holland), you will cycle through beautiful villages and farmland with views of castles, baroque palaces, former courts, and ancient country estates. The traditional German word "Pättkes" is used to describe the small paths leading slightly off the beaten track that people have been using for decades. This sparsely populated area of countryside, dotted with farms surrounded by stately oaks and characterized by flat fields, pastures, and meadows, is like a giant park, harmoniously landscaped yet offering incredible variety. The history of this lovely region stretches right back to Roman times with a number of relics from a turbulent past. You will find something to suit every taste, at every age. At the end of the day, you can share your cycling tour highlights over a meal featuring excellent regional specialties and savor the hearty German beer!

Highlights:

Münster
Münster Castle and historic townhall
Wasserburg Hülshoff
Darfeld Castle
Varlar Castle
St. Lamberti Church with its Baroque tower
Vischering Castle in Lüdinghausen
Seppenrade, one of the Village of Roses
Longinusturm, the highest peak in Münsterland

All of our bike tours in Germany can be found here.

7 Day Tour 

Season 1
 
Twin/double

$

1273

£

630

$

1,101

€

689

$

1300

kr

7767

$

785

Single room

$

1508

£

746

$

1,304

€

816

$

1539

kr

9199

$

930

Season 2
 
Twin/double

$

1382

£

684

$

1,195

€

748

$

1411

kr

8432

$

852

Single room

$

1746

£

864

$

1,510

€

945

$

1782

kr

10653

$

1,077

 

8 Day Tour

 
Category A
Category B
Season 1
 
 
Twin/double

$

1330

£

659

$

1,150

€

720

$

1358

kr

8116

$

820

$

1220

£

604

$

1,054

€

660

$

1245

kr

7440

$

752

Single room

$

1617

£

800

$

1,398

€

875

$

1650

kr

9864

$

997

$

1473

£

729

$

1,273

€

797

$

1503

kr

8984

$

908

Season 2
 
 
Twin/double

$

1449

£

717

$

1,252

€

784

$

1479

kr

8838

$

893

$

1273

£

630

$

1,101

€

689

$

1300

kr

7767

$

785

Single room

$

1735

£

859

$

1,500

€

939

$

1771

kr

10585

$

1,070

$

1532

£

758

$

1,324

€

829

$

1564

kr

9345

$

944

extra

options

Electric bicycle: $ 203 £ 101 $ 176 € 110 $ 207 kr 1240 $ 125

Deposit for GPS rental with tracks: $ 92 £ 46 $ 80 € 50 $ 94 kr 564 $ 57

Extra nights in Münster:

7-day tour:
Twin/double: $ 144 £ 71 $ 125 € 78 $ 147 kr 879 $ 89 Single room: $ 203 £ 101 $ 176 € 110 $ 207 kr 1240 $ 125
8-day tour:

Option A: 
Twin/double: $ 129 £ 64 $ 112 € 70 $ 132 kr 789 $ 80 Single room: $ 176 £ 87 $ 152 € 95 $ 179 kr 1071 $ 108 Option B:  $ 94 £ 47 $ 81 € 51 $ 96 kr 575 $ 58   Single room: $ 157 £ 78 $ 136 € 85 $ 160 kr 958 $ 97

Child discounts are available

 

please

note

Rates are per person based on double occupancy.

A non-refundable admin fee of 20 Euros per person is included in the deposit amount.

Information to read before you book.

We recommend purchasing bike trip insurance.

† Currency exchange rate set 90 days before travel.

Travel

The most practical international airport to arrive to for your tour start in Münster is Düsseldorf (DUS). Another option is the smaller but closer Münster Osnabrueck International Airport (FMO).

Local Travel

Düsseldorf (DUS):
There are two train stations in the Düsseldorf Airport, both inter city and regional. Train travel is approximately 1 1/2 hours and cost about €20. Taxi to first hotel. Münster Osnabrueck International Airport (FMO) Bus to Münster City Center. Travel time is 45 minutes. Cost is approx. €7.60. Taxi to first hotel.

Climate

Please check local conditions before arrival. In Munster, the summers are comfortable and partly cloudy. If you travel in the spring, be sure to plan on layering as the average temperature in °F in April is 46°. Based on the tourism score, the best time of year to visit Munster for general outdoor activities is from late June to late August, with a peak score in the first week of August.

Remarks

You will be provided with a GPS device from Garmin for the entire duration of your trip. Instead of reading the map and written directions, "simply" follow the route shown on the preset device. You will receive the device, together with a short briefing, at the reception desk of your initial hotel. A security deposit of €50 is required for the device.

DOCUMENTS:

Before you travel, please check your country's passport and visa requirements and the passport and visa requirements of the country/countries you plan to visit. For US citizens, the US Department of State website is a good source of information. The Country Information tab in the International Travel section provides details about passport validity, blank passport pages required, etc.

*Important note: Beginning July 1, 2021, additional documentation from the European Travel Information and Authorization System (ETIAS) will be required to visit any of the 26 Schengen-member countries for tourism, business, medical, or transit. This is an additional check on security rather than a visa!

---
Tour
Dates
2020
7-day tour
Every Sunday from April 20 to September 28, 2020
Season 1: April 19 to April 26  and September 27 to October 11, 2020
Season 2: May 3 to September 20, 2020
8-day tour
Every Saturday and Sunday from April 18 to April 26, 2020

Season 1: April 18 to April 26 and  September 26 to October 11, 2020
Season 2: May 2 to September 20, 2020
Special departure dates can be arranged for groups of at least 6.
Skill
Level
Depending on what length tour you choose, you will have an easy to moderate holiday. The 8-day version has longer daily distances and therefore has been given a moderate rating. The Münsterland is crisscrossed by well-maintained bicycle paths and small roads that are suitable for cycling. Also, forest paths, hiking trails and roads are built into the cycle network and offer great variety in the saddle. You cycle along the typical "Pättkes", mostly on flat paved roads and sometimes on forest and hiking trails. No worries about getting lost in Münsterland's parks because it is the first region in Europe that consistently signposted its cycling network with over 4,500-km of bike trails.
Where
You'll Stay
On the 7 day tour, you stay in stylishly decorated hotels with a special flair and on the 8 day tour, you have a choice, between Category A (comfortable middle class hotels) and Category B (smaller family-run inns and hotels).
What's
Included
Accommodations in double/twin room with private bath
Breakfast
27-speed touring bicycle (high handlebars and upright riding position) in either men or women's frames equipped with gel saddle, chain guard, and waterproof pannier.
Luggage transfer
Route book and map (German language) and tourist information (English)
Signposted route
Preloaded GPS device or GPS tracks
7 day hotline
What's
Not Included
Individual arrival to your first hotel
Security deposit for GPS rental
Meals other than breakfast
Tourist tax to be paid at hotel locally
Extra
Stay
Additional nights possible in Münster before or after tour.
Day-To-Day
Itinerary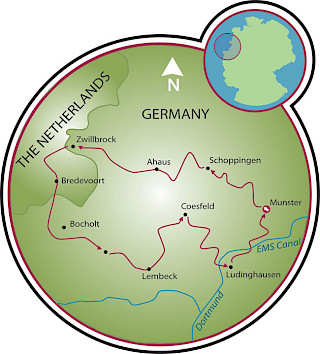 7 Day Tour
Day 1: Arrival in Münster
Day 2: Münster - Billerbeck, 22 mi. (35 km)
Day 3: Billerbeck round trip, 29 mi. (46 km)
Day 4: Billerbeck - Lüdinghausen, 28 mi. (45 km)
Day 5: Lüdinghausen round trip, 28 mi. (45 km)
Day 6: Lüdinghausen - Münster, 24 mi. (39 km)
Day 7: Departure from Münster
Day 1: Arrival in Münster
Münster, a perfect starting point, enchants with old gabled houses, art museums, the cathedral, the Peace Hall, the principal market, Lake Aa, student pubs and so much more. Come early and take a tour by bike in the city center of Münster. 

Accommodation: 4-star Hotel Mövenpick
Day 2: Münster - Billerbeck, 22 mi. (35 km)
Be sure to walk around the old town of Münster on the famous promenade, past the castle, before you cycle out of the city into the green Münsterland parkland. Take a worthwhile break on "Rüschhaus House" with the Droste-Hulshoff Museum and Castle Hülshoff with an extensive park system. Visit Havixbeck the interesting sandstone museum and make a stop in one of the lovely cafes and pubs along the way. The highest peak in the whole Münsterland is the Longinusturm, with its fantastic panoramic view and a real highlight at this stage. Your day's destination is medieval Billerbeck, nestled in the mountain range of Baumberge.
Accommodation: 4-star Hotel Domschenke
Enjoy the furnished rooms with attention to detail and the fine cuisine of the house.
Day 3: Billerbeck round trip, 29 mi. (46 km)
Through the lovely parkland of Westmünsterland you will cycle to the enchanting castle Darfeld and the chateau Varlar, which are both privately inhabited. Sparse forests accompany you to the beautiful city of Coesfeld. Try to visit the  Lamberti church in the central square and take a break in the quaint local pub brewery, Stephanus. In the afternoon you will reach the foothills of the Baumerge, passing remote farms,  and then you cycle along the Berkel back to Billerbeck.
Day 4: Billerbeck - Lüdinghausen, 28 mi. (45 km)
There is much to see on this day! Nottuln, with its historic Baroque center, whose Stiftsplatz is considered one of the most beautiful places in the Münster region for one. Visit the oldest blue printing plant in Westphalia and watch the production of blankets and curtains. You continue then on the famous "Castle Route" and cycle through open fields and meadows to the Castle Senden, passing Castle Kakesbeck to Lüdinghausen with its medieval fortress 'Burg Vischering'. The castle with its drawbridge is one of the most beautiful castles in Germany. 
Accommodation: Charming City Hotel No. 11
You will find the charming Stadthotel No. 11 tucked away in the middle of the pedestrian precinct. Although newly constructed in 2014 the building blends perfectly with the surrounding old town thanks to the use of materials from other historic buildings.  This hotel has been honored status in the Michelin Guide, achieving one of the highest accolades, shown as a small red house, which denotes a particularly comfortable hotel.
Day 5: Lüdinghausen round trip, 28 mi. (45 km)
After a few kilometers, you will reach Castle Nordkirchen, also know as the "Westphalian Versailles". Not only is the interior with ornate plaster ceilings, the precious paintings, the tall columns, the black marble fireplaces are worth seeing, but also the extensive park with its beautiful gardens and the Orangery. You then cycle to Selm, where at the beach on Ternscher See you can go for a refreshing swim.  You then bike in the afternoon on the "Castle Route" route back to Lüdinghausen.
Day 6: Lüdinghausen - Münster, 24 mi. (39 km)
This morning, following the famous "Pättkes" through the typical parkland landscape, you reach the small town of Ottmarsbocholt, with its historic grain windmill. On the "Castle Route" you cycle to the Dortmund-Ems Canal, which is the largest stretch of water through the Munsterland and leads you now to Münster. Enjoy the last few kilometers of the trip through the "Old Port" of the city, which in recent years has become the most popular meeting place for students due to the multiple eateries. 
Accommodation: varies
Day 7: Departure from Münster
With many memories and impressions of your ride through the heart of the Münsterland, your tour ends after breakfast and check-out.
8 Day Tour 
Day 1: Arrival in Münster
Day 2: Münster - Schöppingen, 51 km
Day 3: Schöppingen - Zwillbrock, 60 km
Day 4: Zwillbrock - Bocholt, 49 km
Day 5: Bocholt - Coesfeld, 63 km 
Day 6: Coesfeld - Lüdinghausen, 52 km
Day 7: Lüdinghausen - Münster, 55 km
Day 8: Departure from Münster
View all our featured bike trips, specials, and news along with 100s of other other bike tours in Europe.
Email or Call 800-951-4384 +1 570-965-2064
---