Road of 100 Castles - Münsterland
Bike the hills of Münsterland to the flats of Holland…
The traditional German word "Pättkes" is used to describe the small paths leading slightly off the beaten track in the Münsterland region that people have been using for decades. On this bike tour in Germany and Holland, you will cycle through beautiful villages, pastures, with views of castles, baroque palaces, former courts and ancient country estates. This sparsely populated area of countryside, dotted with farms surrounded by stately oaks and characterised by flat fields, pastures and meadows, is like a giant park, harmoniously landscaped yet offering incredible variety. The history of this lovely region stretches right back to Roman times with a number of relics from a turbulent past. You will find something to suit every taste, at every age. At the end of the day, you can share your cycling tour highlights over a meal featuring excellent regional specialties and savor the hearty German beer!

All of our bike tours in Germany and Holland ​can be found here.

 
Option A
Option B
Price:

£

670

$

1,068

€

709

NOK

7031

kr

6490

$

844

£

608

$

970

€

644

NOK

6386

kr

5895

$

766

Single Supplement:

£

165

$

264

€

175

NOK

1735

kr

1602

$

208

£

140

$

223

€

148

NOK

1468

kr

1355

$

176

extra

options

Electric bicycle: £ 94 $ 151 € 100 NOK 992 kr 915 $ 119

Extra nights in Münster (price is per person/night):

Option A:  £ 57 $ 90 € 60 NOK 595 kr 549 $ 71   Single supplement: £ 33 $ 53 € 35 NOK 347 kr 320 $ 42 Option B:  £ 48 $ 77 € 51 NOK 506 kr 467 $ 61   Single supplement: £ 32 $ 51 € 34 NOK 337 kr 311 $ 40

please

note

Rates are based on double occupancy.

Information to read before you book.

We recommend purchasing bike trip insurance.

† Currency exchange rate set 90 days before travel.

Travel

Arrive at Dusseldorf International Airport (DUS)

Local Travel

Travel by train from Dusseldorf International Airport to Münster (approximately 75 miles.) The price for that train connection is about 26 euros per person. Please be aware that the prices may vary within the year because the train fares change in June. Take a taxi from Münster train station to hotel (approximately €5 to €10.)

Climate

Please check local conditions before arrival. Average temperatures for the area in °F are: April, 46°; May, 53°; June:,60°; July, 62°; August, 62°; September, 57°; and October, 50°

Remarks

Special departure dates can be arranged for groups of at least 6.
Electric bicycle available!


---
Skill
Level
This is a moderate self-guided bike tour on mostly flat, well paved bike trails (Pättkes). Some routes can include sporadic hills. Routes are well marked allowing you to concentrate on the scenery. This also means you can safely pick your own route from one stop to the next. Daily distances range from 35 to 40 miles.
Where
You'll Stay
Option A: Great 3 & 4 star hotels and B&B's.
Option B: Very nice 2 & 3 star hotels and B&B's.

What's
Included
Accommodations in double room with private bath
Breakfast
Luggage transfer
Detailed route description with maps, including tourist information**
Sign posted route
Tips for tour preparation
21 speed bicycle
**Map book will be in German but clients will also receive written route descriptions in English.
What's
Not Included
Individual arrival to your first hotel
Meals other than breakfast
Bicycle protection
Trip insurance
Extra
Stay
Additional nights possible in Münster before or after tour.
Tour
Dates
Every Saturday and Sunday from April 23 to October 2, 2016
Day-To-Day
Itinerary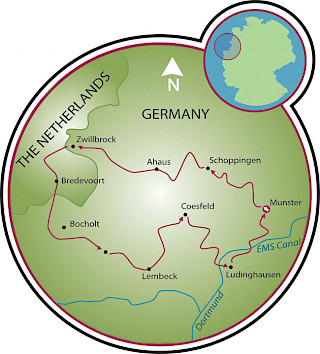 Day 1: Arrival in Münster
Day 2: Münster - Schöppingen, 34 mi. (51 km)
Day 3: Schöppingen - Zwillbrock, 37 mi. (60 km)
Day 4: Zwillbrock - Raesfeld, 37 mi. (60 km)
Day 5: Raesfeld - Coesfeld, 32 mi. (52 km)
Day 6: Coesfeld - Lüdinghausen, 33 mi. (53 km)
Day 7: Lüdinghausen - Münster, 32 mi. (52 km)
Day 8: Departure from Münster
All distances are approximate.
DAY 1: Arrival in Münster
City of science, city of sculptures, city of the Peace of Westphalia, city of bicycles, Münster is a city with many faces. The marketplace, the beautiful gabled houses, the old city hall and the former bishop's palace will give you plenty to see while in the city. Münster is Germany's bicycle capital. Hardly any other city is furnished with such a well developed network of bicycle tracks.
DAY 2: Münster - Schöppingen, 34 mi. (51 km)
Your first sight of the day is the Hülshoff palace, birthplace of Annette von Droste-Hülshoff in 1797. She is considered the most gifted and original of German women poets. You can visit the Droste Museum, containing many of her personal possessions that give a vivid sense of life in her time. Narrow trails through the fields will lead you past the Havixbeck house and finally into Eggerode.
DAY 3: Schöppingen - Zwillbrock, 37 mi. (60 km)
As you cycle through Germany, you will pass the occasional farmhouse, far removed from its neighbors, before arriving in Ahaus where you will have the chance to visit a beautiful, moated baroque palace. As you ride along the border with Holland, you will find yourself along moors and pastures on the way to Zwillbrocker Venn National Park. Flamingos and black-headed gulls await you there!
DAY 4: Zwillbrock - Raesfeld, 37 mi. (60 km)
This day you will experience a bike ride in Holland. Perfect for bicyclists! You will follow narrow streets and bike trails and ride along country roads to the Weenik cheese factory, which you can tour if you are interested. Then, you cycle to Vragender where you will find the huge Four Winds Windmill, dating from 1869. The mill is still used to grind wheat in the traditional manner. Another historic village on your itinerary is Bredevoort, a small town in the eastern region of Holland, with roots dating back to Medieval times. Nowadays it is one of the European book-towns with about thirty antique bookshops which attract a lot of tourists. There are some interesting manor houses and Villa Maria is the most beautiful of them with several charming details. In the afternoon, you will find yourself back on the Road of 100 Castles and off the beaten track. This route passes through the green parkland environment of Münsterland. Pasture land and meadows, fields and hedge banks set the scene for this rather flat landscape. Right in the middle of it you will find the real treasures of Münsterland: moated castles and palaces with impressive gardens and parks which tell the stories of former lordly times. You will follow this straight to the moated palace of Raesfeld.
DAY 5: Raesfeld - Coesfeld, 32 mi. (52 km)
The Road of 100 Castles is aptly named. Just after you leave Raesfeld, you come to another moated palace, Lembeck. On this tour, you will have the chance to observe the baroque and Biedermeier culture before continuing past the Merfelder Bruch (Merfeld Fen) with its wild horses. You will spend the night in Coesfeld where a visit to the Stephanus brewery is worth your while.
DAY 6: Coesfeld - Lüdinghausen, 33 mi. (53 km)
Today you'll pass through Nottuln, a scenic town with a barock center. After a couple of miles of rolling hills, you'll be back on the flatland, following the bike path via Senden to Lüdinghausen. While you are here, don't miss the medieval moated fortress, Vischering Castle, complete with a drawbridge. This is a good example of how well fortified such structures were. The surrounding trees date from the 18th to the 19th century. Today the castle is a museum of Münsterland's history and venue for cultural events.
DAY 7: Lüdinghausen - Münster, 32 mi. (52 km)
Today you will visit the Versailles of Westphalia, the Nordkirchen Palace, the largest moated palace in Westphalia. It is an excellent example of French Baroque architecture and the interior decoration of the palace is masterful. For the rest of the day you will continue along the Road of a 100 Castles. Today, you will also see the Roberg and Byink houses and the Davensberg Castle.
DAY 8: Departure from Münster
View all our featured bike trips, specials, and news along with 100s of other other bike tours in Europe.
Email or Call 800-951-4384 +1 570-965-2064
---