3.5

/

5

(

2

ratings)
Road of 100 Castles - Münsterland Bike Tour
Bike the hills of Münsterland to the flats of Holland
The traditional German word "Pättkes" is used to describe the small paths leading slightly off the beaten track in the Münsterland region that people have been using for decades. On this bike tour in Germany and Holland, you will cycle through beautiful villages, pastures, with views of castles, baroque palaces, former courts and ancient country estates. This sparsely populated area of countryside, dotted with farms surrounded by stately oaks and characterised by flat fields, pastures and meadows, is like a giant park, harmoniously landscaped yet offering incredible variety. The history of this lovely region stretches right back to Roman times with a number of relics from a turbulent past. You will find something to suit every taste, at every age. At the end of the day, you can share your cycling tour highlights over a meal featuring excellent regional specialties and savor the hearty German beer!

All of our bike tours in Germany and Holland ​can be found here.

7 Day Tour 

Season 1
Option A
Option B
Twin/double

$

1019

£

525

$

923

€

617

$

1062

kr

6582

$

700

$

915

£

472

$

829

€

554

$

954

kr

5909

$

628

Single room

$

1308

£

674

$

1,185

€

792

$

1364

kr

8448

$

898

$

1182

£

609

$

1,071

€

716

$

1233

kr

7638

$

812

Season 2
 
 
Twin/double

$

1100

£

567

$

996

€

666

$

1147

kr

7104

$

755

$

976

£

503

$

884

€

591

$

1018

kr

6304

$

670

Single room

$

1389

£

716

$

1,258

€

841

$

1448

kr

8971

$

954

$

1243

£

641

$

1,126

€

753

$

1297

kr

8032

$

854

 

8 Day Tour

Season 1
Option A
Option B
Twin/double

$

1172

£

604

$

1,062

€

710

$

1222

kr

7574

$

805

$

1070

£

552

$

969

€

648

$

1116

kr

6912

$

735

Single room

$

1461

£

753

$

1,324

€

885

$

1524

kr

9440

$

1,003

$

1314

£

677

$

1,191

€

796

$

1371

kr

8491

$

903

Season 2
 
 
Twin/double

$

1262

£

650

$

1,143

€

764

$

1315

kr

8150

$

866

$

1120

£

577

$

1,014

€

678

$

1167

kr

7232

$

769

Single room

$

1551

£

799

$

1,405

€

939

$

1617

kr

10016

$

1,065

$

1364

£

703

$

1,236

€

826

$

1422

kr

8811

$

937

extra

options

Electric bicycle: $ 182 £ 94 $ 165 € 110 $ 189 kr 1173 $ 125

GPS rental with tracks (deposit): $ 83 £ 43 $ 75 € 50 $ 86 kr 533 $ 57

Extra nights in Münster (price is per person/night):

Option A:  $ 112 £ 58 $ 102 € 68 $ 117 kr 725 $ 77 Single room: $ 157 £ 81 $ 142 € 95 $ 164 kr 1013 $ 108 Option B:  $ 84 £ 43 $ 76 € 51 $ 88 kr 544 $ 58   Single room: $ 140 £ 72 $ 127 € 85 $ 146 kr 907 $ 96

Child discounts are available

 

please

note

Rates are per person based on double occupancy.

Information to read before you book.

We recommend purchasing bike trip insurance.

† Currency exchange rate set 90 days before travel.

Travel

The most practical international airport to arrive to for your tour start in Münster is Düsseldorf (DUS). Another options is the smaller but closer Münster Osnabrueck International Airport (FMO).

Local Travel

Düsseldorf (DUS):
There are two train stations in the Düsseldorf Airport, both inter city and regional. Train travel is approximately 1 1/2 hours and cost about €20. Taxi to first hotel. Münster Osnabrueck International Airport (FMO) Bus to Münster City Center. Travel time is 45 minutes. Cost is approx. €7.60. Taxi to first hotel.

Climate

Please check local conditions before arrival. Average temperatures for the area in °F are: April, 46°; May, 53°; June:,60°; July, 62°; August, 62°; September, 57°; and October, 50°

Remarks

On request, you will be provided with a GPS device from Garmin for the entire duration of your trip. All day trips are stored on the device. Instead of reading the map and written directions, "simply" follow the route shown on the preset device. You will receive the device, together with a short briefing, at the reception desk of your initial hotel. A security deposit of 50€ is required for the device.

---
Tour
Dates
7 day tour:
Every Saturday from April 20 to September 28, 2019
Season 1: April 20 to May 4 and September 21 to September 28, 2019
Season 2: May 11 to September 14, 2019
8 day tour
Every Saturday and Sunday from April 20 to September 29, 2019
Season 1: April 20 to May 5 and September 21 to September 29, 2019
Season 2: May 11 to September 15, 2019
Special departure dates can be arranged for groups of at least 6.
Skill
Level
The Münsterland is crisscrossed by well-maintained bicycle paths and small roads that are suitable for cycling. Also, forest paths, hiking trails and roads are built into the cycle network and offer a great variety in the saddle. You cycle along the typical "Pättkes" , mostly on flat paved roads and sometimes on forest and hiking trails. The right trail through Münsterlands parks you will find for sure because it is the first region in Europe that consistently signposted its cycling network with over 4,500-km of bike trails. There are more than 3,000 direction signs and 15,000 small signs on the route guiding you on your way.
Where
You'll Stay
Option A: Great 3 & 4 star hotels and B&B's.
Option B: Very nice 2 & 3 star hotels and B&B's.

What's
Included
Accommodations in double room with private bath
Breakfast
21 speed bicycle
Luggage transfer
Route book and map (German language) and tourist information (English)
Sign posted route
Tips for tour preparation
Preloaded GPS device or GPS tracks
What's
Not Included
Individual arrival to your first hotel
Deposit for GPS rental
Meals other than breakfast
Tourist tax to be paid at hotel locally
Extra
Stay
Additional nights possible in Münster before or after tour.
Day-To-Day
Itinerary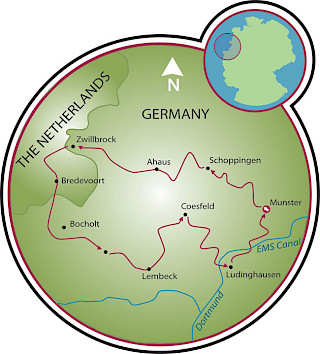 7 Day Tour
Day 1: Arrival in Münster
Day 2: Münster - Billerbeck, 20 mi. (33 km)
Day 3: Billerbeck round trip, 28 mi. (45 km)
Day 4: Billerbeck - Lüdinghausen, 27 mi. (43 km)
Day 5: Lüdinghausen round trip, 54 mi. (44 km)
Day 6: Lüdinghausen - Münster, 24 mi. (39 km)
Day 7: Departure from Münster
Day 1: Arrival in Münster
Münster, a worthwhile starting point and destination of this tour lures with old gabled houses, art museums, the cathedral, the Peace Hall, the principal market, Lake Aa, with the castle and many traditional student pubs. Come early and take a tour by bike in the city center of Münster. (Parking spaces available at the hotel, arrival by train is possible.)
Day 2: Münster - Billerbeck, 20 mi. (33 km)
Walk around the old town of Münster on the famous promenade, past the castle before you cycle out of the city in the green Münsterland parkland. Take a worthwhile break on "Rüschhaus House" with the Droste-Hulshoff Museum and castle Hülshoff with extensive park system.Visit Havixbeck the interesting sandstone museum and make a stop in one of the lovely cafes and beer gardens along the way. The highest peak in the whole Münsterland is the Longinusturm, with its fantastic panoramic view - a real highlight at this stage. Then look forward to Billerbeck that is nestled in the mountain range of Baumberge and features medieval streets.
Day 3: Billerbeck round trip, 28 mi. (45 km)
Through lovely parkland of Westmünsterland you will cycle to the enchanting castle Darfeld and the chateau Varlar, which are both inhabited private. Sparse forests accompany you to the beautiful city of Coesfeld. Visit the worth seeing Lamberti church on the central square in the old core and take a break in the quaint local pub brewery Stephanus. In the afternoon you reach the foothills of the Baumerge, you pass lonely lying farms and finally you cycle along the Berkel back to Billerbeck.
Day 4: Billerbeck - Lüdinghausen, 27 mi. (43 km)
There is much to see on this day! Visit Equip the picturesque place Nottuln with its historic Baroque center, whose Stiftsplatz is considered one of the most beautiful places in the Münster region. Visit the oldest blue printing plant in Westphalia and watch the production of blankets and curtains. Then you continue the famous "Castle Route" and cycle through open fields and meadows to the castle Senden, passing castle Kakesbeck to Lüdinghausen with its medieval fortress 'Burg Vischering'. This belongs with its drawbridge, the castle and the worth seeing Münsterland Museum to the best preserved and most beautiful castles in Germany! Not only the associated Castle Cafe invites for an enjoyable stay, but also the remarkable facilities.
Day 5: Lüdinghausen round trip, 54 mi. (44 km)
Get excited for an other highlight of your trip. After a few kilometers you will reach castle Nordkirchen that has the promising epithet "the Westphalian Versailles". Not only the precious interior with ornate plaster ceilings, the precious paintings, the tall columns, the black marble fireplaces are worth seeing, but also the extensive park with its beautiful gardens and the Orangery. Also the pheasant and the Oranienburg want to be discovered. Then you cycle to Selm, where the beach on Ternscher See lures with excellent water quality for swimming and sun terrace to linger. After refreshing you bike in the afternoon on the "Castle Route" route back to Lüdinghausen.
Day 6: Lüdinghausen - Münster, 24 mi. (39 km)
This morning, following the famous "Pättkes" through the typical parkland up to the small town Ottmarsbocholt, that proudly presents its historic grain windmill. On the "Castle Route" you cycle to the Dortmund-Ems Canal, that is the largest stretch of water through the Munsterland and leads you now to Münster. Enjoy the last few kilometers of the trip through the "Old Port" of the city, which in recent years become the most popular meetingplaces for students due to a multitude of restaurants. Have the cycling day come to an end and immerse yourself into the bustling life of the charming city.
Day 7: Departure from Münster
With many memories and impressions the bike tours through the heart of the Münsterland ends after breakfast at the hotel.
8 Day Tour 
Day 1: Arrival in Münster
Day 2: Münster - Schöppingen, 51 km
Day 3: Schöppingen - Zwillbrock, 60 km
Day 4: Zwillbrock - Raesfeld, 60 km
Day 5: Raesfeld - Coesfeld, 51 km 
Day 6: Coesfeld - Lüdinghausen, 52 km
Day 7: Lüdinghausen - Münster, 55 km
Day 8: Departure from Münster
View all our featured bike trips, specials, and news along with 100s of other other bike tours in Europe.
Email or Call 800-951-4384 +1 570-965-2064
---