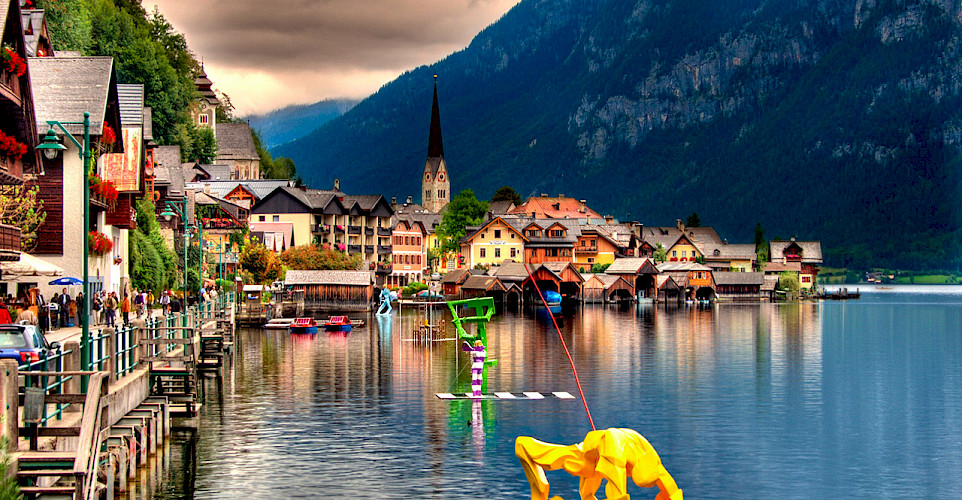 Sound of Music District Road Bike Tour
Bike in the Austrian Alps!
Overview

On this bike tour in the majestic mountain region made famous by the 'Sound of Music", you begin and end in Salzburg, whose "Old Town", with its world-famous baroque architecture, is one of the best-preserved city centers in the German-speaking world and was listed as a UNESCO World Heritage Site in 1997.

Leaving Salzburg and cycling through mountain passes, you will enter into the famous Salzkammergut region, one of the most popular regions in all of Austria because of its picturesque towns, lakes, and mountains. The hills are a challenge but rewarding and equally rewarding are the many lakes you find upon your descents on this road bike tour in Austria.

You will enjoy Gosau Lake, Lake Hallstatt, Lake Grundslee, surrounded by breathtaking alpine mountains and lush forested valleys, and Lake Attersee. You will enjoy the culture and history of the many quaint lakeside villages.

This tour is available as an 8 day, 7 day, or 5 day tour. See itineraries below.

Looking for more bicycle tours in Austria?

Itinerary

8 Day Tour

Day 1: Arrival in Salzburg
Day 2: Salzburg - Bavaria - Salzburg, 53 to 66 mi. (85 to 105 km)
Day 3: Salzburg - Hallstatt/Bad Goisern/Obertraun, 53 to 66 mi. (85 to 105 km)
Day 4: Round trip tour into the Ausseerland, 50 to 66 mi. (80 to 107 km)
Day 5: Lake Hallstatt - Lake Attersee, 44 to 56 mi. (70 to 90 km)
Day 6: Round trip tour to Lake Traunsee, 53 mi. (85 km)
Day 7: Lake Attersee - Salzburg, 47 mi. (75 km)
Day 8: Departure

DAY 1: Arrival in Salzburg
You will get your tour information booklet in the starting hotel. If you've booked a welcome meeting, a representative will be present to answer any questions you may have. Rental bikes will be delivered by 8 p.m. 

DAY 2: Salzburg - Bavaria - Salzburg, 53 to 66 mi. (85 to 105 km)
You will follow the castle road out of the city and will cross the border to Bavaria. Enjoy the wonderful mountain lake Königssee where you make take a boat trip. Afterward, you cycle through the national park of Berchtesgaden and around the mountain massive of Untersberg. If you are fit enough cycle up to the mountain road where you will have a wonderful view over Salzburg and the eagles nest in Berchtesgaden.
Difference in altitude: + 550 to 1.200 meters and - 550 to 1.200 meters

DAY 3: Salzburg - Hallstatt/Bad Goisern/Obertraun, 53 to 66 mi. (85 to 105 km)
Following the cycle trail along the Salzach River, you will depart from the city. Almost immediately, you will have two choices to get to Hallstatt. The more demanding route leads to a high road with fantastic views. The alternative route follows the river valley to Golling, located in the Austrian Alps about fifteen miles away from Salzburg, in a wide-open valley. Besides being located next to the river, it is also home to the Gollinger Waterfalls, featuring a 245 foot drop in two steps, which are considered one of the most beautiful waterfalls in Austria. Afterward, it is into the Lammer Valley to cross the first mountain pass into Upper Austria to arrive at the famous mountain lake of Gosau. The lake envelopes the bottom of a deep glacier-carved valley in the heart of the looming glacier mountain of Dachstein, whose image is reflected in the stunning blue of the waters on sun-filled days. This is perhaps the most beautiful lake in all of the Alps. You will then cycle down to Lake Hallstatt and the village of the same name that overlooks the lake. If you have time, a lovely way to experience this pristine lake and quaint  World Heritage village is to take a ferry across and then back again. You will either overnight here or in Bad Goisern. Bad Goisern is a town with a long history. It was first mentioned in the 13th century under the name "Gebisham". In 1931, Goisern became a spa-town and in 1952 it became a market town. Since 1955 Goisern is called "Bad" Goisern (Bad means bath in German and it is a title given by the government to cities with medicinal or thermal baths).
Difference in altitude:  + 750 to 1.250 meters and – 620 to – 1.100 meters

DAY 4: Round trip tour into the Ausseerland, 50 to 66 mi. (80 to 107 km)   
You will start your day cycling on a side road of the lake and through the little pass that opens up to the wide Koppen Valley. If you opt for the long itinerary, you will cycle around the looming mountain of Grimming. First down to the Enns Valley and the small alps and then back up to Ausseerland and over to Lake Grundlsee with an area of 5 km squared, the largest lake in Styria. Formed during the last ice age is one of three lakes lying in a chain along a short stretch of River Traun. From here, off to Lake Altaussee. The scenery encompassing lake and mountains is spectacular. For a real challenge and reward, climb up a mountain road (5249' or 1600 m) to an unforgettable alpine pasture. You will overnight once again in either Hallstatt or Gad Goisern.
Difference in altitude: + 705 to + 1.050 meters and – 550 to – 1.010 meters

DAY 5: Lake Hallstatt - Lake Attersee, 44 to 56 mi. (70 to 90 km)
Today is relatively easy and allows for time to visit the famous emperor city of Bad Ischl. Starting off, the road follows the shore of the lake and then the route is along the brine pipeline road to Bad Ischl a wonderful spa town. Here you must decide which route you will take. One leads to Lake Wolfgangsee and the Mozart village of St. Gilgen, made famous by the movie "The Sound of Music". Both trails offer wonderful views of lakes and mountains. You will overnight in St. Georgen, only a few minutes away from Lake Attersee, Austria's largest lake. Due to its steady winds and clean water quality, Attersee is famous for attracting sailors and swimmers alike. During the season numerous sailing competitions are held. One of the most cherished winds on Attersee is the so-called "Rosenwind" meaning "breeze of roses". It is an easterly wind that crosses a castle's rose garden and fills the air across the lake with the smell of roses.
Difference in altitude: + 550 to + 750 meters and – 420 to – 560 meters

DAY 6: Round trip tour to Lake Traunsee, 53 mi. (85 km)
The landscape is a bit different today. The cycling will be in a slightly hilly area to the beautiful city of Gmunden. The town on Lake Traunsee is where the Traun River flows out of this mountain lake. The site of Celtic and Roman settlements, Gmunden was fortified in the 12th century and chartered in the 13th. Its Baroque parish church on 13th-century foundations was consecrated in 1723, and the town hall dates from 1659. You can enjoy a coffee and a view of the water at the lake promenade. Once again on your cycle, it is a ride up the side of the mountain range called "devil mountains." Don't forget to stop and look back so that you can appreciate the view before you head back down to Lake Attersee. You can cycle around the lake back to St. Georgen or cross the lake on a boat. Overnight in St. Georgen.
Difference in altitude: + 790 meters and – 650 meters

DAY 7: Lake Attersee - Salzburg, 47 mi. (75 km)
In the morning you will pass fields and little hamlets on your ride to Lake Mondsee where you can visit the wedding church of the Sound of Music. You will notice that the landscape changes again with small, soft hills but you will still see lakes along your route. After Mondsee, you ride by Lake Irrsee, the only real climb up to Sommerholz, to a little church and an impressive view. From here the route is up and down through woods, fields, and hamlets to Eugendorf. The last 12 km you will follow the former Salzburg railway. Tonight you will overnight in this city of music. Salzburg literally means salt castle, aptly named for its massive fortress and the white gold of the surrounding mountains. Perhaps you will want to spend an extra night or two here to celebrate your accomplishments. Salzburg is the jewel of Austria and one of the most beautiful of all European cities. It is the birthplace of Wolfgang Amadeus Mozart. There is a memorial dedicated to him at the Salzburg Mozart Square that you will want to see. Nestled between two mountains Kapuzinerberg and Mönchsberg and the River Salzach, Salzburg is teeming with culture and history full of small alleyways with quaint, colorful townhouses. The exceptionally well-preserved Medieval and Baroque old town (Aldstadt) will be a highlight of your time in the city. It is tucked into the space between the cliffs of the Mönchsberg, a rocky hill that is topped by the massive fortress of the Hohensalzburg, and the left bank of the river. The 900-year-old fortress, reigning over the city, provides a stunning view. Bring your appreciation of beauty and culture, your love of history, and your sense of adventure.
Difference in altitude: + 570 meters and – 690 meters

DAY 8: Departure

7 Day Tour

Day 1: Arrival in Salzburg
Day 2: Salzburg - Hallstatt/Bad Goisern, 85 to 105 km, difference in altitude + 750 to 1.250 meters and – 620 to – 1.100 meters
Day 3: Round trip Ausserland,   80 to 107 Km, difference in altitude + 705 to + 1.050 meters and – 550 to – 1.010 meters
Day 4: Hallstatt - Lake Attergau (overnight in St. Georgen),   70 to 90 Km, difference in altitude + 550 to + 750 meters and – 420 to – 560 meters
Day 5: Round trip Lake Traunsee, 85 Km, difference in altitude + 790 meters and – 650 meters
Day 6: Attergau - Salzburg,  75 km, difference in altitude + 570 meters and – 690 meters
Day 7: Departure

5 Day Tour

Day 1: Arrival in Salzburg
Day 2: Salzburg - Hallstatt/Bad Goisern
Day 3: Hallstatt - Attergau
Day 4: Attergau - Salzburg
Day 5: Departure

*All distances are approximate.

If you're looking for a different flavor, check out our full list of bike tours in Europe or view all our featured bicycle tours, specials, and news.

Hotels & Bikes

Accommodations in 3 and 4-star hotels.

Bicycles

Inclusions

What's Included

Hotel accommodations for 4, 6, or 7 nights in 3 or 4-star hotels
Breakfasts
Road bike rental including pedals, spare tube, pump, and lock
Luggage transfer from hotel to hotel
Train ride from Obertraun to Tauplitz (8 and 7 day tour only)
1 x tour book per room
Service hotline
GPS data

Dates & Pricing

Dates

Daily arrival from April 22 to October 15, 2023

Please Note

Rates are per person, based on double occupancy
Tour prices are based on the fuel costs at time prices are set, often months or years in advance. In rare cases, additional fees may apply for fuel cost increases.

Pricing

2023

8 day tour 
Twin/double

$

2008

£

1061

$

1,783

€

1200

₪

4887

¥

184093

NZ$

2168

NOK

14568

kr

14192

$

1,310

Single room

$

2693

£

1424

$

2,392

€

1610

₪

6557

¥

246991

NZ$

2909

NOK

19545

kr

19041

$

1,758

 

7 day tour 
Twin/double

$

1807

£

955

$

1,605

€

1080

₪

4399

¥

165683

NZ$

1952

NOK

13111

kr

12773

$

1,179

Single room

$

2409

£

1274

$

2,139

€

1440

₪

5865

¥

220911

NZ$

2602

NOK

17481

kr

17030

$

1,573

 

5 day tour 
Twin/double

$

1455

£

769

$

1,293

€

870

₪

3543

¥

133467

NZ$

1572

NOK

10562

kr

10289

$

950

Single room

$

1857

£

982

$

1,649

€

1110

₪

4521

¥

170286

NZ$

2006

NOK

13475

kr

13128

$

1,212

Extra Options

GPS rental

$

125

£

66

$

111

€

75

₪

305

¥

11506

NZ$

136

NOK

910

kr

887

$

82

Welcome meeting

$

92

£

49

$

82

€

55

₪

224

¥

8438

NZ$

99

NOK

668

kr

650

$

60

Extra nights in Salzburg (4 star hotel)

April 1 to June 30 & September 1 to October 30
Twin/double

$

159

£

84

$

141

€

95

₪

387

¥

14574

NZ$

172

NOK

1153

kr

1124

$

104

Single room

$

209

£

111

$

186

€

125

₪

509

¥

19176

NZ$

226

NOK

1517

kr

1478

$

137

June 1 to August 31
Twin/double

$

201

£

106

$

178

€

120

₪

489

¥

18409

NZ$

217

NOK

1457

kr

1419

$

131

Single room

$

251

£

133

$

223

€

150

₪

611

¥

23012

NZ$

271

NOK

1821

kr

1774

$

164

Reduction (per person/night) if booking a 3 star hotel:

$

25

£

13

$

22

€

15

₪

61

¥

2301

NZ$

27

NOK

182

kr

177

$

16

Extra Info

Skill Level — Moderate–Difficult

This is a moderate to difficult self-guided road bike tour. You will mainly follow small side roads, cycle trails, and sometimes encounter short distances on main roads in which you will encounter traffic. Each day gives an option to cycle a shorter distance, and it is also possible to shorten the tour by using e.g a train or boat on a lake. There will be more traffic during the tourist season on the side roads of the lakes. The terrain is up and down with some ascents that are demanding but not very long (2 to 5 km).

Airport Info

Arrive Salzburg International Airport (SZG)

Local Travel

SZG airport is only 3 km away from the city center. You can take a city bus to the center and from there you can take a taxi to your starting hotel.

Climate

Please check local conditions prior to arrival.

Day of Rest

Day 3 and/or Day 5 can be used as a day of rest

Important to know

Travel Documents

It is each traveler's responsibility to ensure that you are in compliance with the country or countries you plan to visit.  This includes and is not limited to passport validity, visa requirements and acquisition, blank passport pages required for your destination (s), etc.

US citizens:  A good website to research the requirements of the Schengen Agreement and entry into other countries is travel.state.gov.
Non-EU and EU residents: Please research the requirements of your country of residence for international travel and your destination country or countries.

*Important note: Please check on the  European Travel Information and Authorization System (ETIAS) status as once implemented, this will be required to visit any of the 26 Schengen-member countries for tourism, business, medical, or transit. This is an additional check on security rather than a visa.

Covid-19 Info

Country Entry Requirements

Due to the changing requirements for entry, it is imperative that you stay up to date on requirements set by the country/countries that you are visiting. Please visit our Travel Restrictions Tool page and the country/countries government webpage for this information.

Extra Stay

Extra nights in Salzburg highly recommended and available upon request.

---

Photos
Have you been on this tour?
Please leave your feedback