Salzburg to Vienna
From Mozart's Town to the Historic Capital of the Hapsburg Empire
This bike tour through scenic Austria combines two of the country's most exciting cities and includes biking through the beautiful lake district and along the Danube Bike Path. Starting in Salzburg, where the famous music festival is annually held (late-July to late-August), the bike route follows the Salzach, Inn, and Danube Rivers past towering cathedrals to finally finish in the capital city Vienna.
Even the briefest of strolls through Salzburg is enough to reveal its prevailing Baroque architecture. West from Salzburg is the province of Upper Austria, which contains the beautiful lake region of Salzkammergut. This striking landscape of sparkling lakes and romantic mountains is also home to the venerable monasteries of St. Florian and Lambach.
Cycling the famous bend of the Danube at Schlögen, your journey continues to the provincial capital of Linz, with its charming historical center of Renaissance houses. From the Land of Lakes, you will next head east to the country's largest wine producing province, lower Austria. Stretching from Melk to Krems, the Wachau Valley offers an enchanting landscape of apricot orchards and tree-lined avenues that are almost as well known and inviting as the region's fruity wines.
And finally, the last night of your bicycle tour in Austria, will be spent in Vienna, the capital city whose glorious history and old roots as a monarchy reveal themselves around every corner. Some of the city's greatest highlights include the St. Stephen's Cathedral (located in the heart of the city), Belvedere Palace (of Baroque style with delightful gardens and magnificent views), Schönbrunn Palace (of Rococo style with great gardens), and the Hofburg Palace (the residence of Habsburg emperors). And, of course, one of the best highlights of the city is the delectable Viennese cuisine!
See all of our bike tours in Austria!
Where
You'll Stay
Accommodations in quality 3 to 4 star inns and hotels.
What's
Included
Accommodations for 8 day/7 nights
Breakfast
21-speed hybrid bicycle with handlebar bag
Luggage transfer (1 suitcase per person/,max 20 kg)
Route descriptions & maps (one set per room)
1 x boat ride on Lake Traun or train ride from Ebensee
1 x train Tulln to Vienna
1 x train Lambach to Linz
One bottle of wine per room from Wachau
Service hotline
What's
Not Included
Lunches and dinners
Excursions and entrance fees not mentioned above
Helmet purchase (payable on arrival): €25
Extra
Stay
Extra nights in Salzburg and/or Vienna are possible by request (hotels are either within the city centers or very nearby).
Tour
Dates
Season 1: April 1 to April 14 + October 14 to October 21, 2017
Season 2: April 15 to May 19 + September 30 to October 13, 2017
Season 3: May 20 to September 29, 2017
Skill
Level
This is an easy self-guided hotel tour with average distances of about 35 miles a day over a level landscape, which generally follows the flow of the Danube River. You will encounter some hilly stretches in the Salzkammergut.
Day-To-Day
Itinerary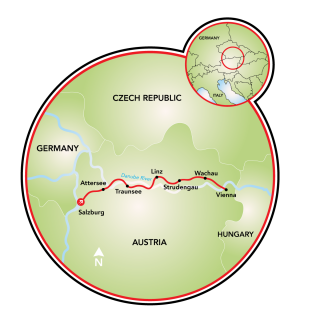 Day 1: Arrival in Salzburg
Day 2: Salzburg - Attersee, 37 mi. (60 km)
Day 3: Aattersee - Traunsee, 34 mi. (55 km) + train or ship Ebensee to Gmunden
Day 4: Traunsee - Linz, 19 mi. (31 km) + train ride Lambach to Linz
Day 5: Linz - Strudengau, 37 mi. (60 km)
Day 6: Strudengau - Wachau, 49 mi. (63 km)
Day 7: Wachau - Vienna, 41 mi. (65 km) + train
Day 8: Departure from Vienna
*All distances are approximate.
DAY 1: Arrival in Salzburg
Individual arrival in Salzburg with the rest of the day free to explore this rich city.
DAY 2: Salzburg - Attersee, 37 mi. (60 km)
Along the old railway line Ischler, the route leads to the Mondsee and soon to the rolling hills of the Attergau and the Attersee, a popular recreation area that is favored by locals and tourists alike.
DAY 3: Aattersee - Traunsee, 34 mi. (55 km) + train or ship Ebensee to Gmunden
Today you will pass through the romantic valley Weißenbachtal and reach the banks of Lake Traunsee, Austria's deepest lake, surrounded by the gentle hills of the Alpine foothills and offering views of the first steep foothills of the Kalkalpen mountain range. After, you continue to Ebensee where the ship awaits.
DAY 4: Traunsee - Linz, 19 mi. (31 km) + train ride Lambach to Linz
This cycling stretch leads you through the villages of Laakirchen and Steyrermuhl on to Lambach. In Lambach, you will board the train for a transfer to Linz.
DAY 5: Linz - Strudengau, 37 mi. (60 km)
A visit to the monastery in St. Floria is highly recommended and a stop by the winsome little walled town of Enns, situated close to the confluence of the Enns and the Danube. It has been a strategically important site for more than two millennia. Final destination is the romantic baroque town of Grein. Above the town to the west, towers the imposing Greinburg Castle.
DAY 6: Strudengau - Wachau, 49 mi. (63 km)
Passing through the regions of Strudengau and Nibelundengau, you reach the famous Wachau, recently nominated as an Unesco World Culture Heritage Area. Highlight here is the Melk Monastery which stands crowned by towers and resplendent in a golden hue.
DAY 7: Wachau - Vienna, 41 mi. (65 km) + train
You will enjoy the ride through a few impressive villages such as Weißenkirchen and Dürnstein, where Richard the Lion Heart was once taken captive and then on to the medieval town of Krems and a visit to the impressive Benedictine monastery of Gottweig. In Tulln, there is a transfer by train to the "City of Music", Vienna.
DAY 8: Vienna
Departure following breakfast.
You can view all of our bike tours in Europe or look at our featured bike trips, specials, and news.
Email or Call 800-951-4384 +1 570-965-2064
---