5

/

5

(

1

review)
Shakespeare's Country Bike Tour
Cycling in the Cotswolds region of England!
Biking in the Cotswolds region of England incorporates a great blend of Shakespeare and scenic rides and a chance to step back in time where many towns retain their Tudor character. Whether it is watching the sunset over the rolling hills or rising over Broadway's high street, you will not want to leave this idyllic region.

This UK bike tour takes you through some of the quintessential villages this region is famous for. Cycling in the Cotswolds offers beautiful scenery that seems as though it belongs on a postcard and will leave you wanting to return here time and time again. If you enjoy life at a slower pace you will fit right in here in the Cotswolds, also known as Shakespeare's Country.

Feel free to explore our other bike tours in England!

2017

Price: $ 1864 £ 929 $ 1,565 € 991 $ 1896 kr 11105 $ 1,101

Single supplement: $ 781 £ 389 $ 656 € 415 $ 794 kr 4650 $ 461

please

note

Rates are per person based on double occupancy.

A non-refundable admin fee of 20 Euros per person is included in the deposit amount.

Information to read before you book.

We recommend purchasing bike trip insurance.

† Currency exchange rate set 90 days before travel.

Travel

Fly to Birmingham International Airport.

Local Travel

From the airport, take a bus to Stratford-Upon-Avon. Private transfers are also available.

Climate

Please check local conditions before arrival. Average high/low temperatures in degree Fahrenheit for Stratford-Upon-Avon are: May, 63°/45°; June, 68°/50; July, 72°/54°, August 72°/54°, September, 66°/50°, and October, 59°/45°.

---
Where
You'll Stay
3 to 4 star hotels, guest houses, and country inns
What's
Included
Accommodations for 7 nights including breakfast
Luggage transfer
24-speed hybrid bicycle with lock, pannier, bottle cage, and repair kit
Route book with maps and other tourist information
What's
Not Included
Tour
Dates
Arrival on Saturdays from May 1 to September 30, 2017
Skill
Level
This England bike tour is considered easy to moderate, self-guided bike tour with average daily distances ranging from 20 to 45 miles (32 to 73 km).
Day-To-Day
Itinerary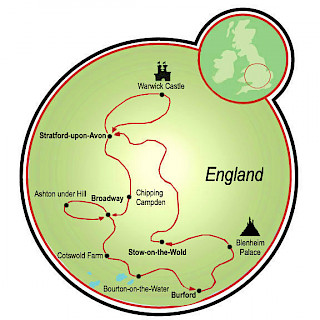 Day 1: Arrival in Stratford-Upon-Avon
Day 2: Warwick Castle Loop, 29 mi. (47 km)
Day 3: Stratford-Upon-Avon – Broadway, 20 mi. (32 km)
Day 4: Cotswolds Explorer Circular, 29 mi. (46 km)
Day 5: Broadway – Burford, 23 mi. (38 km)
Day 6: Burford – Stow-on-the-Wold, 21 or 45 mi. (34 or 73 km) 
Day 7: Stow-on-the-Wold – Stratford-upon-Avon, 30 mi. (48km)
Day 8: Departure
*All distances are approximate.
Day 1: Arrival in Stratford-Upon-Avon
Shakespeare's birthplace is well worth a visit and will teach you more about this famous playwright. Enjoy a walk around this culturally rich and beautiful city or if time permits, there may even be a show at the Royal Shakespeare Theatre.
Day 2: Warwick Castle Loop, 29 mi. (47 km)
Today your bicycle tour in England begins with a wonderful first day of cycling to one of the best-kept castles in the United Kingdom, Warwick Castle. This stunning structure, built by William the Conqueror in 1068 within the Anglo-Saxon burgh of Warwick. En route to Warwick you will travel through the quintessential towns that the Cotswolds is well-known for.
Day 3: Stratford-Upon-Avon – Broadway, 20 mi. (32 km)
Today you will cycle south along the quiet Greenway, converted from an old railway track in 1989. Leaving the Greenway, you will head down the quiet country roads, through the rolling hills, passing through beautiful countryside. On the way, you will pass through one of the gems in the Cotswolds, the ancient market town of Chipping Campden. Leaving Chipping Campden through the country roads towards your destination, the beautifully kept village of Broadway, often referred to as the 'Jewel of the Cotswolds'.
Day 4: Cotswolds Explorer Circular, 29 mi. (46 km)
Using mainly quiet roads, you will cycle past some of the most breathtaking scenery that this area has to offer. Passing through rolling hills, you may work up an appetite for tea and cake, known locally as a "cream tea", one if the guilty pleasures in the Cotswolds.
Day 5: Broadway – Burford, 23 mi. (38 km)
Leaving Broadway, cycling through the quiet back roads on the way to Burford, be sure to take your camera as you make your way through this picturesque landscape. Cotswold Farm Park is worth a visit for a light refreshment. Next, you pass through Bourton-on-the-Water. It's known as the 'Venice of the Cotswold's' because of the bridge spanned stream that runs through the village. Perfect for lunch with lots of outdoor cafes, you will feel as if you are in Venice. Burford is known as the gateway to the Cotswold's. The town center features houses dating back to the 15th century. Its most notable building, however, is the parish church dedicated to St. John the Baptist.
Day 6: Burford – Stow-on-the-Wold, 21 or 45 mi. (34 or 73 km) 
Today provides a choice of two routes. The first longer route passes Blenheim Palace, the birthplace of Sir Winston Churchill, who was Prime Minister of Great Britain from 1940 to 1945 and then again from 1951 to 1955. This magnificent building is set in acres of unspoiled grounds, and is well worth cycling the extra miles! The other route is shorter and allows you to take your time to take in all the beautiful views you will see on the way to the historic town of Stow-on-the-Wold.
Day 7: Stow-on-the-Wold – Stratford-upon-Avon, 30 mi. (48km)
The last days riding offer the perfect opportunity to feel the fresh, clean Cotswold air on the last day of your tour.
Day 8: Departure
Your England bike tour is complete after breakfast. 
If you're looking for a different flavor, check out our full list of bike tours in Europe or view all our featured bicycle tours, specials, and news.
Email or Call 800-951-4384 +1 570-965-2064
---