South Wales-The Region of Pembrokeshire Bike Tour
Wales Bike Tours
Cycling in Wales!
These bike routes in South Wales follow the breathtaking Pembrokeshire coastline, sections of which are a national park. Pembrokeshire is one of Wales most gorgeous regions known for its sea and wildlife and is the perfect place for a bicycle tour. Enjoy whale watching and observing dolphins and porpoises leaping from the water as you bike the stunning coastline. Cardigan Bay is a permanent residence of these fabulous creatures and it is possible to take boat trips to further explore the sea life. This cycling vacation is a once in a lifetime experience, perfect for the adventurer in everyone!

Be sure to check out our other bike tours in Wales.

2017

8 day tour: $ 1604 £ 819 $ 1,413 € 941 $ 1672 kr 10202 $ 1,055

Single supplement: $ 631 £ 322 $ 556 € 370 $ 658 kr 4011 $ 415

6 day tour: $ 1376 £ 702 $ 1,212 € 807 $ 1434 kr 8749 $ 905

Single supplement: $ 580 £ 296 $ 511 € 340 $ 604 kr 3686 $ 381

please

note

Rates are per person based on double occupancy.

Information to read before you book.

We recommend purchasing bike trip insurance.

† Currency exchange rate set 90 days before travel.

Travel

Fly into Bristol Airport. Another option is to fly into London.

Local Travel

From Bristol, you can take a train to Haverfordwest and then a taxi to Fishguard.

From London, take a train from London Paddington to Haverfordwest. Trains run every two hours with one change in Swansea. Travel time is approximately 4 hours and 50 minutes. Taxi to Fishguard.

Climate

Please check local conditions before your arrival. Average high/low temperature in degrees Fahrenheit for Fishguard are: May 57°/42°, June 61°/46°, July 65°/50°, August 65°/50°, September 61°/47°, and October 55°/43°

---
Where
You'll Stay
3 to 4 hotels, guest houses, and country inns
What's
Included
Accommodations for 5 or 7 nights including breakfast
Luggage transfer
24 speed hybrid bicycle with lock, pannier, bottle cage, and repair kit
Route book with maps and other tourist information
GPS tracks are available for download. Just ask.
What's
Not Included
Tour
Dates
Arrival possible on Saturdays from April 1 to September 30, 2017
Skill
Level
This is a moderate, self-guided cycle tour in Wales suitable for cyclists with some experience.
Day-To-Day
Itinerary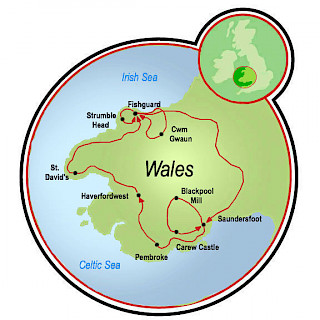 Day 1: Arrival in Fishguard
Day 2: Fishguard loop, 34 mi. (55 km)
Day 3: Fishguard - Saundersfoot, 32 mi. (52 km)
Day 4: The Mills and Mining Trail, 36 mi. (60 km)
Day 5: Saundersfoot - Haverfordwest, 24 mi. (40 km)
Day 6: Departure from Haverfordwest OR Haverfordwest - Fishguard, 42 mi. (70 km)
Day 7: Fishguard, round tour, 20 mi. (32 km)
Day 8: Departure
All distances are approximate.
Day 1: Arrival in Fishguard
Arrive in the quaint port of Fishguard, your first stop on this Wales cycle route. From here you could catch the ferry to Ireland! Your first night is in a lovely guest house with beautiful gardens and a breathtaking view of the sea.
Day 2: Fishguard loop, 34 mi. (55 km)
This stretch of coastline is truly stunning, and not very commercialized so you can really enjoy its natural beauty. You will cycle up the stunning Cym Gwaun Valley right into the Welsh hills before looping back to the west coast of Pembrokeshire. You can take a detour to Cardigan, a superb town at the head of a beautiful river. There will be a few opportunities to relax on a nice sandy beach before heading back over the hills to Fishguard.
Day 3: Fishguard - Saundersfoot, 32 mi. (52 km)
The wild area of the Preseli Hills famous for its ponies and blue stones is the start of your day. These blue rocks are where the stones used to build Stonehenge. On can only wonder how these huges rocks were transported from Wales to South England centuries ago!  Along this route, you will see many Neolithic and Bronze Age standing stones that were used to build Stonehenge. You will soon turn south and follow the rolling hills towards the south coast and the beautiful fishing village of Saundersfoot. Take a walk on the wonderful sandy beach before enjoying the evening in one of the many local restaurants.
Day 4: The Mills and Mining Trail, 36 mi. (60 km)
Today, your Wales bike ride will take you inland through Canaston Woods which is rich in mining history. This whole area was a major part of Pembrokeshires coal fields from the 17th Century. Soon you reach Blackpool Mill which is one of Britain's best examples of a corn grist mill. Now you follow the river estuary upstream, look out for the bird life alon the river banks. Soon you will reach the famous Carew Castle before circling back to Saundersfoot.
Day 5: Saundersfoot - Haverfordwest, 24 mi. (40 km)
Biking west along the south coast of Wales along the Celtic trail, you arrive in the town of Pembroke. There is opportunity to visit its castle and have a break before continuing north to Haverfordwest. As an optional ride, you can head towards the coast and Brides Bay. Relax on one of the lovely sandy beaches located right in the coastal National Park.
Day 6: Departure from Haverfordwest OR Haverfordwest - Fishguard, 42 mi. (70 km)
Initially, the route leads back to the coastal National Park and then on to St. David's, which is Wales smallest, spiritual capital (St. David is Wales' Saint Patron) and its cathedral. After exploring the cathedral, cycle on to St. David's head to see the stunning views before heading north to Newport.
Day 7: Fishguard, round tour, 20 mi. (32 km)
Today is a fabulous coastal ride heading west visiting a tiny ancient chapel in Llanwnda before heading to the lighthouse at Stumble Head. After your look across the sea you head back inland, with occasional views of the ragged Pembrokeshire coastline you will reach a working Mill. Soon you will be back in Fishguard for a relaxing walk around the town.
Day 8: Departure 
Your South Wales bike ride will end after breakfast.
If you're looking for a different flavor, check out our full list of our bike tours in Europe or view all our featured bicycle tours, specials, and news.
Email or Call 800-951-4384 +1 570-965-2064
---