The Way of St. James
Bike Portugal via an old pilgrimage route
Camino de Santiago de Compostela (The Way of St James) is a Portugal cycle tour that is different from all of our other tours. This is a spiritual journey, a pilgrimage route to the Cathedral of Santiago de Compostela in Galicia in Northwestern Spain, where tradition has it, the remains of the apostle Saint James are buried. The landscape of Galicia is lush, mountainous, and peppered with forests of pine and eucalyptus. The Way of St. James has existed for over a thousand years. It was one of the most important Christian pilgrimages during medieval times, a journey of faith and hope, and has been covered by thousands of pilgrims through the centuries since the 9th century. This Portugal cycling tour was originally covered on foot by devote pilgrims, beggars, clergymen, and nobles. It is still transversed today, but not only on foot but also by bicycle! As you cycle Portugal, "The Way" follows off-road trails, narrow roads, and footpaths, always in a straight line when possible in order to make the way as short as possible to get to Santiago de Compostela. This tour follows the Portuguese Way to Santiago. Starting in Guimarães, a medieval town also known as the "Birthplace of Portuguese Nation", towards Ponte de Lima, known as the Central Way (Caminho Central), and then along the Medieval Way (Caminho Medieval) to Santiago de Compostela, in Spain. It covers innumerous paths and trails, ancient Roman roads and passes through dense woods and over mountains. You will cross small stone bridges and meander the alleys in the villages. Many sections of the original way have been asphalted and civilized, but it is still "O Camino de Santiago de Compostela" (The Way of St James).
Want to see more bike tours in Portugal?
Where
You'll Stay
4* hotels or Pousadas (a type of exclusive and often historic hotel located throughout Portugal. There are currently over 40 pousadas in Portugal.)
What's
Included
Hotel accommodations for for 6 nights including breakfast
27 speed bike with 26 inch MTB tires and front suspension
Transfers from and to Oporto Airport (or Lisbon Airport)
Luggage transfer
Liability insurance
Accident insurance
Route descriptions
Also included in Guided Tour:
Tour guide
Van support
3 picnics
6 Dinners (including regional wines, cheese, and lovely desserts)
Daily energy-bars and water
Techno-medical assistance
What's
Not Included
Individual arrival
Excursions not listed
Extra
Stay
Can be arranged.
Tour
Dates
May 4, June 26, July 10, July 17, August 28, and September 18, 2016
Please note that additional dates may be possible (subject to availability) for the self-guided version only. If you would like to depart on a date not listed, please contact us. 
Skill
Level
This is a moderate to difficult guided or self-guided tour that is comprised of 40% off road cycling and 60% on asphalt. You will cover 136 miles in 5 days of cycling. The ascents encountered range from 790 meters to 1420 meters.
Day-To-Day
Itinerary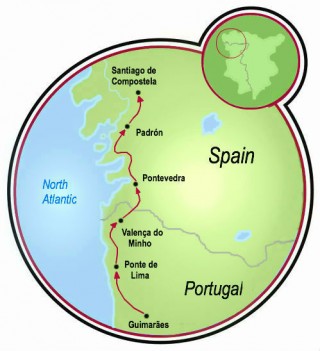 DAY 1: Arrival and transfer to Guimarães
DAY 2: Guimarães - Ponte de Lima, 38 mi/61 km/1520 m ascent
DAY 3: Ponte de Lima - Valença do Minho, 24 mi/38 km/1180 m ascent
DAY 4:  Valença do Minho - Pontevedra, 33 mi/53 km/1420 ascent
DAY 5: Pontevedra - Padrón, 25 mi/41 km/940 m ascent
DAY 6: Padrón - Santiago de Compostela, 16 mi/25 km/790 m ascent
DAY 7: Departure
*All distances are approximate.
DAY 1: Arrival and  transfer  to Guimarães
Briefing about the tour followed by dinner. Lodging in a Pousada which was a beautiful 12th century Monastery.
DAY 2: Guimarães - Ponte de Lima, 38 mi/61 km/1520 m ascent
After breakfast, the ancient city of Guimarães is left behind following the paths covered by the pilgrims. Destination is the medieval city of Ponte de Lima, bathed by the river. Situated on the south bank, this market town faces a magnificent Roman bridge with low arches. Its setting, together with a laid-back atmosphere makes it one of the loveliest small towns in Portugal. If you are part of a guided tour, you will enjoy a picnic en route and dinner in the evening. Lodging in a new 4* hotel overlooking the Lima river and very near to the historic center.
DAY 3: Ponte de Lima - Valença do Minho, 24 mi/38 km/1180 m ascent
After breakfast, the route leads towards the Spanish border, the night is spent in Portugal, in the beautiful medieval city of Valença do Minho, which is protected by a fortress with double walls. This fortress is one of the most popular attractions in Portugal. The old town is surrounded by its huge stone ramparts. Here you'll find narrow alleys - and the famous textile shops. Lodging in a Pousada which is set on the highest place of the old fortified area of Valença, with a great view to Spain. The guided tour once again will enjoy a picnic lunch and evening meal.
DAY 4: Valença do Minho - Pontevedra, 33 mi/53 km/1420 ascent
Today's route takes you across the Spanish border to the the city of Pontevedra. The first Spanish city you come to is Tui, which has been declared a Historic-Artistic Site, and owes its rich heritages to its strategic location. Tui is, above all, a walled cathedral center of cultural, economic, and military life. Tonight is spent in Pontevedra. This city with a long maritime and trading tradition, boasts one of the largest and most elegant historic quarters in the whole of Galicia. Situated on the edge of the estuary of the same name, the old town extends in a network of streets and squares and contains major civic and religious buildings
DAY 5: Pontevedra - Padrón, 25 mi/41 km/940 m ascent
This day finds your cycling through a dense forest of lush luxuriant vegetation to your destination, Padron. Be it true or false, legend claims that Padron got its name from a large stone to which the boat, transporting the dead and decapitated body of the Apostle St. James, was tied during a stop at "Iria Flavia" while en route to Santiago. St. James arrived in Galicia around 45 A.D. He regularly preached at a rocky area above Padron called "Santiaguino del Monte" and he is also reputed to have caused a spring to spout water by bringing down his staff on solid rock as a demonstration of God's power to non believers. Both the elevated rocky preaching point and the spring survive today. Lodging in a 4* hotel with a swimming-pool; the building was built in the 16th century and it was the vacation house for the archbishops from Compostela. For the guided tour, picnic and evening meal.
DAY 6: Padrón - Santiago de Compostela, 16 mi/26 km/790 m ascent
Arrive at Santiago de Compostela, the final destiniation of the tour to complete your cycling vacation. Lodging in a beautiful 4* hotel ideal to rest after this long ride and very near to the historical center of Santiago de Compostela.
DAY 7: Departure
After breakfast transfer to Oporto  (2 hours and 30 minutes) or Lisbon airport. (6 hours and 30 minutes).
Looking for more?  View all our featured bicycle tours, specials, and news or look at our full list of bike tours in Europe.
Email or Call 800-951-4384 +1 570-965-2064
---