5

/

5

(

1

review)
Trizay Bike Tour
Cycling in France along the Sunny East Coast
This France bicycle tour ventures into the beautiful Romanesque Saintonge region, long used by pilgrims on their way to Santiago de Compostela. The Charente-Maritime region is named after the Charente River and located on the west coast of France just north of Bordeaux with a deliciously mild, sunny climate! It is known for being the headquarters of the major oyster producer Marennes-Oléron. Nearby are numerous châteaux: Château de La Roche-Courbon, Château de Crazanne, Château de La Gataudiere and Château de Buzay as well as the towns of Rochefort (a ship-building town), Saintes, Cognac, La Rochelle (known for its picturesque medieval harbor and city walls) and Royan.

The various routes that can be taken on this tour include along the Charente River to the small village castle of Soubise and to the fishing village of Port-des-Barques, where oysters and mussels abound! There's also a beautiful ride to Brouage and Marennes, where you can visit an 18th century castle or climb the 85 meter high Gothic church tower. One day will incorporate a trek through the fruitful valley of the Arnoult, where you'll cycle over quiet roads to Pont-l'Abbé. This town originated around an 11th century Benedictine priory. You can also cross the Charente to Rochefort: a 17th century harbor town with a symmetrical streetplan. Here you can visit the naval museum with a ship dockyard as well as the birthplace of the writer/adventurer Pierre Loti.

Don't forget to check out our other France cycle tours!

Price $ 2289 £ 1145 $ 1,976 € 1271 $ 2354 kr 14171 $ 1,400

Single supplement: on request

Surcharge, July & August: $ 117 £ 59 $ 101 € 65 $ 120 kr 725 $ 72

extra

options

Extra night including dinner and bike rental: $ 297 £ 149 $ 257 € 165 $ 306 kr 1840 $ 182

Surcharge July & August: $ 18 £ 9 $ 16 € 10 $ 19 kr 111 $ 11

please

note

Rates are per person based on double occupancy.

A non-refundable admin fee of 20 Euros per person is included in the deposit amount.

Information to read before you book.

We recommend purchasing bike trip insurance.

† Currency exchange rate set 90 days before travel.

Travel

Fly to Paris.

Local Travel

Train from Paris' Charles de Gaulle airport to Rochefort, 4-5 hr. depending on connections. Taxi to resort in Trizay.

Climate

Check local weather conditions prior to arrival. The average high/low temperatiures in °F for the area are approximately: April, 60°/44°; May, 66°/49°; June, 73°/55°; July, 76°/58°; August, 77°/58°; September, 73°/54°; and October, 64°/45°

---
Where
You'll Stay
Accommodations for this tour is in Les Jardins du Lac, an excellent 3 star hotel with a great restaurant located within a picturesque garden-lake environment. All 8 rooms at this hotel have a balcony overlooking Lake du Bois Fleuri, where you can go swimming, fishing or rent a small boat. The hotel also has an outdoor swimming pool and sauna.
What's
Included
Hotel accommodations for 7 nights
Breakfasts & 3-course dinners
8-speed touring bicycle
Route information & map (one per room)
What's
Not Included
Train ticket Paris to Trizay, ± $76
Repair kit for bike
Tour
Dates
Daily arrival possible from March 1 to October 31, 2018
Skill
Level
This France bike tour is classified as an easy self-guided based tour.
Day-To-Day
Itinerary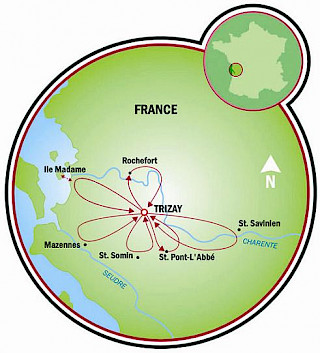 Numerous routes and excursions with varying distances are possible from Trizay:
Excursions:
Estuaries from the Charente River, 30 mi.
Brouage and Marennes, 23 or 36 mi.
Along the Charente River, 14 or 32 mi.
Along the old coast, 26 mi.
Vallée de l'Arnoult, 12 or 27 mi.
To Rochefort, 19 mi.
A – You follow the Charente River downstream to the coast of the Atlantic Ocean. Via the small village castle of Soubise, along the 17th century Fort Lupin and past streams, you will ride to the fishing village of Port-des-Barques. Here at the mouth of the Charente, everything revolves around the production of oysters and mussels. At low tide, you can cross over to Île Madame, located just before reaching the coast.
B – A beautiful ride via vast marshlands to the heart of the fortified town of Brouage: once the strongest bulwark along the Atlantic coast. This trek can be lengthened with a detour to Marennes, center of oyster cultivation. Here you can visit an 18th century castle or climb the 85 meter high Gothic church tower, which offers a great panoramic view of the bay and oyster parks.
C – Through the valley of the Charente. The constant working of the tides has shaped a natural water meadow. Along various villages often decorated with a castle or Roman church, you will ride to St. Savinien, a picturesque village with many riverboats. The natural limestone here was used to build the cathedral in Cologne as well as several Flemish churches, among other buildings. The labyrinth of caves can be visited.
D – A ride past former coastal villages, now beautifully situated on the edge of a marshland polder, including: St.-Jean-d'Angle (with an old market hall), St. Symphorien (pilgrimage churches) and St. Sornin (castle ruins).
E – Through the fruitful valley of the Arnoult, you will cycle over quiet roads to Pont-l'Abbé. This town originated around an 11th century Benedictine priory: the monks have taken on the work of developing the saltwater marshes. Small streets, the church and priory, the town harbor and moat all give the area a nice atmosphere. This trek can be lengthened with a visit to a nice castle.
F – Over a unique suspension bridge, you will cross the Charente to Rochefort: a 17th century harbor town with a symmetrical street plan. Here you can visit the naval museum with a ship dockyard as well as the birthplace of the writer/adventurer Pierre Loti. On the way back, you cross over the Charente via a 'pont suspendu' (an interesting bicycle suspension bridge).
Be sure to check out all of our bike tours in Europe or look at our featured bike trips, specials, and news.
Email or Call 800-951-4384 +1 570-965-2064
---