4.5

/

5

(

2

reviews)
Tuscany - Florence, Siena, and the Chianti Bike Tour
Italy Bike Tours
A glorious bike tour in Tuscany
This bicycle tour in Italy starts in Siena, with it's amazing Piazza del Campo that has been declared a World Heritage Site. On it is the famous Palazzo Pubblico, a great art museum which is itself a marvel of architecture. The famous Palio horse races are also held in Siena. From Siena, the tour heads north to the beautiful village of Radda in Chianti. Situated on a hill covered with vineyards, Radda also produces the best olive oil in the region. Further along your bike in Tuscany, you'll ride through the famous vineyards of the Chianti region to Greve and finish the day's bike in Florence. The capital of Tuscany, Florence is located on the banks of the Arno River in the very heart of Italy. Enjoy this very unique city when drinking your café latte on the Piazza della Signoria with the sculpture of David by Michelangelo in your sight.

Want to see more bike tours in Italy?

2019 Prices

Sesaon 1

$

1349

£

668

$

1,166

€

730

$

1377

kr

8229

$

832

Season 2

$

1497

£

741

$

1,294

€

810

$

1528

kr

9131

$

923

Season 3

$

1552

£

768

$

1,342

€

840

$

1584

kr

9469

$

957

Single Supplement

$

370

£

183

$

320

€

200

$

377

kr

2255

$

228

                                    

Season 1: March 3, to April 12 and Sept 28 to Oct 12, 2019 

Season 2: April 13 to May 17 and Sept 8 to Sept 27, 2019

Season 3: May 18 to Sept 7, 2019

extra

options

Electric bike: $ 203 £ 101 $ 176 € 110 $ 207 kr 1240 $ 125

Helmet rental: $ 28 £ 14 $ 24 € 15 $ 28 kr 169 $ 17

Reduction for third person in a room:  $ 185 £ 91 $ 160 € 100 $ 189 kr 1127 $ 114

Extra nights (prices per person/night)

Florence (prices from):  $ 139 £ 69 $ 120 € 75 $ 141 kr 845 $ 85

Single supplement (prices from): $ 240 £ 119 $ 208 € 130 $ 245 kr 1465 $ 148

Siena: $ 111 £ 55 $ 96 € 60 $ 113 kr 676 $ 68  

Single room: $ 166 £ 82 $ 144 € 90 $ 170 kr 1015 $ 103

please

note

Rates are per person based on double occupancy.

A non-refundable admin fee of 20 Euros per person is included in the deposit amount.

Information to read before you book.

We recommend purchasing bike trip insurance.

† Currency exchange rate set 90 days before travel.

Travel

Fly to Florence or Pisa, then connecting flight to Siena.

Local Travel

From Florence, first bus from the airport to the city - then by train to Siena - approx. 2 hours.

Climate

Average high temperatures in degrees Fahrenheit for Siena are: March, 53º; April, 60º; May, 69º; June,75º; July, 82º; August, 82º; September, 75º ; and October, 64º

Recommended

Including dinners.

Remarks

Electric bike available for this tour. With dinners included, 6 x 3-course meals are included. Beverages are not included and will need to be paid on the spot. The restaurants are mostly in the city centers and very rarely in the hotels.

---
Skill
Level
This Tuscany bike tour is classified as difficult. Though daily distances are not excessive, some climbs are very steep and continuous. The total vertical distance is 3,970m. Tour runs primarily on side roads. Entering and exiting the cities, you will encounter traffic, that at times can be heavy. Distances range from 25 to 28 miles per day.
Where
You'll Stay
Cozy and comfortable 3 star hotels and B&B's
What's
Included
Hotel accommodations for 7 nights
Breakfast buffets
27-speed hybrid bicycle
Luggage transfer
Route descriptions & maps (per room)
7 day hotline service
Free parking (if arriving by car)
What's
Not Included
Remaining meals
Local hotel taxes (€10 to €15)
Train transfer from Florence to Certaldo (€10 per person)
Extra
Stay
Extra night in Florence, or in Siena possible.
Tour
Dates
2019 Dates
Every Saturday from March 23 to October 12, 2019
*Special departure dates can be arranged for groups of at least 5.
Day-To-Day
Itinerary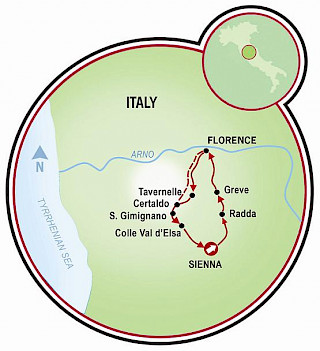 DAY 1: Arrival in Siena
DAY 2: Siena - Radda in Chianti, 28 mi. (45 km)
DAY 3: Radda in Chianti - Greve, 25 mi. (40 km)
DAY 4: Greve - Florence, 25 mi. (40 km)
DAY 5: Florence - Tavarnelle, 25 mi. (40 km)
DAY 6: Tavarnelle - Colle Val D'Elsa, 28 mi. (45 km)
DAY 7: Colle Val D'Elsa - Siena, 25 mi. (40 km)
DAY 8: Departure
*All distances are approximate.
DAY 1: Arrival in Siena
Arrival in Siena. Bikes can be picked up at a local bike shop.
DAY 2: Siena - Radda in Chianti, 28 mi. (45 km)
From Siena you will start your Tuscany bike tour by heading north towards the beautiful village of Radda in Chianti. This town is situated on a hill covered with woods and extensive vineyards forming the watershed between the Pesa and Arbia valleys. Formerly belonging to the Guidi family, it came under Florentine control in 1203. After being fortified in 1400 it was, from 1415 onwards, head of the League of Chianti, and it preserves the remains of its ancient walls.
DAY 3: Radda in Chianti - Greve, 25 mi. (40 km)
Today, you continue cycling through Italy over the Tuscan hills and breathtaking views will accompany you through the famous vineyards of the Chianti region. You will have the option once you reach Panzano to choose between the longer and shorter stages. If you chose the longer stage, your reward will be the challenges of the climbs with beautiful views and the small village of Sillano, famouse for its old parish, San Pietro whose recorded history dates back to before the year 884 when it is mentioned in the parchment of the Badia a Passignano. The shorter stage is all downhill into the enchanting down of Greve with its historic triangular main piazza, where a market has been running more or less continuously for centuries serving the nearby castle communities and hamlets. Greve is a town that invites you to stroll and experience as there are lovely, ancient alleyways that meander throughout the outskirts of the town. Observe the flowers and gardens, even on second story balconies, and the ever present laundry hanging from almost every window.
DAY 4: Greve - Florence, 25 mi. (40 km)
Today's you will bike Florence - the capital of Tuscany - located on the banks of the Arno River between the Adriatic and Tyrrhenian Seas, in the very heart of Italy. Your ride this day will have you climb the mountain tops where your view of Florence is usually bought with a price by your typcial tourist. You however, will merge with the Italians as you bike into the city, cross the street and are suddenly overjoyed to see the Ponte Vecchio on your left and the lovely Arno in front. Enjoy this very unique and artistic city when drinking your café latte on the Piazza della Signoria with the copy of the sculpture of David by Michelangelo in your sight. Renaissance villas, age old olive trees, romantic parishes and lonely cypresses make this opportunity worth an extra day in Florence.
DAY 5: Florence - Tavarnelle, 25 mi. (40 km)
The village of Tavarnelle Val di Pesa has Roman origins; it is named after the ancient taverns offering accommodation and refreshment located alon the road which linked Florence to Siena and thence to Rome.
DAY 6: Tavarnelle - Colle Val D'Elsa, 28 mi. (45 km)
From Tavarnelle, you cycle to Colle di Val d'Elsa which lies in the heart of Tuscany, in a strategically favorable position near athe towns of Siena and Florence. It is situated ont eh via Francigena that connects Rome with the North. On the way you pass Certaldo whose upper portion has remained as it was in the middle ages. Further you you come across San Gimignano, which rises on a hill dominating the Elsa Valley with its towers. 
DAY 7: Colle Val D'Elsa - Siena, 25 mi. (40 km)
See above
DAY 8: Departure
Be sure to check out all of our bike tours in Europe or look at our featured bike trips, specials, and news.
Email or Call 800-951-4384 +1 570-965-2064
---