Ulm to Regensburg
A German bicycle tour for families!
This bike tour in Germany is perfect for families! Biking along the Danube River makes for flat riding and the paths are almost entirely traffic-free, and the views from the river banks are truly magnificent. The ride begins in Ulm, home to the tallest Cathedral in the world which is surely worth a visit. Ulm is also the birthplace of the famous Albert Einstein. Via small quaint German towns you will pedal your way to Günzburg, with a very intact old town center. If the kids come along, you may be able to visit the Legoland Theme Park built just outside of Günzburg. Pedaling on, you will be pleased to arrive in Donauwörth, part of the scenic Romantic Road. Be sure to take a stroll down the lively and attractive Reichsstrasse (street) with many shops & cafes. Ingolstadt, Neuburg, and Bad Gögging also await you in the days ahead. Neuburg has a defensive wall around the old town. The end destination is the ideal town of Regensburg. You cannot miss its old city center.
Don't forget to check out all our bicycle tours in Germany.
Where
You'll Stay
In very nice, comfortable 3 to 4-star hotels and B&Bs. All rooms have private facilities.
What's
Included
Accommodations for 6 nights
Breakfasts
Luggage transportation
Route descriptions and maps
Service hotline
21-speed hybrid bicycle equipped with two panniers
What's
Not Included
Individual arrival to Ulm
Remaining meals
Tourist tax (payable locally)
Extra
Stay
Additional nights available in Ulm or Regensburg.
Tour
Dates
Every Friday and Saturday from April 15 to September 17, 2016
Skill
Level
This is an easy, self-guided hotel tour. Cycling takes place on flat, good asphalted bike paths and country roads. Mileages per day range anywhere from 19 to 42 miles but keep in mind you have the entire day to complete them.
Day-To-Day
Itinerary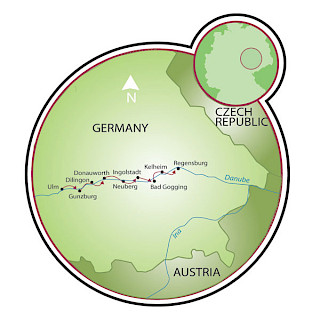 Day 1: Arrival in Ulm
Day 2: Ulm - Günzburg, 19 mi. (30 km)
Day 3: Günzburg - Donauwörth, 42 mi. (66 km)
Day 4: Donauwörth - Ingolstadt, 39 mi. (62 km)
Day 5: Ingolstadt - Bad Gögging, 25 mi. (40 km)
Day 6: Bad Gögging - Regensburg, 34 mi. (54 km)
​Day 7: Departure from Regensburg
All distances are approximate.
DAY 1: Arrival in Ulm
Individual arrival. Welcome to the city with the world's largest cathedral. The view of the beautiful Danube landscape is quite idyllic.
DAY 2: Ulm - Günzburg, 19 mi. (30 km)
If you haven't already visited the Ulm Minster (cathedral), you can do this in the morning. Afterwards, you bike through small German towns such Friedrichsau and Thalfingen to Günzburg. This city has a wonderful old center worth strolling through at night. The town is also famous for it's Legoland theme park nearby.
DAY 3: Günzburg - Donauwörth, 42 mi. (66 km)
Today you bike through typical German villages like Reisensburg, Offingen, Gundelfingen, and Lauingen into the university town of Dillingen. After Höchstädt you reach the border town, Donauwörth, a part of the scenic route known as the Romantic Road.
DAY 4: Donauwörth – Ingolstadt, 39 mi. (62 km)
You leave this pretty town and bike past the Bertoldsheim Castle to Neuburg. On through the outstretching Grünauer Forst (forest) to Ingolstadt with the Liebfrauen Minster, one of South Germany's most beautiful hall churches.
DAY 5: Ingolstadt – Bad Gögging, 25 mi. (40 km)
You start today's Germany bike tour along the Paar River (a tributary of the Danube) to Vohburg, a very small quaint German town. Past the steam power station of the Isar-Amper-Werke you bike on to the famous Aura Bicycle Path. Passing through Neustadt you will come to Bad Gögging, where you can let yourself be spoiled in the famous thermal spa.
DAY 6: Bad Gögging – Regensburg, 34 mi. (54 km)
The day begins passing the Roman citadel, Abusina, to Weltenburg – Bavaria's oldest monastery. You can come on board a Danube steamer here. It will take you past the Independence Hall on Michelsberg to Kelheim. Continue to Regensburg by bike.
DAY 7: Departure from Regensburg
Departure after breakfast or continue your stay in Germany.
Be sure to check out all of our bike tours in Europe or look at our featured bike trips, specials, and news.
Email or Call 800-951-4384 +1 570-965-2064
---