Venetian Highlights
Italy Bike Tours
Bike Venice and beyond…
Lagoons and beaches, foothills of the Alps, the soft hills of Monti Berici and Euganese hills, green riversides of the Adige & Brenta - all these beautiful varieties of landscapes await you during this bike tour in Venice and Vicenza. The towns between these two amazing cities will also offer many cultural highlights, The thermal spas of Abano complete the overall diversity connected by ideal bike routes.
Highlights:
Lagoon city of Venice
​Markusplatz in Venice
Palladio
Vicenza and the teatro olimpico
Bassano del Grappa with its famous, medieval covered bridge and GRAPPA!
Picturesqe villages and towns
It is an absolute must for anyone who enjoys biking, for leisure or otherwise, to cycle in Venice and experience this amazing cultural and historical region of Italy.
Be sure to check out our full list of bike tours in Italy.
Tour
Dates
2017:
Arrival every Saturday from April 1 to October 14, 2017
Season 1: April 1 to April 28 and September 30 to October 14, 2017
Season 2: April 29 to May 26 and  to September 2 to September 29, 2017
Season 3: May 27 to September 1, 2017
Where
You'll Stay
Very nice 3 and 4 hotels.
What's
Included
Accommodations for 7 nights
Welcome briefing
21 speed hybrid bicycle
Breakfast buffets or extensive breakfast
24-hour transportation ticket for Venice (not including bike, additional €3)
Journey by train Rovigo to Monselice incl. bike
1 x entrance and Grappa tasting session in Poli Grappa Museum Bassano
1 x wine tasting session in Venice
Luggage transfer
Detailed route descriptions & maps
7 day service hotline
Sign posted route
GPS tracks (must be reserved in advance)
Bike protection
What's
Not Included
Individual arrival to your first hotel
Lunches and dinners
Visitor's tax approx. €15-20 per person (payable upon arrival)
Extra
Stay
Extra nights possible in Venice/Mestre.
Skill
Level
This Italy bike tour is considered easy. Cycling is mostly flat or rolling hills. Only a few steep, but short climbs. Routes take place on mainly asphalted country roads or on other good surfaced roads. Daily cycling distances range from 22 to 41 miles (35 to 65 km).
Day-To-Day
Itinerary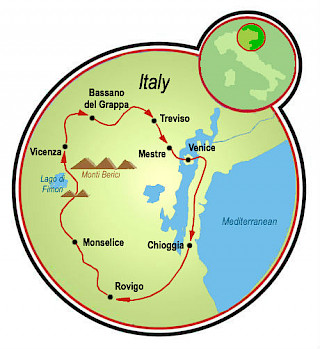 Day 1: Arrival in Venice/Mestre
Day 2: Mestre/Venice - Chioggia/Sottomarina, 22 mi. (35 km)
Day 3: Chioggia/Sottomarina - Rovigo, 41 mi. (65 km)
Day 4: Rovigo - Vicenza, 37 mi. (60 km) + train ride
Day 5: Vicenza - Bassano del Grappa, 25 mi. (40 km)
Day 6: Bassano del Grappa - Treviso, 37 mi. (55 km)
Day 7: Treviso - Venice/Mestre, 32 mi. (50 km)
Day 8: Departure
Distances are approximate.
Day 1: Arrival in Venice/Mestre
After arrival to your first hotel in Mestre (on the mainland, just across the bridge from Venice) in the afternoon, you will receive further tour information and your bikes. You will also have the opportunity to visit the city that lives on water - Venice, easily reached by public transportation in about 20 minutes.
Day 2: Mestre - Venice - Chioggia/Sottomarina, 22 mi. (35 km)
Start the day by crossing the Freedom Bridge to Venice. By ferry you'll go to the famous Lido where you'll hop back on the bike. Via Pellestrina, with a marvellous view of the sea, you pedal your way to Chioggia. This is a quiet little town, taking you back into the times of Venice's sea power. Enjoy your dinner in one of the typical seafood restaurants. Overnight in either Chioggia or Sottomarina.
Day 3: Chioggia/Sottomarina - Rovigo, 41 mi. (65 km)
On quiet roads you cycle to the Adige River. Fertile fields, melon plantations and solitary villages seam your way to Rovigo. This charming little town with it's narrow alleyways, spacious piazzas (squares), comfortable cafés and friendly people is your place to stay overnight.
Day 4: Rovigo - Vicenza, 37 mi. (60 km) + train ride
Today your bicycle tour in Italy starts with a train ride to Monselice. Back on your bike, you cross the rolling Euganese hills to Arquà Petrarca. You will realize this little town was able to maintain the medieval character over the centuries. Further on, you cycle on solitary roads to the foot of Monti Berici (mountain range). They will be your steady companion unto the very center of Vicenza. Here, in the old town, you can feel the influence of Palladio, the famous medieval architect.
Day 5: Vicenza - Bassano del Grappa, 25 mi. (40 km)
From Vicenza, you will ride your bike on nice roads to Marostica which  bills itself as the 'City of Chess': every two years a medieval-themed festival is held here, when a giant chess game is enacted with human chess-pieces. This takes place in the town square, Piazza del Castello, where the paving marks out a huge chessboard.  This  is a picturesque place, located with the Veneto plain on one side and green hills to the north. Marostica's own hill is crowned with a large ruined castle; defensive walls descend to enclose the hillside and the town center below in a protective embrace.
Day 6: Bassano del Grappa - Treviso, 34 mi. (55 km)
In the morning, you will cycle up some small hills after which only the climb to Asolo remains. The idyllic village of Roman origin invites you to take a break and explore. The trail then descends slightly and you will cycle into the region of the world famous Prosecco and further to Treviso with its many attractions. 
Day 7: Treviso - Venice/Mestre, 28 mi. (45 km)
First the path leads along the sile River to Casale. Already you are close to where you began. Your hotel is located on the mainland before Venice with an excellent bus connection to the lagoon city.
Day 8: Departure.
Departure after breakfast, or extend your Venice bike tour!
You can view all of our bike tours in Europe or look at our featured bike trips, specials, and news.
Email or Call 800-951-4384 +1 570-965-2064
---