Villages and Beaches of Holland
Behind the Dunes
This is a lovely bicycle tour in Holland, a cycling paradise, that indiviudals and families alike will enjoy!
Behind the dunes, you'll discover a diverse hinterland with multicolored fields of flowers and bulbs, lovely historical towns, pristine beaches, and other sights to see. On your bike, you're free to stop when and where you want, to visit a windmill or a cheese dairy, or to relax by the sea. If you like art and culture, you will love the cities of Amsterdam, Utrecht, and The Hague.
In Zandvoort and Scheveningen your accommodations are almost directly on the sea!
Highlights:
Holland's cycling environment
Amsterdam
Zandvoort and the sea
Windswept dunes
Be sure to check out our full list of bike tours in the Netherlands.
Where
You'll Stay
3 and 4 accommodations
What's
Included
6 nights' accommodation in 3- star or 4-star hotels
Breakfast buffets
Luggage transfer
Detailed route descriptions and maps
GPS
Tourist information
Bike rental with pannier
Seven days a week service hotline and emergency breakdown service
What's
Not Included
Lunches
Dinners (can be reserved for a supplement)
Tour
Dates
Arrivals possible daily from April 1 to September 24, 2017. Surcharge applies if overnight in Amsterdam falls on a Saturday. See pricing.
Skill
Level
This is an easy self-guided tour on lovely flat terrain and cycle paths except in the undulating dune area.
Day-To-Day
Itinerary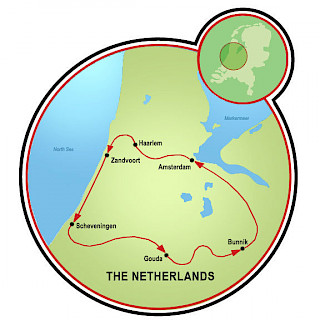 Day 1: Arrival in Bunnik  
Day 2:  Bunnik - Amsterdam, 39 miles (63 km)  
Day 3: Amsterdam - Zandvoort, 25 miles (40 km)   
Day 4: Zandvoort - Scheveningen, 27 miles (43 km)  
Day 5: Scheveningen - Gouda, 39 miles (63 km) 
Day 6:  Gouda - Bunnik, 42 miles (67 km)
Day 7: Departure or extension of stay
All distances are approximate.
Day 1: Arrival in Bunnik    
Bunnik can be reached by train from Amsterdam Airport. 
Day 2: Bunnik - Amsterdam, 39 miles (63 km)  
The path today follows the banks of the lovely River Vecht with idyllic scenery as you backdrop.Characteristic for this area are the many stately homes and summerhouses built by rich Amsterdam merchants in the 17th and 18th Centuries. At the end of the day, Amsterdam awaits!
Day 3: Amsterdam - Zandvoort, 25 miles (40 km)  
The today your bicycle tour in Holland includes Haarlem. Though often overshadowed by Amsterdam, 10 miles to the east. Haarlem boasts a magnificent old city center with plenty of historical buildings and was home to several first-class Dutch painters, including Frans Hals.  Passing through Zuid-Kennemerland, a colorful area rich in natural beauty, the final destination is the well-known beach resort, Zandvoort, and your accommodations by the sea.
Day 4: Zandvoort - Scheveningen, 27 miles (43 km)  
You will cycle through the Dune and Bulb Region today, surrounded by the windswept dunes that protect the hinterland from the sea, and also harbor many species of dune flora and fauna. April is the best time for visiting colorful bulb fields (daffodils, hyacinths, and tulips) just behind the dunes. Scheveningen, the most popular seaside resort in the Netherlands, has much to see and do. Possibility to upgrade to the  grand Steigenberger Kurhaus Hotel which dates back to 1884 and is situated directly on the seafront.
Day 5: Scheveningen - Gouda, 39 miles (63 km)  
First on the agenda is The Hague, home to the government and the King. The city is brimming with things to do and see. You might like to take the opportunity to see Vermeer's famous painting, "The Girl with the Pearl Earring" in Mauritshuis Museum. Another favorite is Mesdags cylindrical Panorama of Scheveningen in 1881. The route then leads through the open grassland to the "cheese town" of Gouda, also known for its syrup, waffles, and candles. If possible, plan your tour to include the Thursday morning traditional cheese market.
Day 6:  Gouda - Ultrecht/Bunnik, 42 miles (67 km)  
Woods, stately homes, parks, rivers, polders, lakes and marshy fens make today's scenery. Opt to stop off at a cheese farm or visit De Haar Castle. At the end of the day, there will be an opportunity to explore the heart of the lively university city of Utrecht. Discover the pretty Museum Quarter and admire the beautiful canal Oude Gracht. Its wharves are unique to Utrecht and make a pleasant setting for waterside cafes.
Day 7: Departure  
After breakfast in your hotel, you will return home
Looking for a different flavor?  Be sure to check out all of our featured bicycle tours, specials, and news or look at our comprehensive list of bike tours in Europe.
Email or Call 800-951-4384 +1 570-965-2064
---