3

/

5

(

1

rating)
West Flanders & Bruges
Cycle in Belgium!
From romantic rural landscapes and rustic farming villages to bustling town centers and gastronomic delights, this bike tour in Belgium, through characteristic Flemish countryside, has much to offer! The gently rolling hills make for relatively easy cycling from one town to the next, and allow plenty of time for sightseeing!

Bruges, though small in size, is vast in artistic and architectural wonders, many of which date back to the Middle Ages. From its winding cobblestone, streets and meandering canals one can almost always see the medieval Belfort gallantly towering in the heart of the city over the many diverse, colorful gables. The large Markt is surrounded by lively outdoor cafés, and nearby is the Church of Notre-Dame, famous for housing Michelangelo's marble Madonna and Child statue.

Following Bruges, is the artist's village of Damme and the plush coastal town of Knokke graced with lovely beaches and boasting of elaborate squares surrounded by cute boutiques.

The nature reserve of Het Zwin will be highlight featuring many different kinds of salt-resistant flora (e.g. sea-lavender) and the infamous white storks!

The Flemish are known for many things, of which the cycling is number one! But while you are at it, enjoy wonderful cuisine, from endive wrapped in slices of ham to succulent mussels, the wide assortment of cheeses and chocolates...and beer! Finish your cycling day with an Oudenaards brown beer or a world-famous Trappist beer, the stuff of legends!

Highlights:

Biking along fields, canals, dunes, and the coast
The architecture of monasteries, windmills, and castles
Medieval towns Ieper, Poperinge, Diksmuide, and Bruges

Click the link to browse all of our Belgium Cycle Tours!

Price £ 566 $ 881 € 585 NOK 5948 kr 5490 $ 714

High Season (from June 17 to August 27): £ 604 $ 940 € 624 NOK 6344 kr 5856 $ 761

Single supplement: £ 184 $ 286 € 190 NOK 1932 kr 1783 $ 232

extra

options

Dinners included: £ 140 $ 218 € 145 NOK 1474 kr 1361 $ 177

Electric bicycle rental: £ 68 $ 105 € 70 NOK 712 kr 657 $ 85

Extra nights available in Roeselare on request.

please

note

Discounts available for children.

Rates are based on double occupancy.

Information to read before you book.

We recommend purchasing bike trip insurance.

† Currency exchange rate set 90 days before travel.

Travel

Fly to Amsterdam or Brussels.

Local Travel

Train from Amsterdam airport to Roeselare, ± 4 hr. Hotel is near the train station. Train from Brussels airport to Roeselare is 1 hour 30 mins to 2 hours.

Climate

The average high/low temperatures in °F in Bruges are approximately: April 51°/44°, May 58°/49°, June 63°/54°, July 66°/58°, August 68°/59°, September 64°/55°.

Remarks

We recommend including 3-course dinners. The meals are delicious traditional Belgium courses with choice of fish, meat, or vegetarian.

---
Where
You'll Stay
Very nice 3 star and 4 star hotels; rooms with private facilities
What's
Included
Accommodations for 7 nights in 3 to 4 hotels
Free parking in Roeselare if arriving by car
Breakfast buffets
21-speed hybrid bicycle equipped with pannier, pump, bike lock, repair kit, and spare inner tube
Odometer (1 per 2 bicycles)-must be reserved in advance
GPS tracks, must be reserved in advance
Luggage transfer (one piece per person)
Route descriptions & maps
Museum discount card for Bruges
7-day service hotline
What's
Not Included
Individual arrival to Roeselare
Remaining meals (dinners can be included for a supplement)
Beverages
Extra
Stay
Extra nights are possible by request either before or after the tour in Roeselare.
Tour
Dates
Every Saturday from April 29  untill September 16,  2017
Please note: August 5 arrival will be replaced by Sunday, August 6 due to the annual folk festival in Dranouter.
Skill
Level
This is an easy self-guided hotel tour with distances averaging about 34 miles a day over mostly flat terrain. Only a few rolling hills to contend with.
Day-To-Day
Itinerary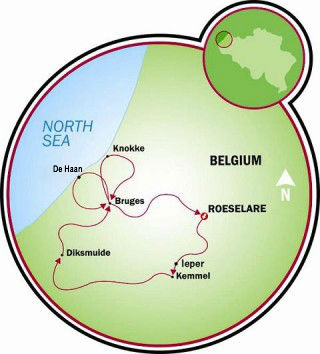 Day 1: Arrival in Roeselare. Optional cycling.
Day 2: Roeselare - Ieper, 19 mi. (31 km)
Day 3: Ieper - Diksmuide, 27 - 37 mi. (45  -60 km)
Day 4: Diksmuide - Bruges, 37 mi. (61 km)
Day 5: Bruges - Knokke - Bruges, 36 mi. (59 km)
Day 6: Bruges - De Haan - Bruges, 33 mi. (52 km)
Day 7: Bruges - Roeselare, 36 mi. (59 km)
Day 8: Departure from Roeselare.
DAY 1: Arrival in Roeselare.
Individual arrival in Roeselare. Optional bike ride to the Basilica of Dadizele and around the countryside of Roeselare. 
DAY 2: Roeselare - Ieper, 19 mi. (31 km)
Your first cycling day will bring you to Ieper, a beautiful medieval town with a stunning marketplace and the famous town-gate 'Menenpoort'.  We will also pass the Tyne Cot cemetery, the biggest graveyard for English soldiers in the world. Cycling around Ieper you will surely enjoy the beautiful scenery. 
DAY 3: Ieper - Diksmuide, 27 - 37 mi. (45 - 60 km)
The day begins as you pedal your way to Poperinge, popular because of the 'hoppe' cultivated in this area.  But, certainly also very interesting is the abbey of Saint Sixtus, where some may say the best beer in the world is brewed.  You bike further along the banks of Yzer to Diksmuide, where the 'Yzertoren', a well-known monument of World War I can be visited. You can also enjoy the beauty of the historic market place.  
DAY 4: Diksmuide - Bruges, 37 mi. (61 km)
Today you'll ride through scenic farmland to the lovely old town of Bruges, accurately referred to as the "Venice of the North". Here you will find an abundance of attractions to visit, including a magnificent square with a towering belfry, numerous historical monuments, and Cathedrals filled with artistic treasures. Before finishing in Bruges, you can visit the Constant Permeke Museum, located in Jabekke, showcasing renowned paintings and sculptures.
DAY 5: Bruges - Knokke - Bruges, 36 mi. (59 km)
You can spend this day in Bruges, shopping, taking a canal tour, or sightseeing by horseback. If your legs are still willing to pedal, you can explore the area between Bruges and Knokke, the most mondain village of the Belgian coast. It will again be an unforgettable trip through the dunes and beautiful landscape. The biggest attraction of today is Het Zwin nature reserve and the picturesque village of Damme. When it is warm enough you can also go for a dip in the sea!
DAY 6: Bruges - De Haan - Bruges, 33 mi. (52 km)
Another exciting day as you bike to the Belgian coast to De Haan. You will enjoy how well the "Belle Epoque" architecture has been preserved (19th century).  
DAY 7: Bruges - Roeselare, 36 mi. (59 km)
A smooth ride along rural countryside back to Roeselare, admiring the Castles of d'Aertrijcke and Wijnendaele along the way. Another highlight includes the National Cyclist Museum of 2x former World Champion Freddy Maertens.
DAY 8: Departure from Roeselare.
Individual departure from Roeselare following breakfast.
Email or Call 800-951-4384 +1 570-965-2064
---