Fit to Ride: Are you ready to tour by bike?
So you are thinking of booking a bike tour...or maybe you just did!
Good for you! But...are you ready to tour by bike?
This might sound like a ridiculous question, but trust us, it is not.
Many active people, who bike only occasionally, think, because of their fitness level, they could undertake a bike tour with no problems. Most of the time, that is probably the case. It is important to be prepared and know what to expect on a cycling vacation.
This blog is meant to help you decide if a bike tour is the right vacation for you and prepare you for your upcoming trip.
All bike tours, regardless of the level of difficulty assume a respect for/command of the bicycle. Bikes are machines, they need to be controlled and propelled.
Do you have good balance on your bike?
Are you able to stop quickly without losing control?
Can you ride in a group? Does even light traffic cause you anxiety?
Are you physically and mentally prepared for a bike tour and for the overall travel experience?
We will discuss some of these questions and more!
Good balance, control, and command
Good balance is essential for an enjoyable and safe ride. Whether you are booking a guided group tour or a self-guided tour, balance is key.
The majority of our hybrid touring bike tours are conducted, as much as possible, on low traffic roads, but some traffic is unavoidable. Afterall, we do share the road. If you are looking at a guided, group tour, there will be times you will be riding in a cluster.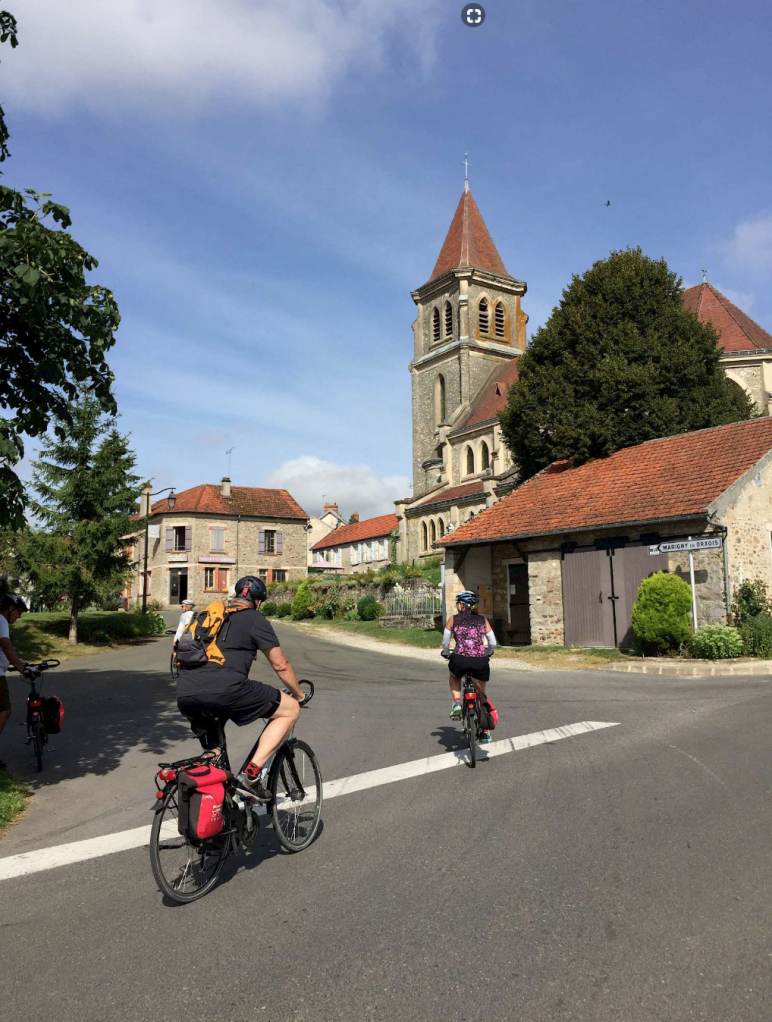 All of us can relate to that disorienting feeling as, pulling a hill, a car passes, or the sudden, unforeseen stopping in front of us of a fellow cyclist! On tours that are conducted on those wonderful designated bike paths, you might encounter that gut-wrenching moment when a pedestrian steps down off the curb directly in front of you.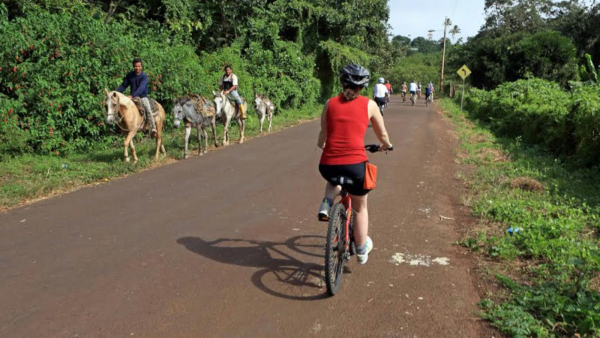 Even when biking in the Galapogos Islands you might have to share the road!
All of these situations are potential accidents, ESPECIALLY if experience and control are lacking.
Our tours in Holland have an extensive network of bike paths. Some of our other tours, such as the very popular the Camino de Santiago Bike Tour in Portugal, will at times make use of roads with light traffic.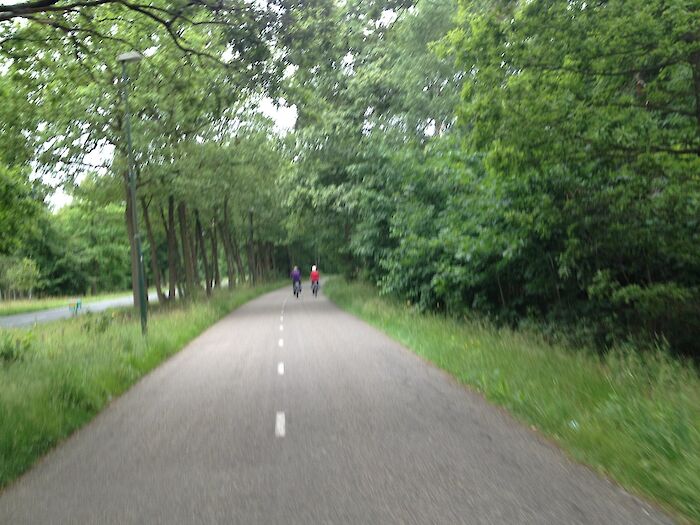 In Holland, even country backroads have ample room for cyclists.
You have to ask yourself if you can share the road or cycle path with a steady hand (and body).
Fitness level and your active vacation
When we receive a reservation for any particular tour, we assume that you are physically able to participate in the daily demands, be it an easy tour or a very difficult one. Pool swimming on a daily basis does not translate to a 35-mile day in the saddle. It just doesn't. At the very least, if not saddle ready, you will be very sore and therefore, not very happy.
And the worse case scenario, hitting the wall of fatigue (in the pouring rain) but still have to get yourself and your bike the last 10 km. Not a pleasant experience.
Biking 10 miles on the weekend on flat terrain is not the same as biking 10 miles in Italy's Tuscan hills.
Some think that the electric bike is the solution and most of the time, it is, but please reread the section on BALANCE. Our founder Hennie has written a blog about her first tour on an electric bike. It is a good read!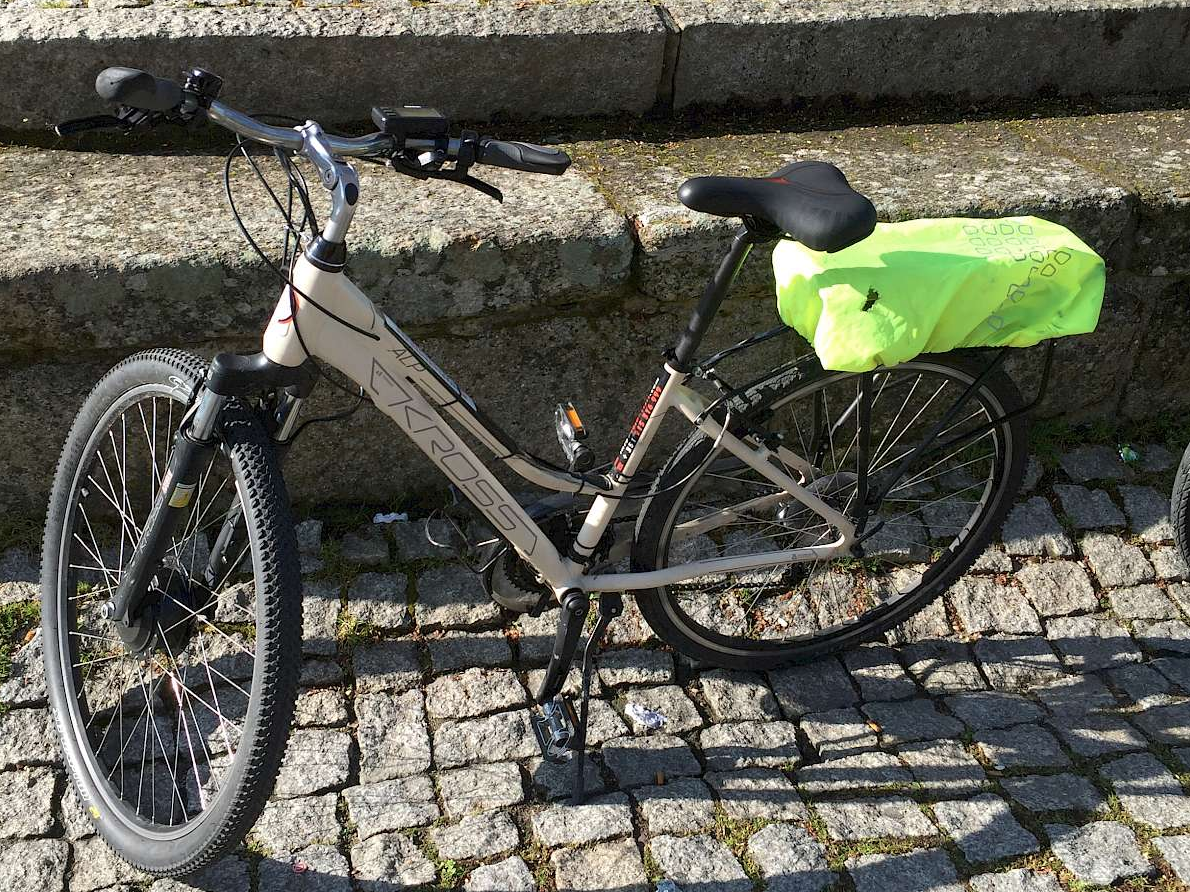 A typical electric bike
An electric bike is heavier than a nonelectric bike and is not designed for non-cyclists wanting to participate in a bike tour. It won't be pretty.
Pardon our twist on an old pun, but "If the cyclist ain't happy, ain't nobody happy."
Think of your fellow travelers!
Picking a tour that fits your level of fitness
We strive to offer a variety of tours that will please all levels of cyclists but rating a tour for difficulty is probably one of the hardest things we do. So many factors play into what one experiences on a bike tour. Cycling 10 miles in the rain with a headwind can turn an otherwise easy tour into one of those days you hope to forget.
We try to follow the general guidelines below:
Easy: Flat terrain. Average daily distances approx. 16-30 miles

Easy to Moderate: Terrain is mainly flat with some sloping hills. A daily distance can sometimes exceed 30 miles.

Moderate: Terrain is made of rolling hills with climbing involved. Itineraries frequently include two or more days with mileage of more than 30 miles.

Moderate to difficult: Climbs are more frequent and strenuous, such as you would find in the Tuscany region of Italy.

Difficult: Very hilly terrain such as you will find with our Road Bike Tours or some of the tours in Croatia. Daily distances normally exceed 40 miles, but not always. A very mountainous terrain but shorter daily mileage will often times warrant the designation of Difficult.

Very Difficult: Road Bike Tours with longer daily distances and strenuous climbs.
Emotional stamina and the unexpected
It happens. Riding self-guided you take a wrong turn. Or your guide takes a wrong turn. It adds 10 km to an already long day. How are you going to handle this? It is a tough question with a simple answer. You just do. And hopefully you "do" with open heart, mind, and eyes. Afterall, you are ready for this. It is in the unexpected that the magic often occurs.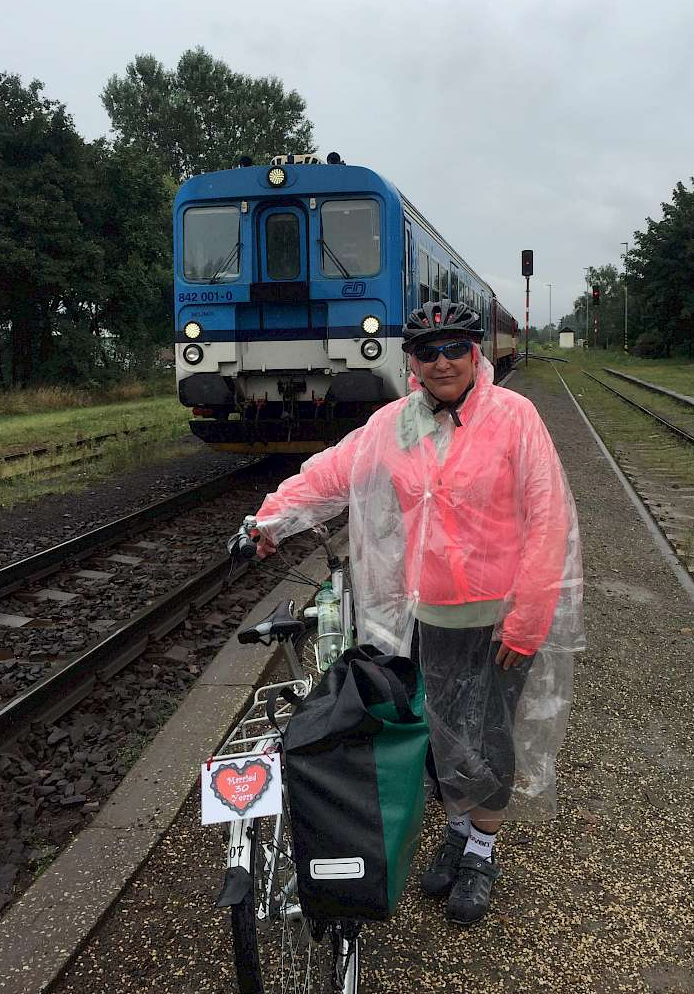 "One day, it rained a lot. We gave it a good 10K of biking but then decided to hop on a local train, along with our bikes, and arrived at our day's destination to dry out". - DEEDEE CHANG, from her blog "Where on Earth is Moravia"
You pedal upon a local cafe and have the best coffee (beer) of your life sprinkled with the best conversation with a local.
You climb that hill (that you did not need to) and are rewarded with an amazing vista….and then you fly back down, just enjoying the moment.
Or...there is the other reaction. We have all been there. Cranky. Pouting. Ready to blame.
Rain happens.
Headwinds happen.
Flat tires happen.
What will your attitude be as you share the road (and the unexpected)?
Let us help you as you research and decide.
Afterall, we all share the road.
To be physically prepared for your bike tour, take a look at the "How do I prepare for a bike tour?" section of our Frequently Asked Questions.
---
Comments
Post Comment