Hiking the Coastal Camino Route 
I'd heard so much about the Camino over the years. Some have biked it; some have walked it; and some dream about it. Many people I know have done the Camino at least once and are heading for rounds two and three.
Never having been on a Camino before, let alone a multi-day walking tour, I wondered what makes a good Camino. Being able to finish the route without having a mild stroke would be first prize, I mused! Losing some weight and getting fit would come in a close second. But, what I found on my first Camino walking tour, far superseded my modest idea of what the Camino promised.
It may be that all roads lead to Rome, but in Spain and Portugal, the Camino leads to Santiago de Compostela: the historical site where Saint James is thought to have been buried. Also known as the Way of Saint James, the Camino is a network of routes that can be cycled or walked based on one's preference. One of the most popular routes is the Portuguese Coastal Way, primarily chosen for its stunning coastal scenery. There's an E-bike tour as well as a hiking tour that takes you through beautiful and scenic places: along dreamy coastlines, through forests, over sand dunes and bird sites, and through quaint towns. There's also the Central Way and Spanish Way that takes one further inland; both equally rewarding options.
I was fortunate to walk the Coastal Route Camino De Santiago with my sister in tow. Although the majority of this walk is on flat terrain, this tour is graded as moderate to difficult, purely due to the long distances that one has to tackle each day. I knew I was comfortable walking 10-14 kilometers (6-9 mi.) a day prior to starting, so beyond this was going to test my endurance. Overall, I was surprised by the distances I managed to complete each day, the longest being 20 kilometers. Further distances mean a lot more time to reflect and soak up the beauty around you. At the end of each day, it feels good to know you've challenged yourself and succeeded. Even on the harder days, where heat and elevation played a role, I found myself digging a little deeper mentally and physically. I can attest that after a day of walking, the beer sure tastes sweeter!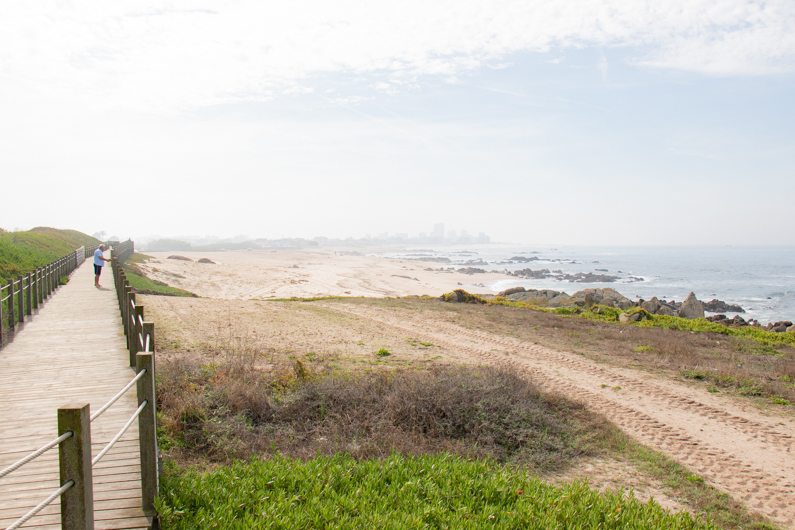 Even though this tour is self-guided, there's really no way that one can get lost. You're equipped with a GPS unit with preloaded GPS tracks (using the Ride with GPS app which was super accurate), printed maps (only if you want, but best to save a tree and go digital) and if that fails, along the route there are signs and of course other hikers walking the path. Failing that, then you can ask a friendly local for directions. On more than one occasion, we had a local gesticulating at us to follow the path in said direction if we happened to veer off course - which we did one or two times to take photos. They definitely take the Camino path pretty seriously there! And if that fails, then you can simply walk with the ocean as your guide!
Being a self-guided walking tour, one can take as many breaks and 'photo stops' as needed to rest the weary joints and refuel. One has the whole day to get to your next destination, so stopping for cold Cerveja (beer) and a quick dip in the ocean en route is mandatory. If something catches your eye, you are free to explore deeper. Locals are always around, greeting you with Bom Dia! (Good day!) and are open for a friendly chat (even though mostly in Portuguese).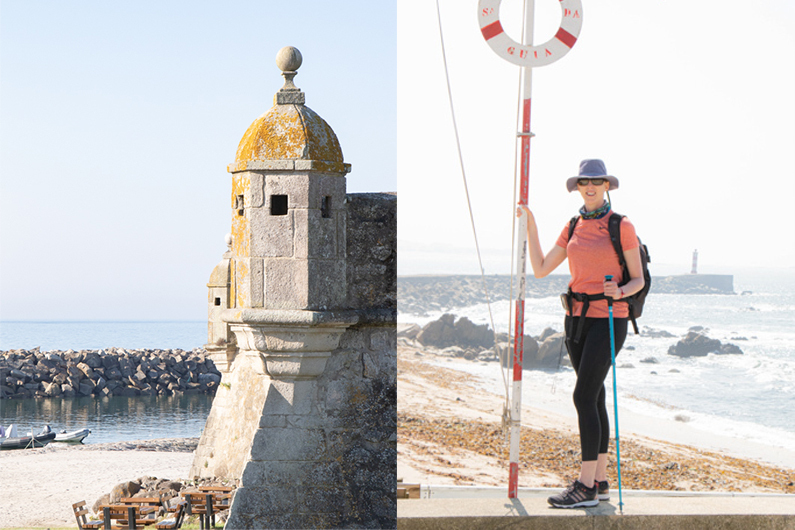 Day 4 was a particularly challenging walking day, even after shaving off 6 kilometers off the distance by taking a taxi at the start. The route took us inland, where conditions were hotter with less ocean breeze. In addition, a combination of cobblestone paths, forest tracks, long winding steep uphills, and an overall long distance, resulted in the inevitable blisters and sore feet. We managed this by changing our socks every two hours and putting vaseline between the toes. It helps a lot! We also used the hiking poles provided, which helped give us a little leverage on the uphills and forest tracks. When we felt like slacking off a bit, the thought of cold Cerveja (beer) on the beach kept us walking, not to mention the odd, small electric cars that sounded like tractors coming up from behind!
It's possible to do the Camino year-round. Portugal and Spain are blessed with a Mediterranean climate, so temperatures are moderate. The warmer, sunnier months from March to October are preferable, although November through March are also possible. I went in mid-October, and although temperatures reached 28C (83 F), the light cool breeze coming off the Atlantic Ocean was just what I needed during the walk.
Passing other 'pilgrims' en route - some on longer journeys than others, and some solo or in groups - added to the camaraderie. We wouldn't go long without hearing, 'Happy Camino!' from one of the many walkers that passed us going in either direction. A happy, slightly shortened Camino we had!
Here's a day-by-day account of my Camino from Porto to Caminha.
Day 1: Porto
João (one of the local guides) took us on a fascinating guided walking tour of Porto. Starting in Trindade (located on higher ground), we spent 4 hours winding our way down to the Douro River, with its bustling waterfront and impressive Dom Luis I Bridge. Port wine, produced in the Douro Valley of Portugal, is a favorite post-dinner drink throughout the country. A guided tour (and tasting) of the Burmester wine cellars was a fun way for us to learn about its history and different styles.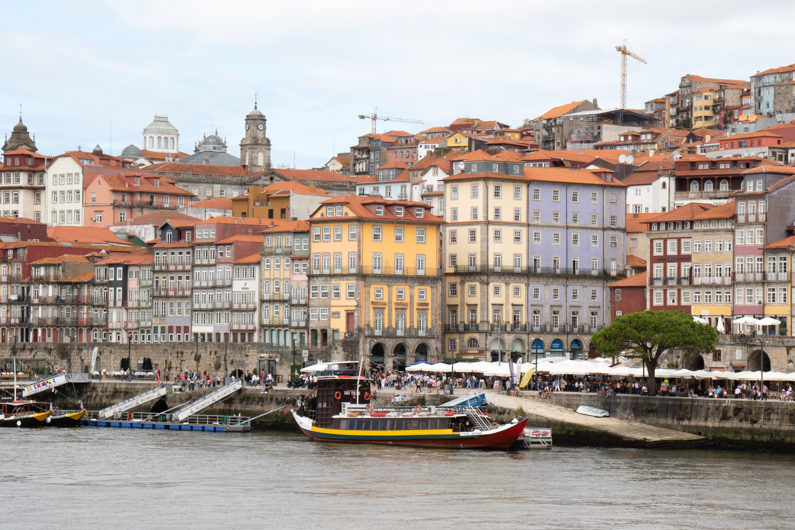 Porto is a foodie's delight, and with an eclectic mix of restaurants, gastro pubs, and sidewalk cafes, it's worth spending time admiring the sites and sounds of Porto over a delicious plate of local cuisine. One of my top dishes was the Arroz de Marisco (seafood rice), amongst others. Our walking tour also took us past many iconic places, including the Saint Benedict train station with its impressive display of over 22 thousand tiles depicting events in Portugal's past, like the Conquest of Ceuta (1415). We ended the day with the customary expresso and pastels de natas (custard tarts) - which became our staple 'refueling' snack along the route.
Recommendation: One should add extra nights in Porto, either at the beginning or tail end of your tour. There is so much to see and do in this vibey city, with its cute boutique shops, beautiful architecture, and interesting sites, and you'll be thankful for the extra time to explore. If time allows, a day tour of the UNESCO World Heritage Site of the Douro Valley is a must. For those looking for a longer , one can tack a second tour onto the Douro. Take a look at our tours here.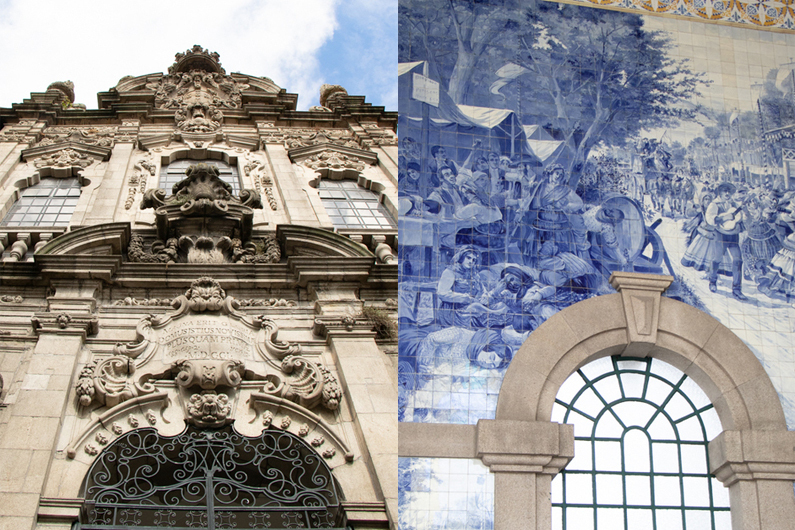 Day 2: Praia da Memória - Póvoa, 12 mi. (20 km)
We shaved off 4 kilometers from this day's walk by asking João to take us to the next beach (Arvore), where we officially started our walk, but we could have easily started from Praia de Memória as the walking proved easy. The route was mainly on well-constructed boardwalks along the beach with stunning beach scenery along the way. We walked through the leafy town of Villa do Conde with its memorial statues and tree-lined walkways along the estuary and beach. We enjoyed grilled Robalo (sea bass) right on the beach at one of the many restaurants dotted along this stretch.
Recommendation: Take a day pack with your sunscreen, water, snacks, camera, an extra change of socks, swimsuit, and light rain gear. There are many places along the trail where you can buy water, food, and drinks, so carry spare euros.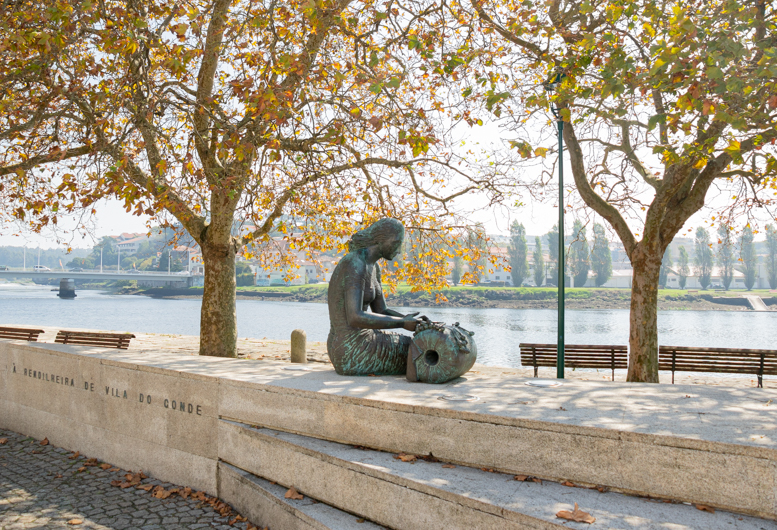 Day 3: Póvoa - Esposende, 15.5 mi. (17 km)
For sure, my muscles felt the walk from yesterday. It took a few miles to ease myself back into walking, but I quickly fell back into a comfortable rhythm once I got going. Another long walk today took us to the shoreline and back inland. We passed scenic, protected coastline of the North Coast National Park with many 'unidentified' bird species. The sound of the waves rolling in, the fresh sea air, and the sound of seagulls overhead before heading inland across farmlands and past local residences. We sank our teeth into the most delicious prawns at the Garden Restaurant in Apúlia, washed down by several ice-cold beers. Food is so much more enjoyable when you work up an appetite!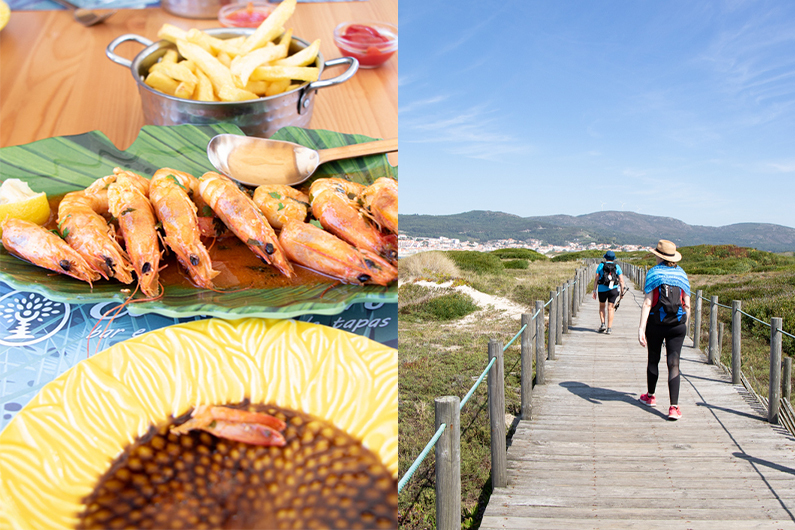 Day 4: Esposende - Viana do Castelo, 16 mi. (26 km)
This was our longest and most challenging walking day. We encountered a varied route of cobblestone streets, forests, and hillside towns, that kept things interesting. The long steep uphill walk to Igreja de Santiago de Castelo de Neiva was hard - we won't lie - but worth it, as we were welcomed with church bells, a fountain of cool water, and the most stunning views over the valley. We loved walking through the forest on the next leg. Forest paths dotted with boulders did test the legs and we were thankful for a friendly local who had set up a tent mid-way with fresh fruit and water for those ''pilgrims" in need of extra sustenance. The route takes you over the busy Lima bridge, and onto the streets of Viana do Castelo, where we listened to some live music by a local Portuguese band: so festive with people dancing and having a good time in the town square.
Recommendation: It's best to take a taxi at the start if you want to trim off a few miles, as there are no trains along this route, and getting a taxi would be expensive and difficult. For those needing a rest day and perhaps some more time to explore, it's worth adding an extra night in Viana de Castelo. This will give you some time to visit Santa Luzia church or laze on Praia do Cabedelo beach.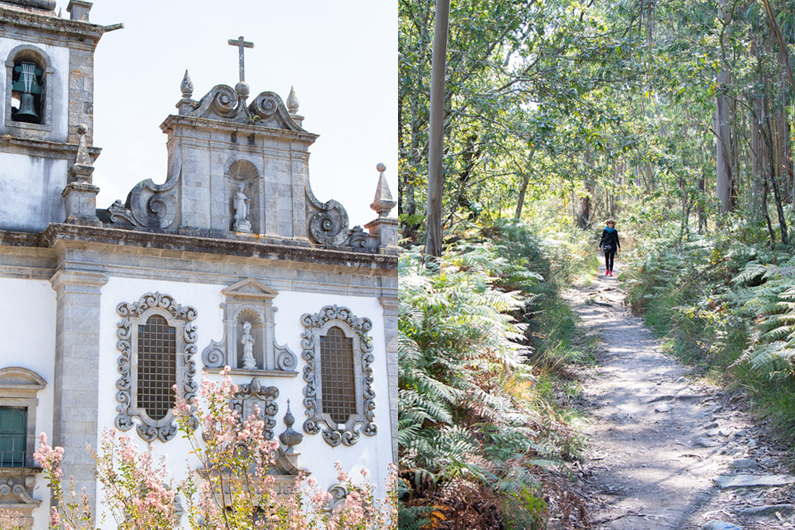 Day 5: Viana do Castelo - Vila Praia de Âncora, 12 mi. (19 km)
It's possible to take a train along this route if one feels the need to cut down on distance, especially if one did the full 26 kilometers yesterday. We decided to take the train to Afife where we started our day's walk. You will need to head off route a little to embark/disembark the train, but the provided GPS unit is great for navigation and set us back on track. We enjoyed walking on the winding coastal dirt tracks along the pretty coastal flora. We had to take a small detour towards the end as the walkway along the dunes had been closed for restoration, which took us through a rather pretty natural forest and estuary. My treat for the day was a mouthwatering seafood pasta loaded with mussels, prawns, and crab ordered at a local café in Âncora overlooking the harbor.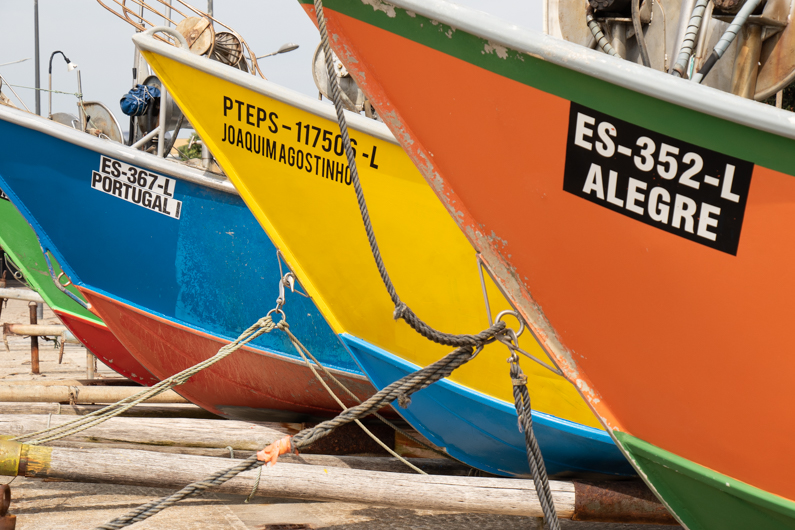 Day 6: Vila Praia de Âncora - Caminha, 6 mi. (9 km)
With only a short distance to walk today, we took our time over breakfast before walking our way to Praia de Modelo. Walking on a combination of paved roads, boardwalks, and dirt tracks, the route was easily attainable. We spent 3 hours on this gorgeous beach soaking up the sun, eating our packed lunches, and swimming in the calm, aquamarine water (which was hard to exit once in). From the beach, we had great views of Forte da ínsua. Our last part of the walk took us through the Mata do Camarido - forested woods that lead you to the village of Caminha with the Estuary do Rio Minho spilling in front, and Spain across its glassy waters. The setting sun over the lagoon made the perfect backdrop for our dinner of grilled salmon with batatas fritas (potato fries) and roasted vegetables.
Recommendation: If you are traveling in season or in a large group, make a pre-dinner reservation at one of the local seafood restaurants to secure a spot.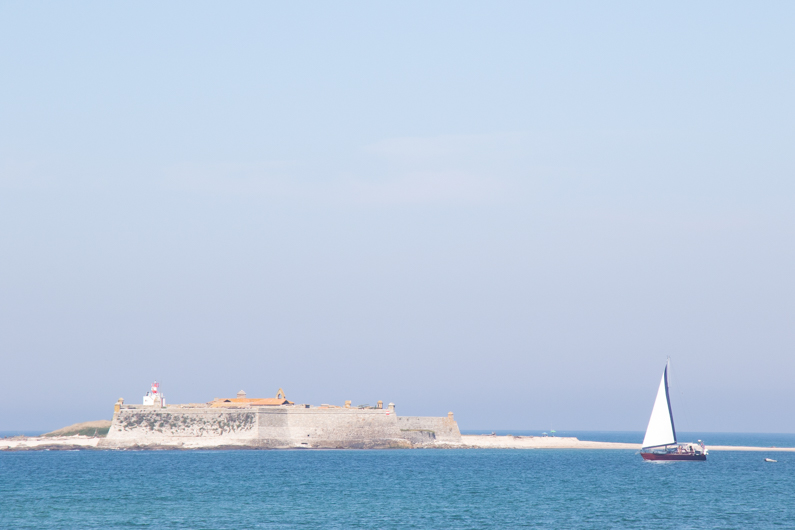 Day 7: Porto
Our transfer from Caminha at 10h00 took approximately 1 hour and 40 minutes and landed us in Porto at around 11h30. After leaving our bags at our hotel, we hit the streets for another half-day spent in Porto, exploring at will.
Recommendation: Extend your tour by three days across the Spain border to Baiona. You can also add on stage two, which will take you to Santiago de Compostela, making it an epic 15-day walking tour.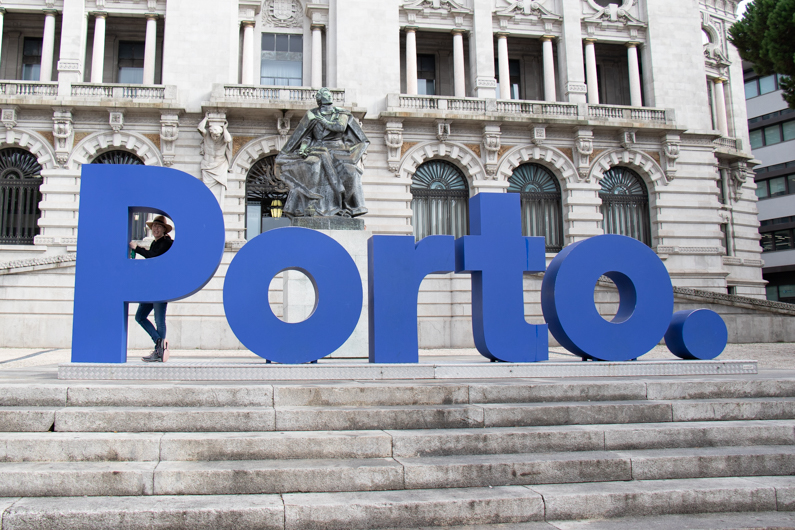 ---
Take a look at all our hiking, biking, and multi-adventure tours here.
---
Comments
Post Comment