Hiking to Colombia's Lost City
When I mention Colombia in conversation, my American acquaintances normally initially assume I'm talking about the university (note: the university is spelled Columbia).
After a quick clarification that Colombia is also a country located in South America, the next comment typically alludes to the show Narcos or Pablo Escobar. For most people living above the border, this is their only reference to Colombia. At one time, this was my only reference as well. A chance opportunity brought me to this country where I stayed nearly four years and where I was continuously awestruck by the colorful and warm culture, and the natural wonders of which there are many.
What my friends may not realize (and what I certainly didn't realize) is that Colombia's history goes far beyond its recent past and in fact this country has rebuilt itself to become a haven for nature lovers, adventure seekers, foodies, and history buffs alike. It is a land of extremes, from snow-covered volcanoes and the mountains of the Andes, to the dense rainforest of the Amazon Basin, to the tropical beaches of the north and west: it is diverse as it is vast and home to the most welcoming and warm people I've ever met.
When I had the opportunity to return to Colombia earlier in March, I was able to realize a dream years in the making: Trekking to the Lost City. Sitting deep in the Sierra Nevada de Santa Marta, the highest coastal mountain range in the world, the Lost City, also known as Teyuna, boasts around 170 stone terraces carved into the mountain with numerous small plazas and connecting "streets". This ancient city was built around 800AD, some 650 years before Peru's Machu Picchu, and yet somehow receives a fraction of the recognition.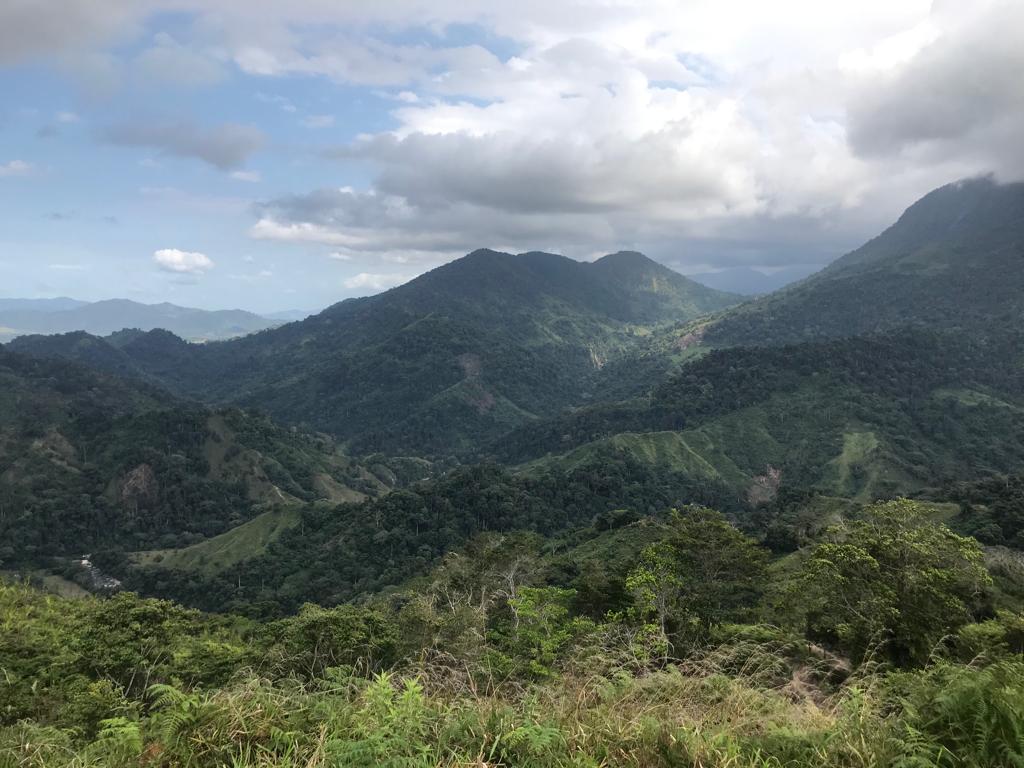 It's believed the Lost City was once a political and trading center, originally inhabited by the Tairona people. The descendants of the Tairona, the Kogi, still reside in this jungle, preserving their ancient way of life and protecting the City and its surroundings.
Our four-day trek started in the city of Santa Marta, a bustling and vibrant city located on Colombia's Caribbean coast. We were 7 in total plus our expert guides, all very eager to begin our journey. A transfer of several hours brought us to Mamey where we got a taste of what awaited us: sweltering heat, no cell service, and pristine jungle. We set off and the trail immediately steepened, soon the sounds of motorcycles and signs of civilization lessened and the sweet calls of tropical birds became our soundtrack.
I must admit I was nervous to do this trek; I knew the terrain would require a good level of fitness, but I was most afraid the heat would be unbearable. It was hot, yes, and the humidity immediately dampened my entire pack (dry bags and all), but at just the moment when I felt I couldn't stand the climate a moment longer, the jungle offered relief: crystal rivers with delightful pools perfect for tired hikers. We ended the first day fatigued yet refreshed by the cool waters, retiring to our bunks to rise at 5am the next day.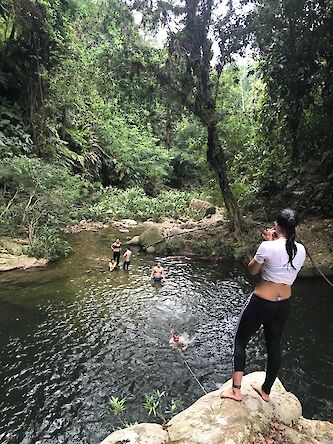 Day 2 was long and difficult, but one of my favorites. I felt I had truly stepped back in time as the higher we climbed, the more we saw of the Kogi people and their traditional way of life. They are one of the last surviving civilizations from the pre-Columbian era and their mission is to preserve the delicate ecosystem of the Sierra Nevada. I began to walk with reverence as I became acutely aware that I was a stranger here, walking on sacred paths that were built hundreds of years ago.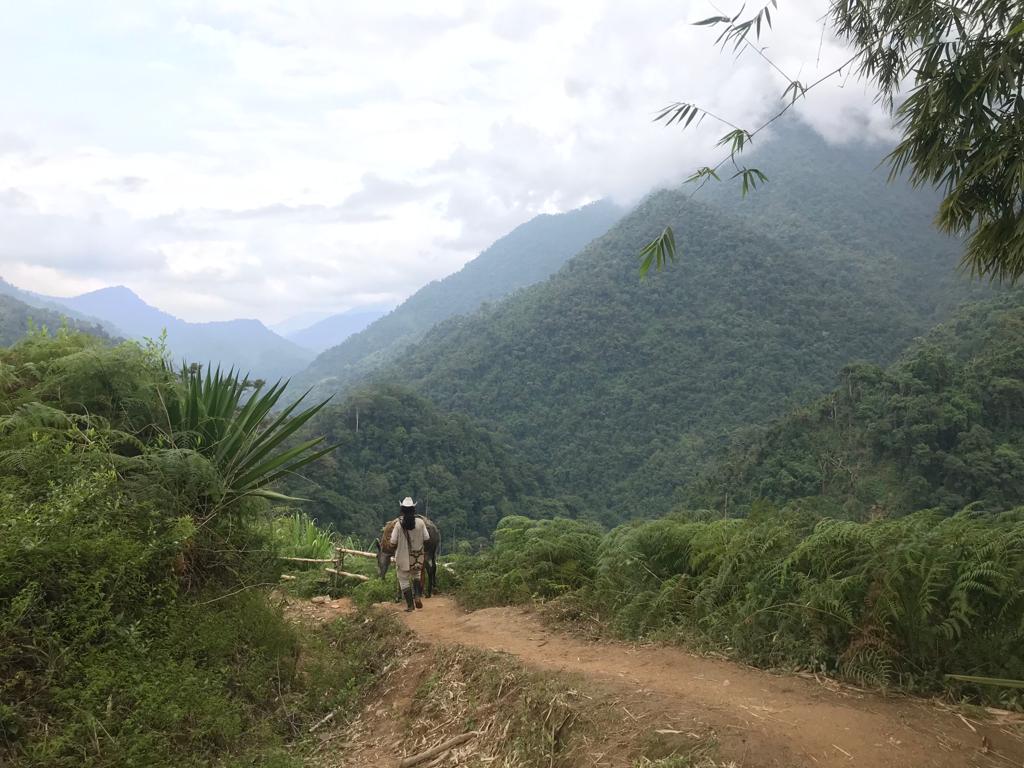 At 4:30am on Day 3, we began our push to the Lost City. Laying in front of us was one last obstacle before reaching our goal: 1,200 stone steps, in places so steep we needed to use our hands to safely climb them. These steps were built by the Tairona and I was shocked to learn they were all original, withstanding not only severe rain and heat, but also the reign of the Spanish and subsequent looters and pillagers. Hundreds of years ago, skilled laborers set these stones in place and I was now walking on them.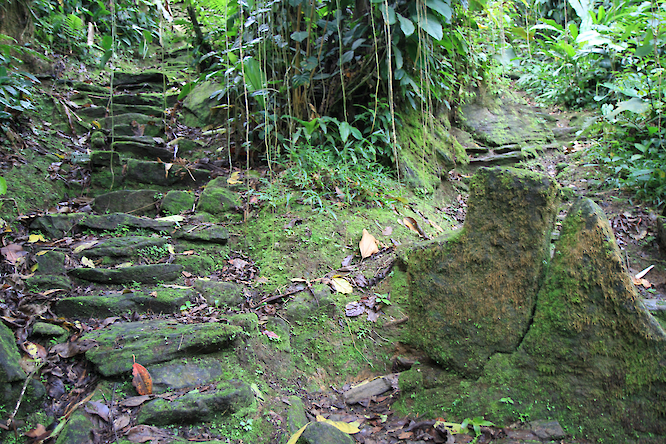 If the steps were impressive, they were nothing compared to the City itself. Dozens of stone terraces are etched out of a towering mountain side and rise up before you as you clear the last step. Suddenly, I felt as if I was on top of the world. The roaring sound of a waterfall echoed throughout the place which was otherwise silent save a few singing birds. I marveled at the sheer magnitude of the city, which was once home to possibly 8,000 people. Intricate drainage systems and advanced building techniques allowed this place to resist the forces of nature and time.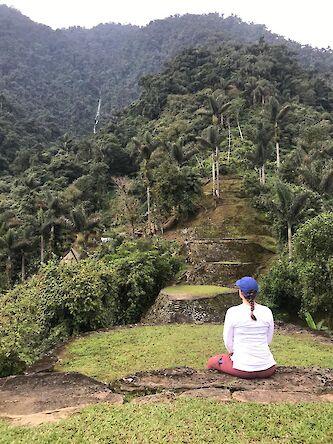 Unfortunately, nothing could resist the forces of man. I pondered this during our descent on day 4; I pondered on the fact that the Lost City was never really "lost" but that the native peoples regularly used the site for religious purposes before looters pillaged everything of value. The area had been long stripped of its gold and historical artifacts before tourists discovered it, erasing much of what the Tairona people had left behind.
In the end, this trek was a transformative experience for me. I pushed my body to the limits of what I thought I could do physically, and I also connected with nature in a way I never had before. I saw the land through the eyes of the people that inhabited it, and learned how to appreciate Mother Earth and everything she has done for us. I highly recommend this trip for anyone willing to leave their comfort zone for a time, and I'd like to share some insight to help make your adventure the best it can be!
Choose an approved tour company
Because this land is owned by the indigenous inhabitants, you can only do the Lost City Trek as part of a booked tour with one of several approved tour companies. Tripsite works with expert local guides who go above and beyond to ensure an enjoyable experience.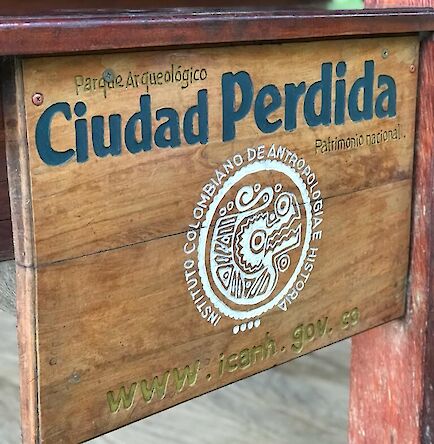 Be prepared for difficult hiking
Over the course of 4 days, you will hike around 35 miles total. While the distance isn't extreme, the elevation is. You will go from 459 ft above sea level, to nearly 4,000 ft above sea level. You don't need to be an elite hiker to undertake this journey, in fact at the time I did the trek, I had only "trained" for about a month leading up to it (by training, I mean briskly walking my dog an hour or two several times a week). Mindset is everything, and if you're up for the challenge, our guides will help you along the way!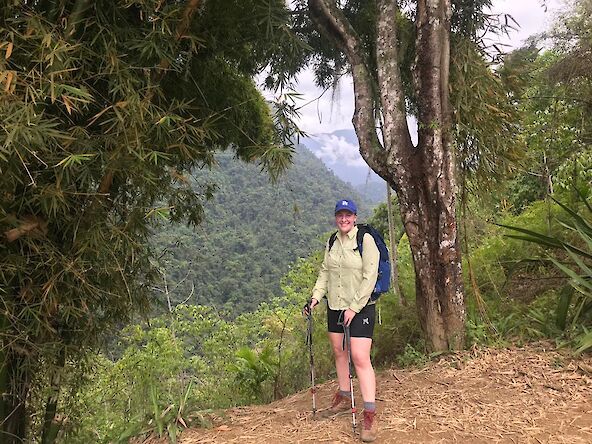 The accommodations are rustic
For the three nights of the trek, my accommodations were open pavilions with mosquito-netted bunk beds. Bathrooms were shared, and hot water for showers was non-existent (by the way, you must shower before being allowed to your bunk). The crude set-up is far from romantic but I felt it was perfectly suitable, dare I say comfortable, after a long day of hiking. Be prepared to navigate through countless clotheslines of dirty laundry, people in line for bathrooms, and the occasional stray dog or two.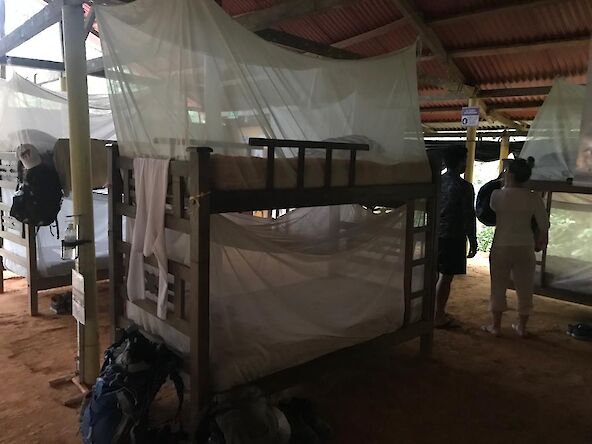 Pack wisely
Speaking of dirty laundry, you will likely not have a dry item of clothing past your first day. And that is okay. Keeping in mind you must carry everything with you besides food (mules will take care of food and water), it is a good idea to keep your pack as light as possible. This means rotating between 2 or 3 outfits, including what you sleep in. Toiletries should be kept to a minimum and leave expensive cameras and equipment at home. Thanks to the humidity, electronics are prone to fog and break. One thing I would suggest extras of: SOCKS!
You will be fed well
Our local partners are responsible for cooking and making sure all hikers have enough to eat. Despite all the physical activity we were doing, I was never hungry. Each meal was hearty and there were seconds to be had. During the day, you are given plenty of fresh fruits to stay energized. Water is also provided, you will only need to bring a 1-liter reusable bottle. Do let us know if you have allergies or require special meals, we'll make sure to accommodate any diet!
Be respectful
The jungle is home to the indigenous Kogi as well as the Wiwa; over 20,000 people since the last census. This is where they live, work, and raise their families. While it is tempting to take pictures of these people in their traditional attire, we must remember that we are their guests and need to respect their privacy and way of life. It is not uncommon for children to approach you while on the trail and while interacting with them is permitted, the community leaders have requested that they are not given our food or any of our belongings.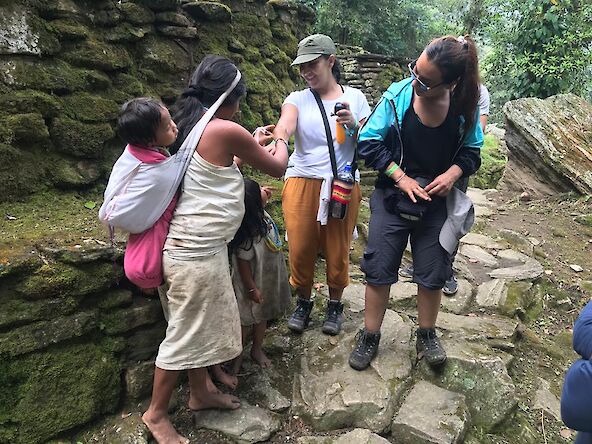 Embrace the challenge
Lastly, and most importantly, this trek will challenge you in ways you haven't experienced before. Extreme heat and humidity, coupled with long days on the trail, and jungle life in general can all take a toll on your mental fortitude. But the rewards far outweigh the sacrifice, and when the trek is finished you'll wish you were back in your bunk listening to the parakeets and toucans, looking forward to another day on the trail.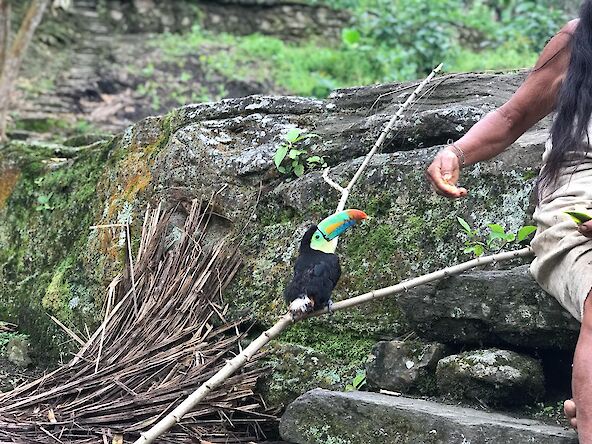 Interested in learning more about Colombia or our Santa Marta and Colombia's Lost City Tours? Email Anna or give us a call today!
Check out all of our hiking, biking, and birding tours in Colombia.
---
Comments
Post Comment