My Next Bike will be an Electric Bike
I never thought I would say this but my next bike will be an electric bike. Maybe it was a pride thing that fueled my reluctance to even consider trying one. Actually, it was definitely a pride thing.
When electric bikes first entered the market in a significant way, back in 2008, many had preconceived notions that they were for old people. I did.
I thought they looked clunky and cumbersome. In fact, they were clunky and cumbersome. I remember thinking I would be embarrassed to ride one. Yes, I was one of those shallow people caught up in appearances. (But in my defense, many were.)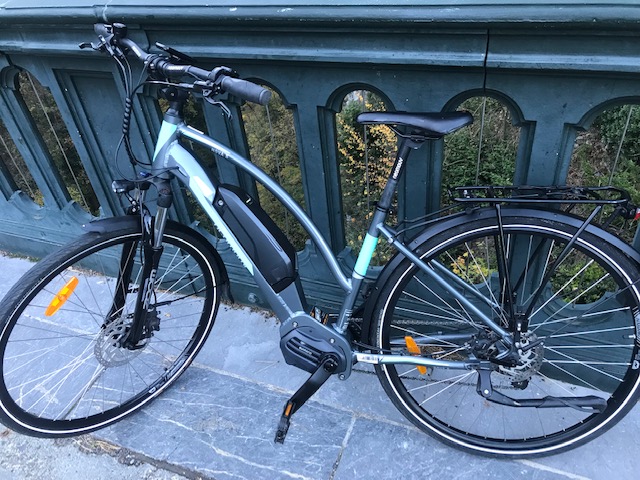 A mid-range e-bike Hennie rode recently. Notice the smaller, lighter battery
on the frame and driveshaft. Nothing heavy or cumbersome about this bike!
Then the shift began and of course, Europe, particularly Holland, the country of bicycles, was at the forefront of the change.
The electric bike was no longer the "granny bike" but the bicycle of the future, the eco-friendly "green" machine. Young and old alike took to the streets, riding to and from work, hauling their kids and grandkids around towns and into the countryside, enjoying the extra time and freedom that the battery support was providing them.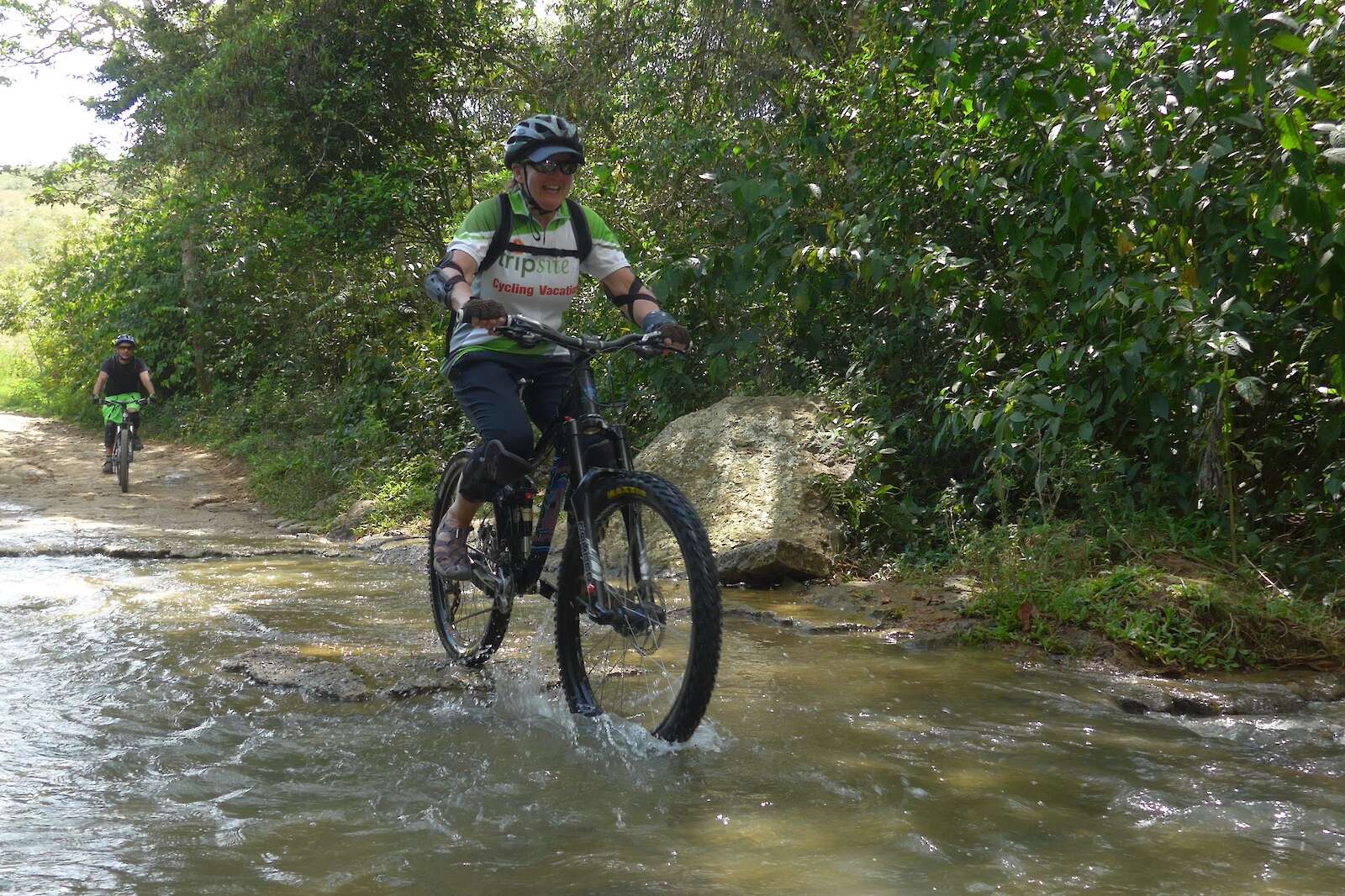 Now you can even get electric mountain bikes! (I wish I had one in Colombia!)
The movement spread and came across the seas.
With the increasing interest, the market adapted, and producers designed e-bikes that were sleek and stylish. Electric road and mountain bikes soon appeared on the scene. Consumers learned that the electric bike is everything that a non-electric bike is, and more.
I remember the day in the office in 2010 when Hennie, Tripsite's Founder, had just returned from Holland. She spoke of the sheer number of e-bikers on the bike trails. "This is the future", she proclaimed. Hennie knew, and soon, we all knew, that the electric bike meant possibility.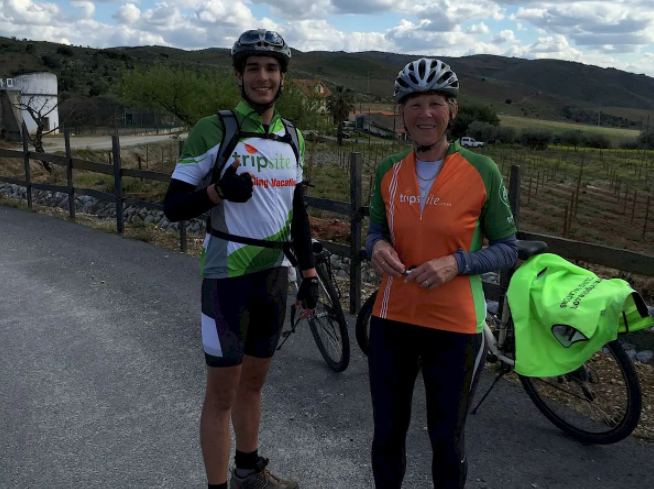 Hennie with her guide in Portugal in March of 2016.
Her first experience riding an e-bike.
For some, the joy of riding is in the speed and the physical challenge. An electric bike allows you to go further and faster without giving up the physical rewards.
For some, the fresh perspective of pedaling a landscape is why they love cycling. On an electric bike, taking your time, soaking it in, does not mean falling behind. Everyone needs to linger now and again.
For me, and many others, cycling is an adventure that combines the two, the physical accomplishment of cycling with the overall experience it provides. The best of both worlds can be enjoyed on an e-bike. Jessica, Tripsite's own, said...
"When I used an electric bike in Croatia, I felt like I was able to truly appreciate the beauty around me. Climbing those mountains, instead of head down and working hard, I was able to look up and take it all in."
| | |
| --- | --- |
| Jessica with her e-bike in Croatia | ...and those beautiful mountains in the background! |
At Tripsite we quickly learned that family and friends, regardless of their cycling ability can now all cycle together. We have had multi-generational reunions where grandchildren bike with parents and grandparents as one group.
The vistas and vastness of difficult terrain once restricted to the elite is now accessible to all. Hennie has just returned from cycling portions of the Tour de France on an electric road bike and documented in words and pictures the breathtaking panoramas.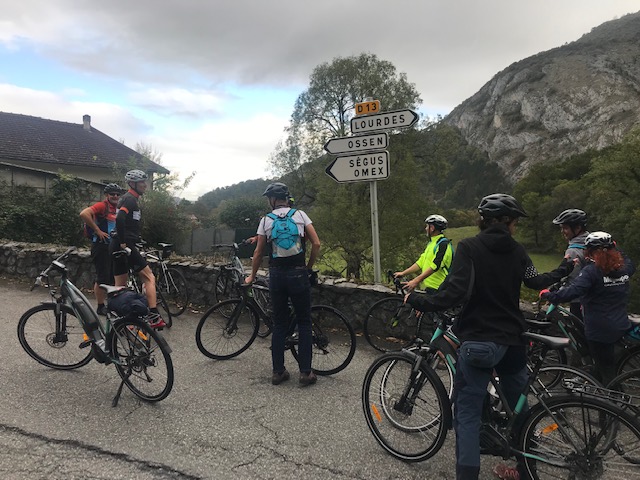 Hennie with her group in France!
Those with conditions or injuries that curtail or restrict physical activity can still cycle! We have many clients who have looked forward to their cycling vacation but suffered an injury before their trip. Switching to an electric bike allowed them to still thoroughly enjoy their adventure without having to cancel any plans.
As awareness of the e-bike phenomenon grew, so did demand. It is no longer just about bridging the gap between the young and the old. It is for everyone, the young at heart and those wise beyond their years, seeking activity for family and friends that can include everyone, but still checks all the boxes; fun, active, and sustainable.
An electric bike is not for everyone all the time, but it can be for anyone at any time.
Almost every tour we offer provides an electric bike option. We also have a Electric Bike Collection as well.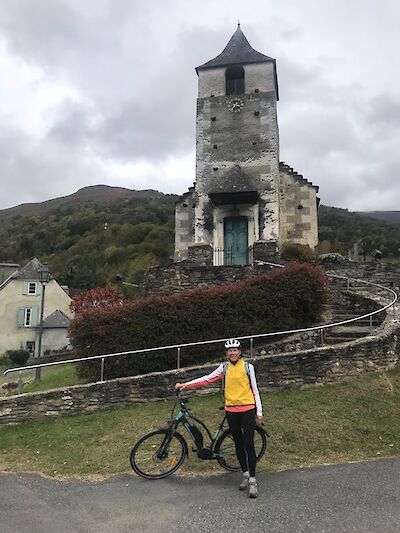 Hennie posing at the foot of the Pyrenees Mountains exploring a new destination in France!
We have many e-bike options in France, like Bordeaux to Sarlat.
And yes, my attitude has shifted as well. The possibility beckons. My next bike will be an electric bike. I have made room in my heart, and space in my basement, next to my hybrid bike, my road bike, and my hardtail mountain bike.
---
Comments
Post Comment