Netherlands 2021: Great Fun Back on the Fietspads!
Good memories are the seeds of good dreams, I believe. That's why I leaped at the chance to join the South Holland boat-and-bike Tour, along with my brother Kevin, in July (2021). Even though we'd visited a number of the planned destinations on past trips, this one – like every other – was great fun and deepened my love for supported cycling trips in Europe.
The places we visited were spectacular: Amsterdam, Utrecht, Gouda, Delft, Rotterdam! Their canals, churches, foods, architecture, and kind citizens were as stunning as always, as were the private homes, farms, and meticulously manicured gardens we saw all along the route. But beyond the joys of tourism, we loved meeting our fellow riders and the people we talked to along the way and at each stop. We felt welcome wherever we went, and could always count on seeing the friendly face of a kind local person eager to help us.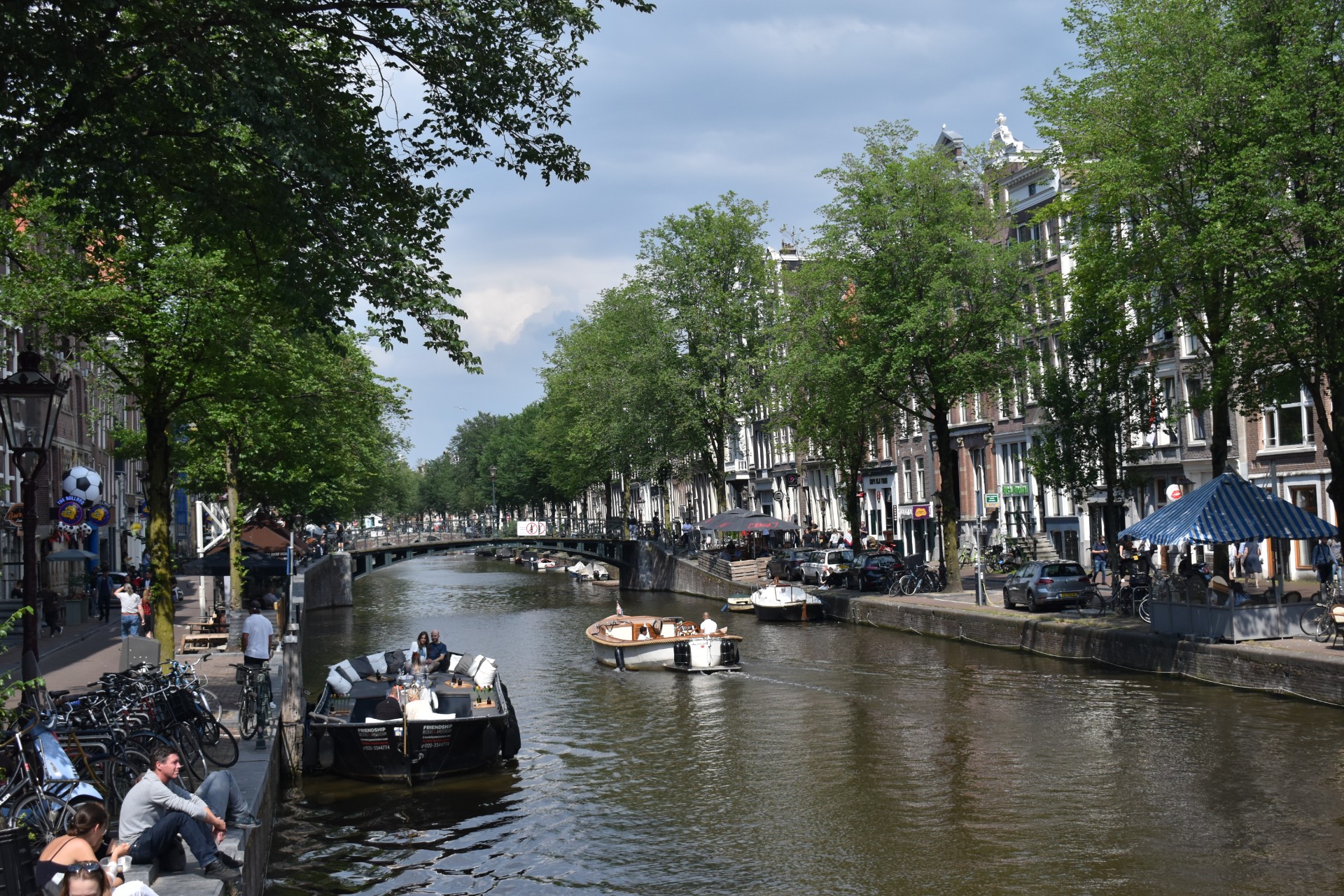 Kevin and I have done a number of bicycle trips in Europe – all of which have been great – but we always love coming back to the Netherlands. Its cycling culture and infrastructure (and lack of big hills) make riding there a particular delight. Just about everyone rides a bike (or, increasingly, an e-bike). The country's 17 million citizens own 22.5 million bicycles – some with one kept at home and another at the train station in the city where they work.
Day 1: We marvel at the essential need for bicycles in Amsterdam. Children must take and pass a test to earn the privilege to ride to school, which deepens commitment to cycling safety. Cars and even pedestrians have to yield to cyclists while crossing designated bike paths or lanes. It's really sweet to pull up to an intersection at which cars, trucks, pedestrians – everyone! – yields to us! Safety is one of the main benefits of riding in the country.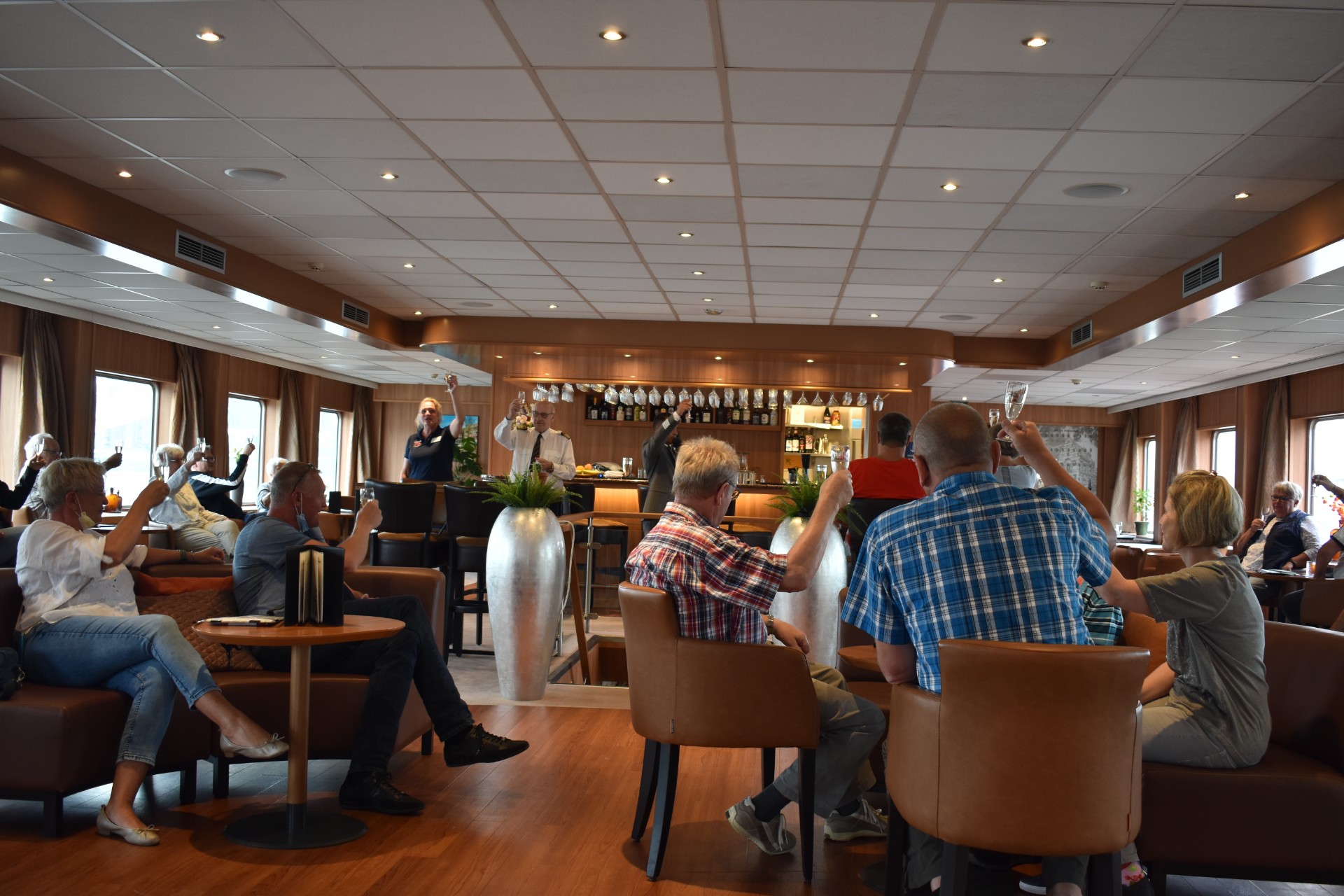 With our rental bicycles on the top deck of our boat, De Amsterdam, we set off on our voyage. As we steamed to our first stop, Breukelen, I took in the differences between De Amsterdam and the smaller boats we'd taken on earlier trips. It's a lot bigger in size (311 feet or 94 meters) and capacity (up to 110 passengers). What you lose in intimacy compared to a small boat (24-26 passengers), you gain in comfort and luxury. De Amsterdam is smaller than the famous "river boats" that ply Europe's big rivers, but it's certainly competitive in style.
Day 2: Utrecht and Rotterdam contrast in a lot of ways – university city vs. business center; old architecture vs. new; old-city charm vs. modernity – but the people in both were similar. We got a delightful evening tour in Rotterdam from guides who donated personal time to giving tours – in English for us and in other languages for other guests. Our guide truly loves his city and, having studied its history and current situation closely, was able to answer the dozens of questions we asked. My brother and I gave him a tip (not required), but the fee paid by our tour operator went to a charity with which the guides were affiliated.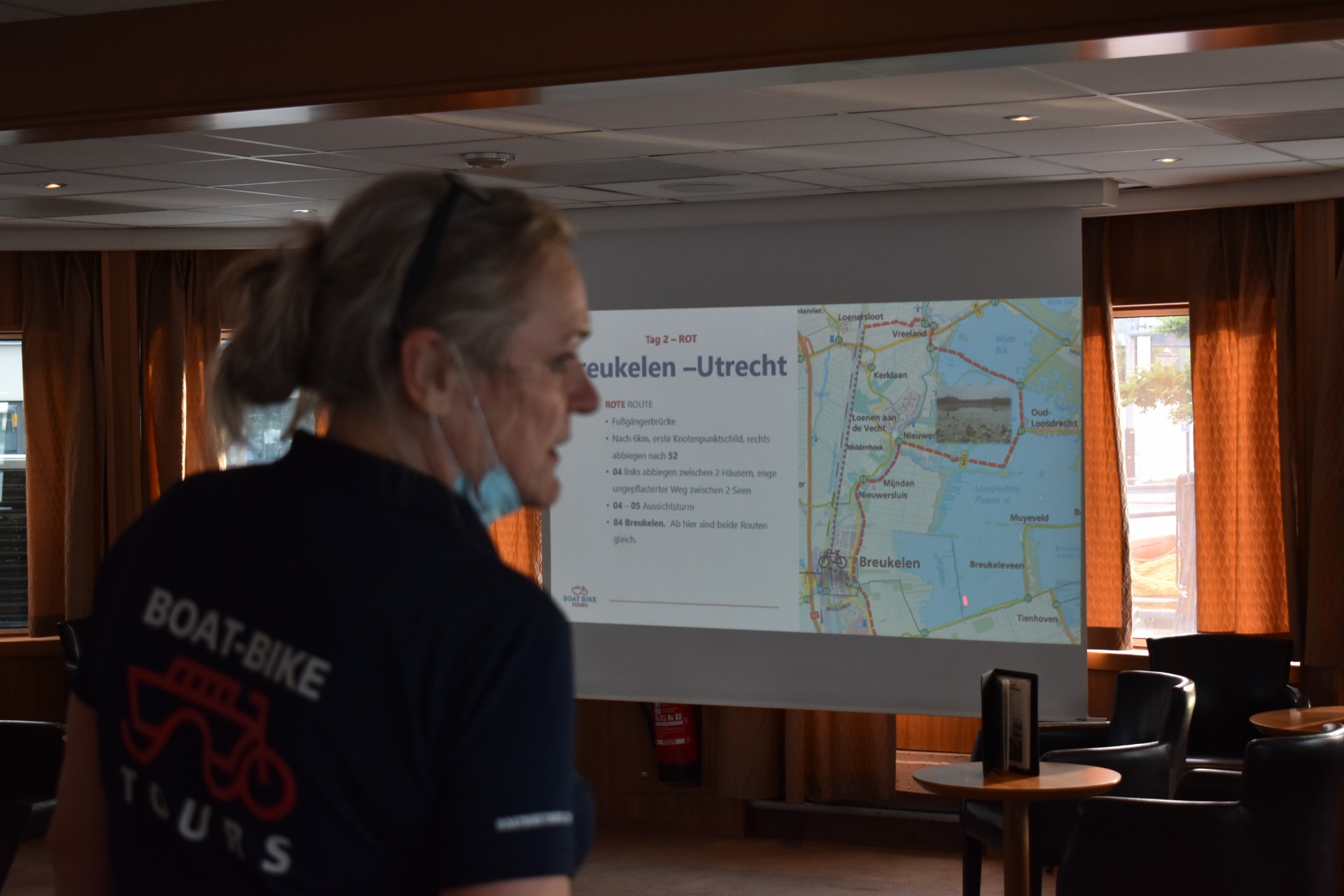 Day 3: Delft is special for me because it's the first place – years ago – that I enjoyed raw herring (served with onions), which I was taught to eat by dropping the fish into my mouth from above my head. But for most in our group, the medieval city is more memorable for its elegant blue ceramics and beautiful Nieuwe Kerk (New Church) and Market Square, which features the Renaissance-style City Hall. It's a city of immensely picturesque canals and charming shops.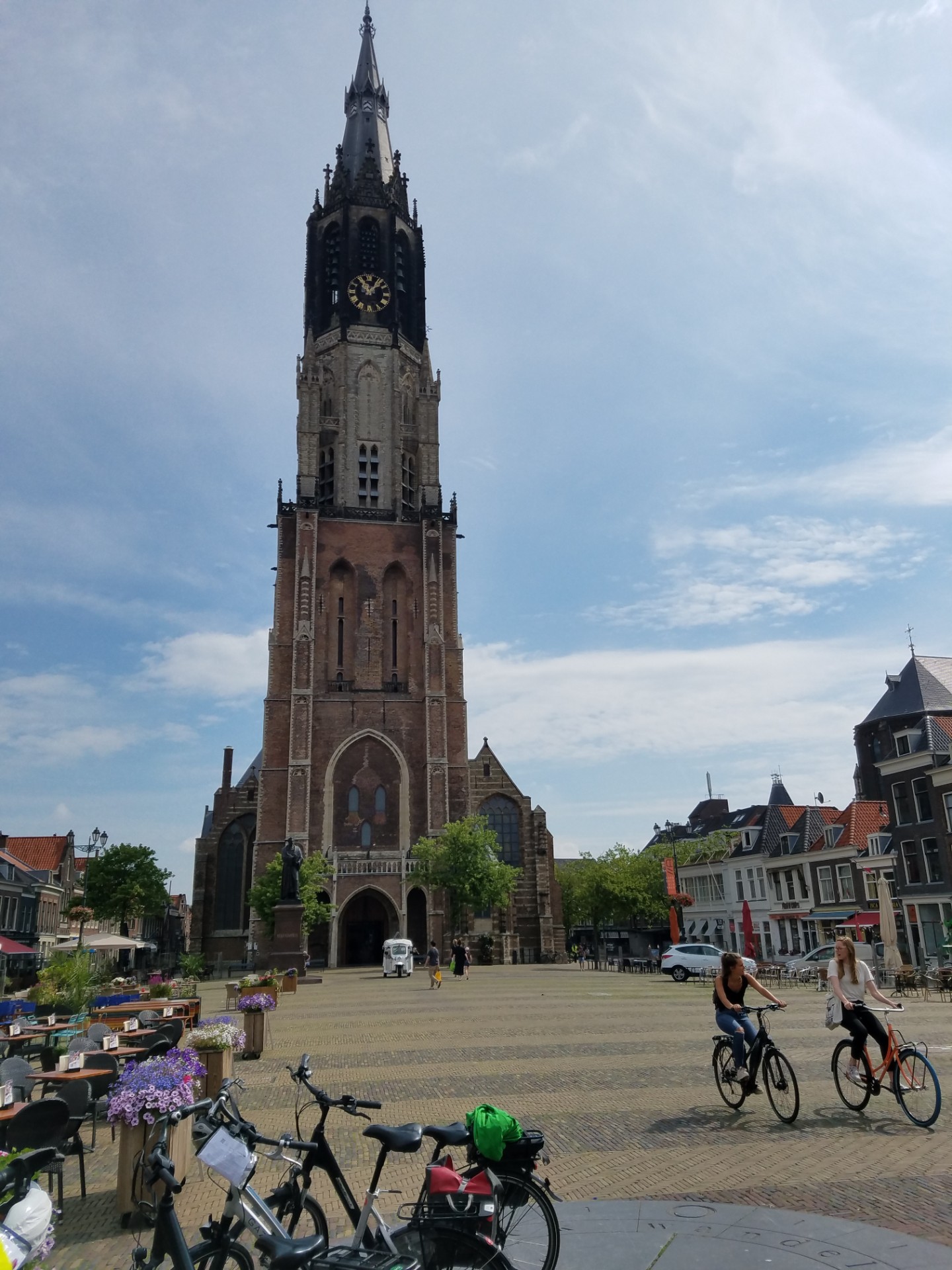 We rode to Delft from Rotterdam – going along the River Maas, through the city of Schiedam, and then north (a total of about 20 kilometers or 13 miles). We and a wonderful couple we met on the boat decided to "explore" an alternative way back to the ship, so we turned to a map of the Netherlands' amazing numbered cycle point network. The system of junction points (knooppunten) guides cyclists throughout a nationwide grid of fietspads or cycle paths,. You find your destination on the map, find the points you need to pass to get there, and – like connect-the-dots – off you go.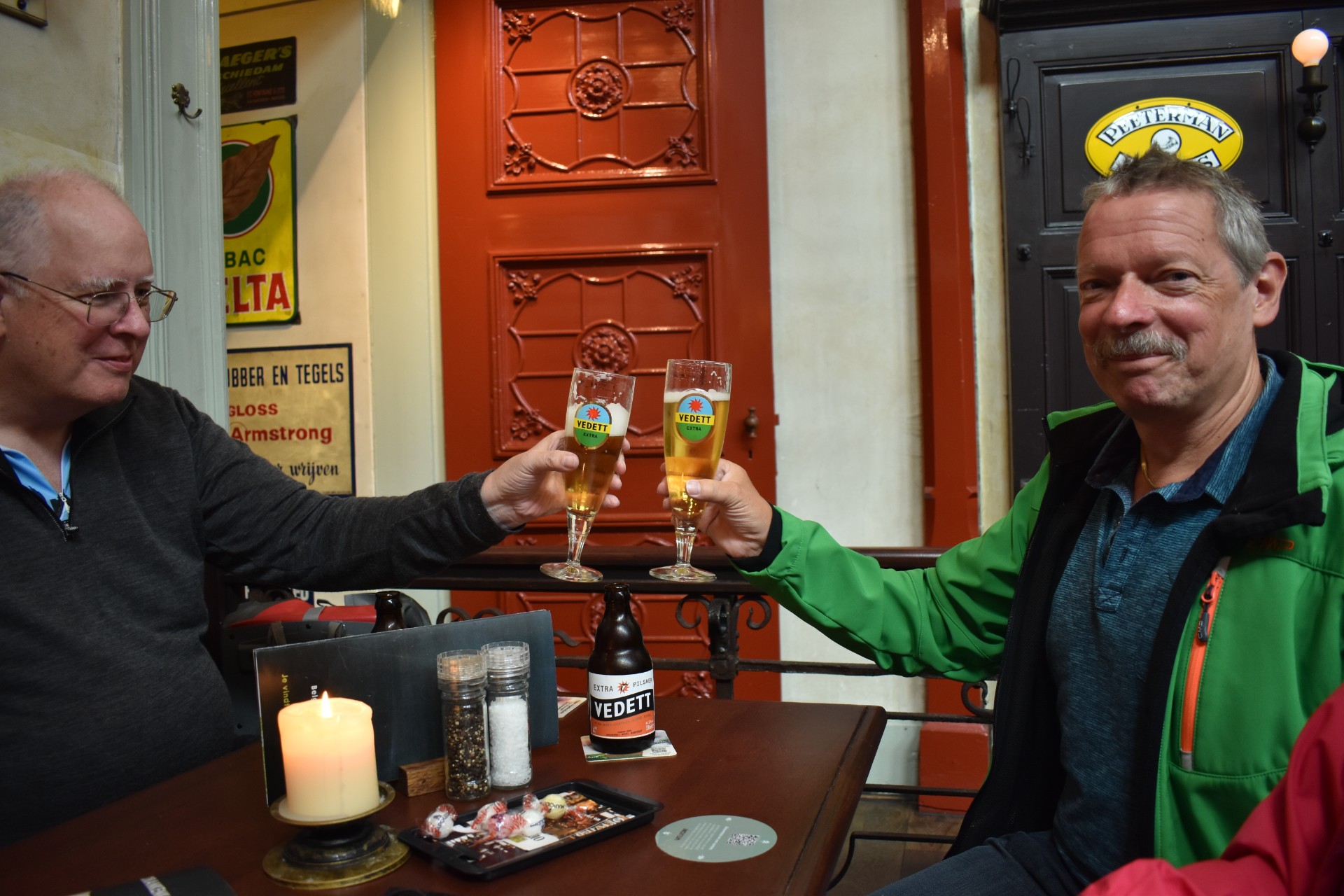 That return ride provided the adventure we desired. One primitive path was only about two feet (60cm) wide and bordered by eye-high grass. When one of us (whom I shall not name) slipped in a rut and fell over, the soft grass cushioned the blow – and we continued onward after a couple of laughs. Our exploration also took us by the runway of the Rotterdam Airport just as a plane passed over. Then we entered Rotterdam and – always in protected bicycle lanes – rode along its wide boulevards back to the ship. One stretch was on the city's Coolsingel, a recently refurbished road with two lanes for cars, two lanes for trams, wide walks for pedestrians, and a wonderful 15-foot (4.5 meters) cycleway for us! Rotterdam shows that safe cycling can be an essential part of modern urban transportation.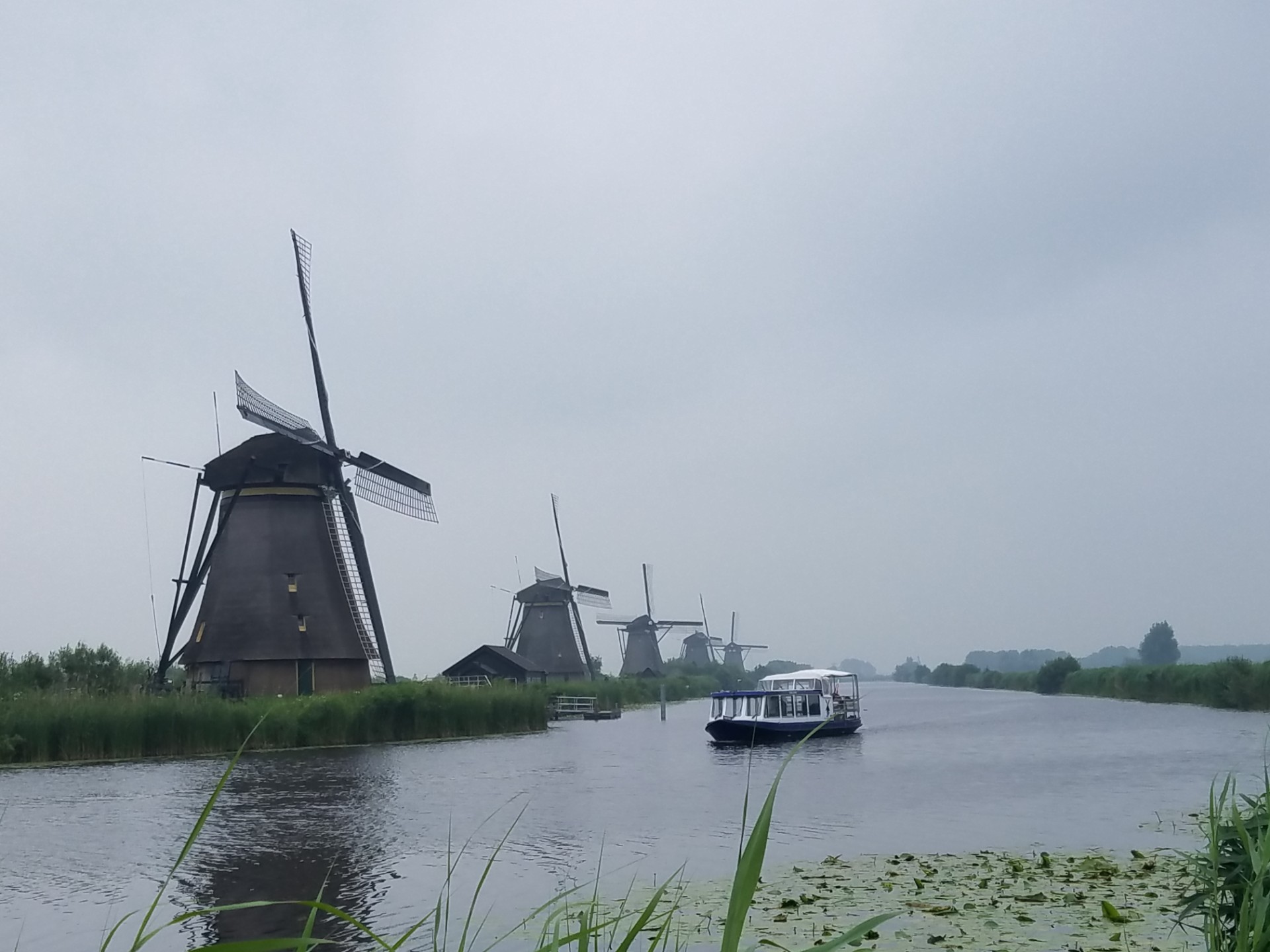 Days 4 and 5: Our next day was devoted to majestic symbols and delicious foods. The windmills at Kinderdijk are powerful but gentle reminders that "green" energy solutions can be not only sustainable but beautiful. The bikeway let us ride along the canals next to these lumbering giants, without getting in the way of walking tourists. The windmills give me a peaceful feeling.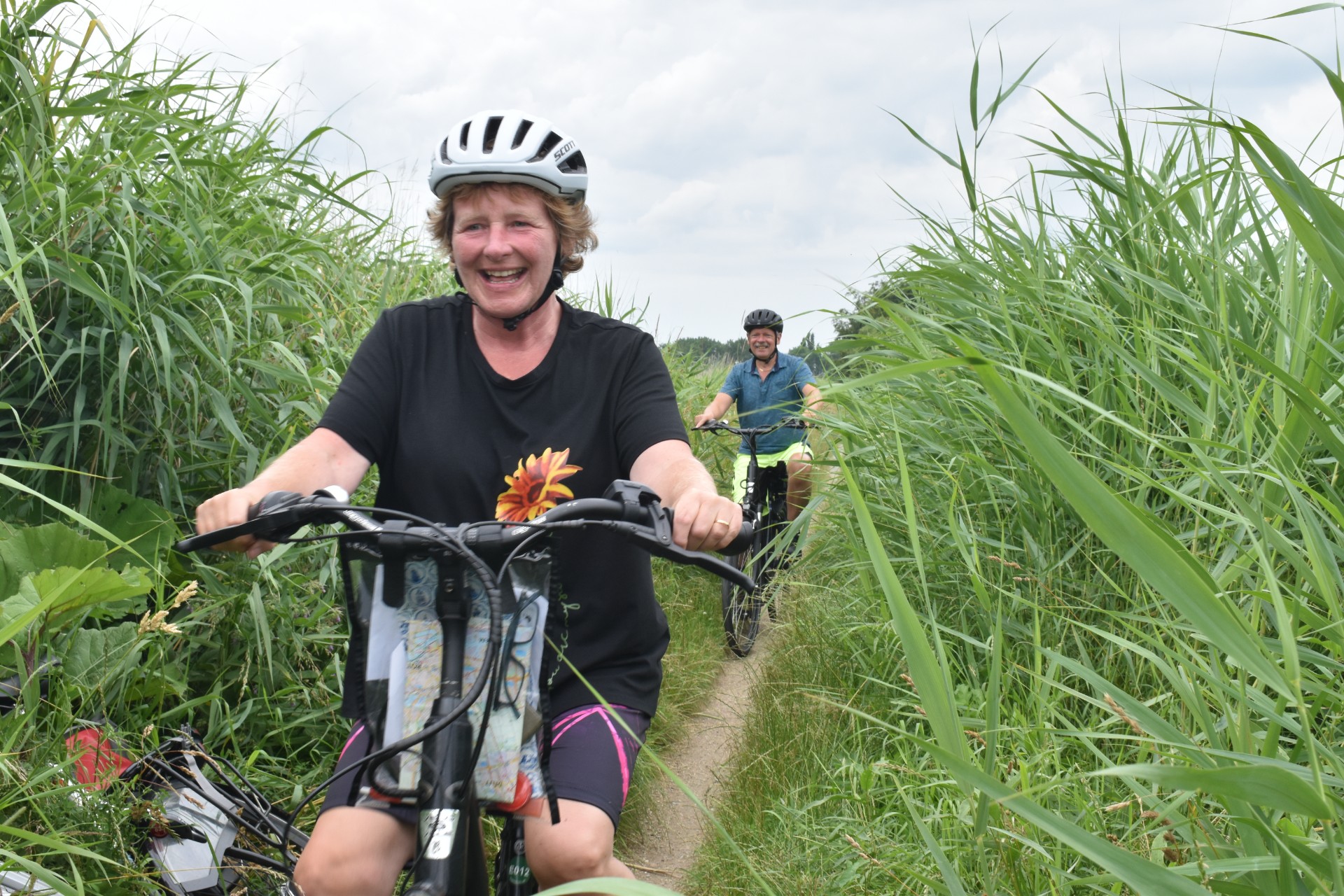 Gouda, our next stop, is just 12.5 miles (20 kilometers) north of the windmills on paths that, as always, were easy, safe, wide and flat! The city is, justifiably, world-famous for its family of cheeses. We visited a traditional, organic farm that produces Gouda cheeses and stocked up on delicacies that, because the milk is pasteurized, we were allowed to bring home.
Less famous outside Holland – but equally amazing – are Gouda's caramel "syrup waffle" cookies called stroopwafels (or siroopwafels locally). They're thin cookies that are crunchy on the outside, with a thin layer of gooey caramel on the inside. On market days, the wonderful aroma coming from the stroopwafels stand is a powerful advertisement. One producer, Kamphuisen, has a shop right on the central square and offers tours (during which you can "watch or participate") at its factory.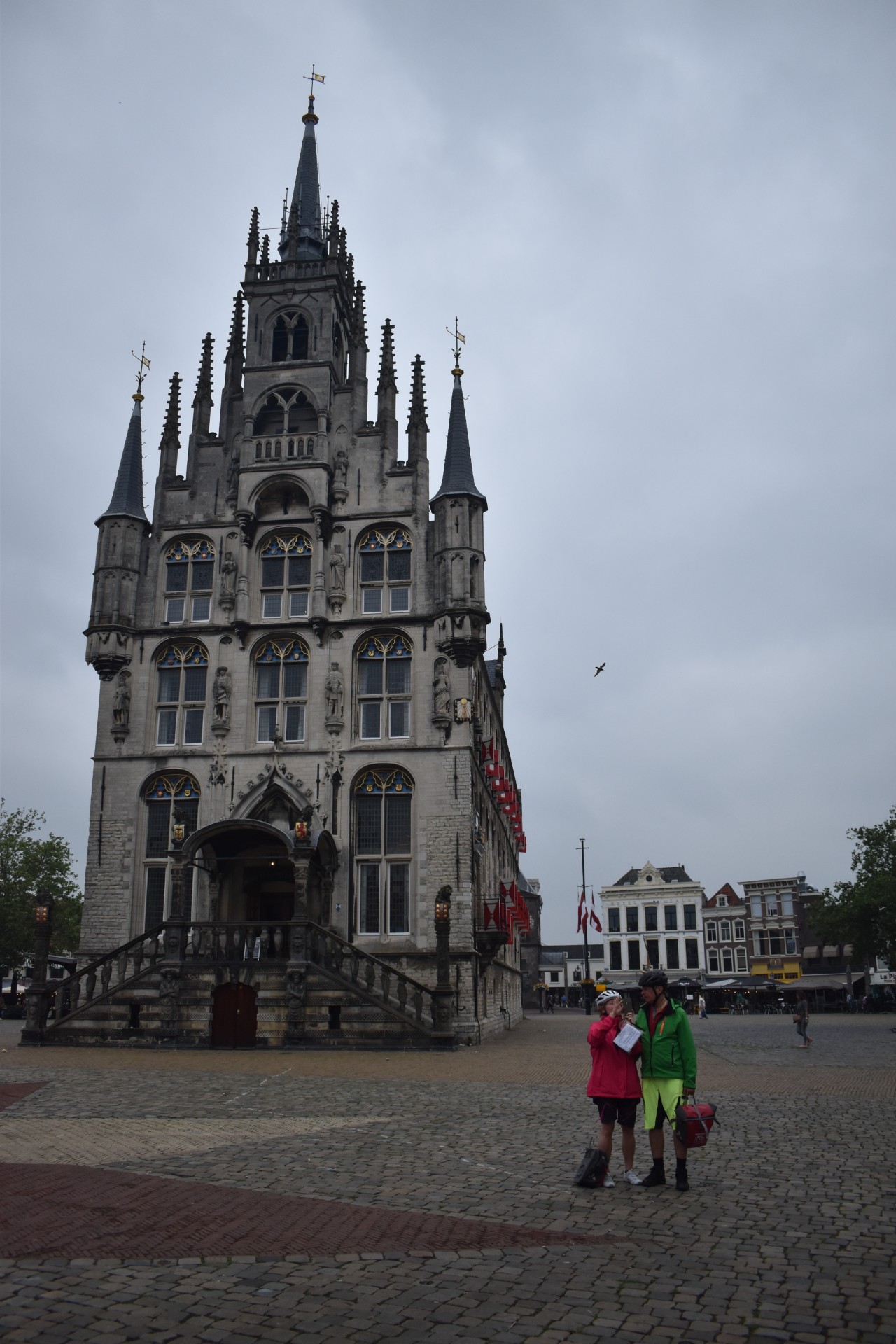 Day 6: Haarlem is, of course, one of the names Kevin and I grew up knowing from New York City (albeit with only one "a"), along with dozens of other names, including Breukelen (Brooklyn), Jonker (Yonkers), and even Konijneneiland (Coney Island, which means "Rabbits Island"). From Haarlem, we rode to the dunes and resorts along the North Sea coast. The Kennemer National Park was a delight to ride through, as our route wended its way among dunes, ponds, through meadows of brightly colored flowers and along the shore beaches themselves.
As on most days, we had shorter and longer routes to choose from – 25 or 31 miles (40 or 50 kilometers). The longer way we chose just happened to allow us some time upon our return to Haarlem to visit a church that had been converted into a brewery. As demographics and church participation have changed in Europe, many local governments have found ways for private business to give new uses for magnificent buildings that neither the Church nor state can afford to keep up alone. We needed to taste some of the product in the Jopen Kirk church, didn't we?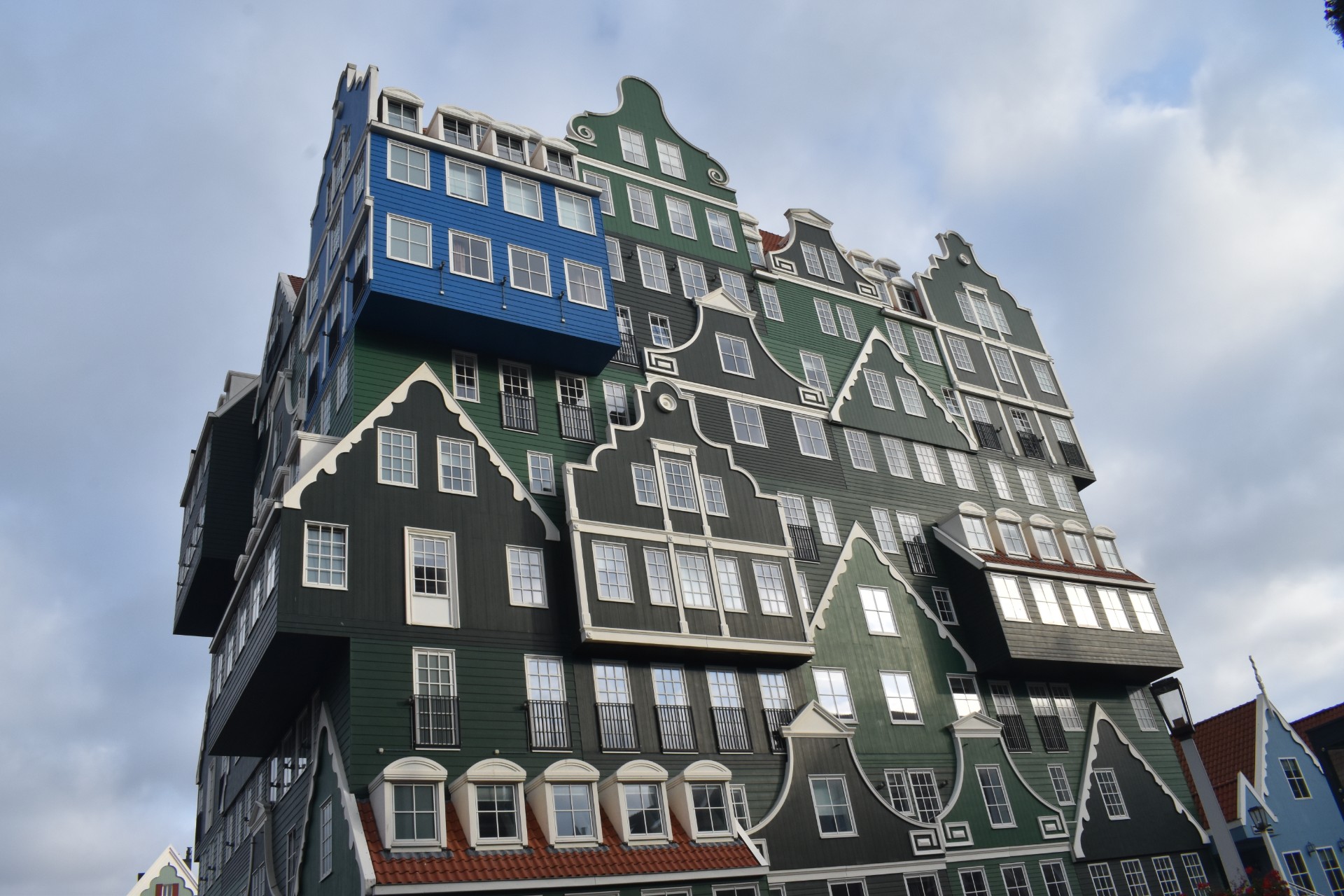 Day 7 and 8: The last day of riding on any bike-and-boat tour is triumphant. Our ship moored overnight in Zaandam, northwest of Amsterdam, and our final ride was into the capital city, Amsterdam. On our way, we stopped at an open-air museum where, while a little touristy, it was really fun to see how wooden clogs and other typical Dutch handicrafts are made. As we approached the city, we passed through charming residential suburbs across the water from it, until reaching a ferry that delivered us to a bike path that took us directly to the Central Train Station, where our ship was already waiting.
This last stretch of a ride is when the feelings of triumph and accomplishment well up inside me. We'd ridden about 190 miles (300 kilometers), including side trips, without stress or accident or getting lost! We couldn't boast of mountains climbed and rainstorms weathered, but we were happy.
While there's always a tinge of sadness when an adventure like this draws to a close, we bring home with us new friendships and, importantly, new memories that will no doubt become the seeds of future dreams.
Photo Gallery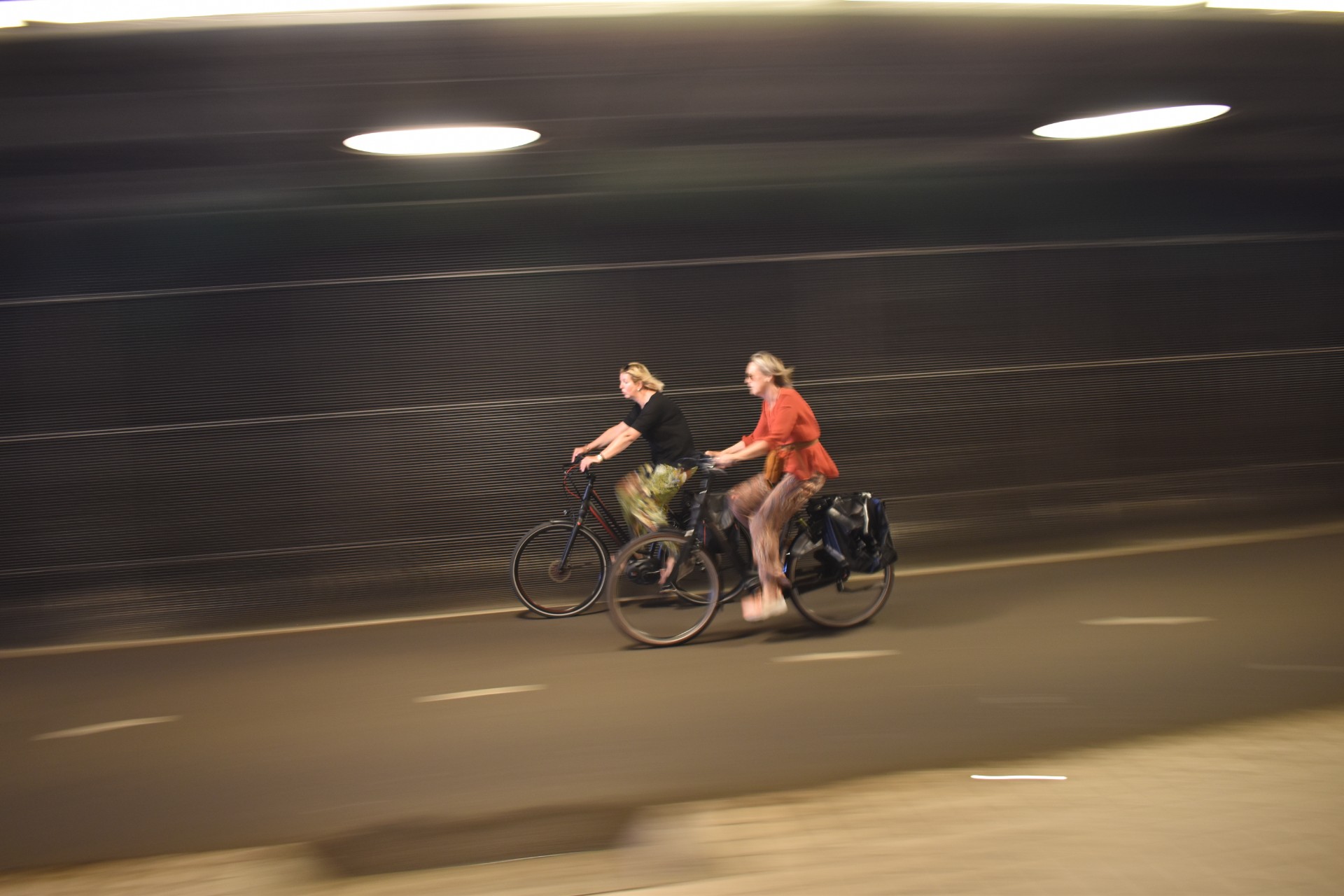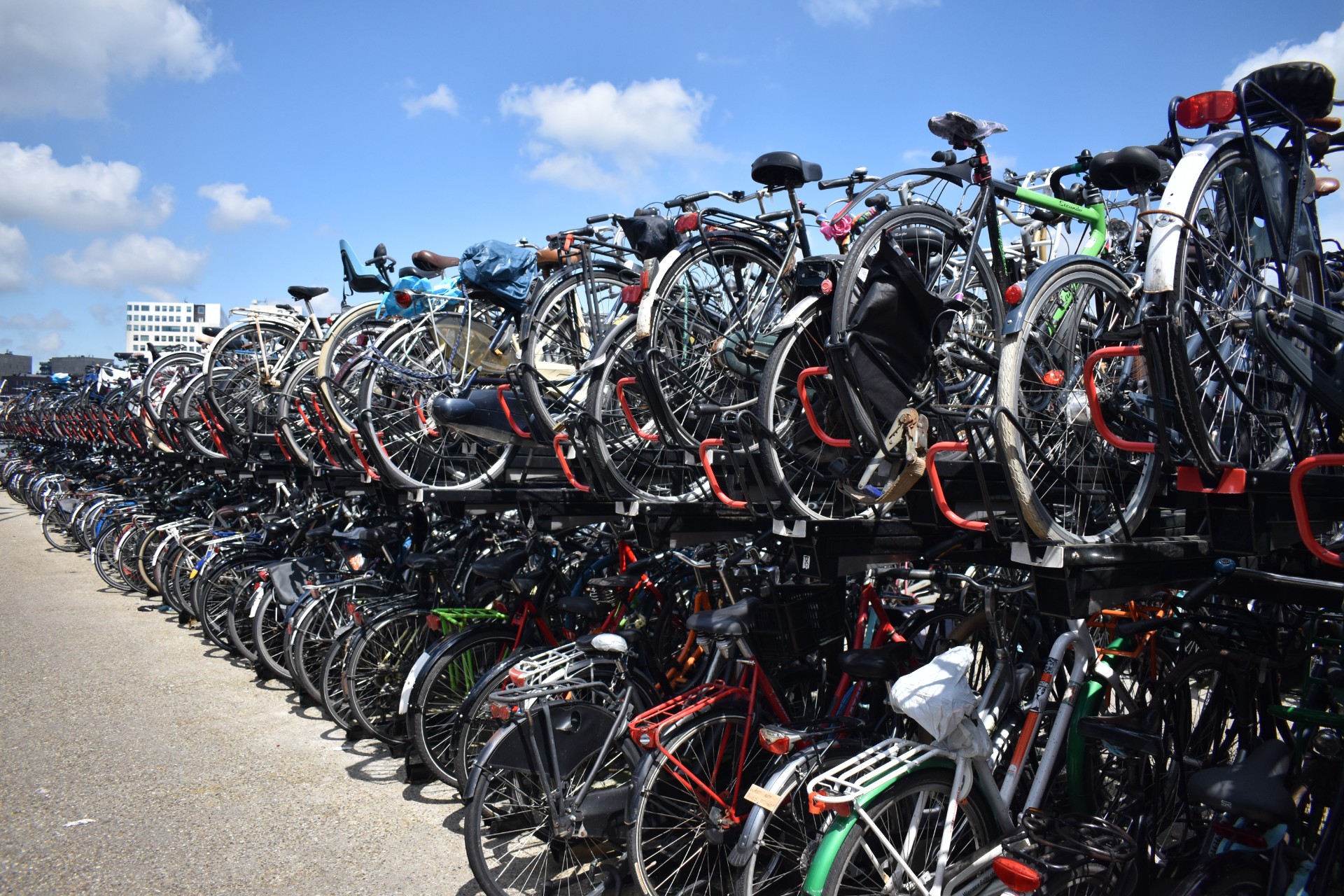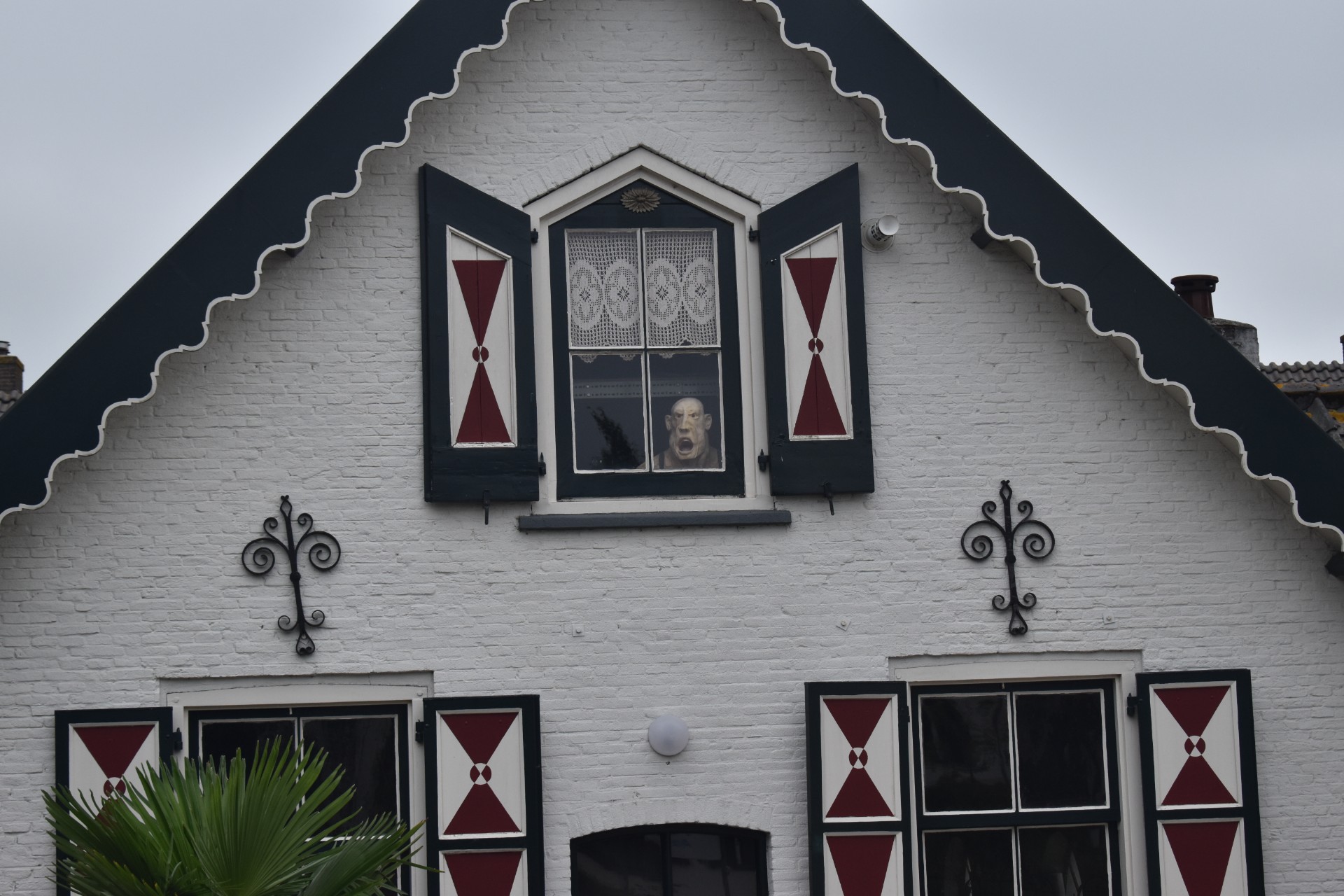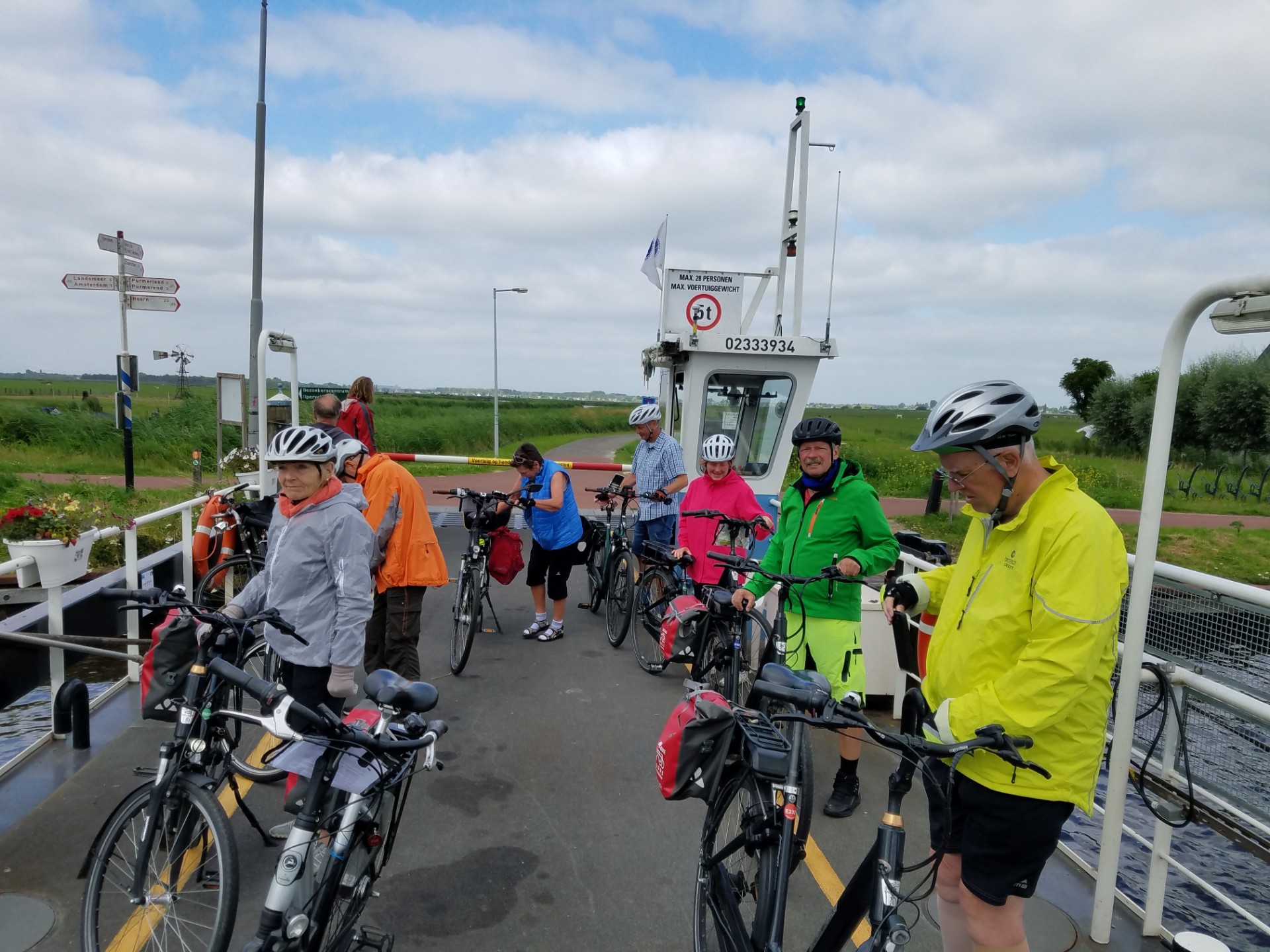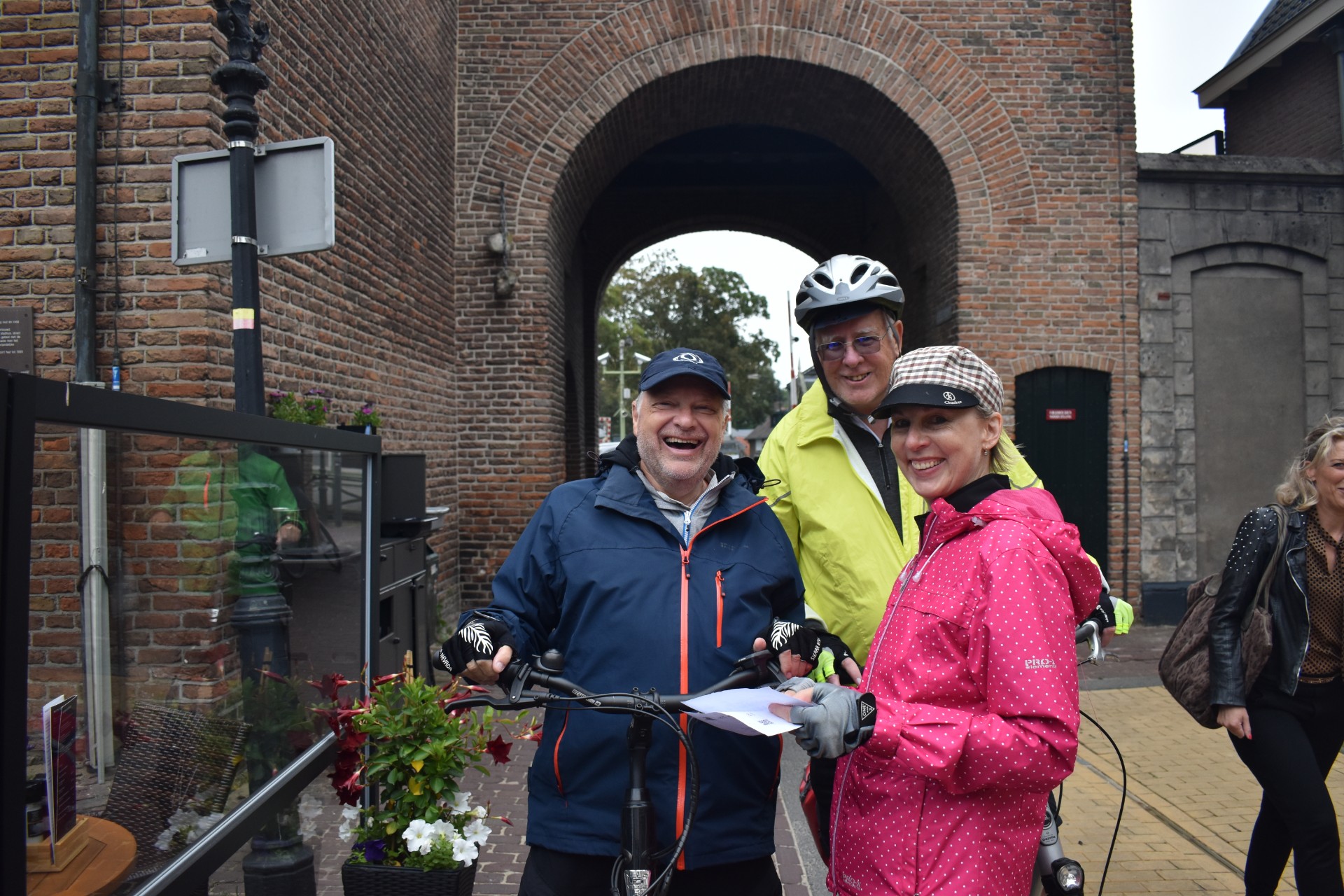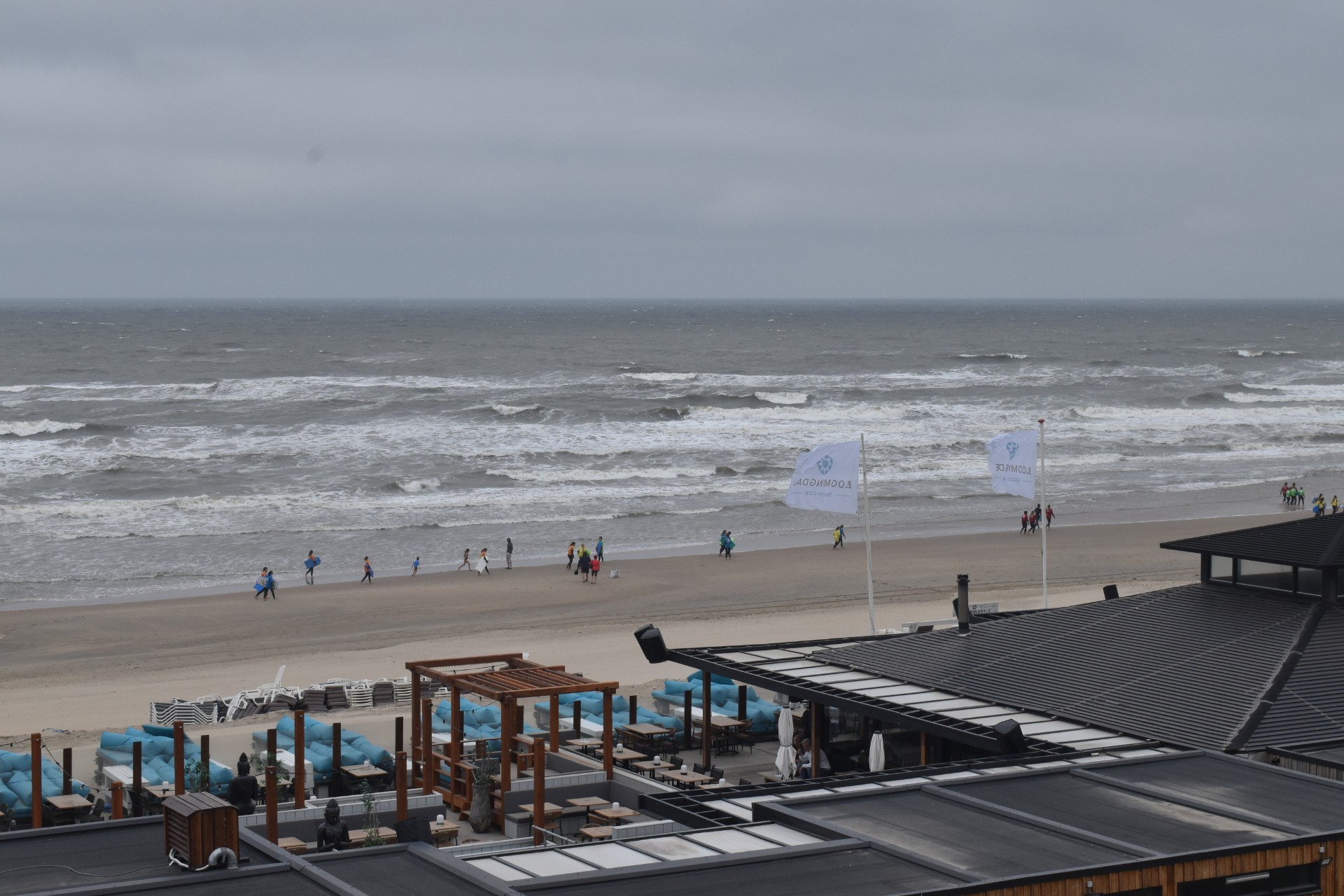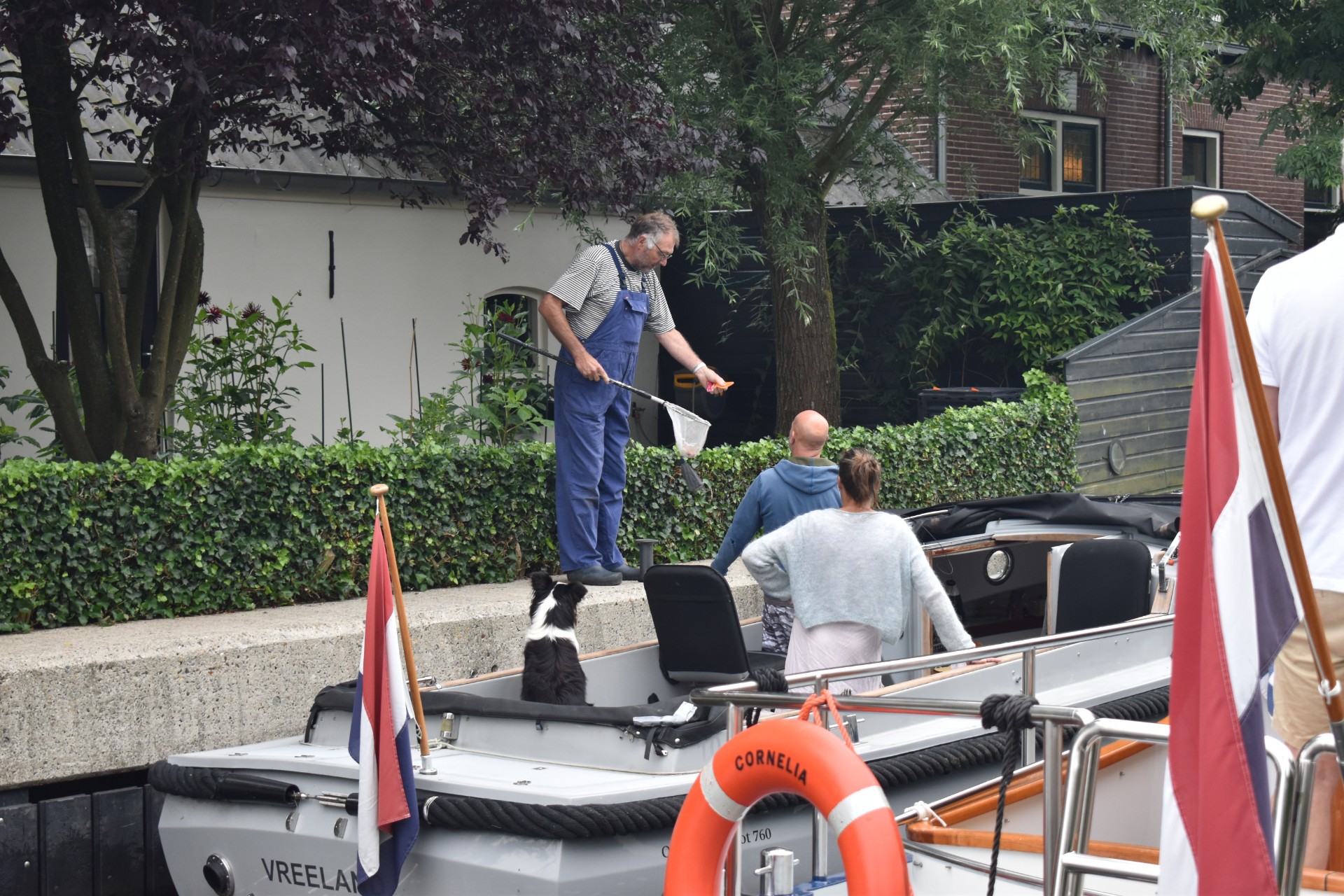 To read more travel stories from our clients, check out our Tripsite Traveler blog series.
---
Comments
Post Comment