Ani & Ika: First Bike & Barge
We recently had the chance to chat with our friends and colleagues, Ani & Ika, after their recent trip to the Netherlands on their first bike & barge trip. Here is what they had to say...
Tell us a little about yourselves.
Our names are Ani and Ika. We are siblings, living in the Republic of Georgia.
We love traveling and exploring different places. We often travel in Georgia, exploring beautiful nature with a couple of our friends and having picnics. This is what we LOVE to do on the weekends, especially in summer.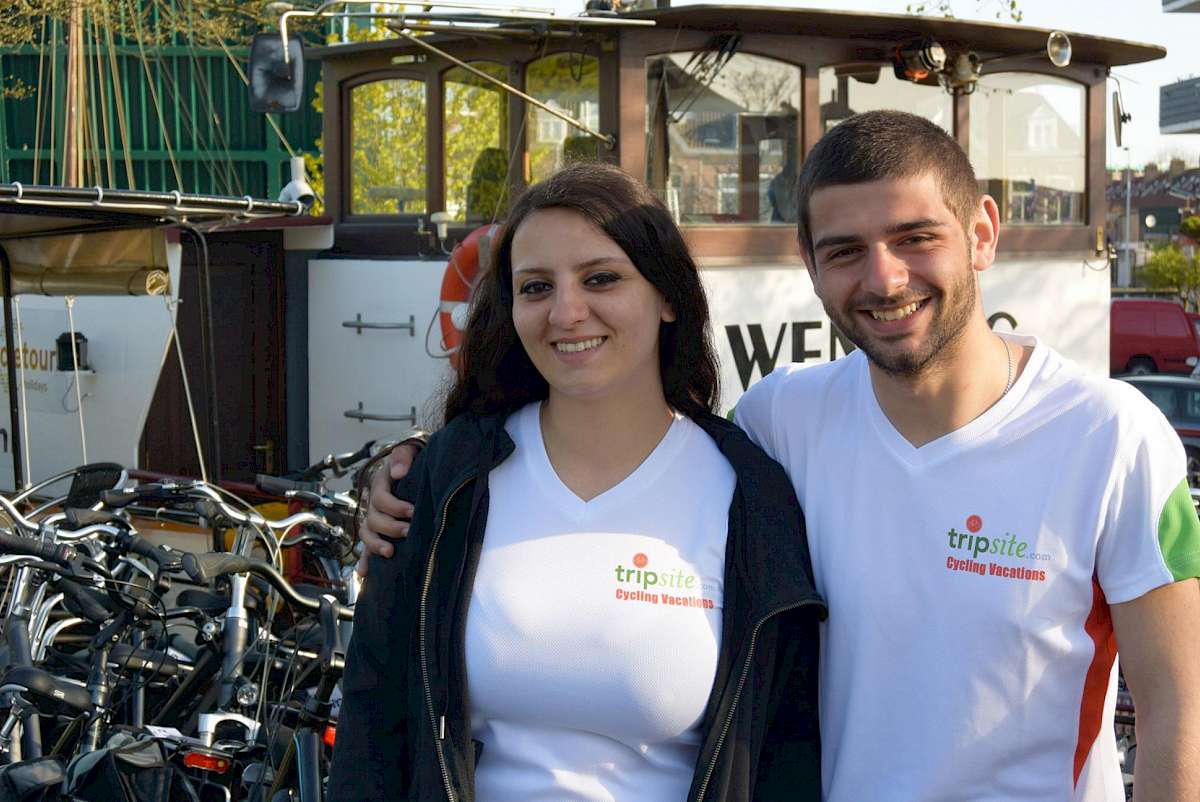 What are your roles at Tripsite?
I joined the Tripsite team in May of 2012. I am responsible for processing reservations.
Ika is a new member of the TripSite team, he joined us in February of 2015. His responsibilities are invoicing and he also helps me in processing reservations.
We work from Georgia (home office).
Tell us a bit about first Bike & Barge trip.
In April of 2016, we had the greatest opportunity and took a Tulip Tour - 5 Day aboard the La Belle Fleur. It was our first bike and boat trip and we loved every minute of this tour. La Belle Fleur is a very lovely and comfortable boat. Sander and Els were perfect hosts. Tour guide Arie, was professional, he was very helpful and there was no question he could not answer!
We especially loved the meals and cleanliness on board.
What was your favorite part of the trip?
Everything was just perfect, but our favorite part was Keukenhof. You must see this garden at least once in your life! I would say that there is a heaven in Holland :)
Were you surprised by anything?
We both were surprised by car drivers. I know it sounds weird but while cycling on the highways or streets, there was no car driver who would not stop to let you keep cycling.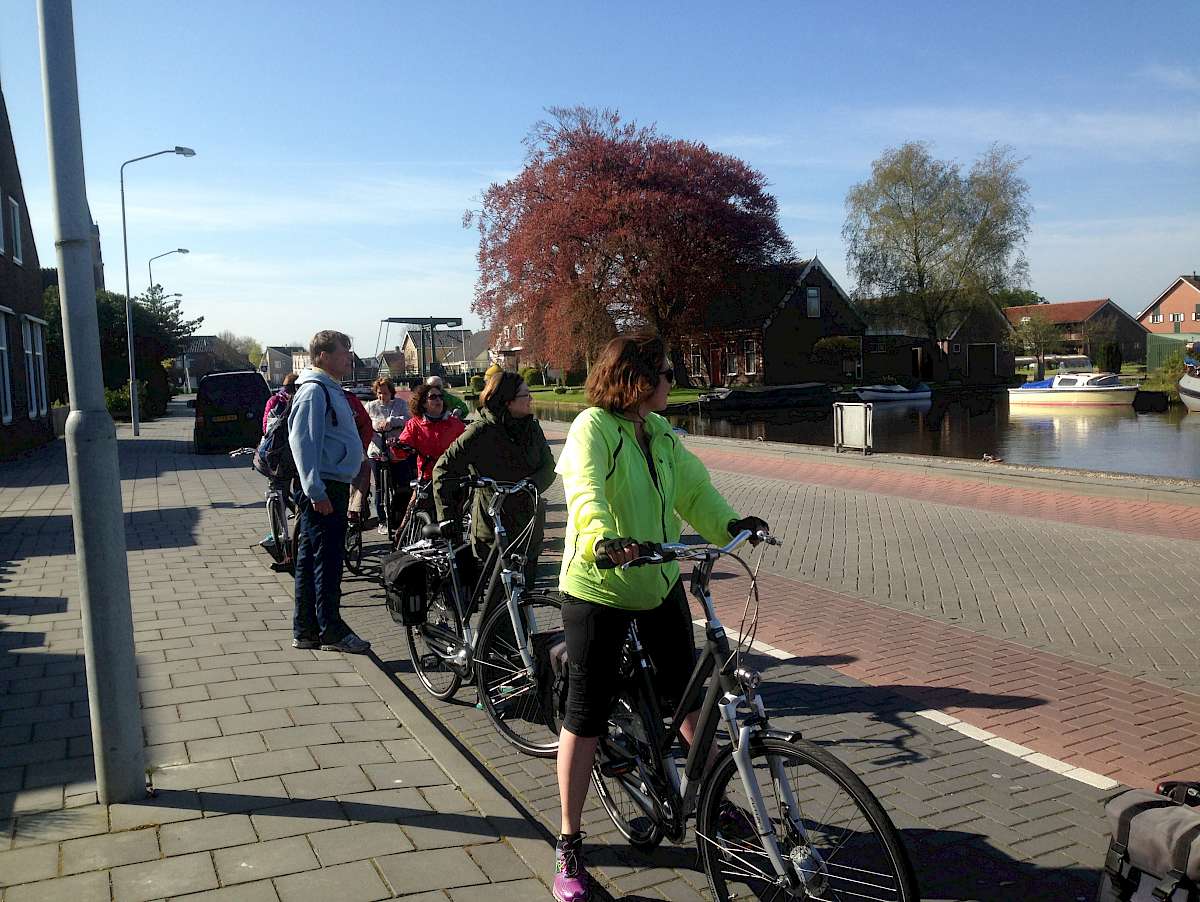 On the first day of cycling, I asked guide "is it safe to cycle on the roads with car drivers"? He assured me that people in Holland respect cyclist and they try their best to make them feel comfortable, I could not believe this before I experienced it. You are absolutely safe to cycle with cars!
Did you learn anything new?
Yes, we learned a lot! First of all, we know how it feels to live on the boat, it is just an amazing experience. We learned how to cycle with the group and how to cycle in traffic.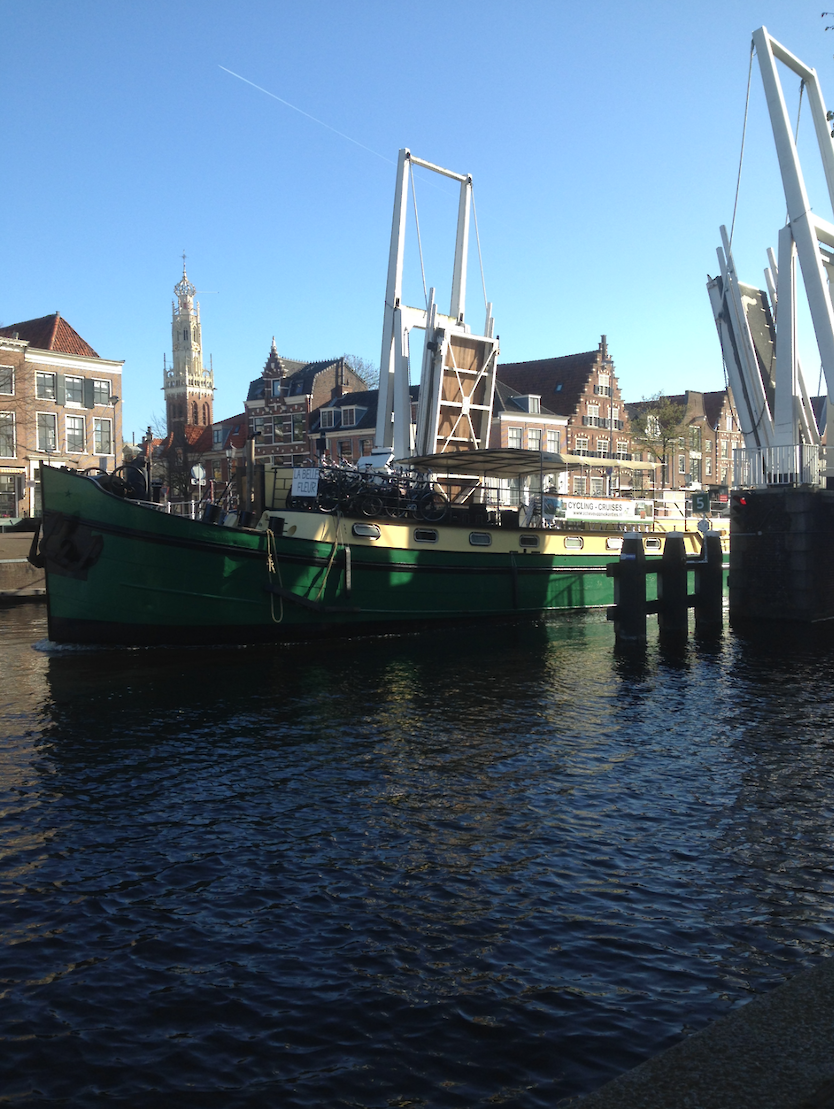 This picture was taken in Haarlem in the morning. Beautiful La Belle Fleur starts sailing to Leiden.
How was the cycling experience? The routes, bikes, group, staff…
It was just great! We enjoyed cycling on the beautiful bike paths. The weather was sunny, a little windy but it usual in Holland. Routes were perfect. We cycled through the beautiful nature. Paths were mostly flat but on our way to the north sea beaches there was a little hilly and windy, but it was fun! We had a wonderful group of cyclist. There were several roads with traffic, but our guide did a great job, we kept our distance of approximately 7 meters so it was very easy for us/cars to move.
Everything was just great, we had a wonderful, unforgettable experience!
We would recommend this tour to anyone, who would like to explore Holland, relax and stay active :)
Want to learn more about the Bike & Barge experience? Check out this similar post: What is a Bike & Barge
---
Comments
Post Comment