Tripsite Traveler: Bordeaux
For those of you that do not know me…
I'm Hennie van den Hengel, one of the founders of Tripsite, born and raised in Holland (the Netherlands) and I'm sure that's where my love for biking came from. Biking is a part of life in Holland and I could bike from the time I was wee little and have biked ever since (quite a few years by now).
I went to Bordeaux because this year we offer a new boat and bike tour in the region. Although I had been there before and knew the general area, I had never biked there. I needed to find out more, not just read about it. I explored on my bike where the tour would take place and had a fabulous time doing so. In fact, I'm going back in early March!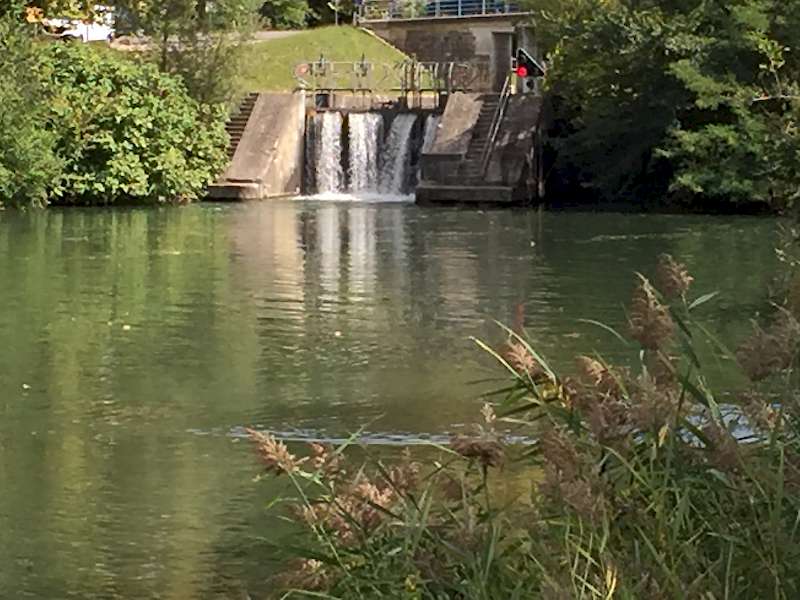 Locks in Castets en Dorthe
Every other week, the tour starts in Castets on Dorthe. The village lies at the junction of the Canal de Garonne with the River Garonne as Wikipedia puts it. It's a small village with, as usual, a large cathedral in the center.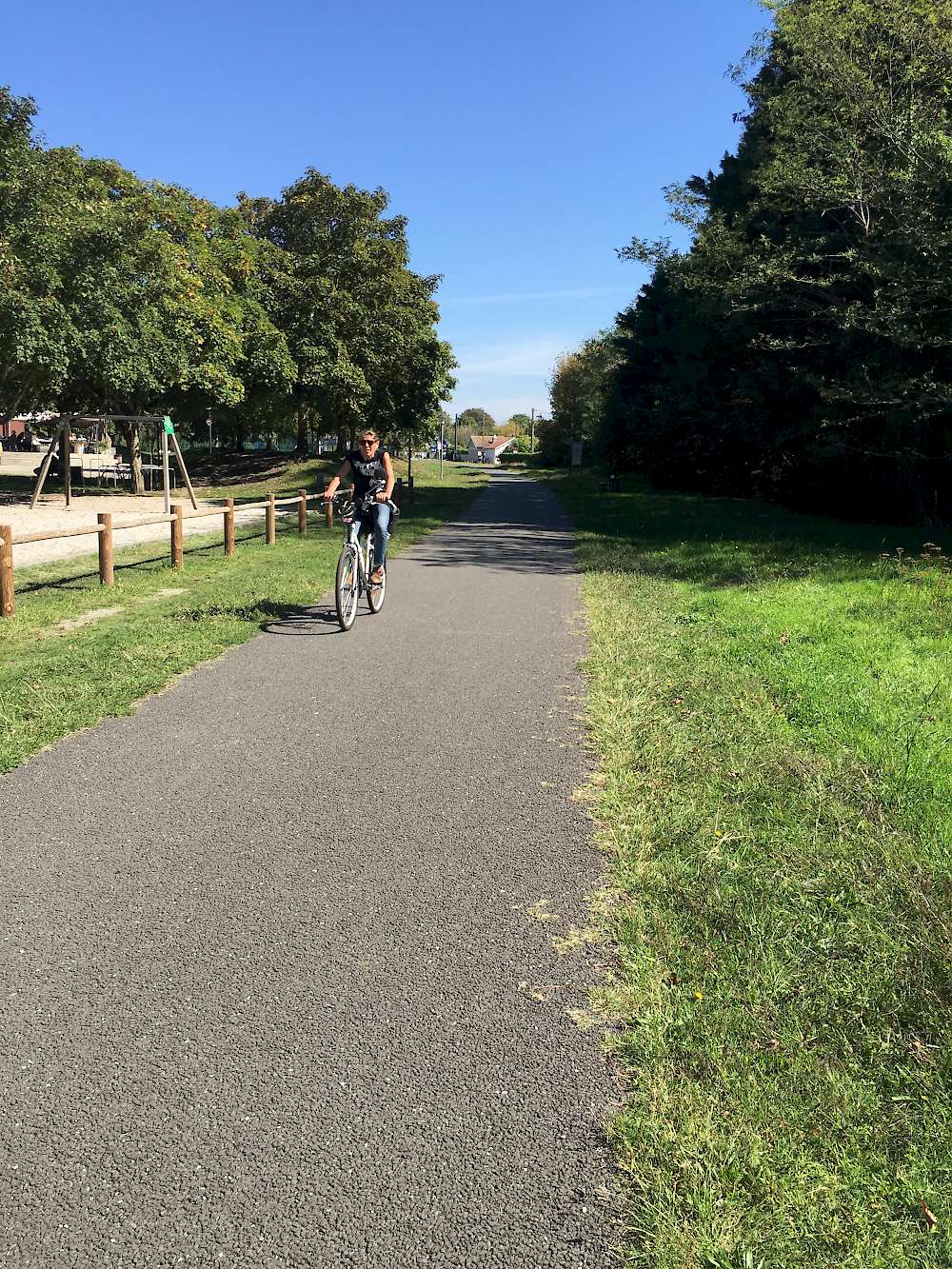 Bike path near Bordeaux
France is well on it's way to building more and more bike paths, especially in Bordeaux and its suburbs. For example, in St. Medard alone, there are more than 60 km of paved and well maintained bike paths.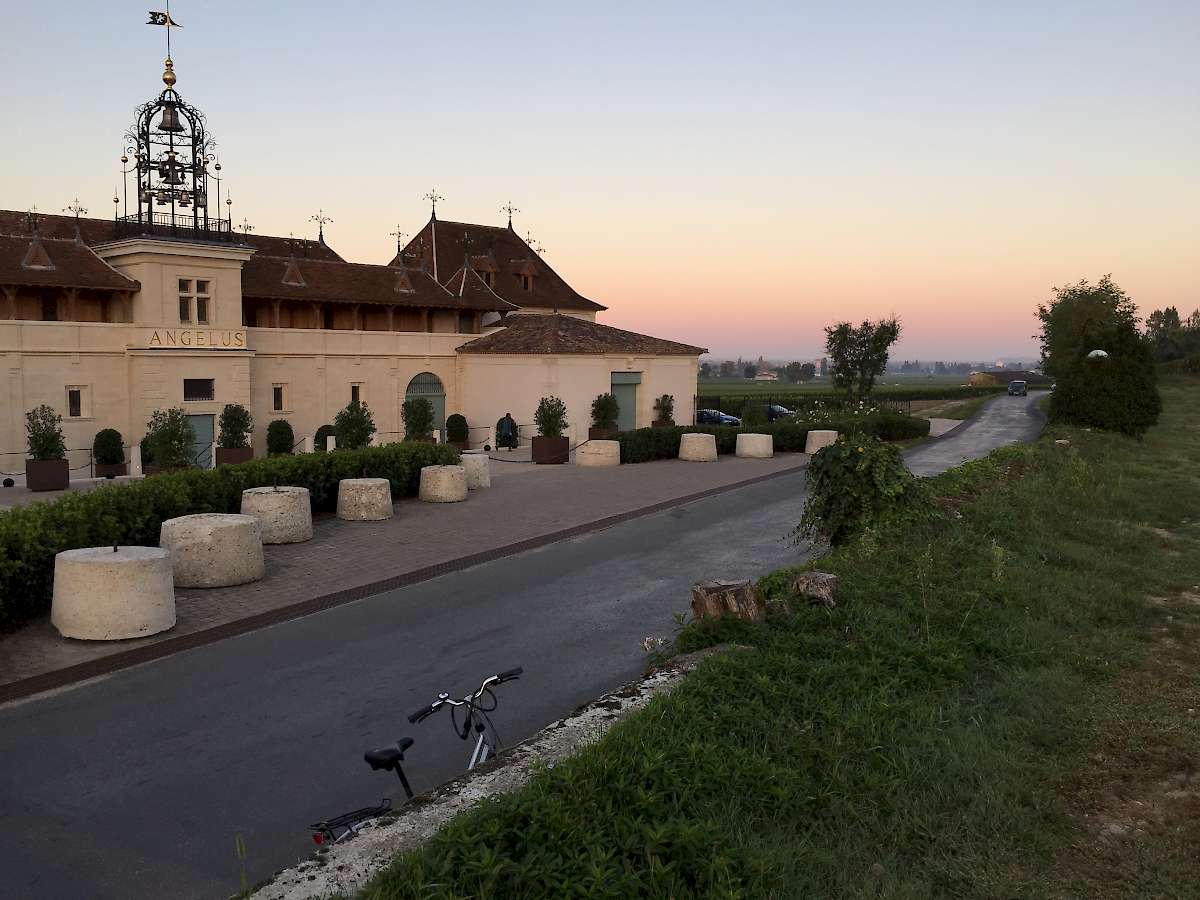 Winery near St. Emilion
I don't drink alcohol and never visited a winery for tasting on my trip, but there are many opportunities to do so. I did eat quite a few grapes along the way and they were sooooo delicious, mainly Merlot grapes. That was at the end of September, during harvest season.
The chateaux, as the wineries are called, often look like real castles. The surrounding scenery is breathtaking as they're usually located on an elevated area.



Bridge in Libourne.
From Libourne, which is also a stop for the large cruise ships, I started my easy bike ride through gently rolling vineyards to the picturesque town of St. Emillion. In Libourne, as in so many of these old French towns, there is beautiful town plaza with terraces to have a cup of coffee with a pastry or a drink.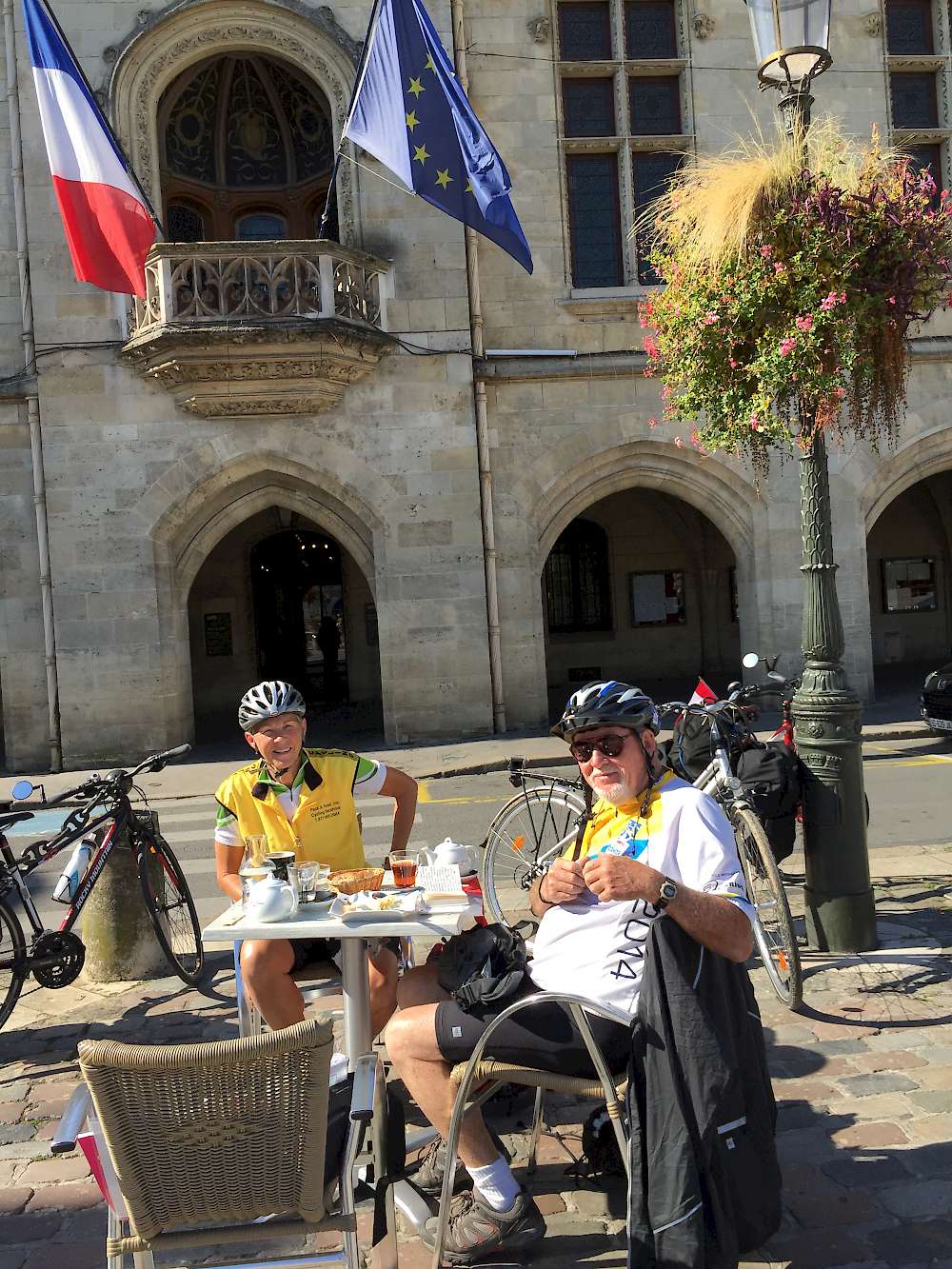 Libourne with another traveler
I met a cycling couple from Toronto, Canada, and whenever that happens, running into people that share the same love, there is lots to talk about, ideas to exchange. That was the case with Derek and Anoja (not in the picture).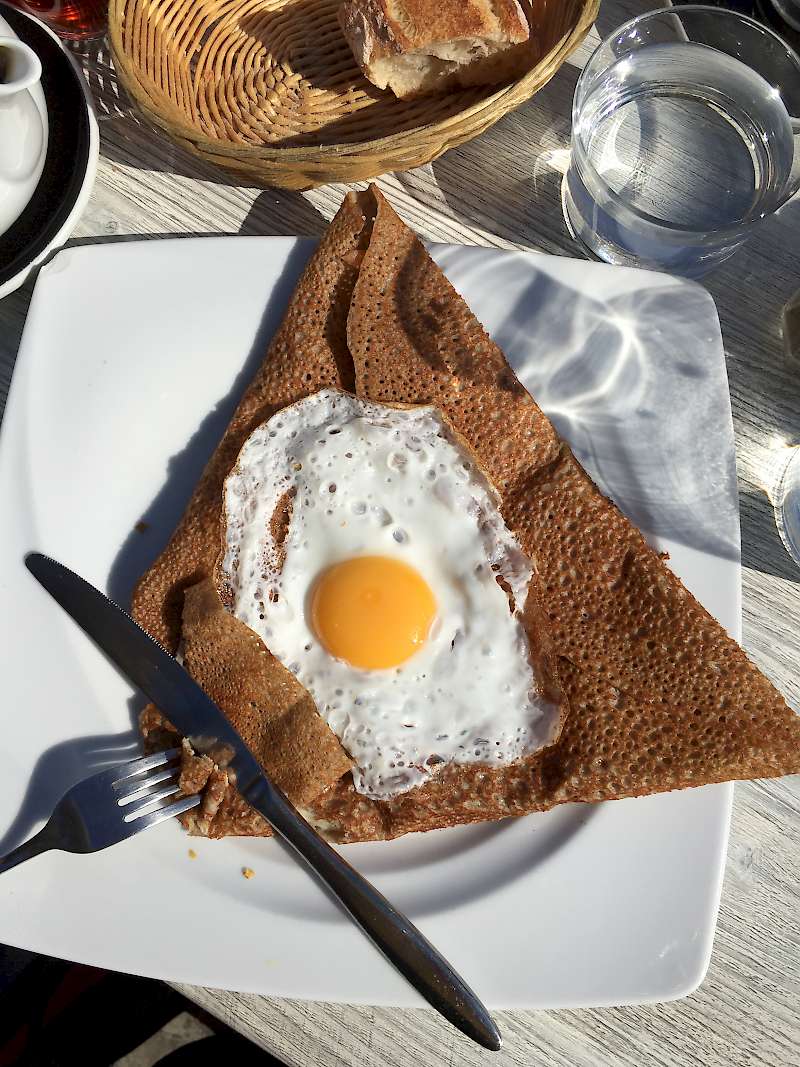 A simple but delicious lunch in Libourne
Grapes ripe for the harvest near Pomerol
It added an extra dimension being there during harvest season. I witnessed many workers picking grapes by hand as well the large machines that pick grapes.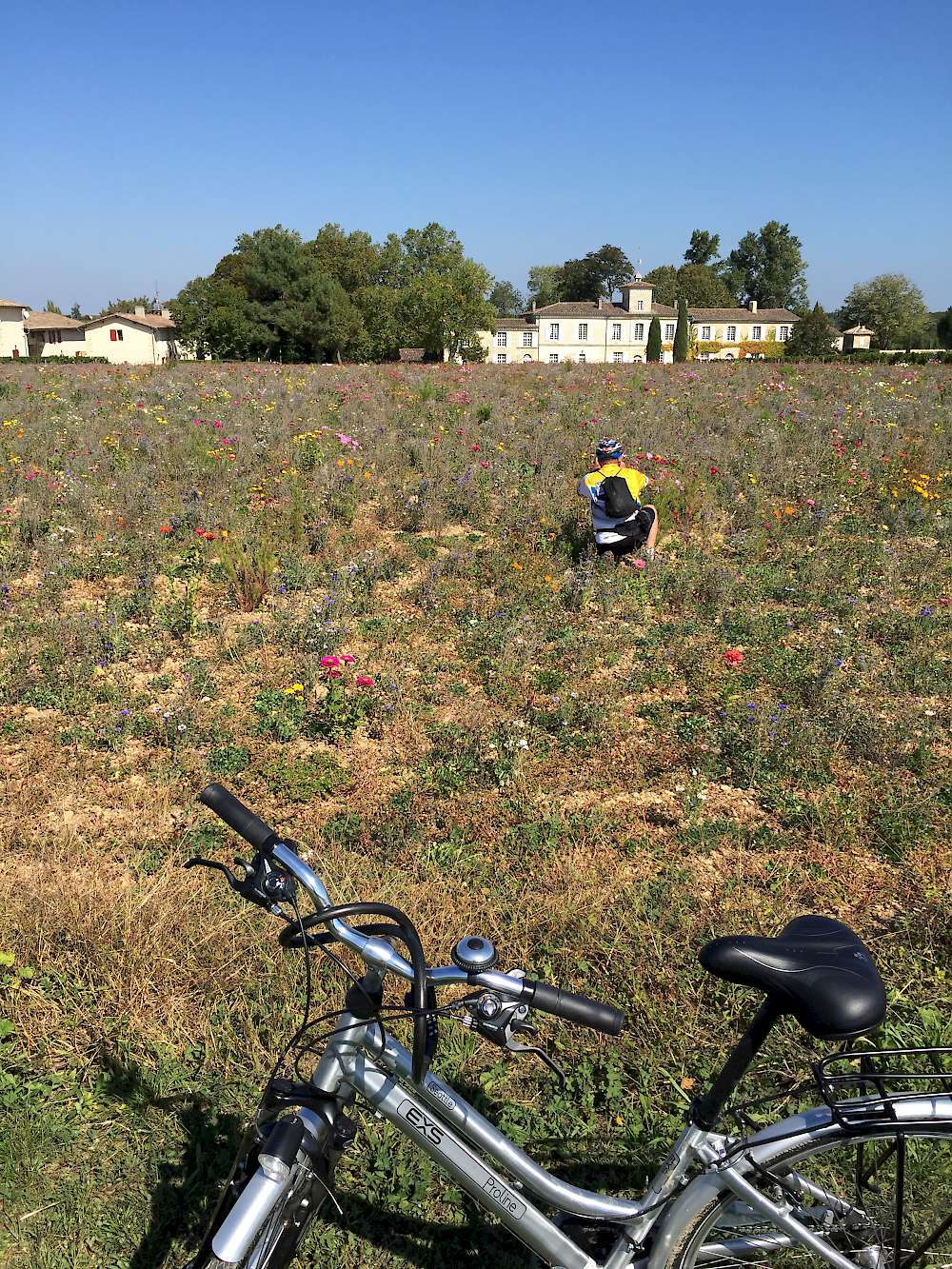 A field of flowers near Libourne offered a perfect opportunity for a picture
There is much more than just vineyards! Wooded areas, farmland and every so often a little town.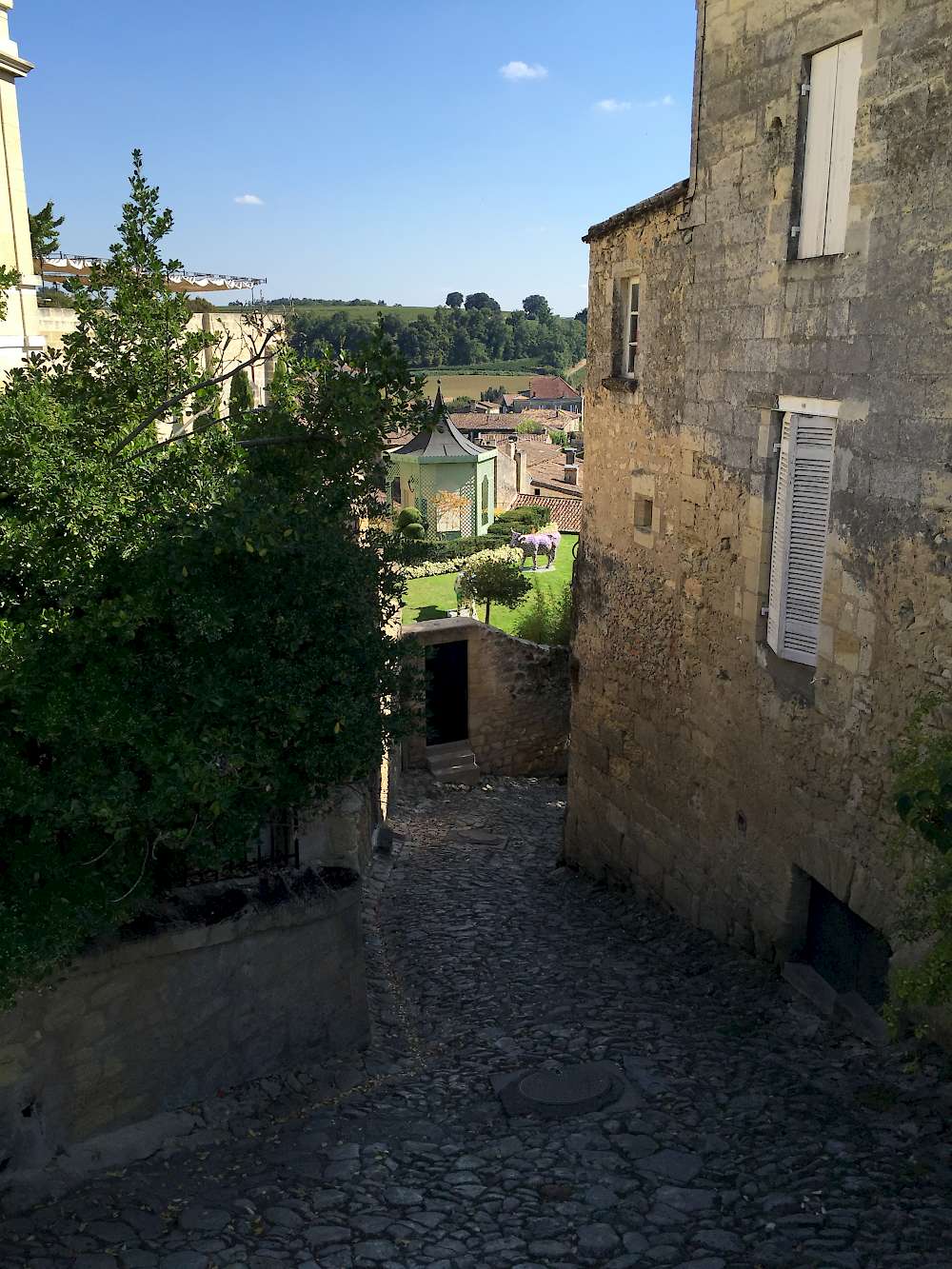 A cobbled walkway in Fronsac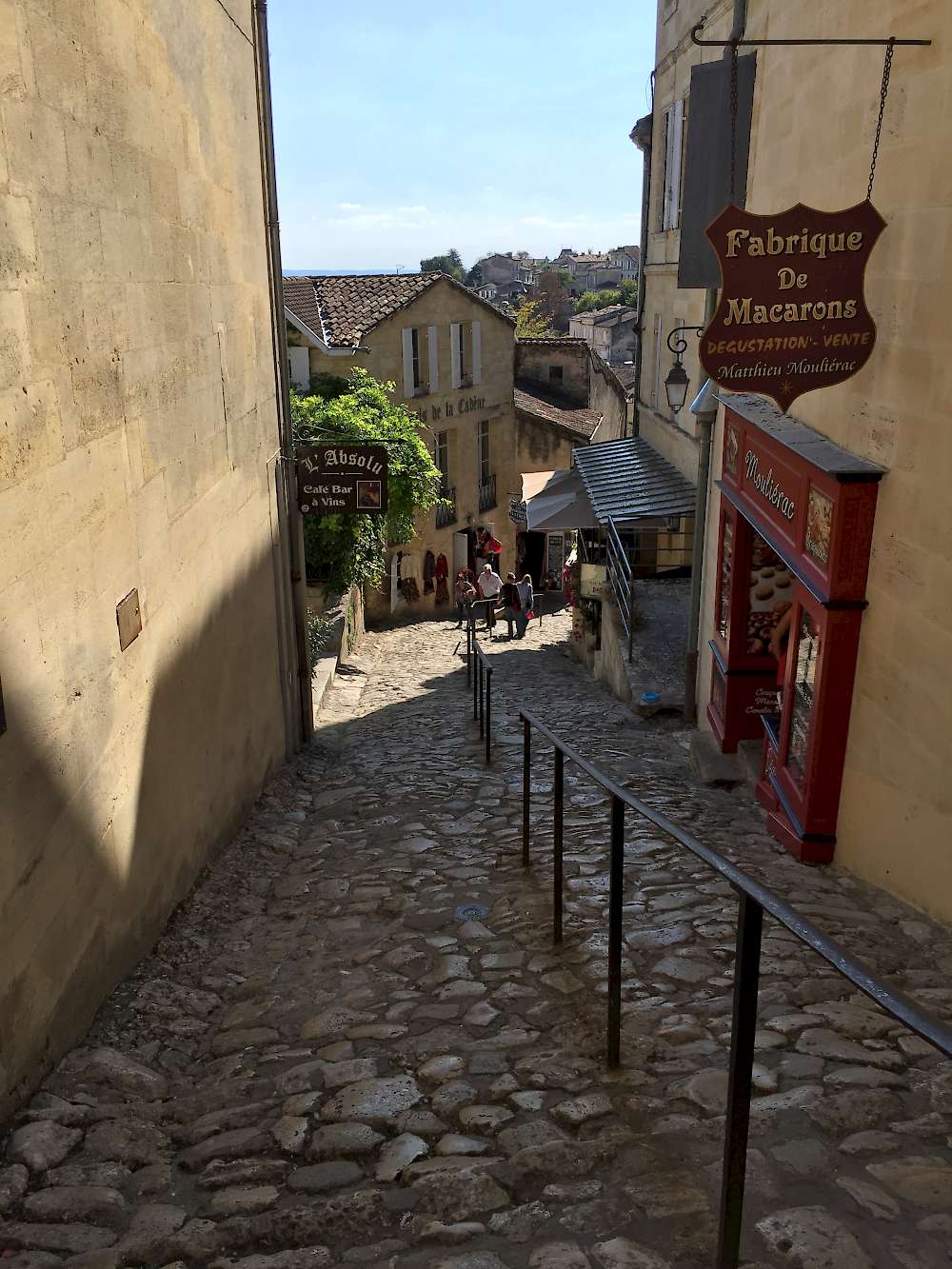 St. Emilion
St Emilion attracts many tourist and you would see why. The Cordeliers cloister is a unique UNESCO World Heritage Site with underground cellars where wine is produced. I love the old cobblestoned streets, where years ago the horse and buggies made the indentations in the hard rock. It puts you back in time.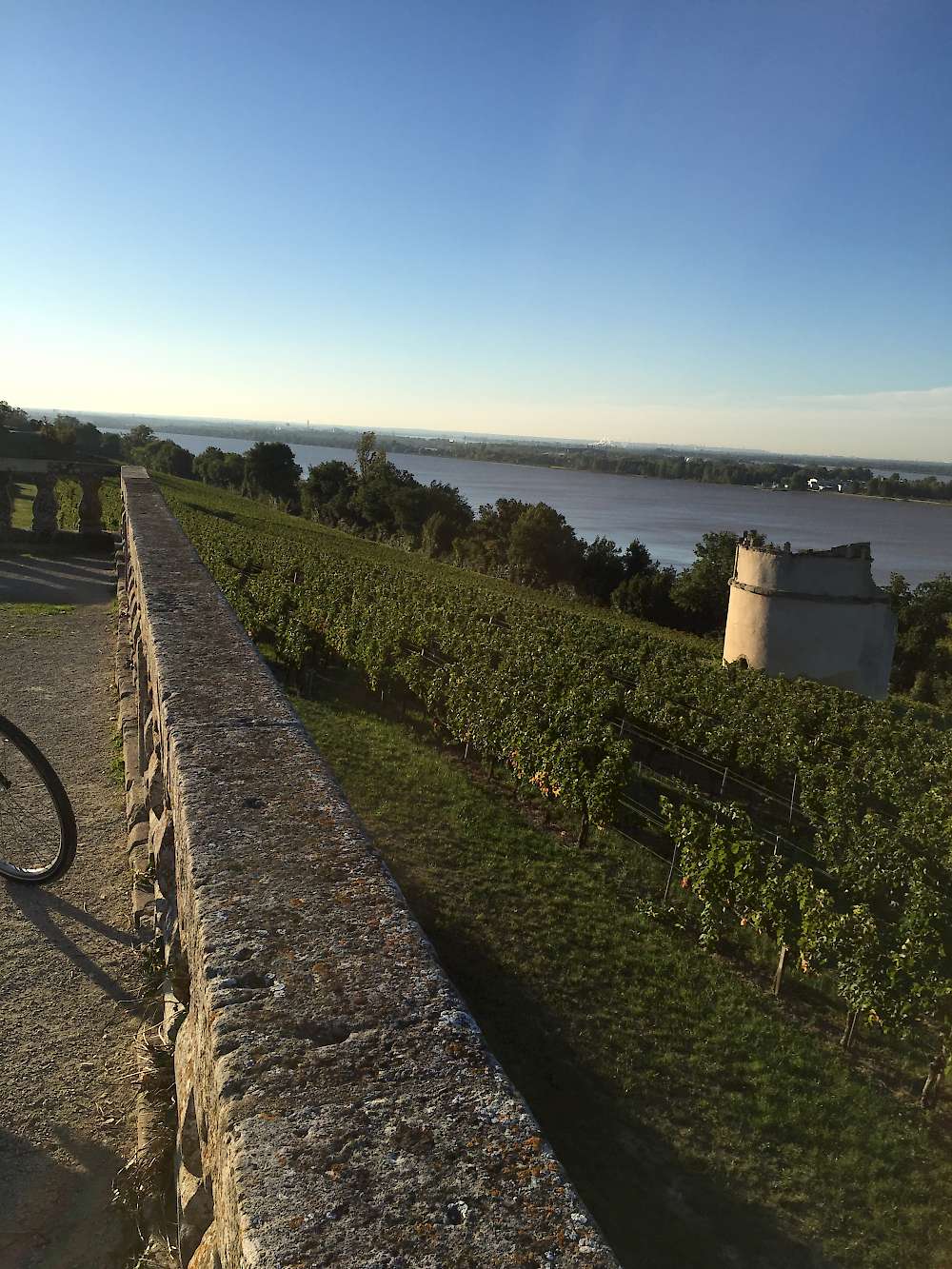 Near Bayon sur Gironde
From the photo, the Garonne looks like a muddy, dirty river but in reality it is not. It is so clean that it's almost drinkable as I was told by locals. It just looks dirty. A nice view on my way to Bourg.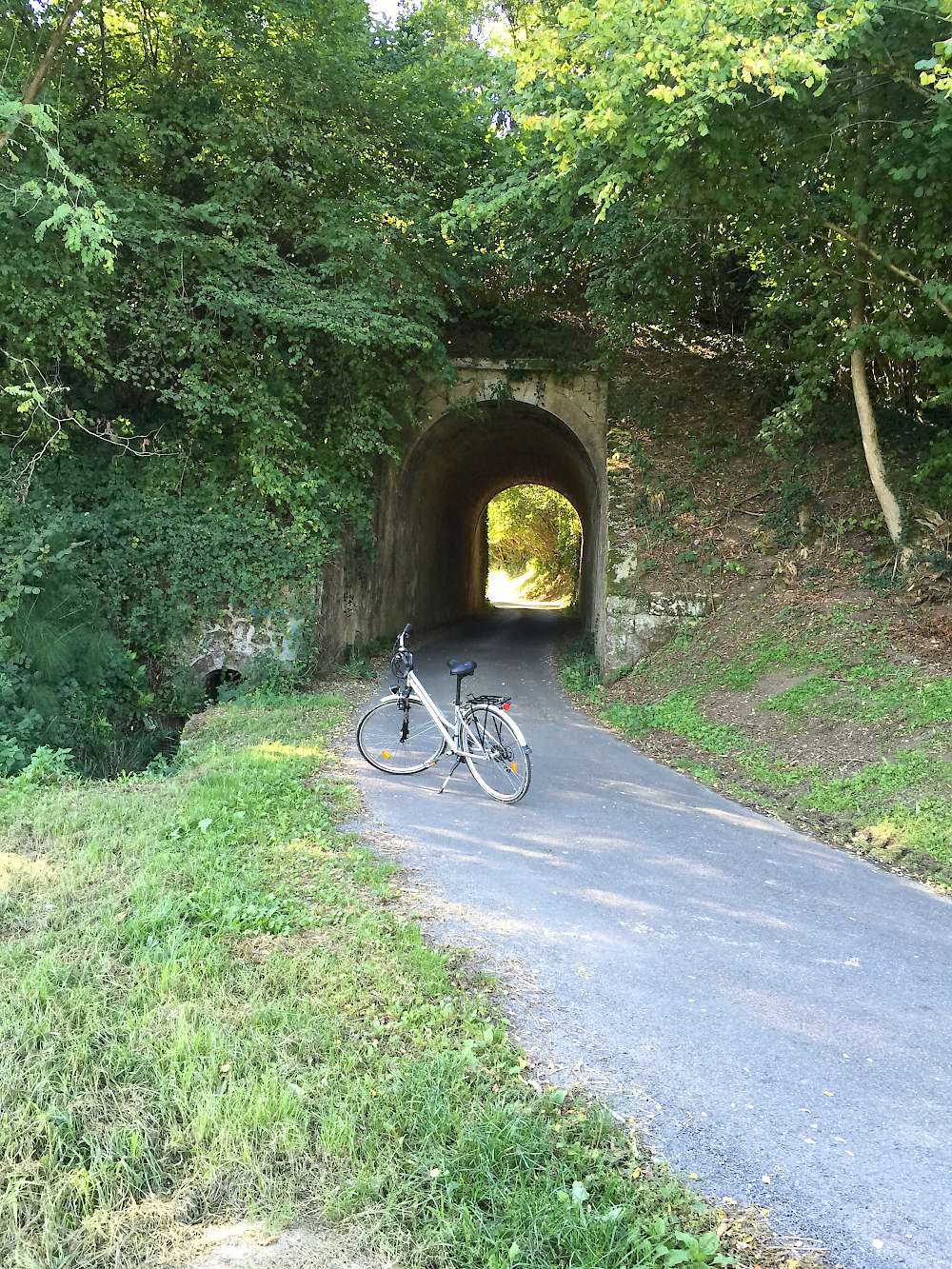 A tunnel on the bike path near Gauriac
This little cool tunnel just gives you an idea how versatile this area really is. Lots of quiet country roads.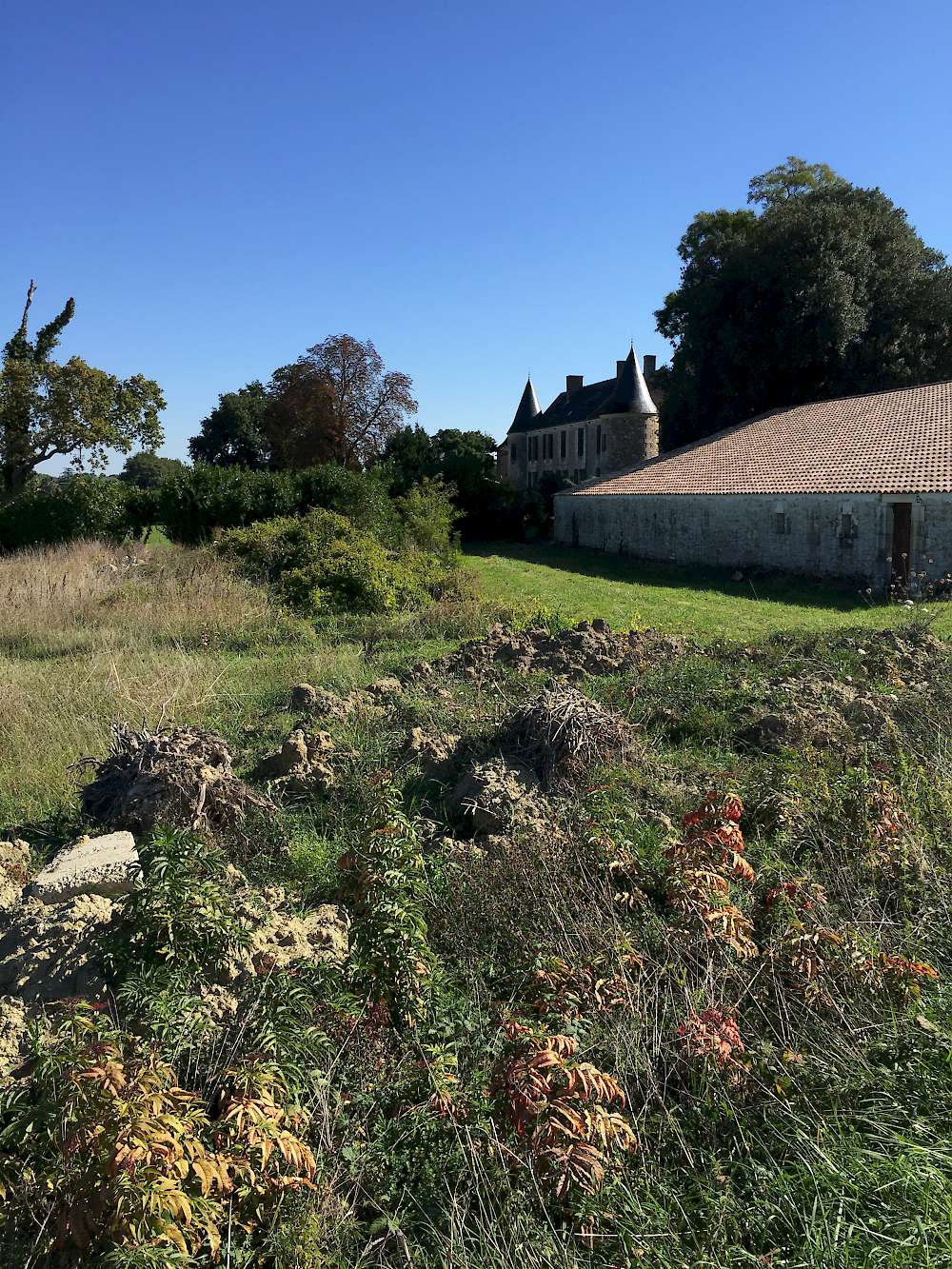 Winery near Villeneuve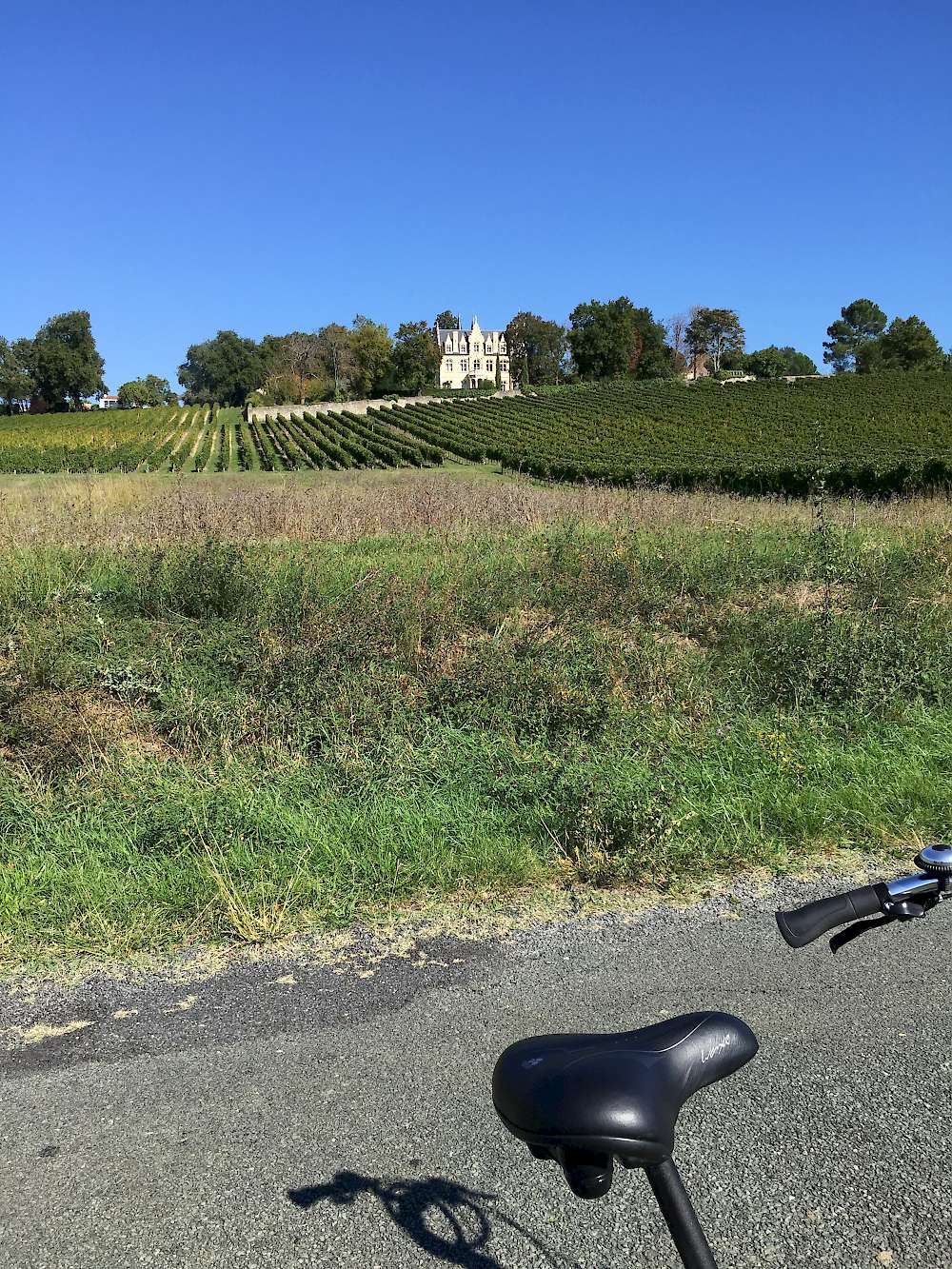 Winery near Plasac
A castle like mansion surrounded by vineyards in a quiet country setting.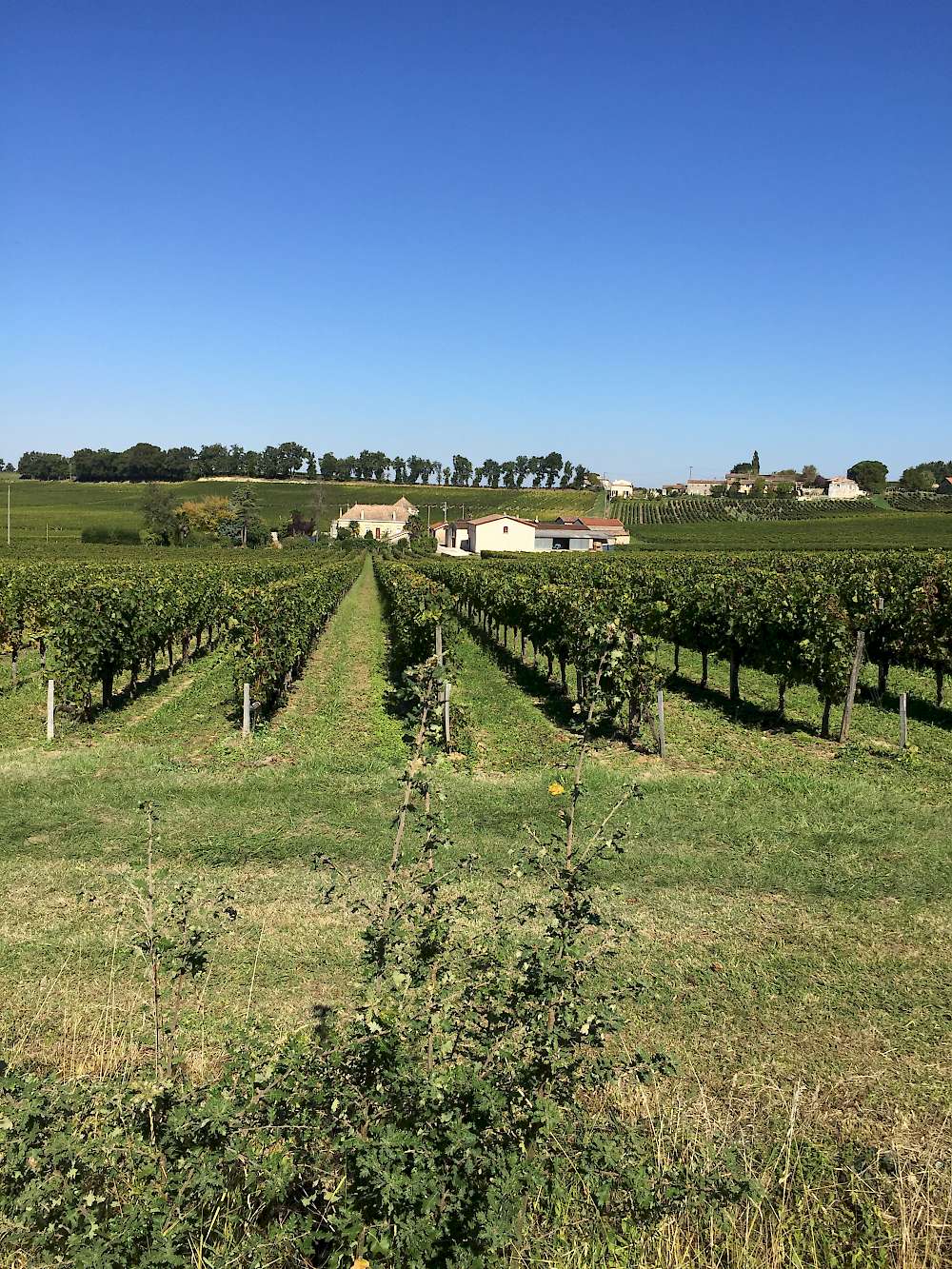 Near Cars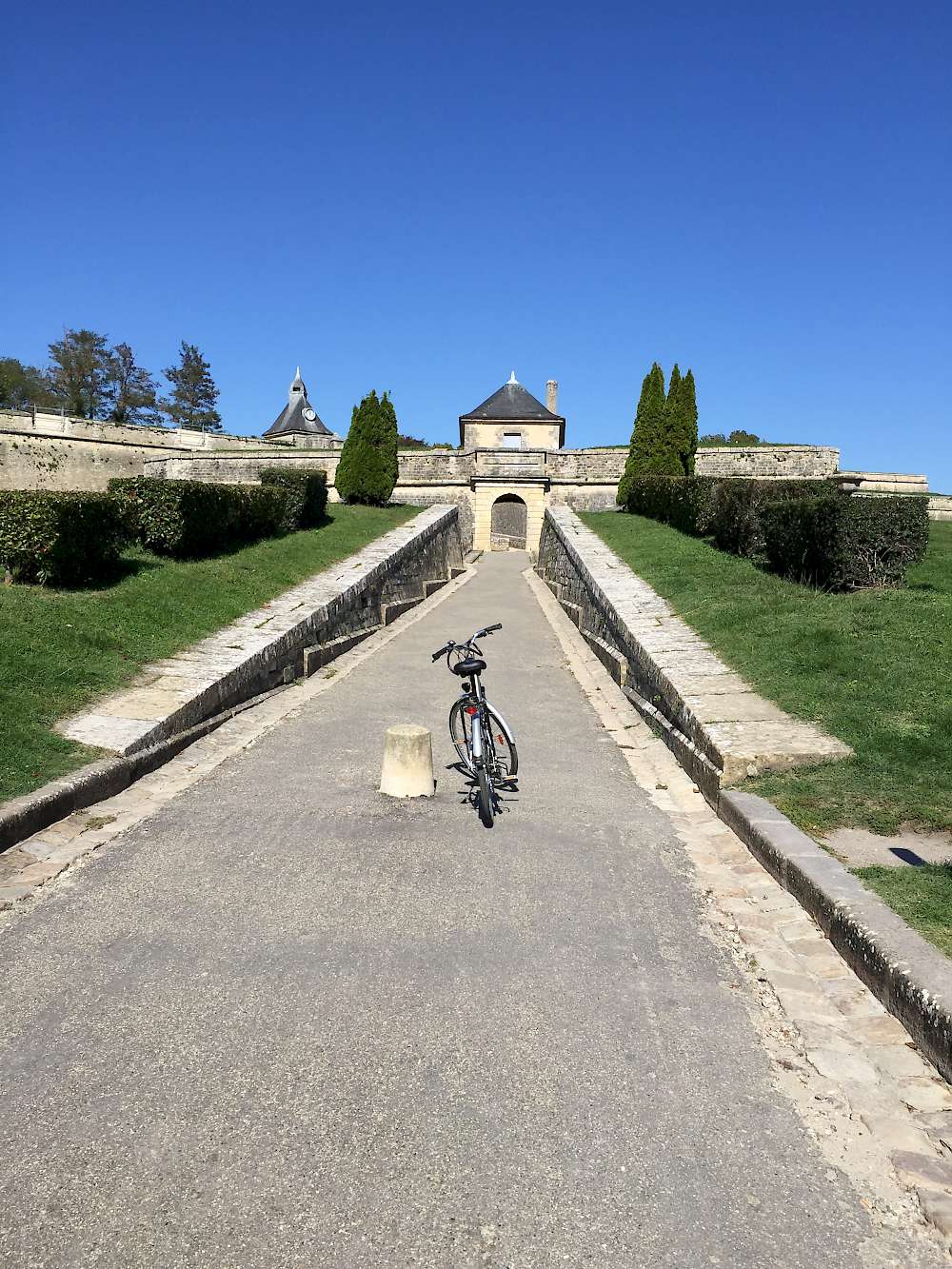 Citadel of Blaye
The history of the Citadel, Fort Medoc, and another fort on a little island in the middle of the Garonne river is very interesting. These three massive constructions were built to protect the city of Bordeaux but the city was never attacked. Probably these strategic military barracks were the reason.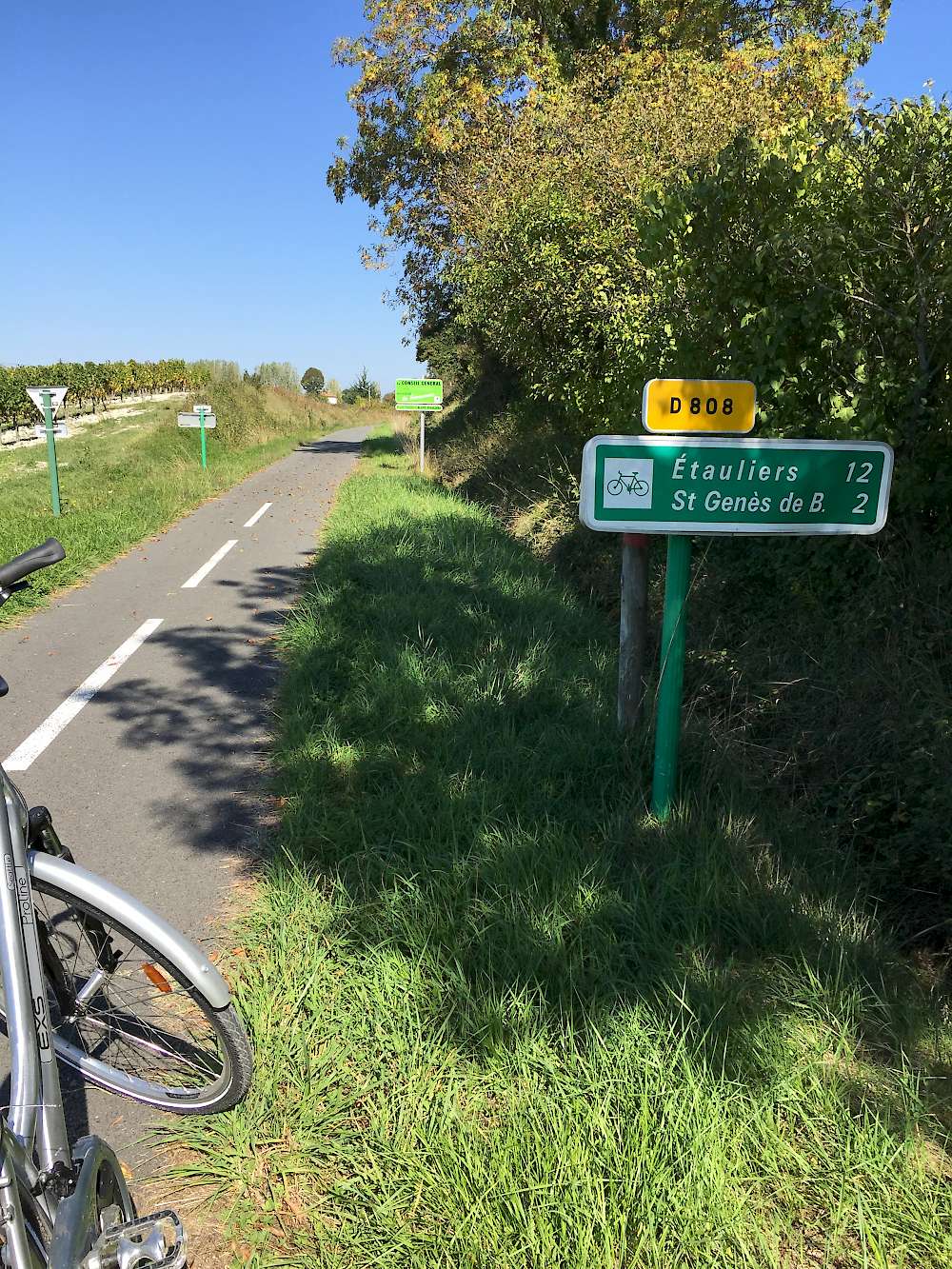 Bike path near the Citadel
An example of an old railroad, now, a gorgeous paved bike path, through farmland and apple orchards.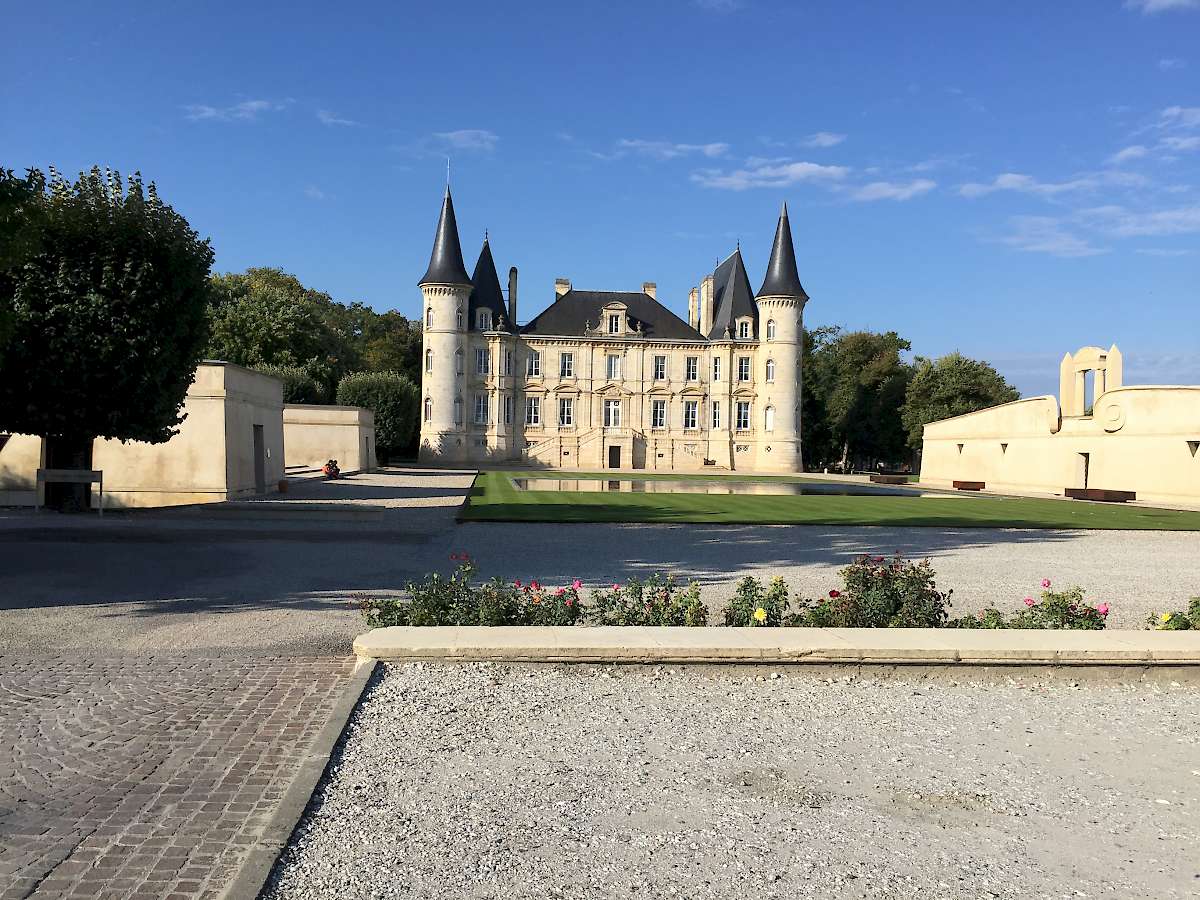 Small castle near Pichon - Longueville.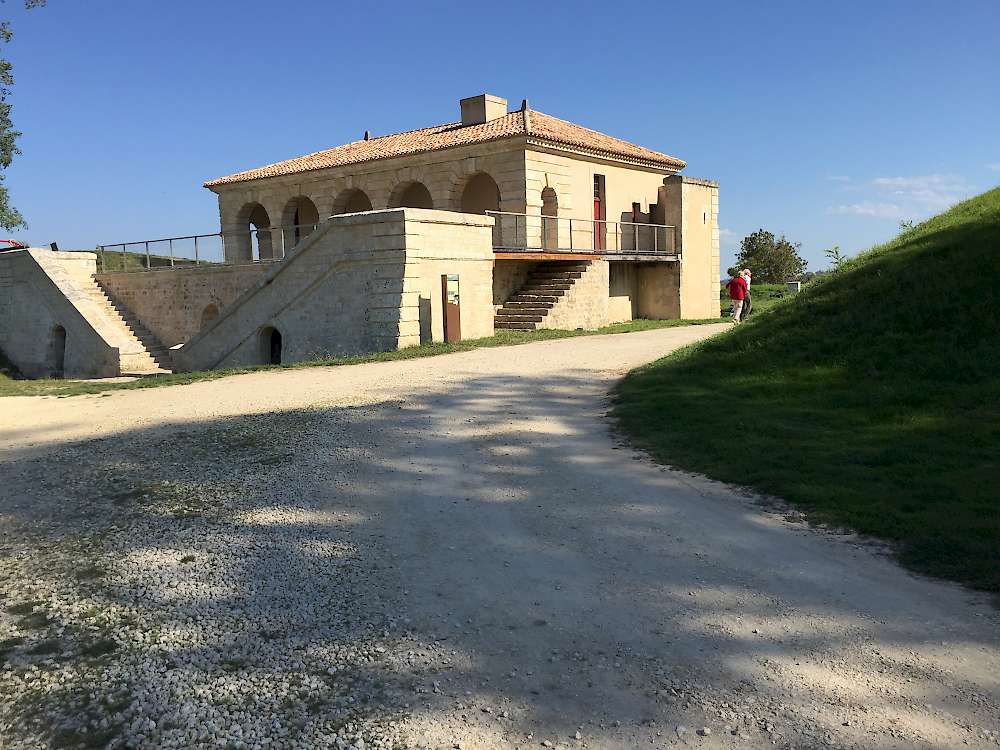 Fort Medoc
This part of Fort Medoc is fully restored and a brand new mooring place has been built for cruise ships to make a stop.



Cathedral St. Julien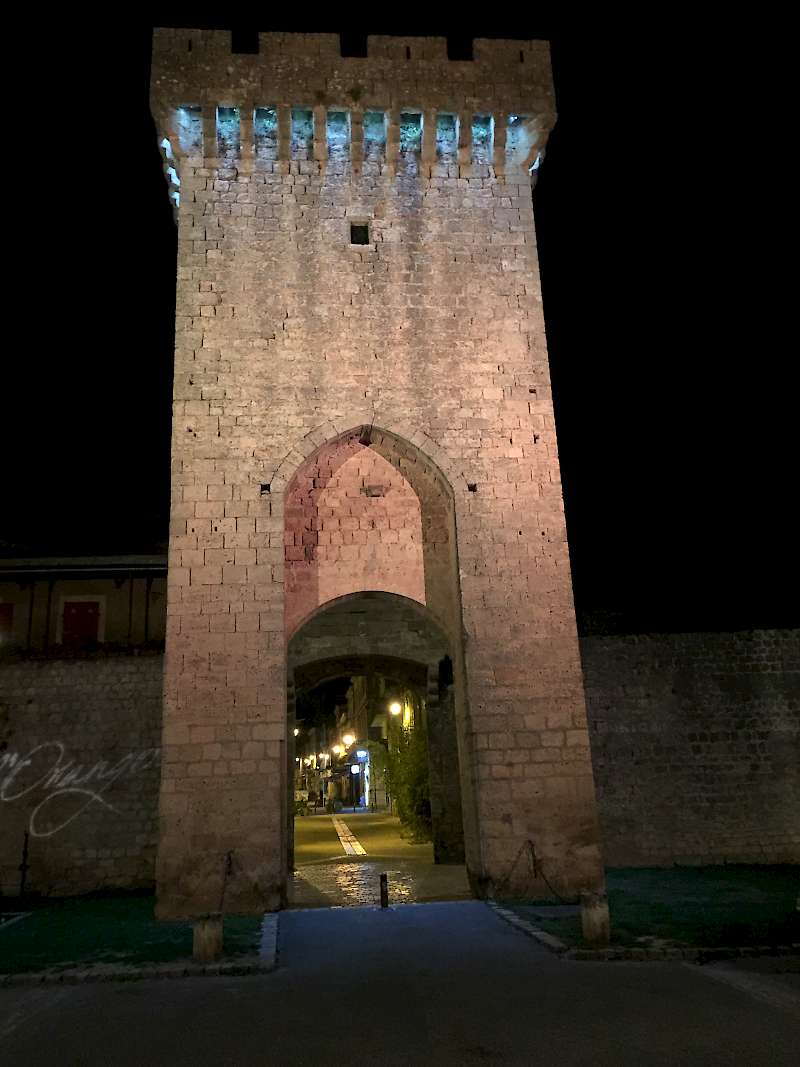 Cadillac
Another cute little town across the river from Sauternes. It offers an impressive chateaux, in this case, a real castle.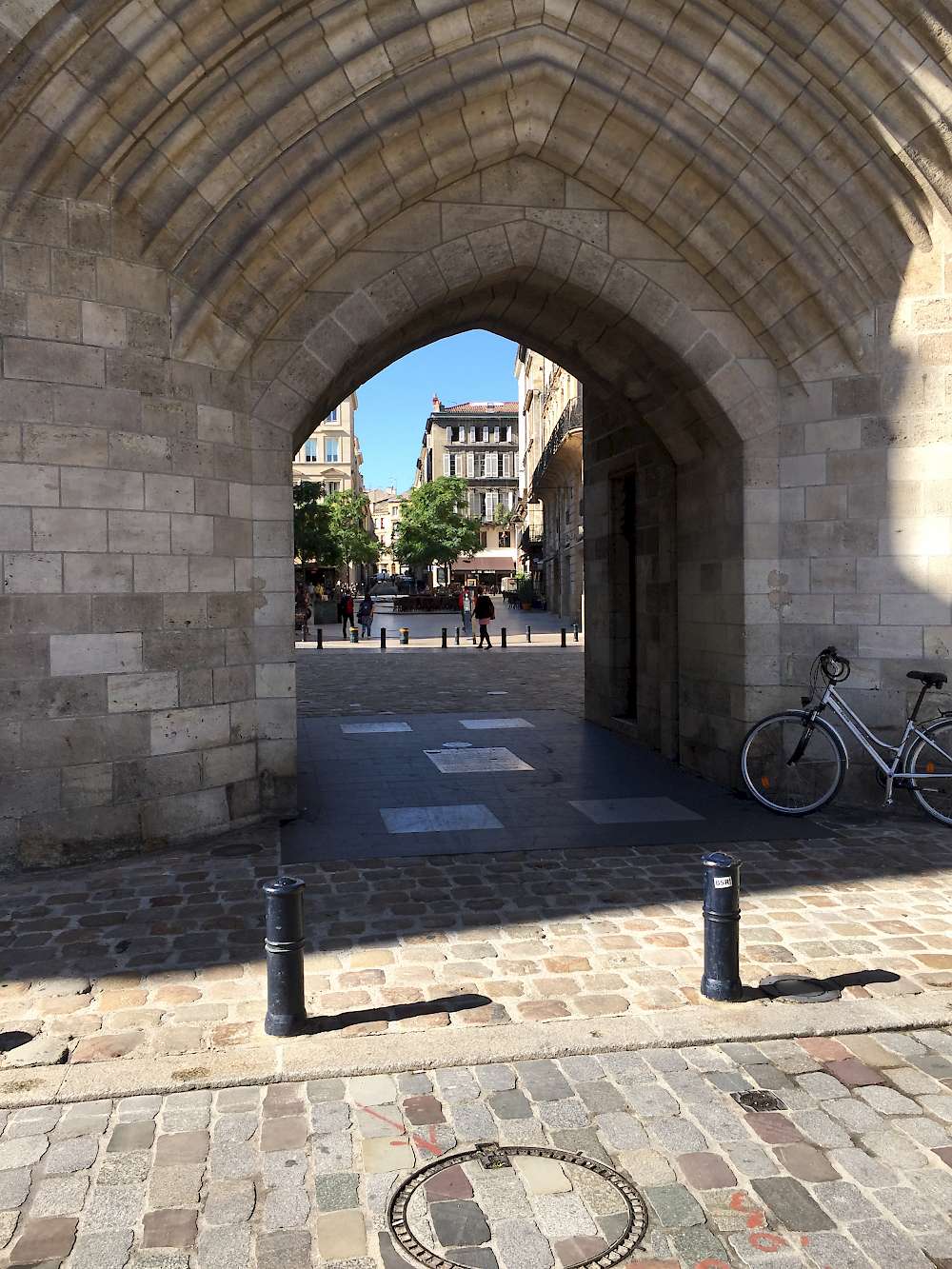 Bordeaux
I can only write what I found as the highlights of this tour since that is such a personal thing.
For me it was the cycling in the countryside with here and there a stop for a cup of coffee or a refreshment, (or to pick a few grapes) and mingle among the locals and tourists alike.
Cycling the undulating roads and paths, getting exercise while taking in the scenery so typical for this area, yet much different from other areas I have cycled in France.
Bordeaux is a highlight of this tour as well with its wide promenade along the river, bustling shopping streets, terraces and bike paths, and so much more.
Don't forget The Grand Theatre, Place de la Bource with its water basin, and St. Andre Cathedral. The newest bridge, a modern masterpiece, Le Pont Jacques Chaban is now the second bridge over the river beside the Pont de Pierre. Be sure to visit! It offers amazing views of the city from the center of the bridge (which has a bike path). The center of the bridge can be raised so the large cruise ships can visit Bordeaux.

-Hennie
---
Comments
Post Comment