Tripsite Traveler: Cycling & Safari in South Africa
A cycling and safari expericence in South Africa...

What an opportunity I thought, to go on a bike trip that is a safari at the same time?
A real safari and I wasn't disappointed at the end. It was so unique.
From cycling on quiet roads, through private orchards and staying inside Kruger Nat. park to some home cooked meals with the freshest of fruits and vegetables.
Not to speak of the best meat that South Africa seems to have.
After arrival we started off cycling in a private nature preserve, a perfect way to get acclimated.
Notice the giraffe in the back ground?
On Monday we biked on moderately difficult terrain along a lot of orchards, Macadamia nuts, bananas and saw plenty of wildlife. A great workout while being on a safari bike ride.
Monday evening we settled into our cabin in Paul Kruger National Park. We chose to go on a night jeep safari ride. Saw plenty of hyenas, who become active when it gets dark.
Tuesday was spent in the park and on a jeep safari. Not a moment to get bored, there was always something to see and our guide gave us details of trees, plants, scrub brush, animals, birds, and you name it.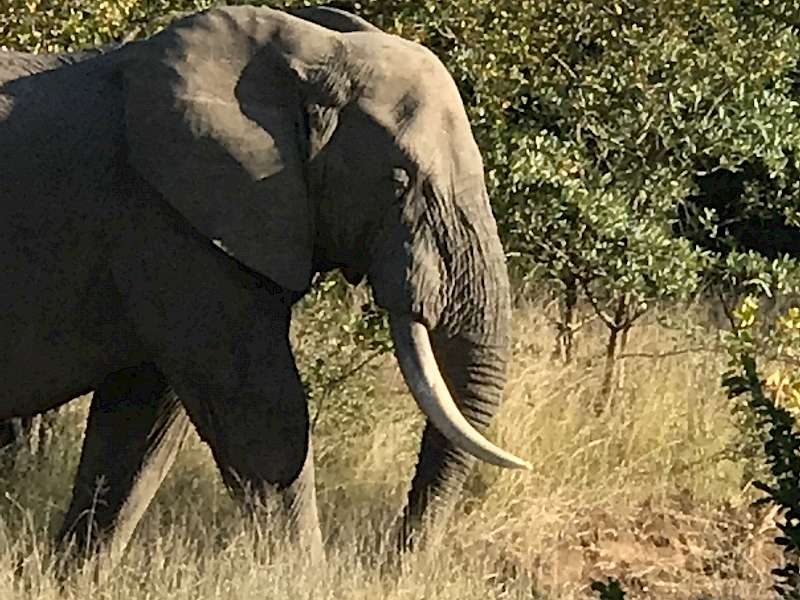 Just one of the pictures I took of the abundant wildlife in the park. Very interesting.
Lizélle, our host, together with Wendel, our guide, prepared a delicious home cooked meal for us that night.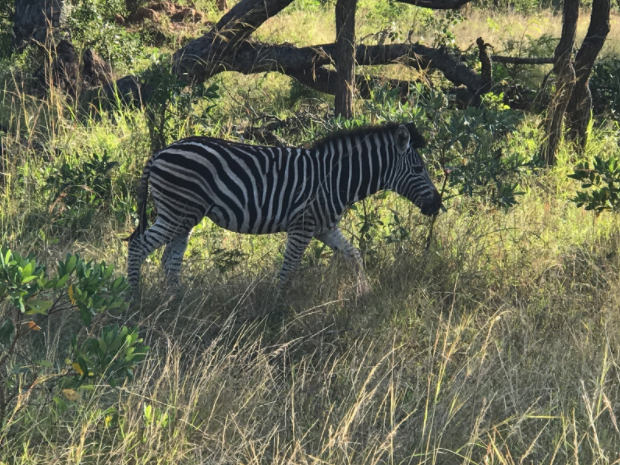 Another picture while cycling in a private game preserve the next day.
This trip covers two provinces, Mpumalanga (M is silent) and Limpopo.
You never stay in a ordinary hotel but always in cabins, little bungalows, or another resort style accommodation.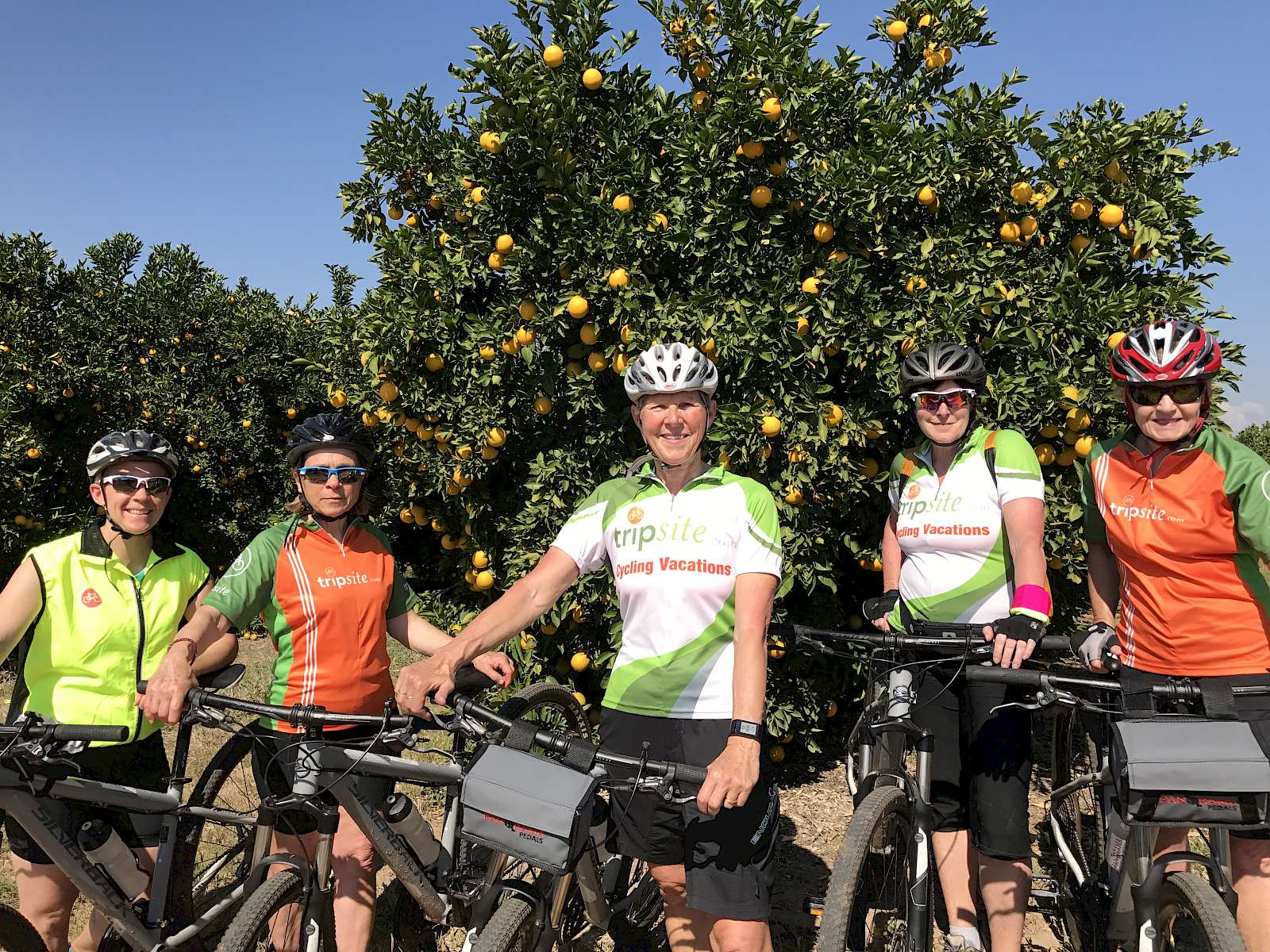 With Kate, Margie, Mary and Barbara from left to right. Hennie in the middle.
Our host's parents run a large citrus farm and she gave us a tour of the grounds. It was grapefruit picking season. We were allowed to see the whole process from picking to packed and shipped all over the world.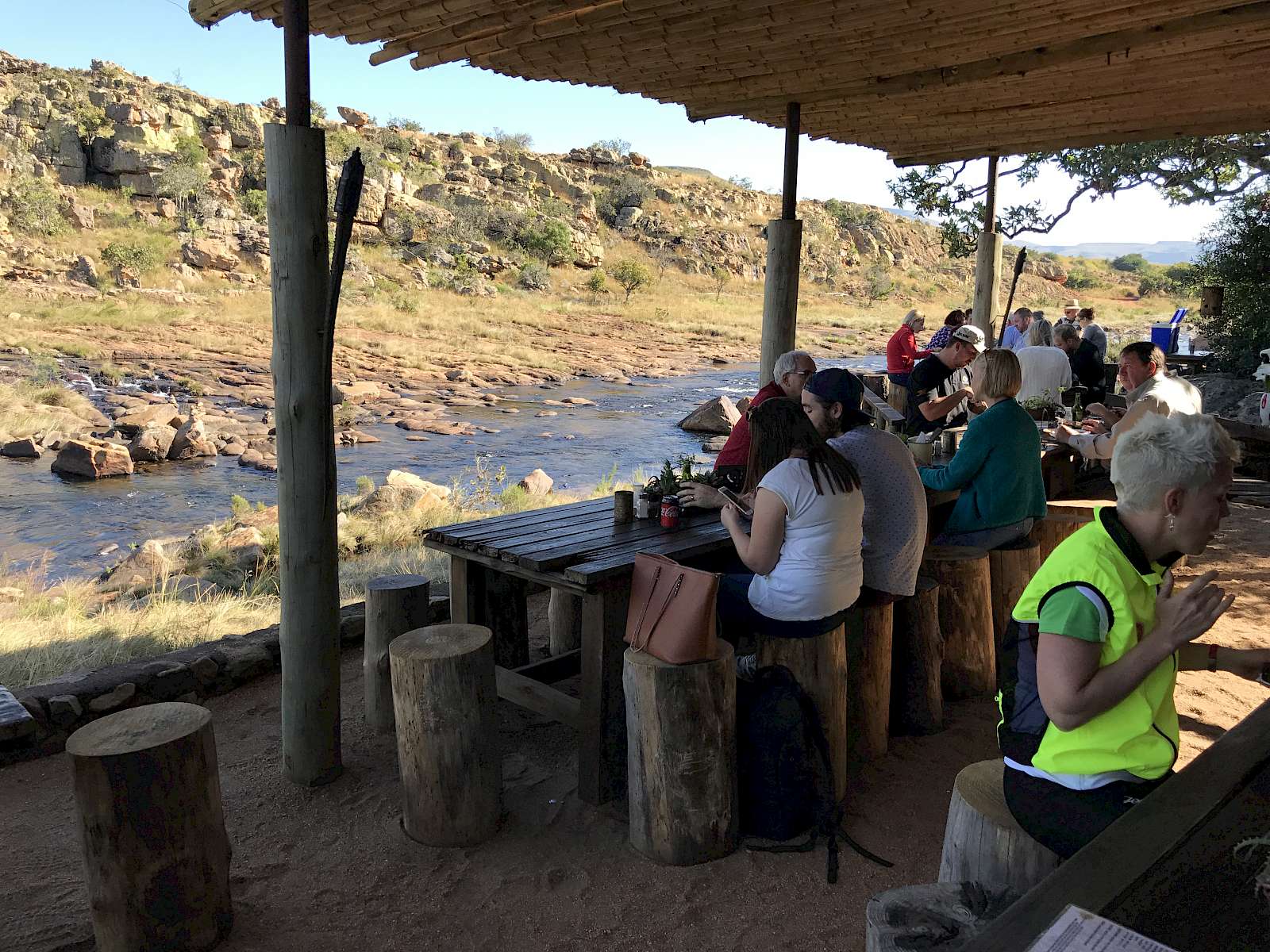 An open air lunch stop along the Blyde River, below my lunch.
We biked through the region of the Blyde (happy) and Treur (sad) river with a gorgeous canyon where the two rivers meet.
Our guide told us the history of how these two rivers acquired their names.
In the 1840's (I believe 1844) a Voortrekker leader, Hendrik Potgieter, led an expedition to find a route to Delagoa Bay (today known as Maputo). They told the women that if they did not return from the expedition, they should make their way back to the Cape region.

Since the men took longer to return than they should have, the women believed that Hendrik Potgieter and his party had died on their journey. The women started making their way south when they reached a river which they named the Treur river. Treur means "sorrow" or "mourning" in Dutch.

The women then continued further where they came across their husbands next to a river, which they then named the Blyde river, meaning "happy" since they were all so happy to see each other.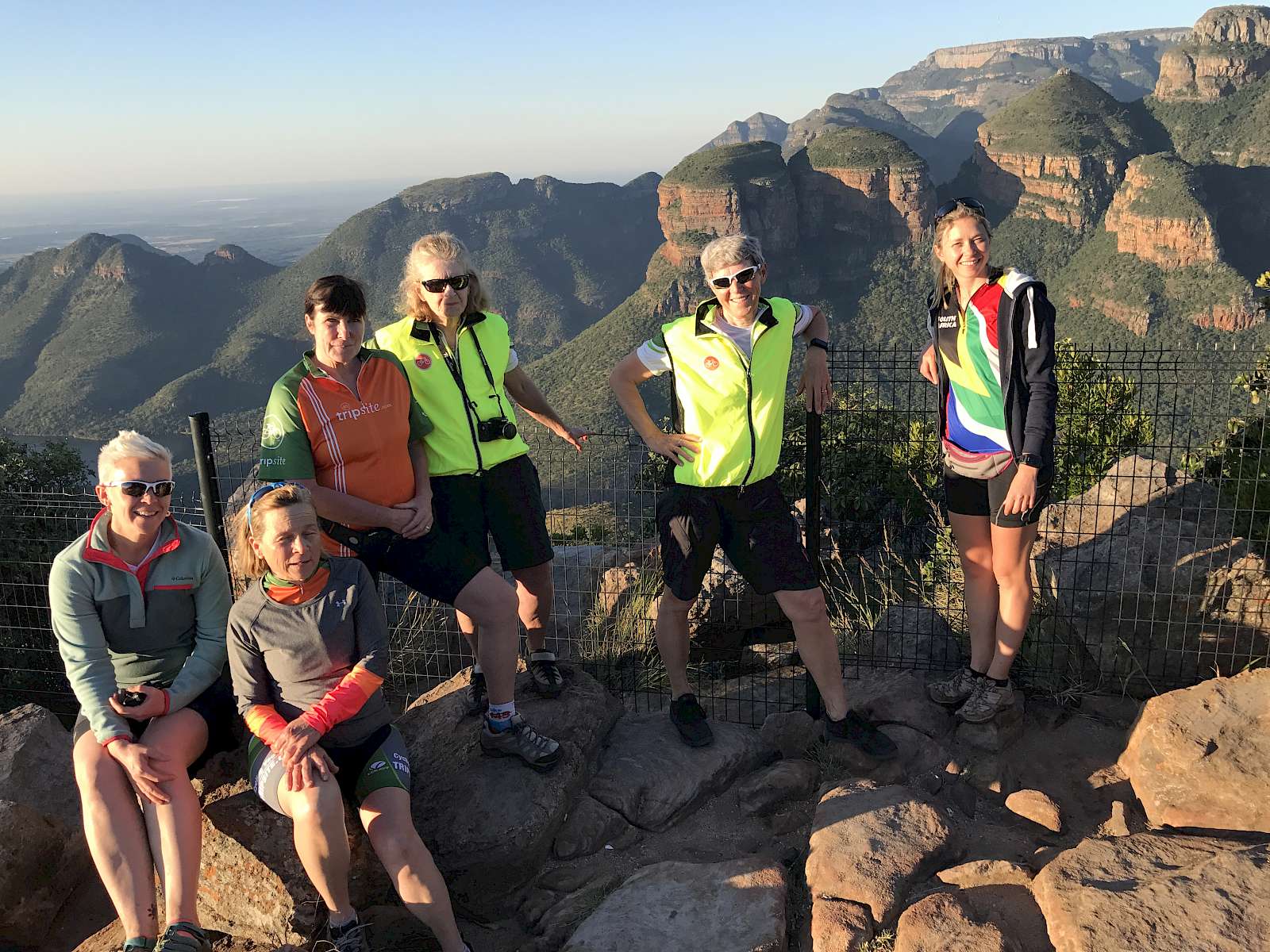 Your trip will not be complete if you haven't seen the three Rondavels.
Located near the Blyde river canyon which is the third deepest canyon after the Grand canyon and the Fish canyon in Namibia.
Just an example of a home made open air lunch made with all fresh products.
A baggy of Macadamia nuts as dessert.
Half a avocado filled with tuna, half a grapefruit, picked from the tree that morning.
This lunch was served near the old Baobab tree during our bike ride. This tree is over 2000 years old. See below.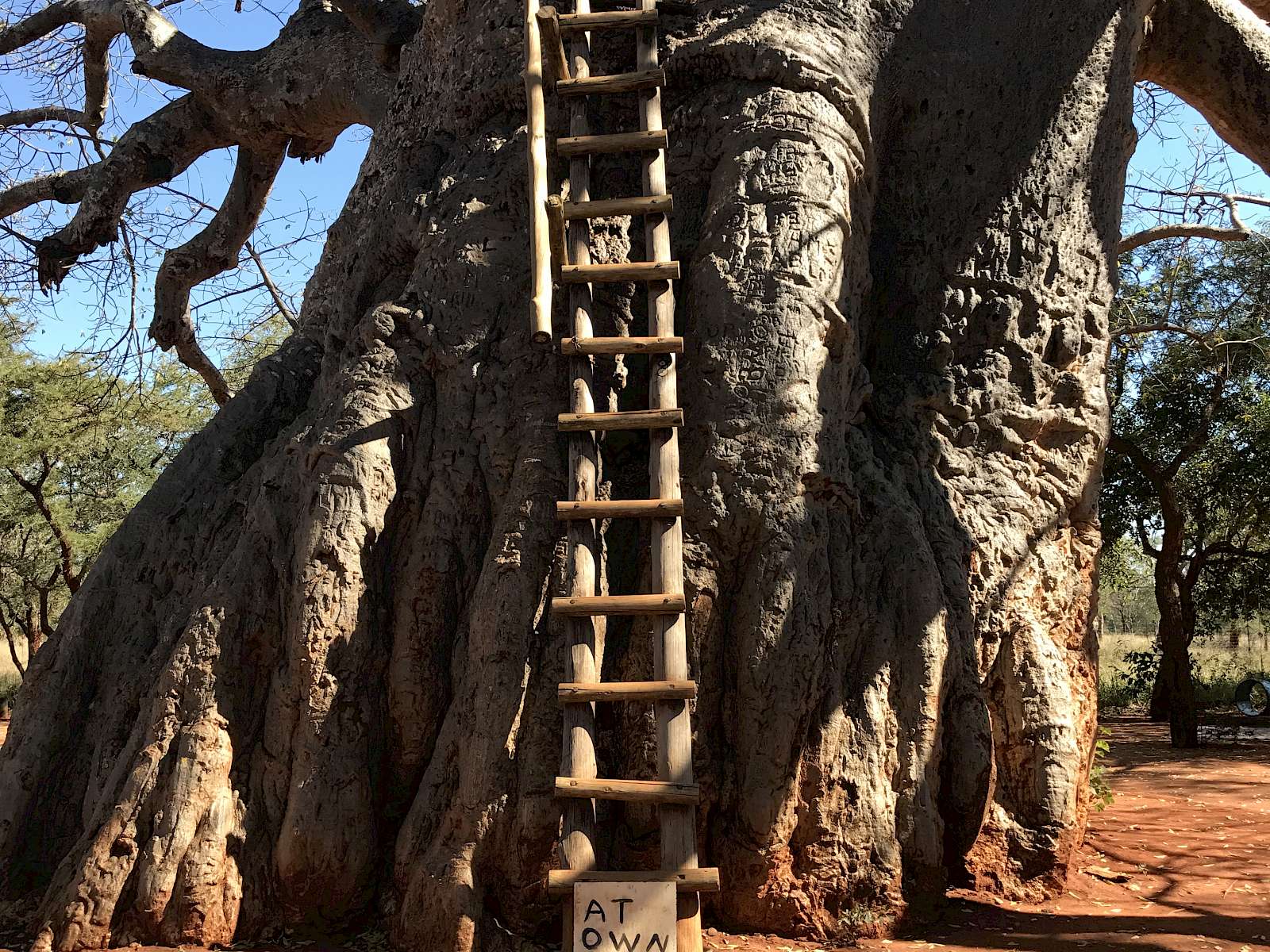 We finished our trip with an early morning walk in a private nature preserve.
The owner was our guide and again we learned so much about the South African wildlife, birds, the vegetation and how tricky it is not to over populate a plot of land with animals. If you do, it takes decades for the land to recover.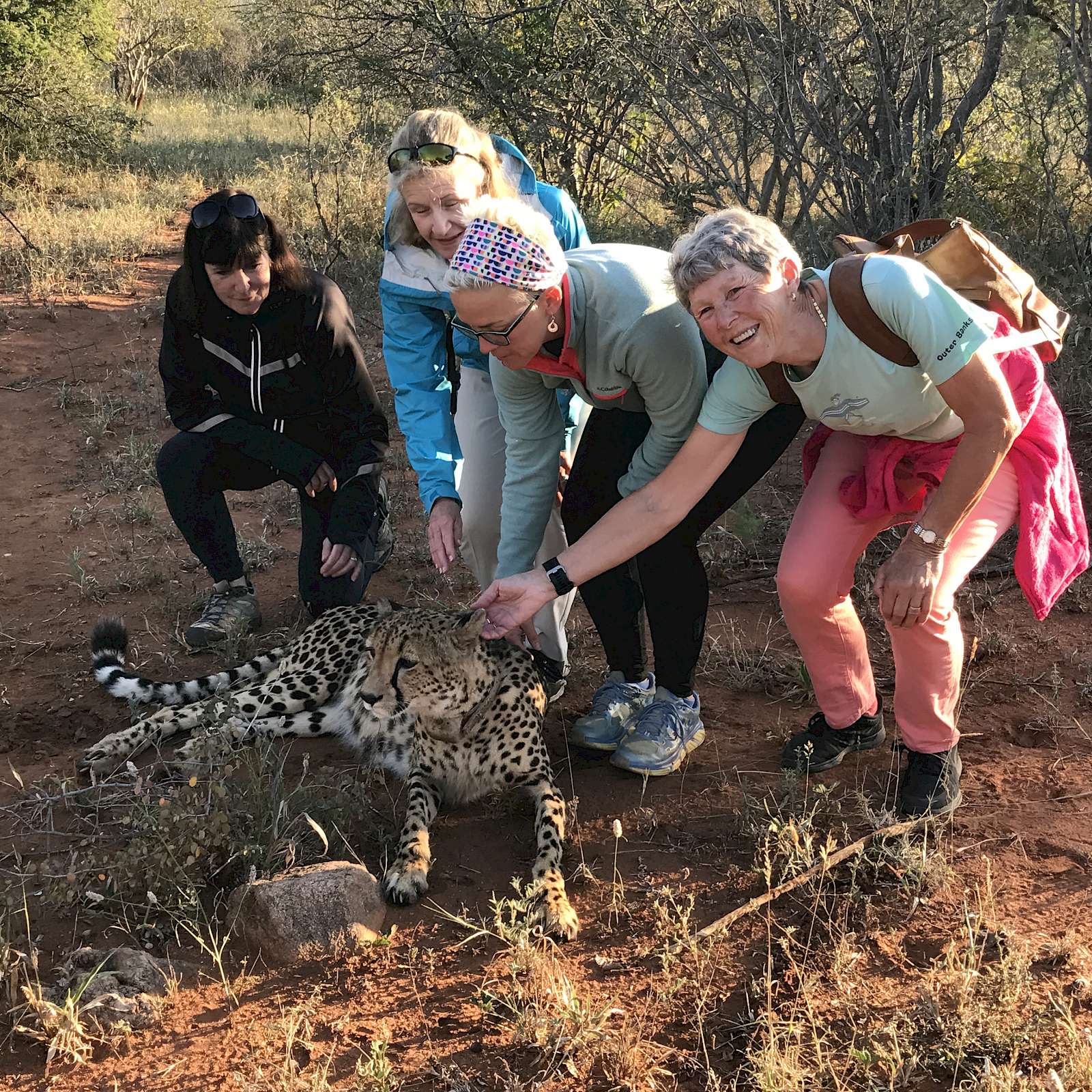 A cheetah, the house pet of the land owner.
An unforgettable 10 days.
Be sure to visit the tour page to see the full itenerary of this one of a kind cycling and safari experience in South Africa!

Photo Gallery
(Click to enlarge)

---
Comments
Post Comment