Tripsite Traveler: Golden City of Prague
Despite being on a waitlist for a top deck cabin, we asked and received one upon boarding the boat. My friend Derek flew in from Vegas to join me on this trip. 910 was our room number and it had a nice sliding door/window to the outside. Apart from that, there doesn't seem to be any difference in the rooms but as I'm writing this on day two, we are taking advantage of the extra height and breeze of the open window on our way to Litomerice.
Arrival in Prague


Day one started with dinner as everyone congregated after getting settled in their cabins. Derek and I were seated with a Danish couple who were friendly enough. Dinner was a tomato soup and chicken with mashed potatoes. Both were really tasty. The soup was delicious and everything was cooked perfectly...
Prague - Kralupy
We got some much-needed sleep after a night out in Prague and trying to overcome the time change. After breakfast, we exited the MS Florentina to see we were pretty much the last ones to leave for the first bike ride; 19 miles to Kralupy. We decided to head into Prague a bit to explore and worked our way northwest from the boat into Mala Strana which is truly one of the prettiest, most quaint parts of any city I've ever visited. It's like from a medieval tale in some old book. The cobblestone streets, ornate buildings, windy streets and lack of commerciality was totally refreshing. I loved Mala Strana and made a point to visit again later in the week.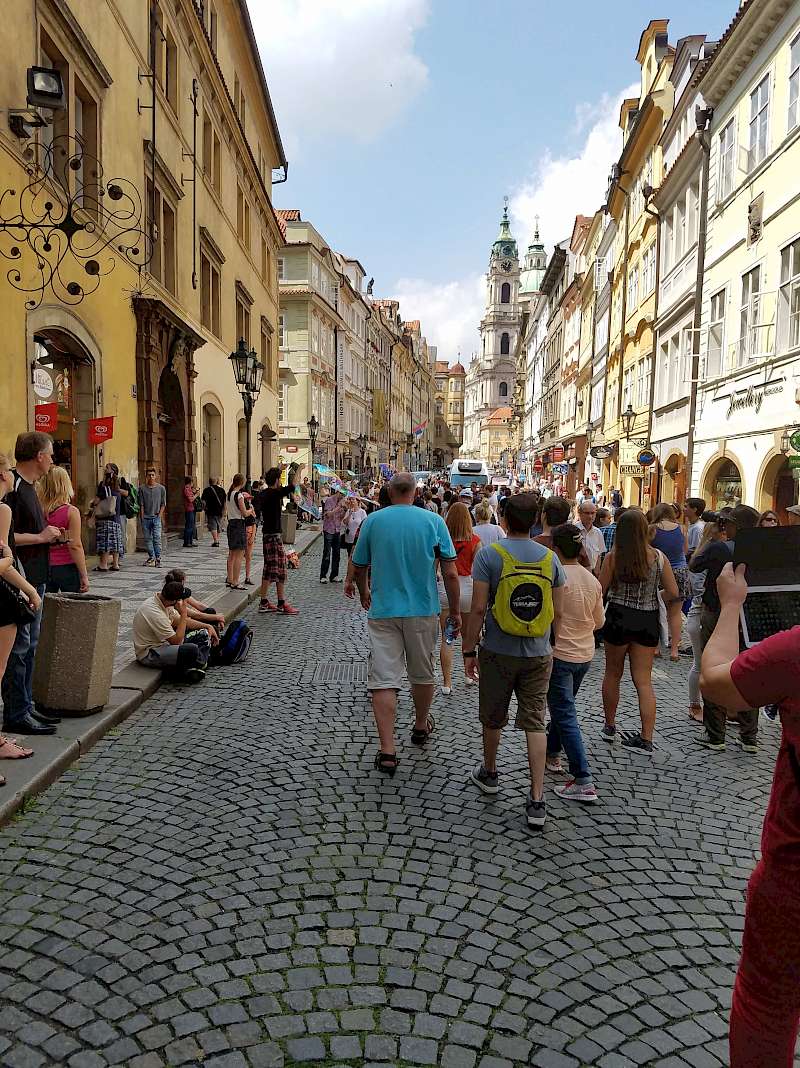 Streets in Old Town
We parked and locked our bikes to climb uphill along a path which led us to a mini Eiffel tower-like structure and a great view of the city. We contemplated going up the tower but the entry fee and line to go in decided it 'no' for us. The hike was a nice way to start the day as it got the blood pumping.
Once we got back to the bikes we decided to open the map finally to get on route. We went through a couple spots of heavy traffic, very likely not the designated route, but found our way to the entrance of an enormous park which lent to some nice cruising for about 20 minutes. We followed the Vlatva river for the next hour on a paved cycle path and stopped along the way for coffee as we saw a group of about 20 from our boat having a dance party. We found out they were dancers and would occasionally just stop to break out in dance.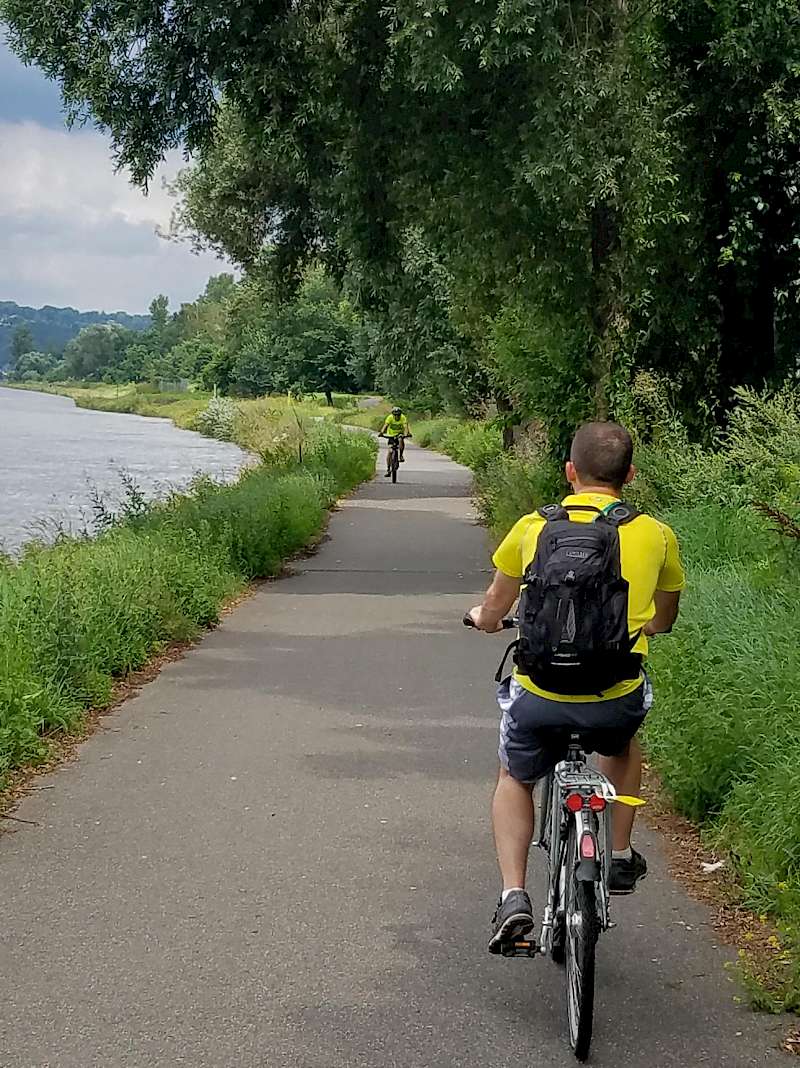 Biking along the Vltava

The weather was great until we took a right turn to climb a hill towards the town of Klecany. It turned out to be the only real climb of the day and although we got stuck in the rain for a few minutes, Klecany turned into a nice place to stop for lunch. We ordered coffee and water and I ordered the Goulash on special. It was....ok. Glad I tried it but it wouldn't be my choice again. Actually, I don't recall seeing it again on any menu but maybe it's not really considered a restaurant food. Derek had a burger that while it looked impressive upon arrival, it tasted like crap apparently and Derek left it mostly uneaten. Still, he lied to the waiter and said he wasn't hungry. I won the lunch menu war with mediocre goulash.




Goulash
After Klecany we were away from the River a bit and rode past some wheat fields. Lots of agriculture in Czech, not a lot of dairy farming which Derek and I found a bit odd. The country is so verdant, though. The weather seemed to be perfect for growing stuff. It was really comfortable riding with a nice breeze and the roads were mostly quiet.
Making our way back to the river we worked our way to Kralupy. Probably the most annoying part of the day was waiting for the boat to arrive as we sat from about 430p to 515p. Not sure why the boat would linger behind.



Waiting for the boat in Kralupy

We had dinner off the boat in Kralupy which was tasty but it's also the point at which we got concerned at the way we were being treated. It's like we peed in their soup. I was told to sit down at one point when I asked for a menu. "Can I have two menus?"
"Yes, sit down please."
Apparently, it's fairly normal to get indifferent service (being generous) in the Czech Republic especially outside the more touristy areas. It's when they're being really nice that you should be worried. If that's the case then we were in good hands. Anyway, we had 2 drinks each, a cucumber salad each and two entrees and the total bill amounted to $20 US dollars. Nice.
As I'm writing this I totally can't remember what my entree was but I'm sure it was better than Derek's.
Kralupy - Leitmeritz
Day 3 started early with everyone off the boat by 9am to bike from Kralupy to Melnik. Breakfast was tasty. Lots of meats, cheeses, fruit, yogurt, granola, fried and hard boiled eggs, sausages, and bread, of course. Coffee and juices also plentiful.
The biking was nice early on as we stayed in the woods along the river on a dirt path. It was single track for a while so we were stuck behind some slower bikers but we made up for it later. I got us a bit lost from our route but it turned out fine and I wonder if we didn't get the better of the route the way we went.
All in all, the routes were fairly easy to follow just using the maps and without reading the route descriptions. I haven't heard any complaints from anyone else either. The day's ride ended up being only about 16 miles and we arrived in Melnik at the same time as the boat and hopped on so the boat could take us to Litomerice. The boat ride was nice as we went through a couple of locks. The weather was mostly cloudy and when the sun got out of the clouds it was hot. The crew opened the enormous umbrellas for us but after maybe a half hour they folded them up again. When I asked why they said a low bridge was coming up.
I retreated down to the cabin and took a nap. When I woke up we were almost in Litomerice. We ate off the boat again and with the help of TripAdvisor found this amazing restaurant called Dobra Basta. I had the Pork Belly and won the menu war again as Derek had pheasant which just doesn't compare to Pork Belly. I mean, come on.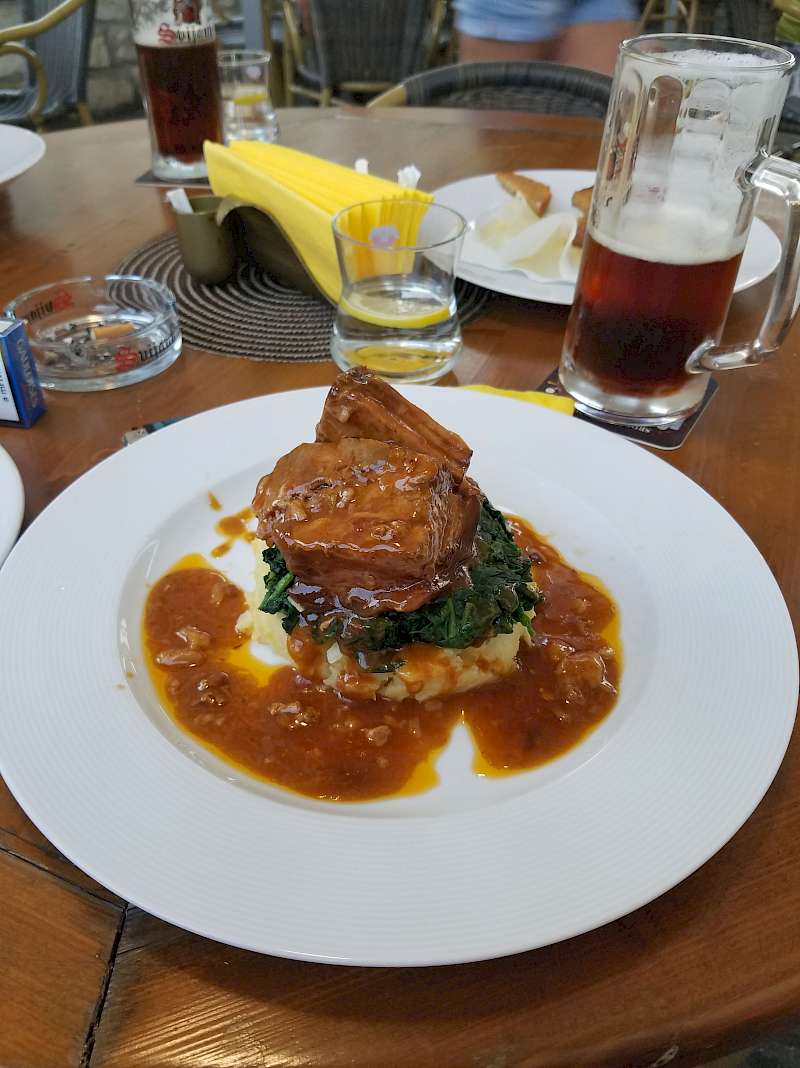 Pork Belly

Derek and I both liked the idea of eating off the boat to get a true feel of the towns and local food. It's also pretty cheap and the biggest problem we had with boat's meals was the assigned seating. After a couple days aboard, everyone had made some friends and I know we would have liked to eat with new acquaintances but it didn't work that way. We'd heard this complaint from others as well. It seems like this could be fixed even if some organization is left a bit more difficult for the crew.
After dinner, we met more guests from our boat in town and had a fun night out. There was an Israeli group (the dancers) of about 20 and they were fun to get to know.
Leitmeritz + Trip to Terezin
Day 4 was not a scheduled bike day although an optional ride with directions was available as well as a short trip to Terezin which served as a nazi prison camp for Jews. We took the trip to Terezin and toured the prison. It was my first visit to a remnant from the holocaust and although I totally understand the historical significance and the purpose of having it to serve as a reminder of what happened, I came away feeling that I wouldn't go to another one if given the choice. The buildings, cells, crawl spaces, offices were all so specific for their purpose. Many Jews were killed there before even being transferred to a concentration camp.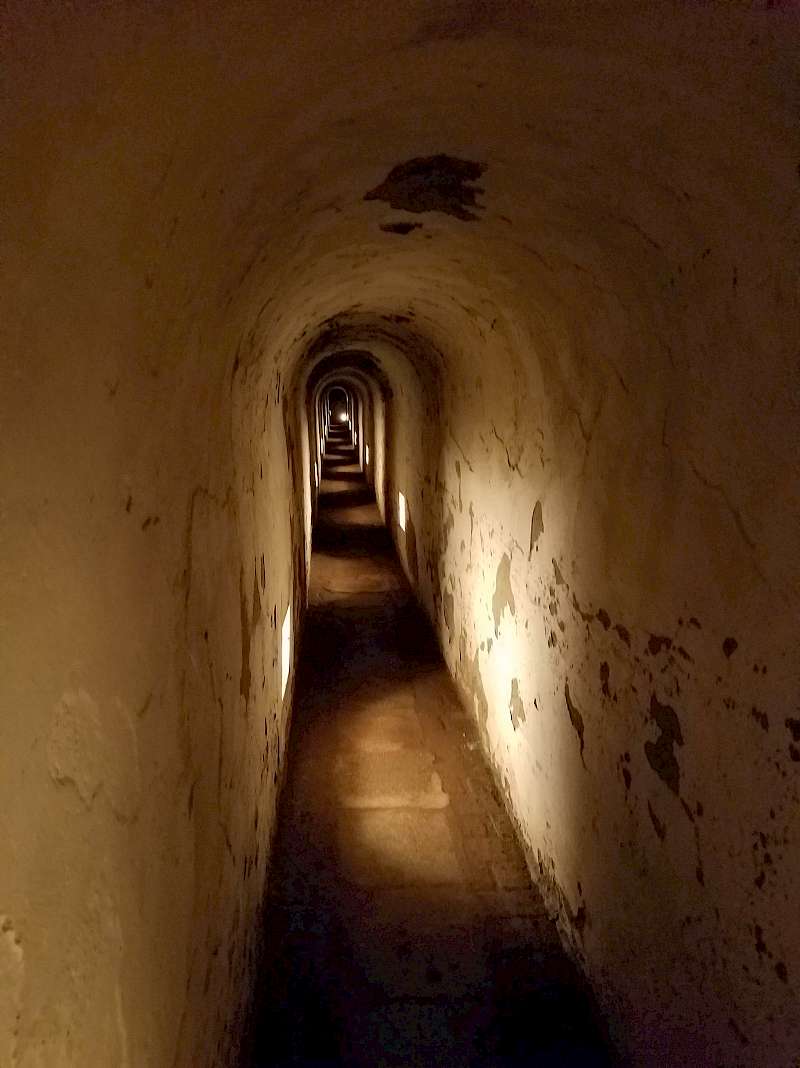 Tezerin tunnel which went on for about 300 yrds

We had dinner again at Dobra Basta. We both had cabbage soup which was amazing. I had the Wiener schnitzel for the entree. I definitely won the menu war again as Derek's ribs were decidedly too fatty. Although he didn't say it, he pretty much-conceited defeat. Walking around Litomerice was great. It's an old town with remains of a fortifying wall and a huge city square with lots of eateries, churches, and shops. It's a beautiful place and we took some nice pictures.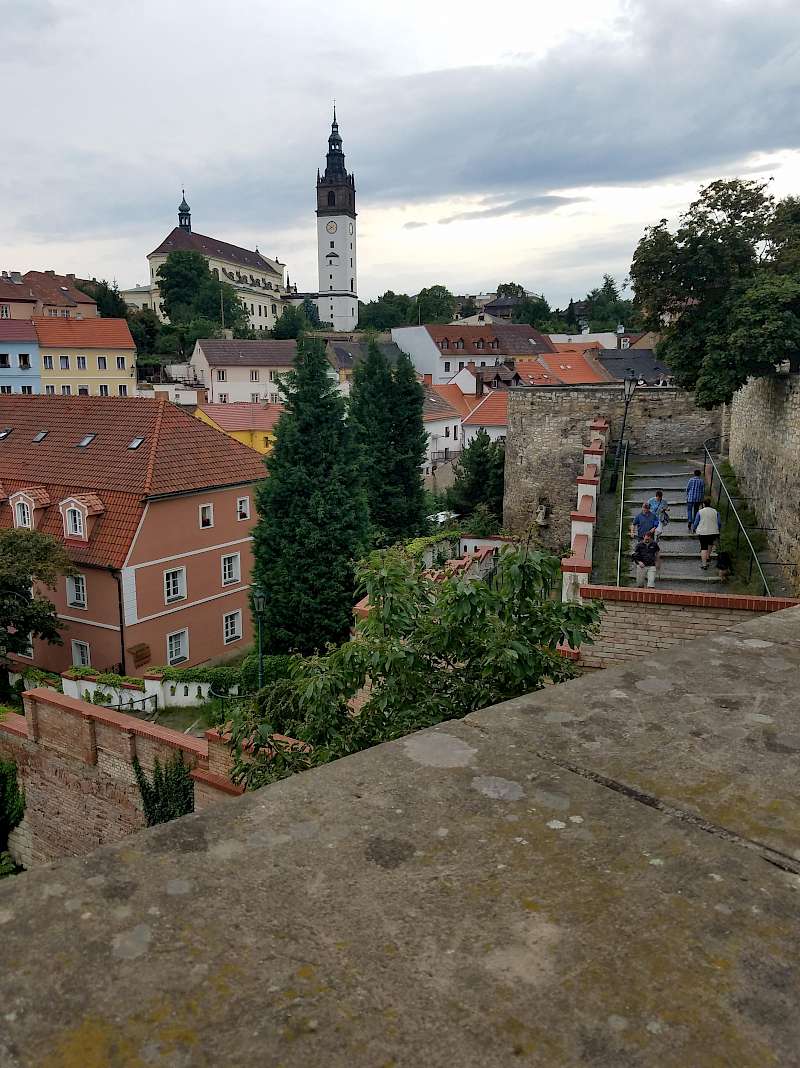 Litomerice
Roudnice - Melnik
The boat took us from Litomerice to Roudnice Nad Labem early in the morning. Derek and I waited anxiously for our bikes to come down so we could beat the crowd. We hopped on the bikes around 8:50am and were in Melnik, our midway point, by 10am. We pushed it most of the way and didn't see another biker from the boat for about 35 minutes. It turned out to be 3 older Germans from our tour who used E-bikes (Cheaters!).



Derek and I pedaling away

The biking again was mostly along the river (Elbe) and upon reaching Melnik we crossed the river and biked up a decent hill to the old town center. There sits one of the oldest churches in Bohemia, the Saints Peter and Paul church. The foundation of the church dates back to year 1006. We got some coffee and relaxed a bit, then climbed the tower of the church up narrow staircases and took more pictures.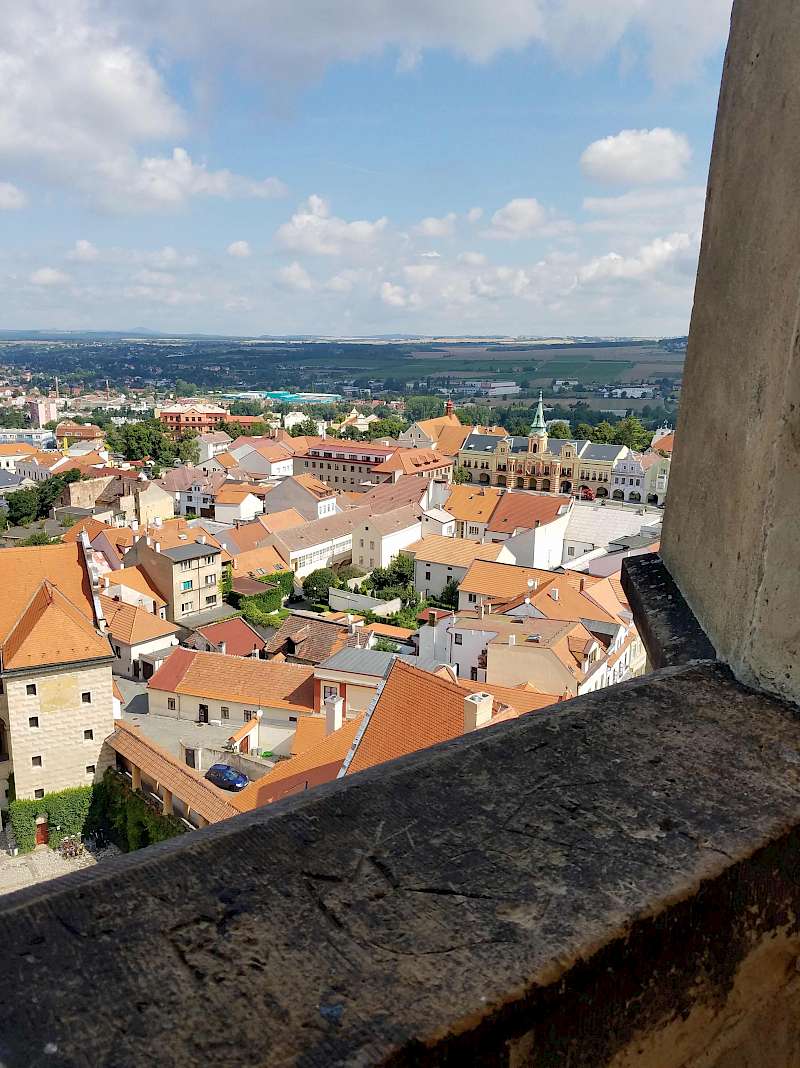 View from the tower of the Saints Peter and Paul Church

The main hall of the church was closed due to renovations which was a bummer but the crypt below the church was open. The crypt held the bones of between 10,000 and 15,000 people. Apparently, there was a cemetery around the church which at some point wasn't big enough so the grave digger started having to dig up the bones and put them somewhere. Eventually, the plague epidemic and the 30 Years War really upped the bone count. The room was quite amazing and something I'm sure I'll never see again. Photos were not allowed but I accidentally took a few. Really I don't think they were very rigid on the 'no photos' rule. Perhaps it was more in respect for the dead but then the pamphlet we received when we paid our entrance fee had pictures in it so I'm not sure.
| | |
| --- | --- |
| | |
Bones from the crypt

We cruised around Melnik for a while and had lunch at El Pirate where I had a flank steak and again won the menu war as Derek was picking bones out of his trout. This was also the point where Derek had his first taste of french fries with Mayonaisse. The mayo in Czech is the same as it is in Holland and there really is no better way to eat fries than with good mayo. Sooo tasty.
We left Melnik around 1:45pm and biked towards our stop for the day. The biking was nice but there was not much else to see along the way. We got to where the boat was to be docked in this small town and relaxed before the Captain's dinner at 7pm. This turned out to be a three-hour long affair.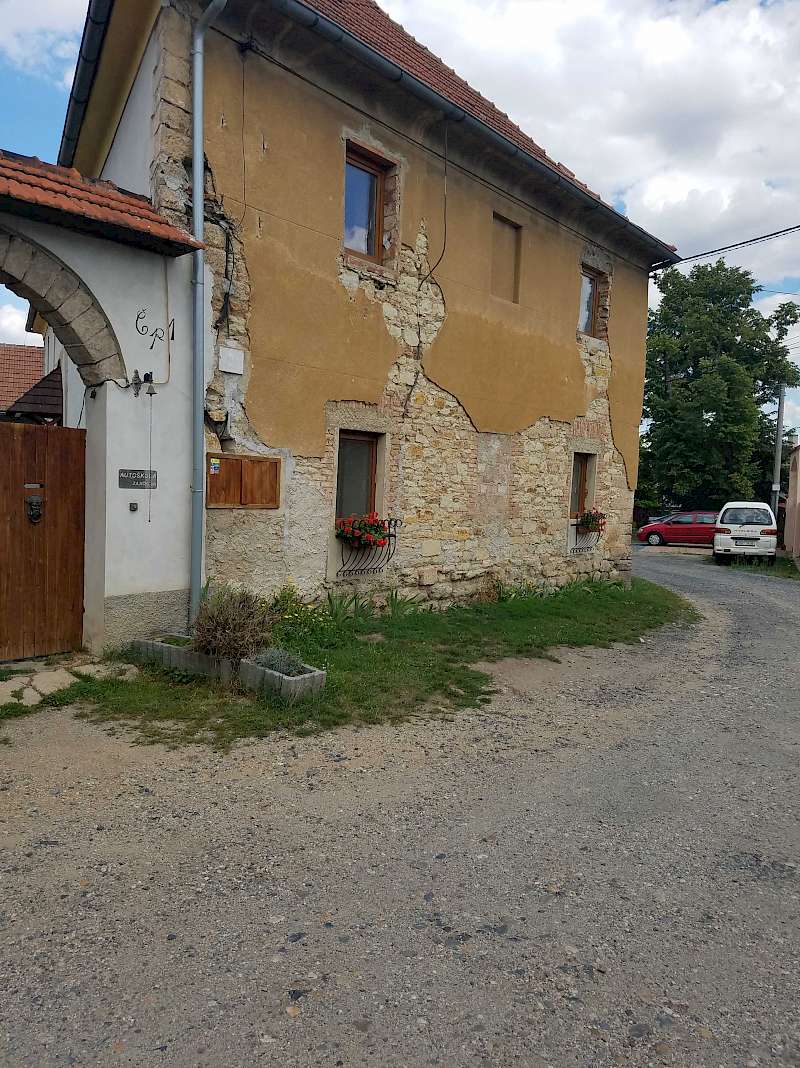 A house in the small village where our boat was docked
A few notes on the Czech Republic and the tour...
The biking on the tour is probably 75% along the rivers Vltava and Elbe. The paths are mostly paved and smooth. Czech Republic does a lot of farming. We saw many wheat fields and lots of hops growing from these vines that hang from cables stretching across the field. They are probably 12 feet high. We didn't know what it was till I went into a field to grab the fruit from one of the vines. Anyway, lots of hops, wheat, corn, cabbage, etc.
The Czech people are quiet. Each town we visited we noticed how quiet it was. For instance, we stopped for Eis-tee (ice tea) in a village and a woman and her two kids (probably ages 10 and 12) stopped in to get some ice cream. They sat about 20 ft away and did not make a peep the entire time they sat and ate their ice cream. That's not such an odd event but after a while, you put together how it's like that everywhere in the Czech Republic. They are a quiet people which I can totally respect.
The food on the boat was delicious. Really well-prepared gourmet dinners. Again, the seating situation was annoying and adding to that was the time between courses. We skipped dessert at the table because we were 2 hrs and 15 minutes into the meal and had just eaten the third of five courses. The crew of the boat will go out of their way to accommodate the guests, however, so we just had some cake delivered upstairs on the deck. Also a tad annoying, but expectable I guess, is that the drinks are 3 times as expensive on the boat as off it. Lots of beer is consumed in this country, morning, noon, and night.
Prague
The morning of Tuesday, day 6, was spent on the boat as we cruised back into Prague. Breakfast on the boat and lunch at the Indian Jewel near the City Square by Old Town provided energy for what turned into a 10.5 mile walk around the city according to Derek's pedometer. Derek finally won the menu war at the Indian Jewel which he wanted me to make sure I mentioned in my blog.
We started from the boat and walked south and east. The crowds grew as we got closer to the Old Town Square. The Square is enormous. I wouldn't be surprised if there were 10,000 people milling around when we got there on Tuesday morning. People riding Segways. Groups gathered together as a guide does its best to convey information over the noise. Lots of cameras in the air and you either wait for someone to take the picture so you can move along or you're ready for the next photo-bomb, as was Derek's strategy.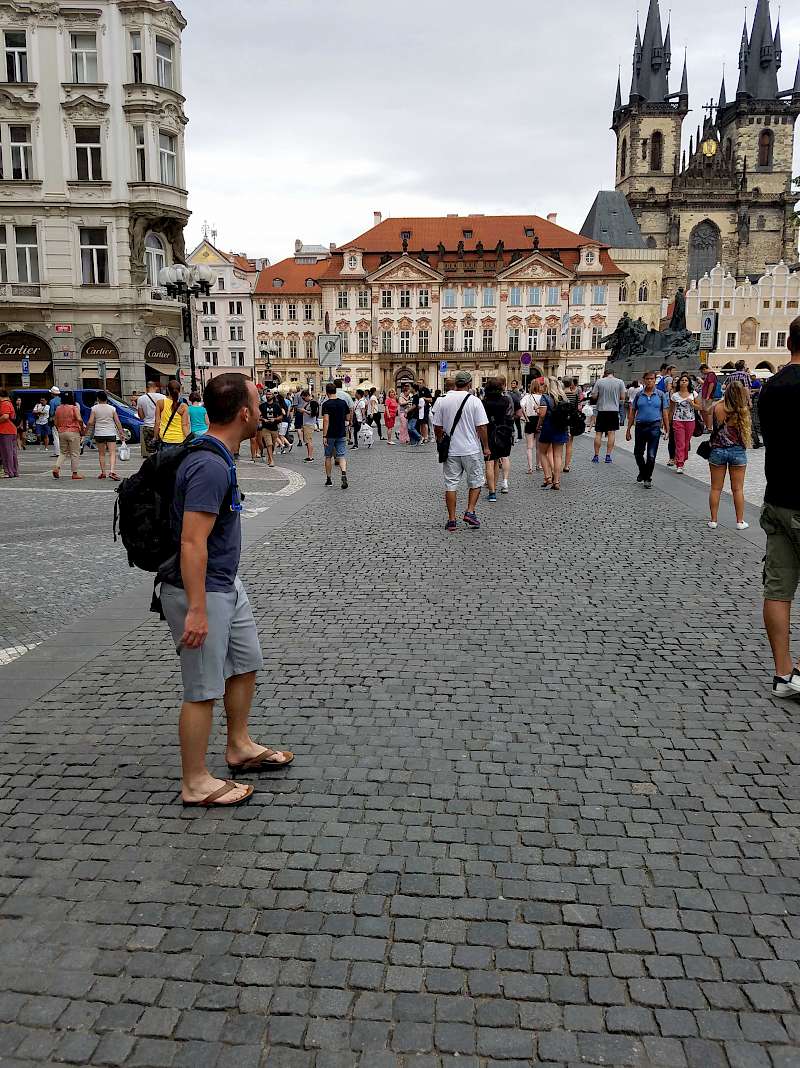 Derek checking out main Square

I've never been a big fan of the guided group tours (which is why we didn't take any) and I'm sure I missed out on some interesting information. But you can pick up quite a bit by listening to the guide as you're walking past the tours; like the Charles Bridge was built in 1380. I think that's what he said.
We followed some streets just looking around and somehow made our way back to the Vltava river. You can't help but look up at that point and see the St. Vitus cathedral way up on top of the hill offering up your next direction. We contemplated an Uber but decided to walk. So again we walked across the Charles Bridge. People everywhere.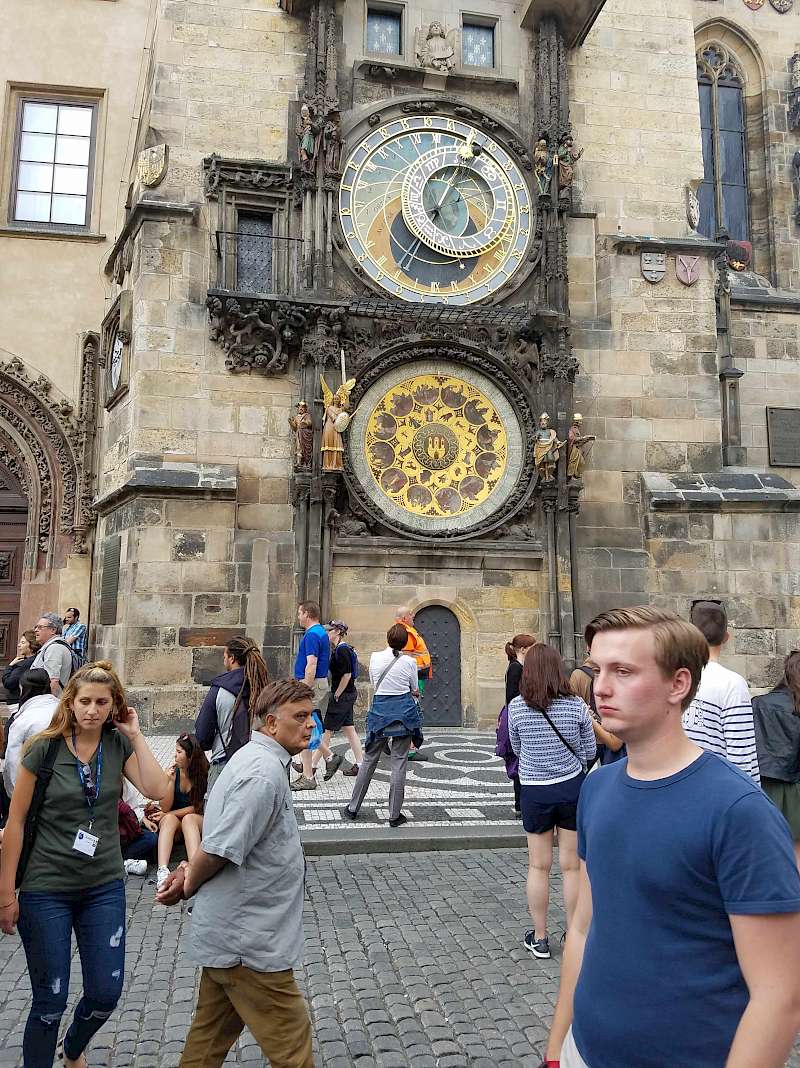 The astronomical clock, definitely some stoners walking around

The rest of the day was more of the same. The cathedral was huge. More windy streets. Lots of pictures. More steps.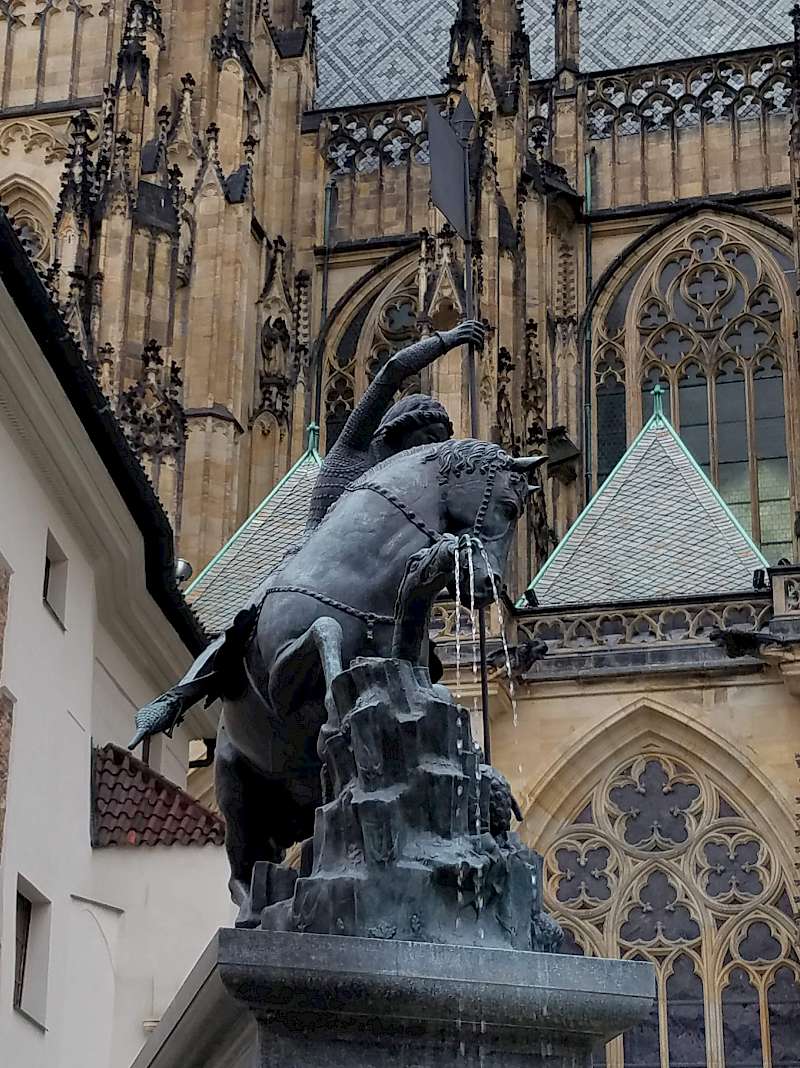 Statue in front of St Vitor's cathedral

Derek left in an Uber around 9:30am Wednesday morning after we settled our bill with the boat. We said goodbye to some other passengers we got to know including the dancing Israelis and the twin sister cops, Michelle and Peeta, who were finishing off 10 straight weeks of travel together before going back home to Australia.

The rest of that day was mine alone as I mistakenly booked my flight for Thursday morning. There are worse problems to have. If Derek and I had walked 10.5 miles the day before, I bet I walked 12 more myself on Wednesday. By the end of it, I noticed people were walking much faster than I was. Lots more pictures were taken and the food consisted of ham and mushroom pizza for lunch and steak tartar and bread for dinner. I would have won on both of those.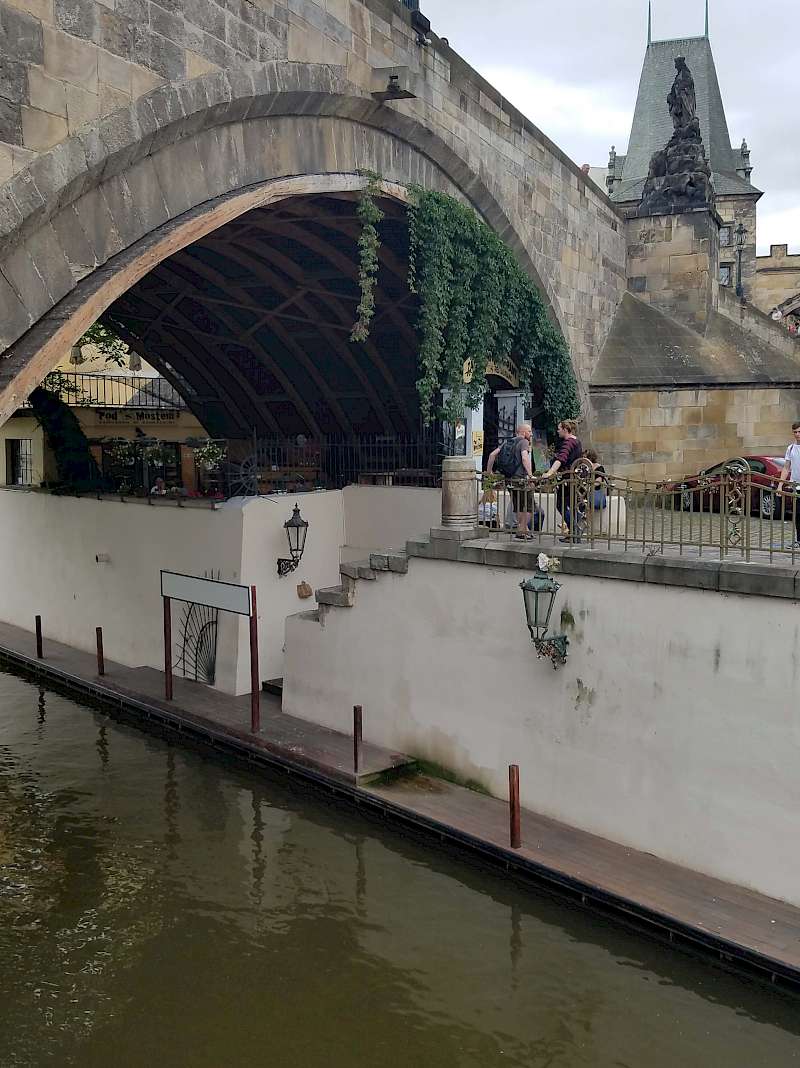 Below the Charles Bridge

It was a really fun week. Derek had mentioned at one point later on in the week that from now on he would make sure there was always an element of exercise to every vacation. Otherwise "you just end up feeling like a pile of crap at the end of the day". Well said, buddy. Well said.
Gallery
(Click to enlarge)

If you liked Henk's story, feel free to explore all of our bike and barge tours in Holland.
| | |
| --- | --- |
| | Henk is an oil and gas royalty analyst and paralegal residing in Springville, PA. He enjoys spending time with his daughter, family and friends, playing golf, and traveling. |
---
Comments
Post Comment