Tripsite Traveler - Lake Constance

Jerry suggested this cycle tour several years ago. My reaction, "not me." On previous bike trips I was at the back of the pack. Once I reached the top of a hill, the group was on their way. "Get an ebike," Elaine suggested. Lake Constance has history, grand scenery and is new territory. Water is my element. If cycling proves too hard I can take a bus!
My companions are experienced bikers, great navigators and very funny! We set off from Constance, Germany one drizzly day in September bound for Reichenau Island.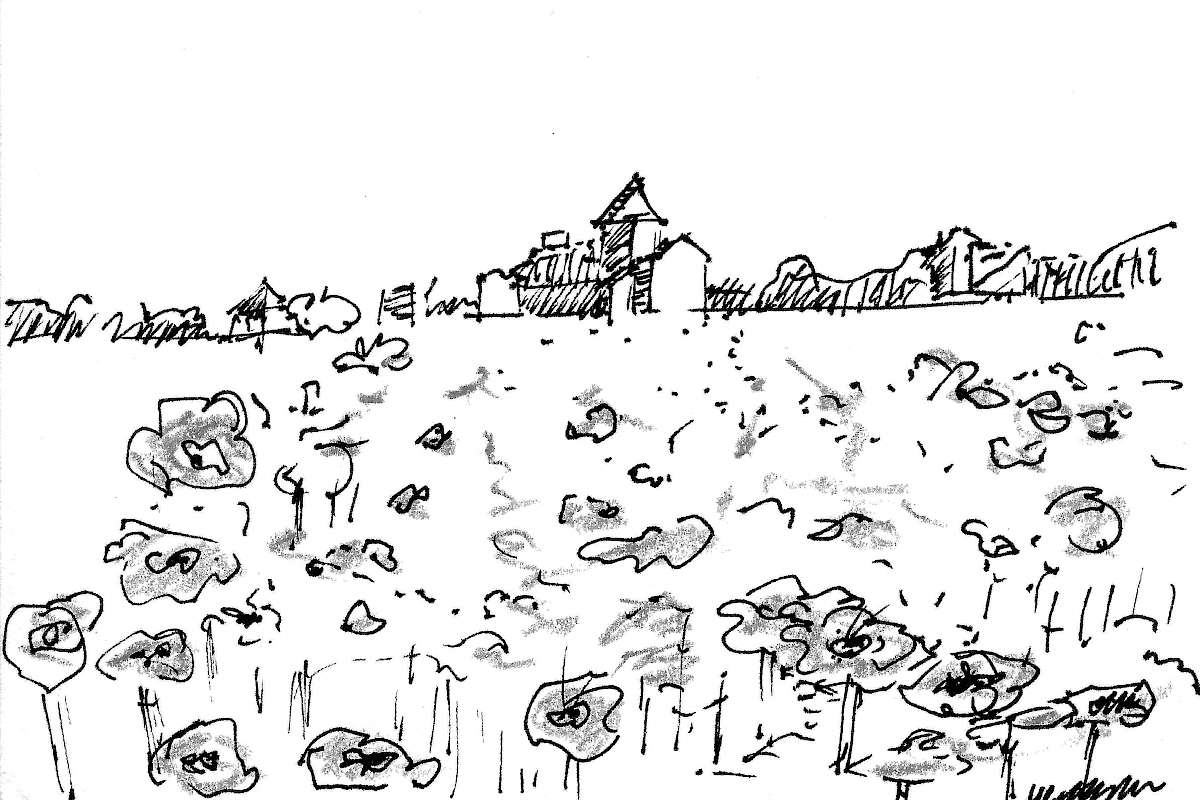 St George Church, Reichenau Island
Carol, potter, painter, weaver and biker, sketched and offered instruction. I was her student, more about that later. Reichenau is a UNESCO site preserving the roots of religion. The monks here were first to assign numbers to years. Before, years were named for the ruler. We cycled by greenhouses, churches, and museums. All the makings for a salad were growing in the fields including beets for roasting. We had to be on the 1:00 ferry in order to get to our hotel by dinnertime. So our tour was limited.




(Left to right) Checking Island Maps, St. George Church, St. George Will Paintings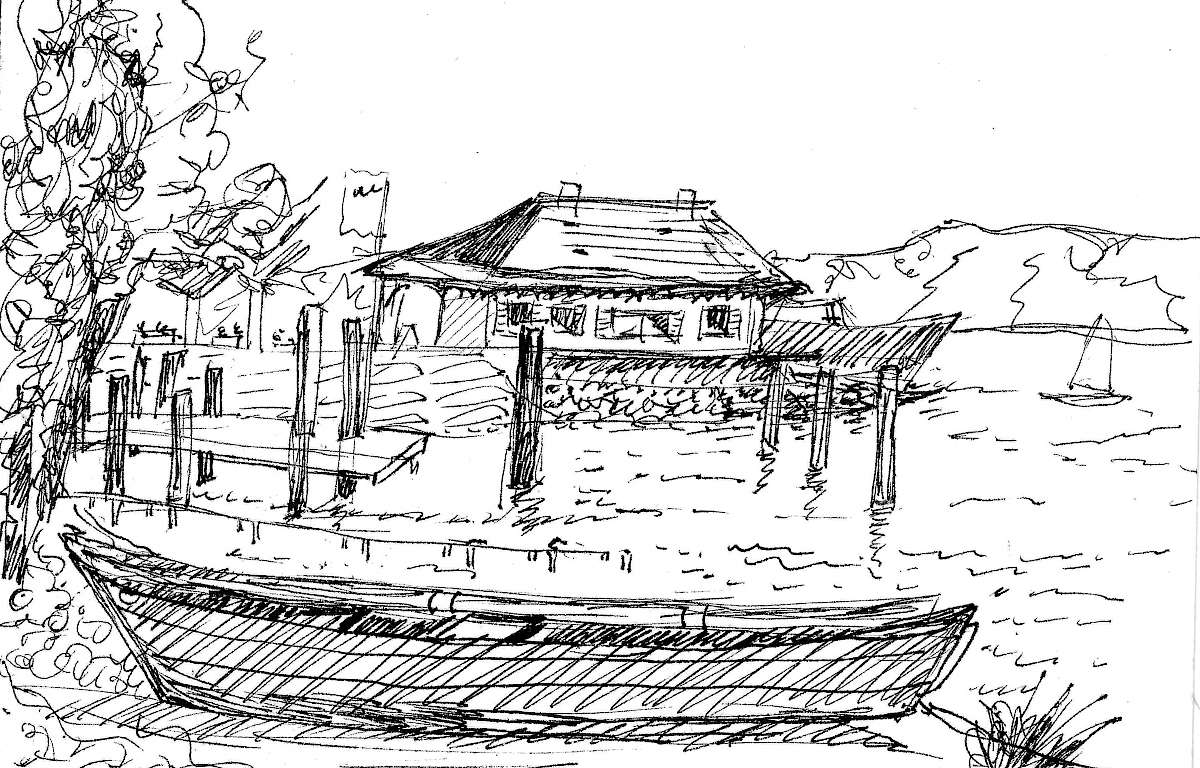 Ferry Dock
Ferry took us down the lake to Galenhofen and to our hotel in Gailingen. Most days we biked 30 to 40 km and reached lodging late afternoon in time for shower and a rest before dinner.
Lunch today was in Stein am Rhein. We found a table with a view of Hotel Adler and some of the oldest and most valuable outdoor wall paintings in Switzerland.



A flood in 1999 threatened the town. Sandbags saved them! Local bakers created delicious hazelnut filled sussen sandsakens, sweet sandbags, in thanksgiving.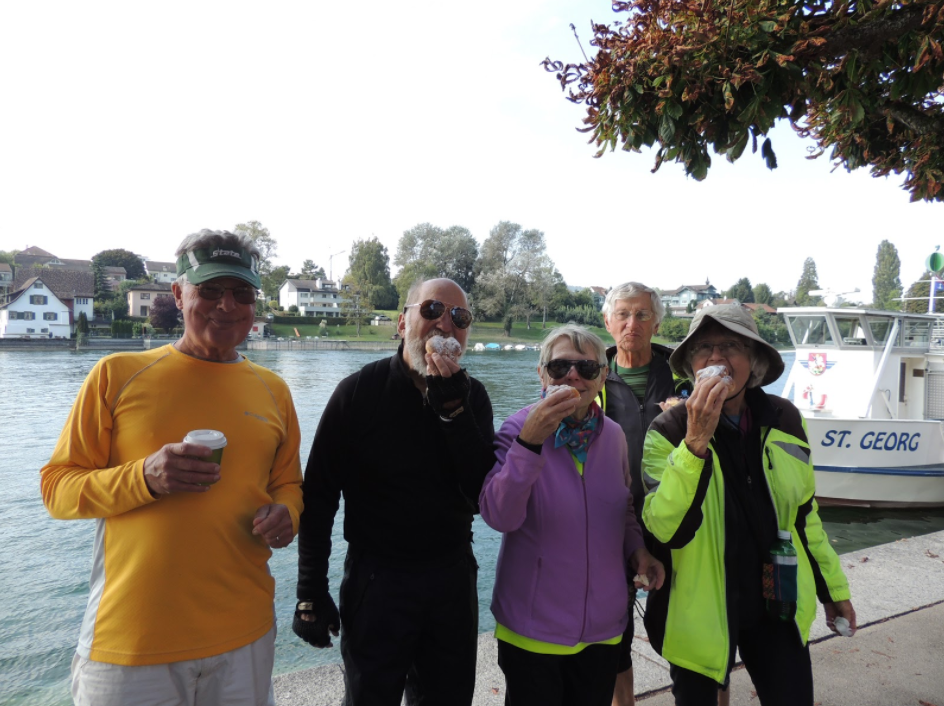 Almost to our hotel and we encountered a serious hill. It was a minimal challenge for those of us on ebikes. I engaged the highest electric assist and pedaled right up the hill. Whew, then I knew I could make it around the lake.
We had a self-guided tour. Tripsite had arranged for great hotels, breakfasts, dinners and luggage transport. Our hostess at Hotel Rheingold was fluent in English and we pounded her with questions about the area, our route and what was for dessert. She was so kind!
A typical day began with a full breakfast, then a few hours of cycling/touring, lunch in a park, more cycling and ended with a three-course dinner at the hotel.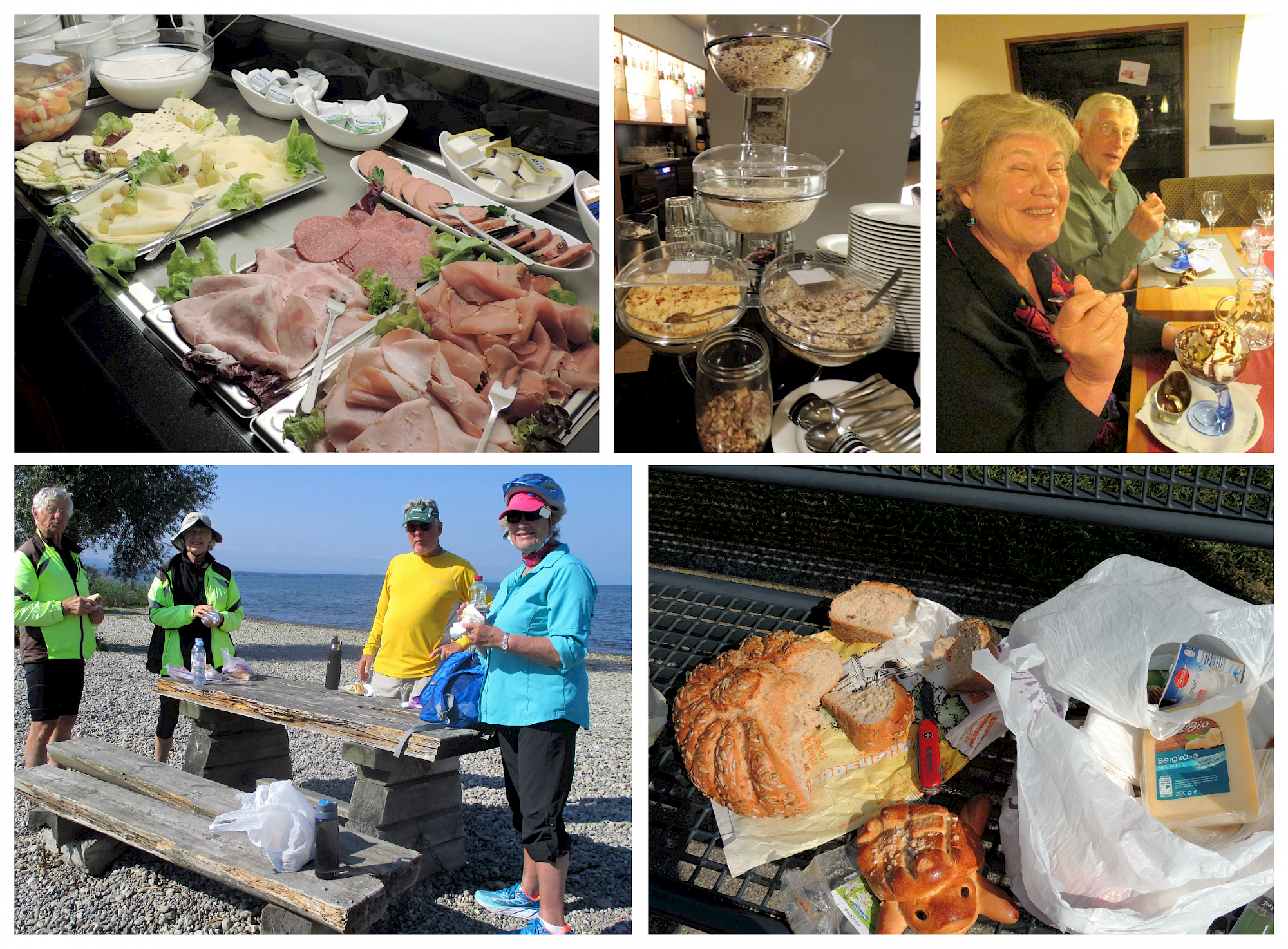 (Clockwise) Breakfast selections | Ice cream | Lakeside table | Lunch supplies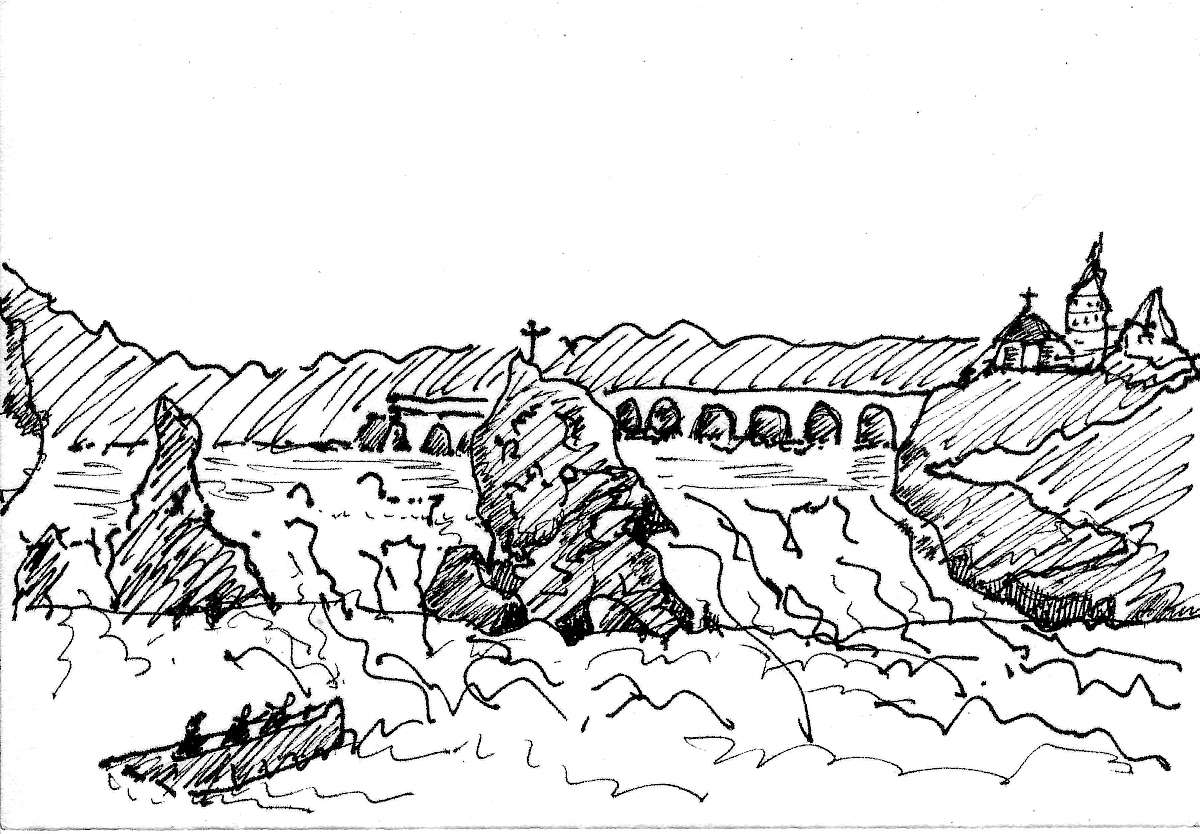 Rhine Falls Sketch




Rhein Falls, a boat ride and view of Schaffhausen from the castle
Our route through Germany, Austria, and Switzerland was mostly on bike paths. We toured villages, forests, fields, vineyards often passing through back yards and front yards.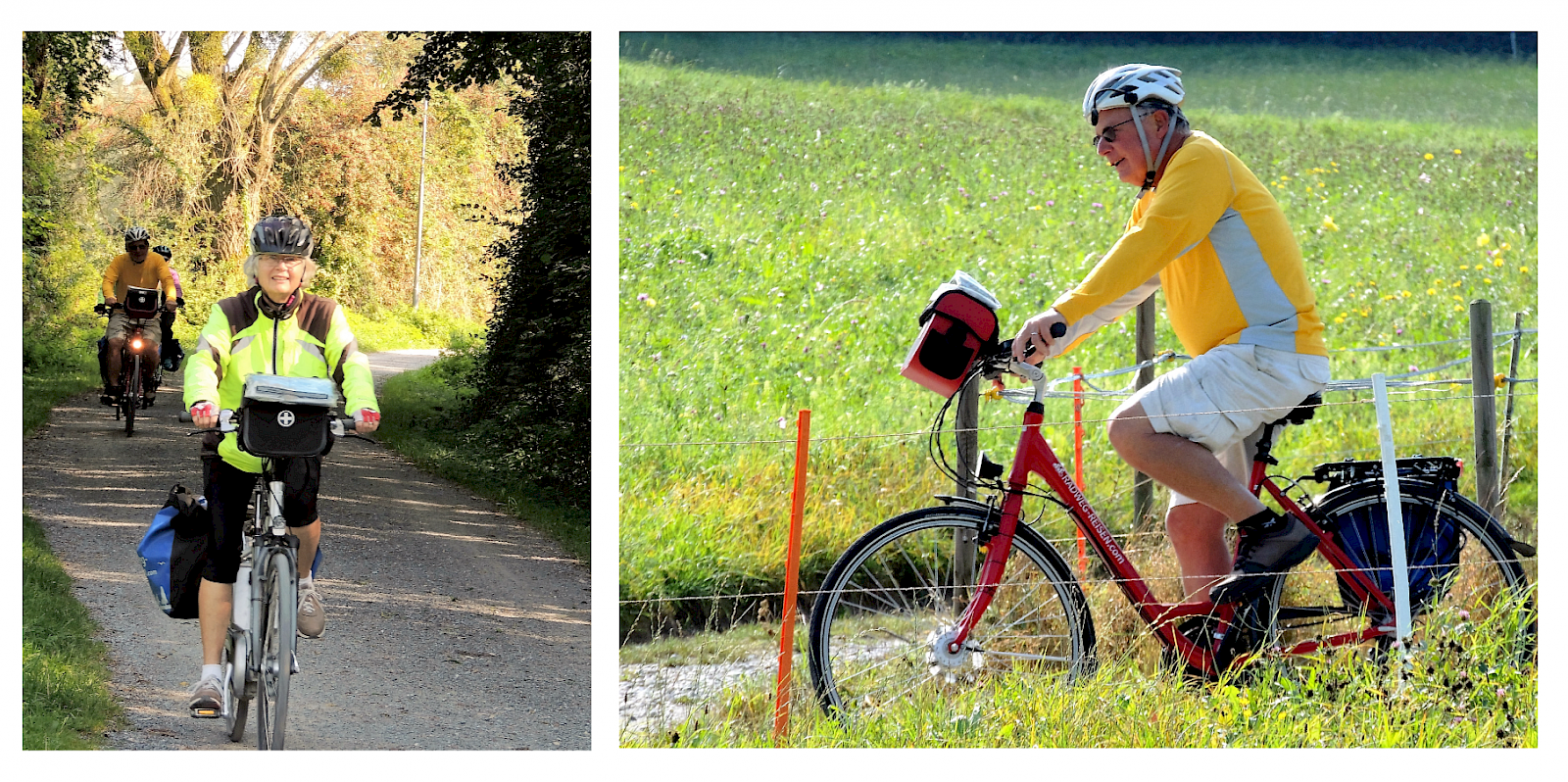 Elaine on a woodland trail | Bob on a meadow path
On a bike, all senses are engaged, seeing alps and plein, herons and cows; smelling fresh mowed grass or fertilized fields; hearing bells and trains; tasting bread and apples; wind and rain touching your face. I loved all of it! And no pain from sore muscles, thanks ebike!
Werd Island, a monastery since 759 AD offered a welcome change of pace, quiet, peace, meditation.




Monastery entrance | Elaine walking the labyrinth | Jerry and Elaine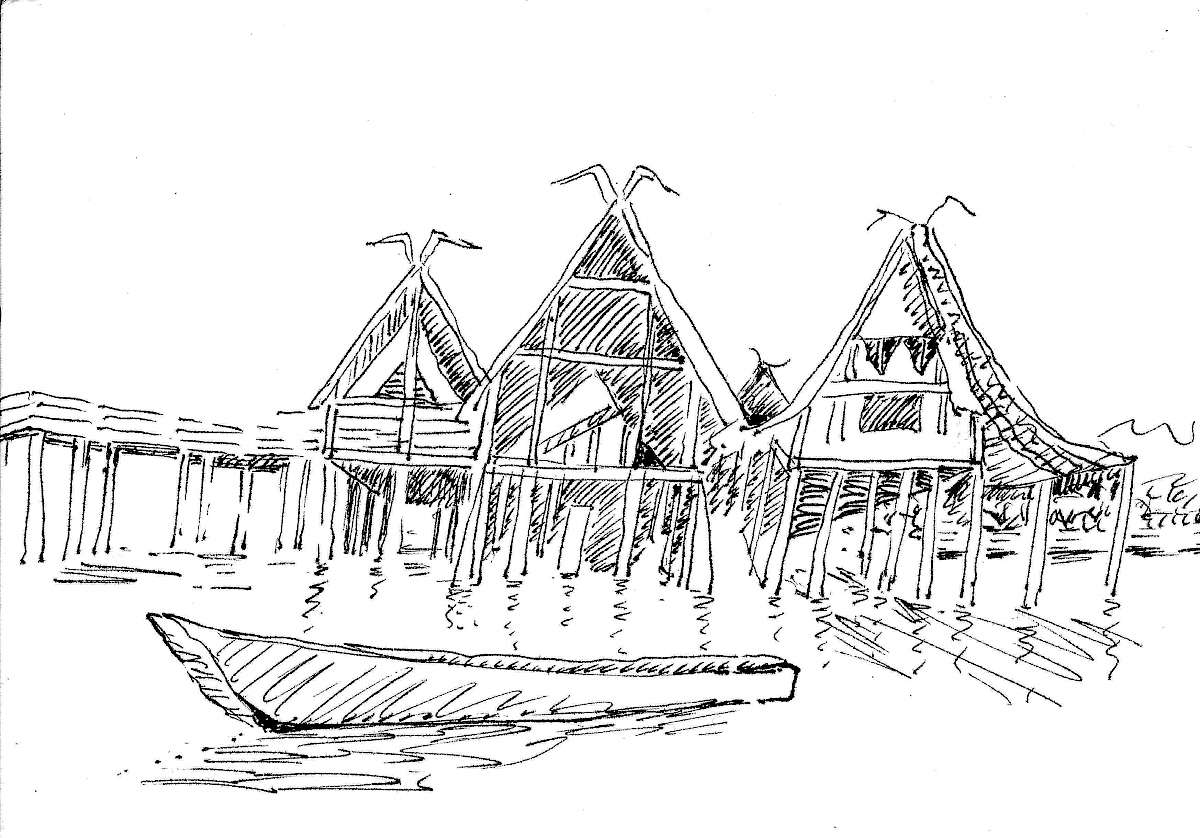 Pfahlbauten Museum
We arrived late in the afternoon but in time for a tour of this stone age village. First a video, then a 360-degree movie showing the underwater discoveries that were used to piece together the story of Pfahlbauten. We strolled the recreated village. There were a lot of poles! Now, why would they build on stilts, long before pile drivers were around?
Lake Constance, Bodensee in German, is filled by melting snow from the mountains. The water level changes as much a 3 meters (10 feet). The surrounding plein spreads for miles. That makes cycling a breeze. But early settlers could not build on land and be protected from floods and be near trading routes that cross the lake. So they built these stilt villages. Global warming may bring this concept back!




Still Village | Movie | Thatched Roof
Cultures have flourished here for centuries. The lake and valley have inspired artists, musicians, inventors, and gardeners.

Peter Lenk, a local sculptor, has supplied multiple caricatures from the past and present to area towns. The guy on the right looks just like my Uncle Paul.

This lady graces Ludwigshafen harbor near the Rathaus, town hall, where two weddings were celebrated.



Bregenz floating theater, the dramatic setting for Turandot and other events this summer. We toured as they were removing the setting. Next year they will present Carmen, a reason to return?




Zeppelin | Lounge in Zeppelin
Zeppelins, invented in Friedrichshafen, offered luxury worldwide travel from 1910 to 1937 when the Hindenburg caught fire in New Jersey. This was the only town on Lake Constance bombed during WWII. Allies wanted to limit aircraft production. Other areas were spared due to proximity to neutral Switzerland.




Phil and Carol strolling on Mainau Island. Gardens extraordinaire



Meersburg

Lots of boat traffic on the harbor. Up hill to old town, thanks ebike, and a tour of the new castle. The Prince Bishops of Constance tired of life in the old castle so they had a new one constructed. How posh was it? Very! The Bishop had the only padded toilet seat in town! The castle houses a nature collection, art collection and 3D maps of the area. A piano concert set the mood for our visit.


Meersburg Harbor | Concert | Half Timber House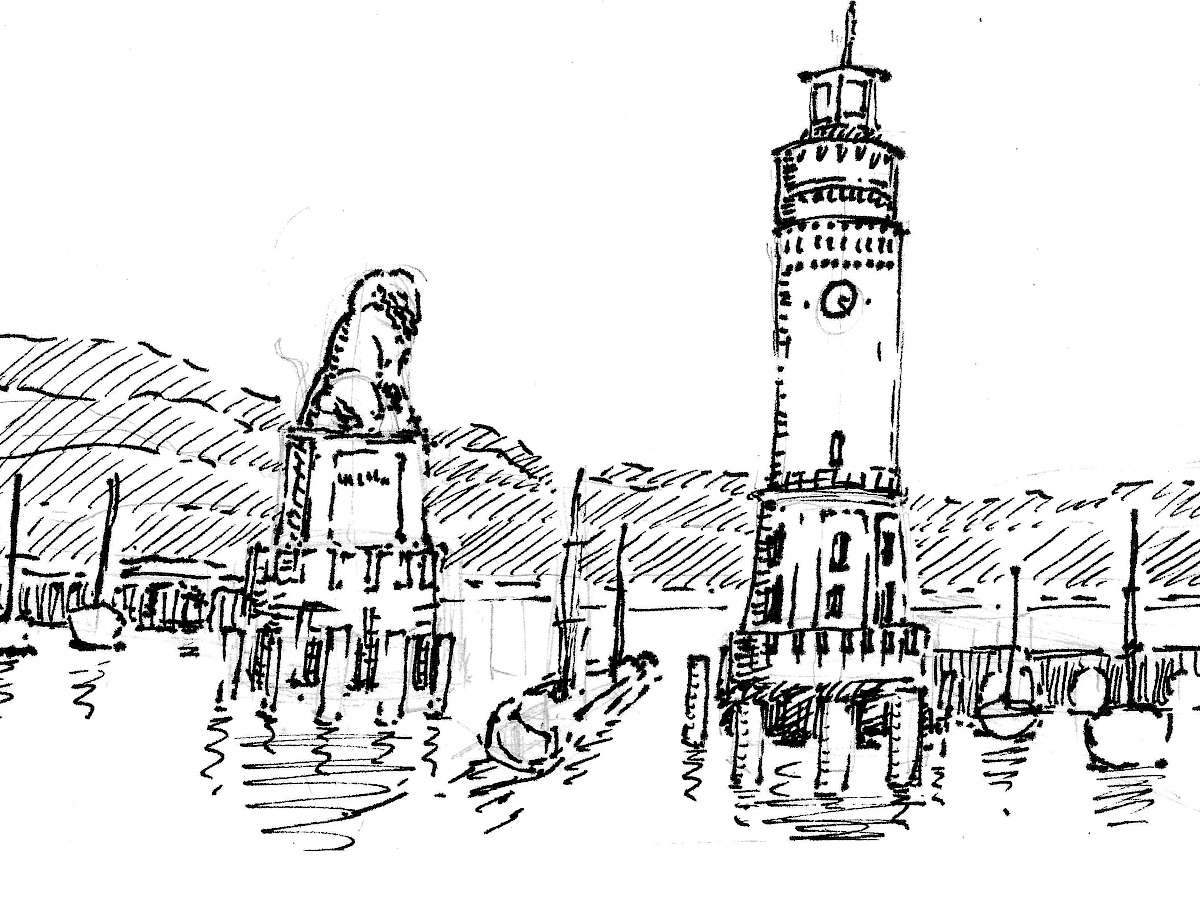 Lindau Harbor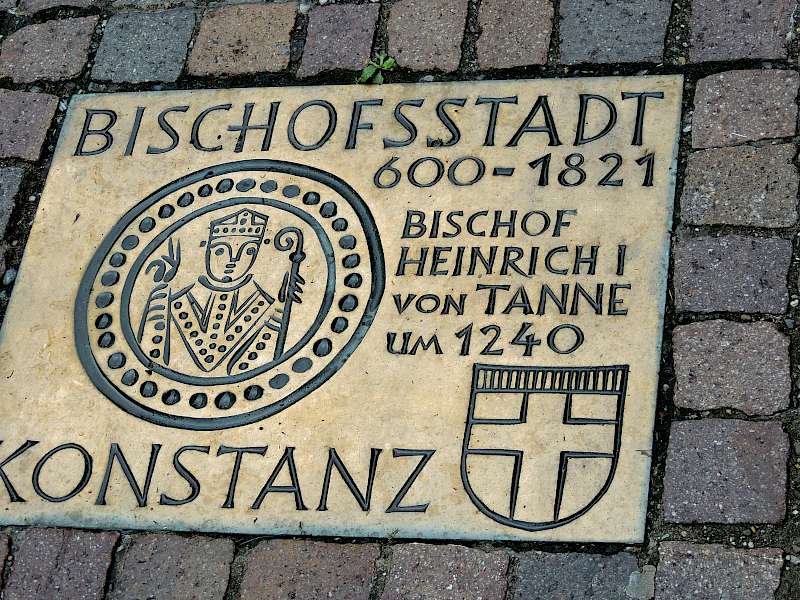 Last day of the trip was bittersweet. A grand trip and I was not ready for it to end. Here we are back in Constance, almost 400 km (248 miles) later.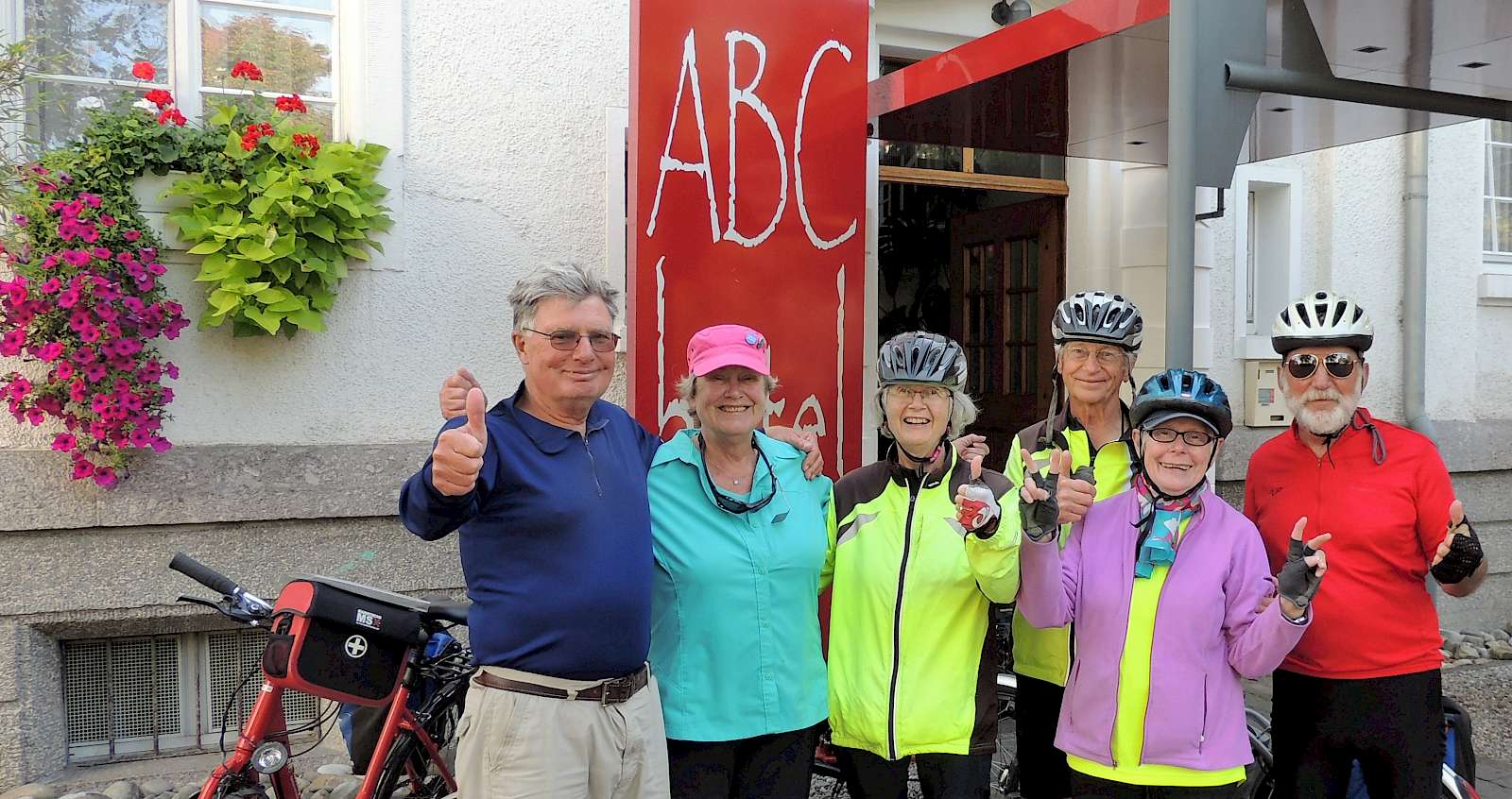 Bob, Sally, Elaine, Jerry, Carol, Phil
But wait, we have two more days in Constance! One for a more thorough tour of Reichenau Is.



And my sketching lesson.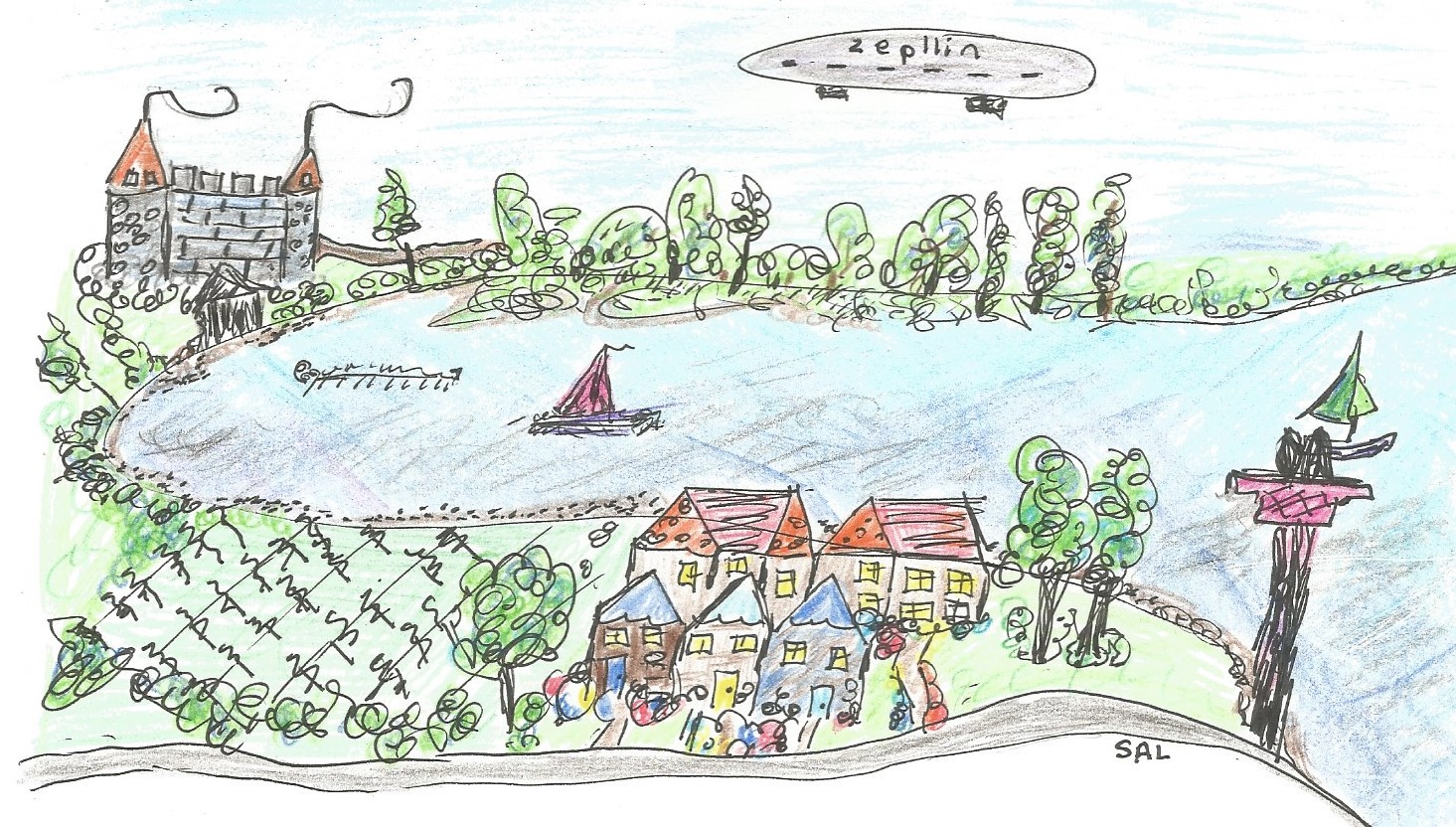 And one for a soak in Therme Bodensee!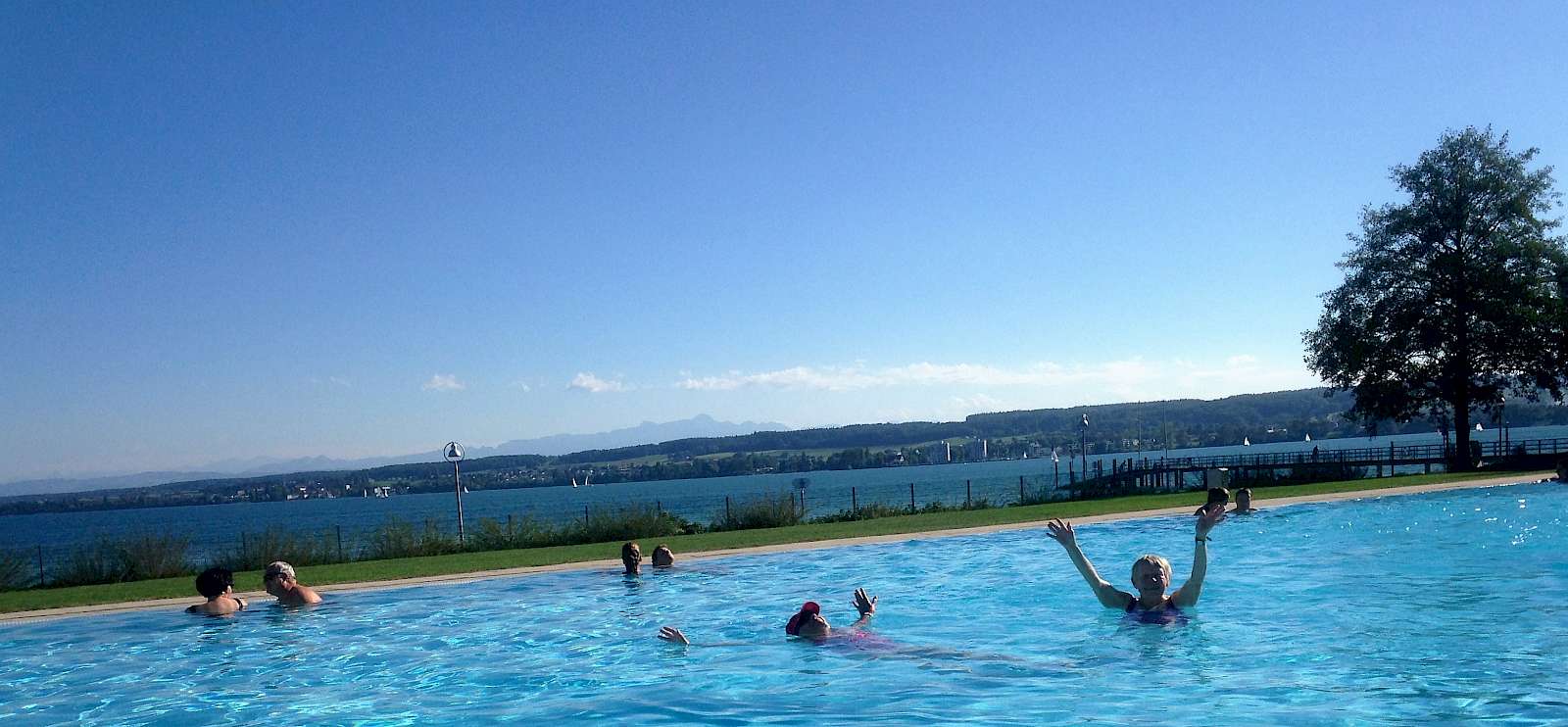 So glad I am still learning and discovering with family and friends!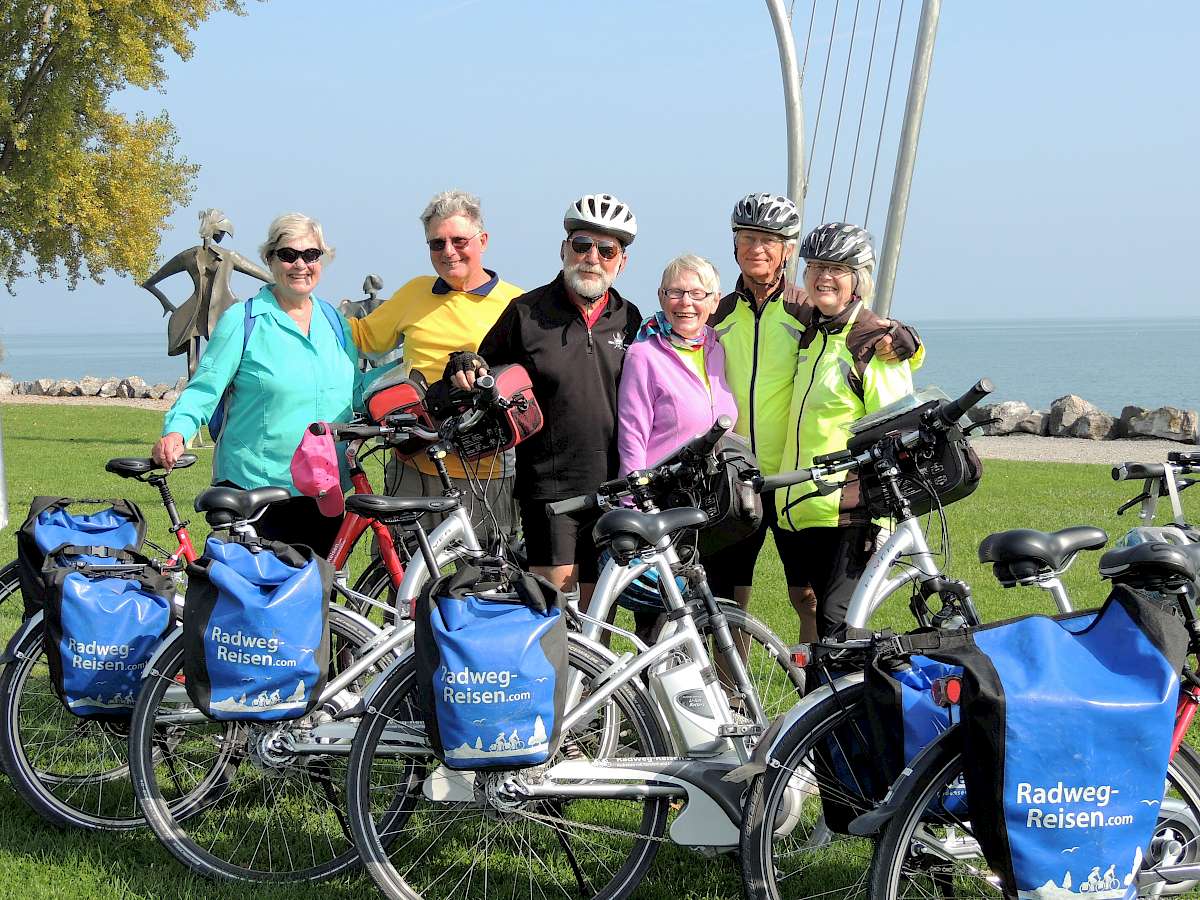 Would I do this trip again? Yes, perhaps in the spring and in the opposite direction.
| | |
| --- | --- |
| Sally Snyder | Kayaking is my passion but cycling is a close second now that I am living in Portland, Oregon. |
---
Comments
Post Comment