Tripsite Traveler - Tulips, Christmas Markets, and the Danube
Do good things come in threes? All I know is that Tripsite Adventures certainly do. The 8-day tulip trip out of Amsterdam on April 16, 2022, on the Sarah ranked right up there with the other wonderful trips I've been able to take with Tripsite.
When I typed in bike barge after a friend recommended that mode of transport as a good and economical way to get around Europe, I stumbled upon Tripsite by chance. Thinking that this was a ploy to get him biking, my husband was the biggest skeptic. Very soon after we boarded the Thedor Korner though our entire group which also included my parents and sister was convinced that adding the biking made us feel even more connected to the beautiful Danube River. That 2012 trip always comes up when we reminisce about favorite family trips.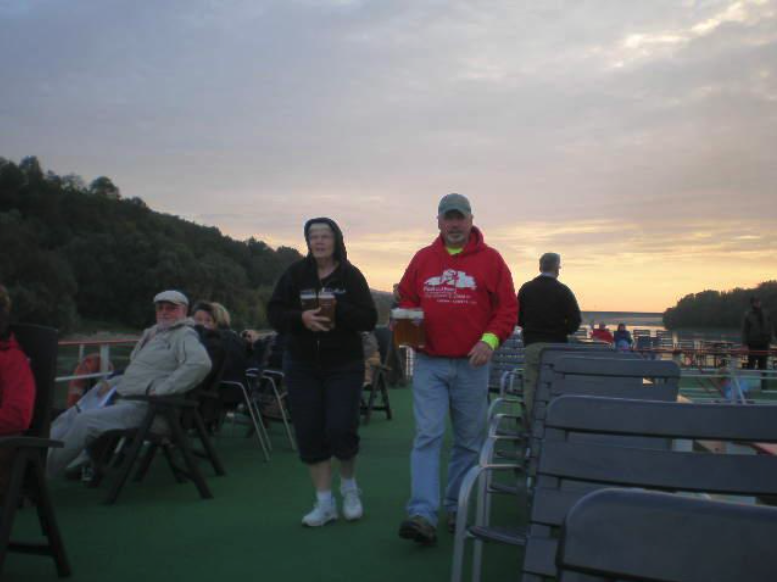 Just as I was starting to dream about taking in a German Christmas market, an email arrived advertising a maiden voyage on the Merlijn where multiple market stops were going to be made. Looking back now without even knowing how to spell the virus that was starting to brew, it is extra special that we got this trip in just before the world came to a standstill. A bonus during that December 2019 trip was one of the surprise visitors on board, Tripsite co-founder Hennie, who quickly had me convinced that biking in the Netherlands needed to be the next experience. For this Dutch adventure my sister and I would be joined by my sister-in-law, our cousin, and two biking buddies from Park Falls, WI.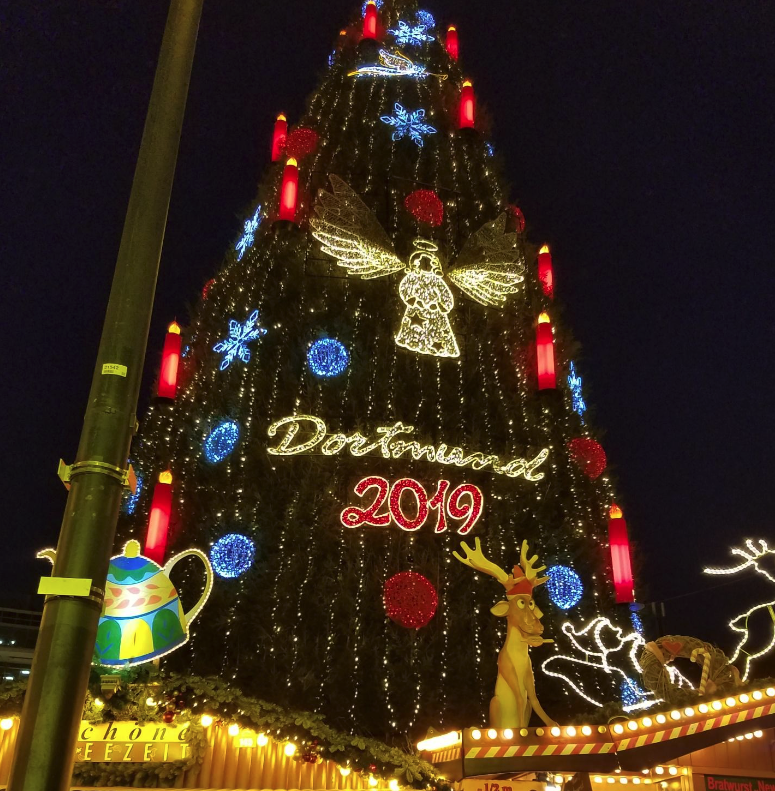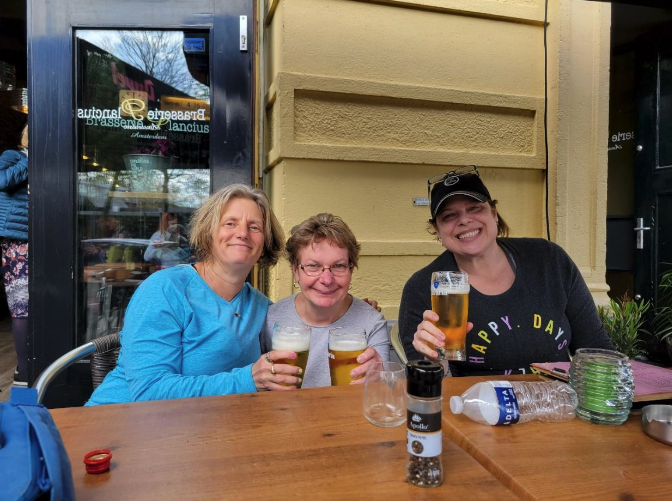 My first set of good threes from this trip starts with the first appetizer aboard the Sarah which was the most delicious cauliflower soup I had ever tasted. I didn't think that could be topped, but I'm still salivating over a later meal's mustard soup with pumpkin seeds and Dutch cheese. I also got to have some delicious tomato soup when I had the bright idea to do the long version of the ride on our final biking day. That soup in the beautiful town of De Rijp helped me make it back to the boat!
My inner child came out a lot on the trip at desert time. Hearing that wonderful melody and then seeing the ice cream truck pull up to the boat took me right back to being at Grandma's house in Toledo, Ohio. Although I wasn't too excited at first about the idea my sister-in-law had of recelebrating my 50th which had occurred right at the start of COVID, who could have resisted the chocolate mousse I had just before we got on the boat followed by the tasty chocolate cake served on the boat with those flame throwers? After quickly agreeing that Dutch chocolate is right up there with Belgium chocolate, I can forever say my early 50's were well celebrated with some of the best chocolate in the world.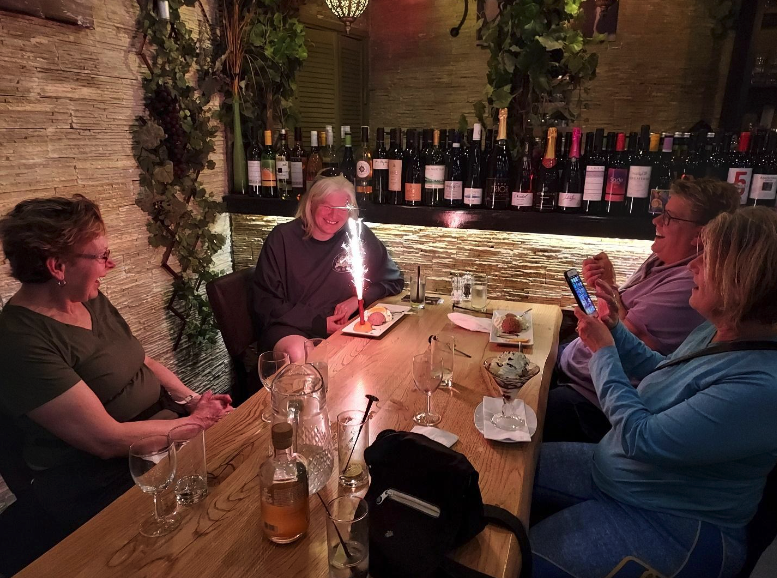 There are hardly words for the big 3 tulip events we experienced on our biking adventures. How could we be so lucky to get to experience Kuekenhof on Easter? As my sister said, it was almost overwhelming to see so much beauty. My sister, cousin, and I were so fascinated by the Royal FloraHolland that we were ready to submit our resumes. The Hortus Bulborum produced my favorite pictures and video of the trip. The sun and light breeze made it seem like the tulips were dancing. The icing on the cake came when somehow in the 4000 types I came upon the Wisconsin tulip.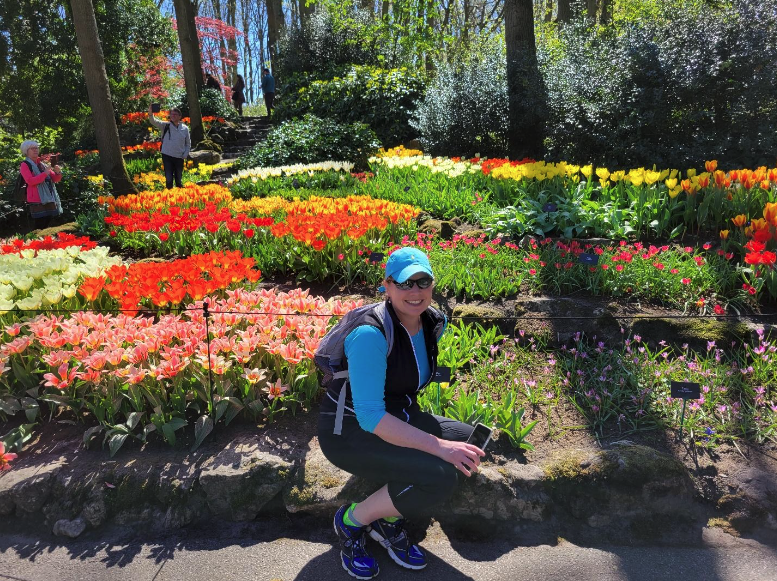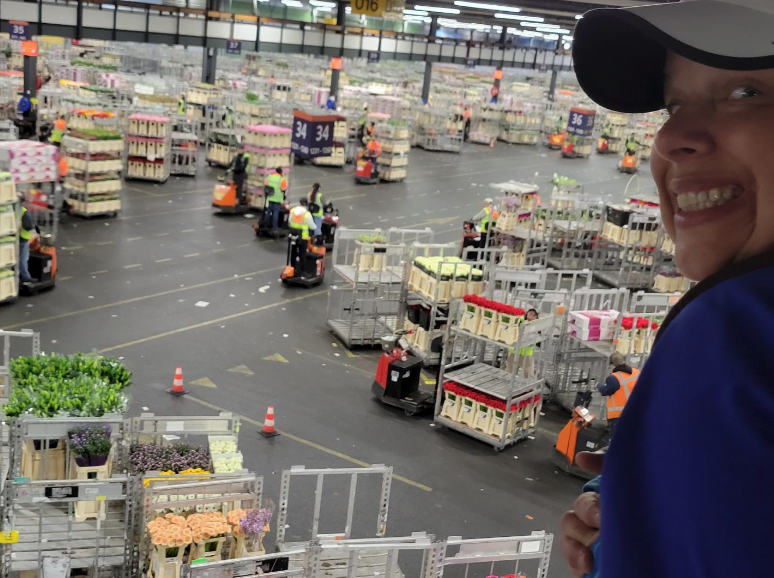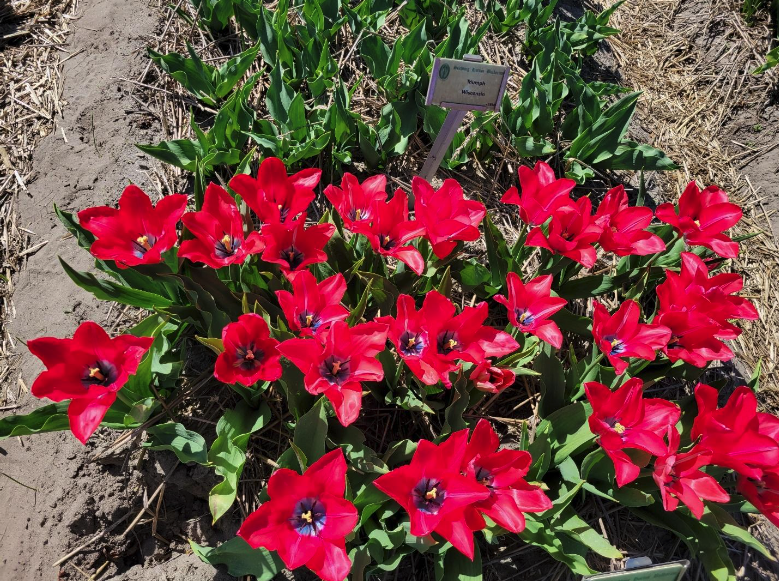 There were a few times on the trip that we weren't sure our leader was being completely honest with us. The first time was when he really seemed to be enjoying watching us figure out the hand crank operated ferry that he claimed to not know how to operate. Another time was when he warned us that there were no rules for the area where the ferry came into the central train station. We also didn't put together until later that it seemed to happen on tougher biking days, but we're thinking that he may have purposely been switching around between kilometers and miles to help us think we were closer to destinations than we really were.
We know our leader had our best interests in mind though and he made sure we experienced everything possible. When Easter caused some needed rescheduling, he made arrangements with his old college professor to take us on a tour of a huge shrub producing nursery. He also made sure that his riders from the dairy state didn't miss out on a cheese experience. We're also sure now that he used his measurement tactics to make sure he got us all to the beautiful city of Egmond aan Zee on the North Sea.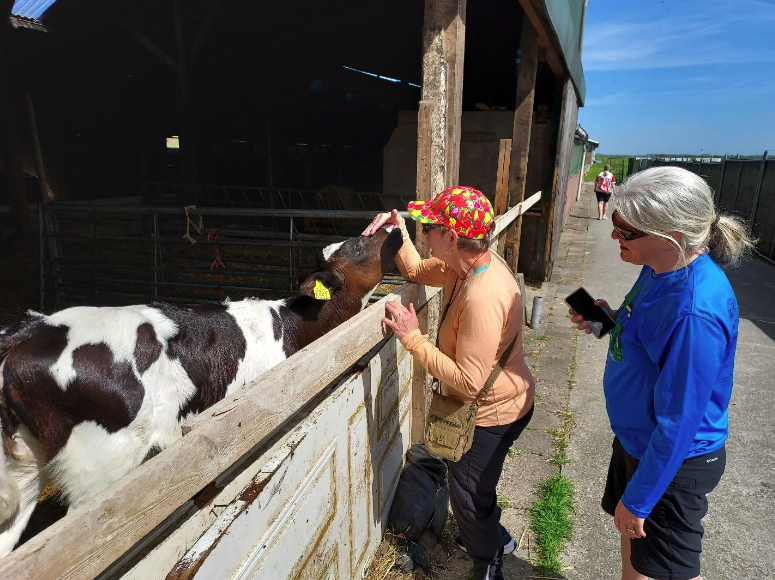 One of the reasons I chose the long ride for the last day of biking was to see the Museummolen. The windowed areas, stick models, and plaster elevation map made it easy to understand how a water moving windmill worked. Getting to tour a flour windmill where I was able to buy some Dutch cocoa was a bonus. The Zaanse Schans combination limestone and paint windmill hit many senses with the colors and being able to experience those blades zipping around at such a close range.
Hennie was right. Biking in the Netherlands needs to be experienced. What was even extra special was getting to see the Merlijn docked close by the Sarah and reminiscing with Coen and Cristina of our fun market tour with them. I can't help but smile whenever I see one of these boats or get asked about what Tripsite adventures I've been able to experience.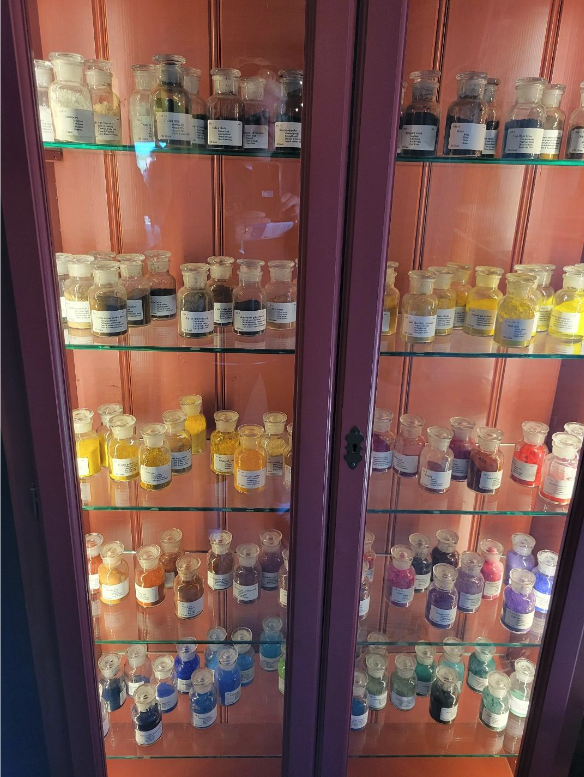 | | |
| --- | --- |
| | Kristin Palecek lives in Butternut, WI, with her husband and pets. She's worked for over 30 years at the paper mill in Park Falls, WI. Before COVID her dog Sailor was a regular at the local library and anywhere he was asked to share his therapy dog services. |
Looking for your next active vacation? We are here to help you find your dream trip, whether you enjoy bike and barge trips or bike trips, we have the perfect tour for you!
Ready to start planning? Contact us today to get started!
---
Comments
Post Comment