Tripsite Traveler: Venice to Mantova on the Ave Maria
Our Tripsite Bike and Barge trip in Italy in October 2022 was our third bike and barge trip with different members of the same group of friends. People ask me all the time why bike and barge when other vacations are more luxurious, relaxing, etc. After a lot of thought, I've come up with my answer which I will try out on you in this, my first-ever Travel Blog!
Bike and Barge trips are the best way to experience a country with ALL of your senses. You are not just seeing it through the window of a bus or standing in a crowd seeing the same sights everyone has seen in magazines or in friends' Facebook or Instagram posts. You are guided by people who live in and love the country to see beyond the obvious gorgeous sites but to see the history, and evolution and hopes for the future of the countries you visit.
Sight: It started for us when we stayed the night prior to boarding the boat in a hotel arranged by Tripsite. This is not your average Howard Johnson's! We knew looking out our window that we were in Venice!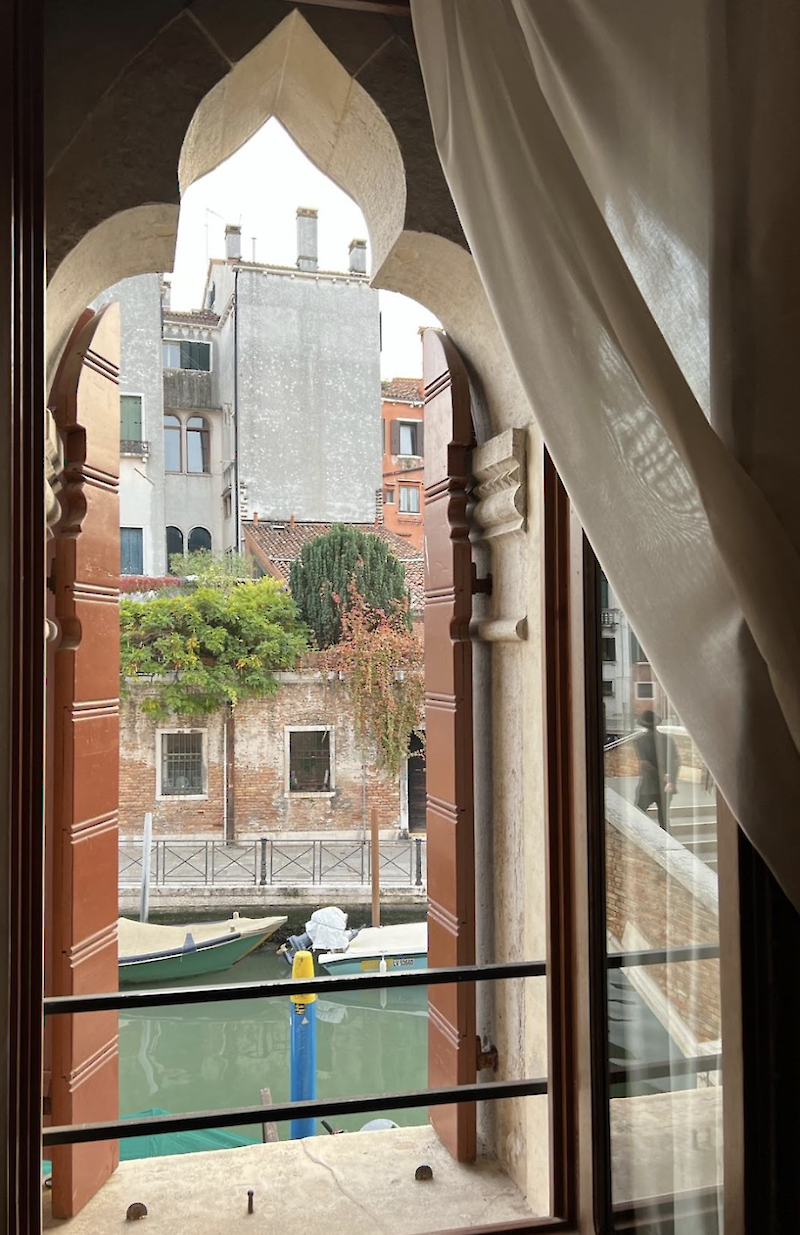 Of course, we saw all of the iconic sights that one would expect: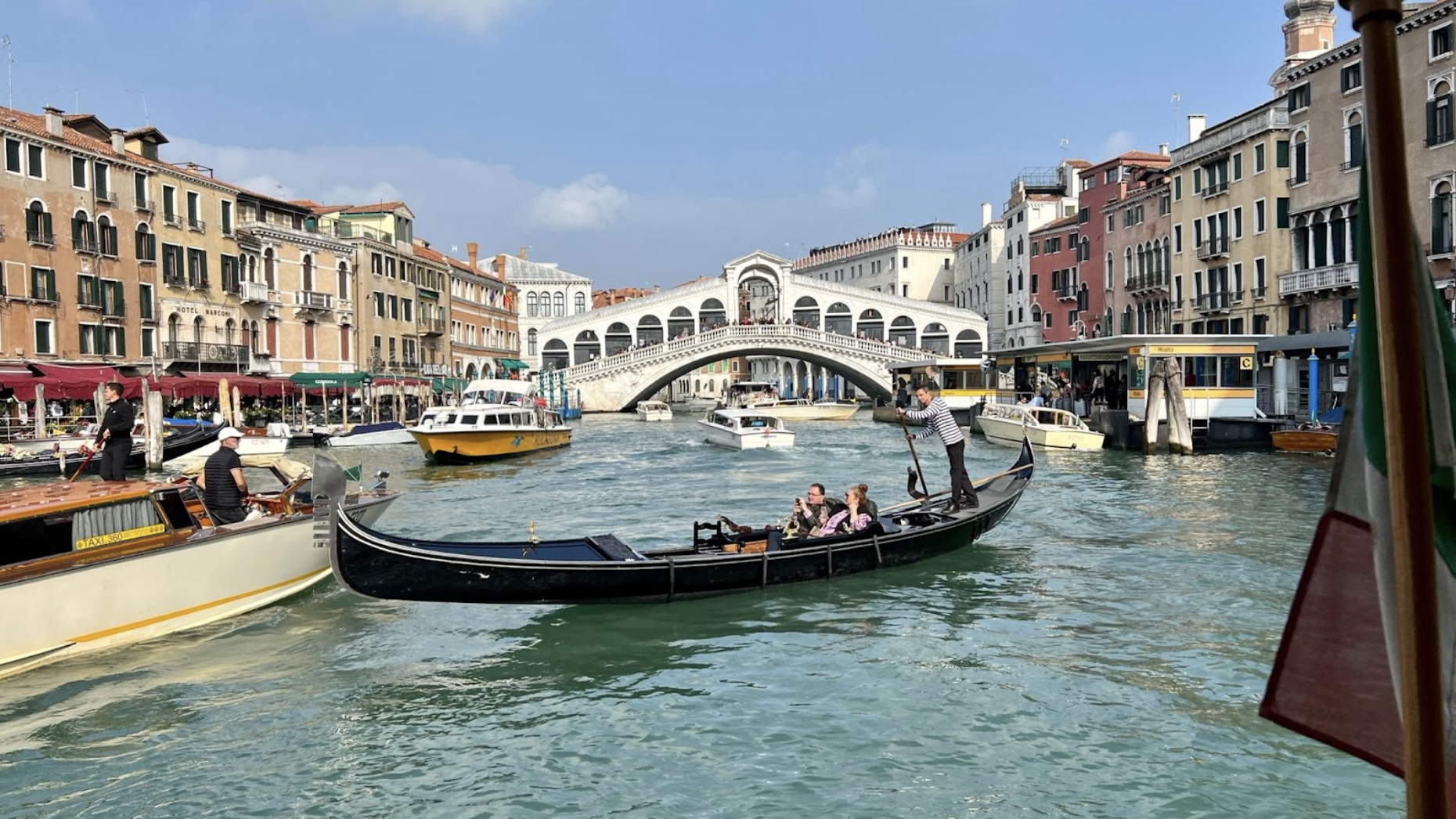 But we also saw places few tourists go, like the parapets of the castle in Ferrara.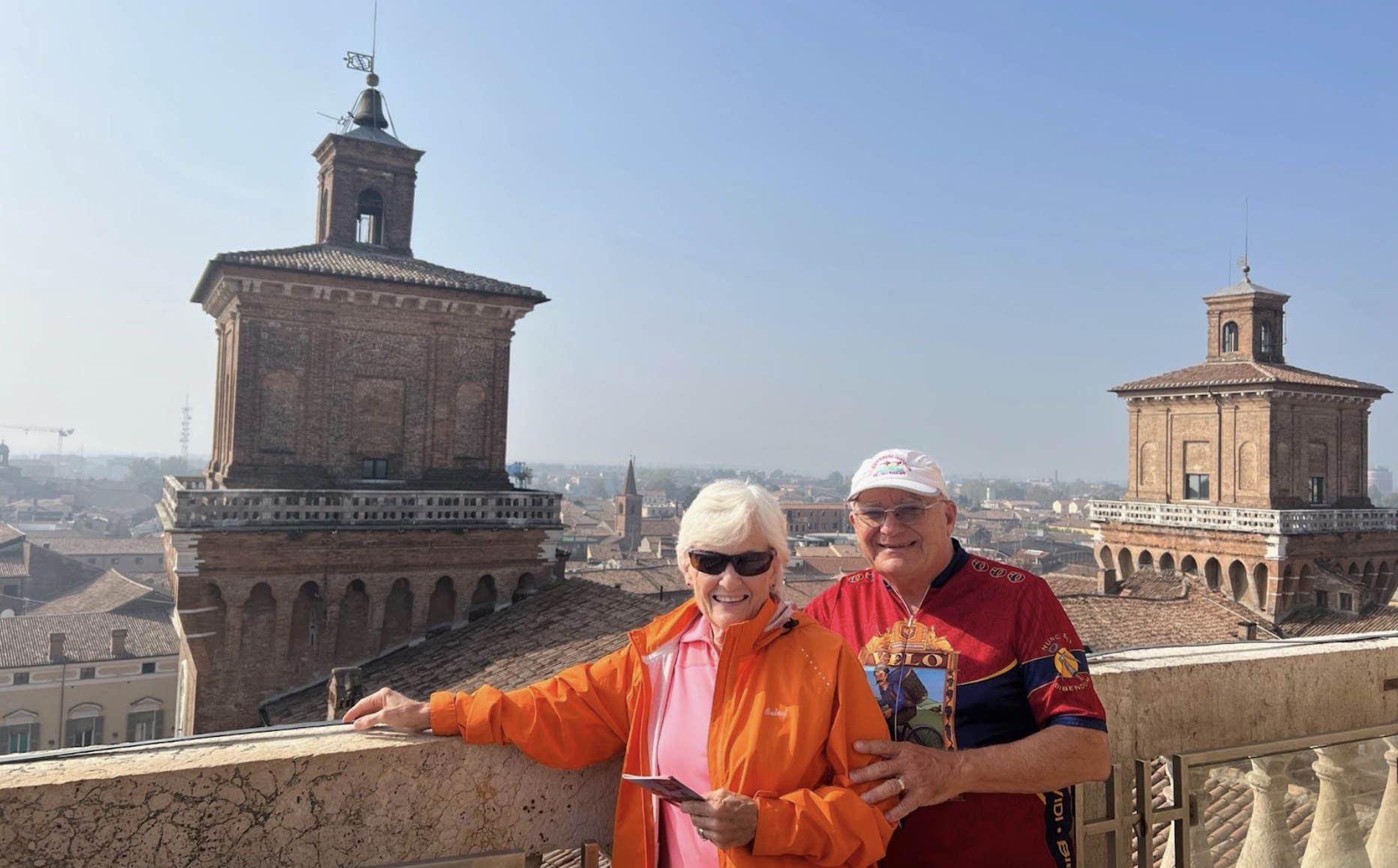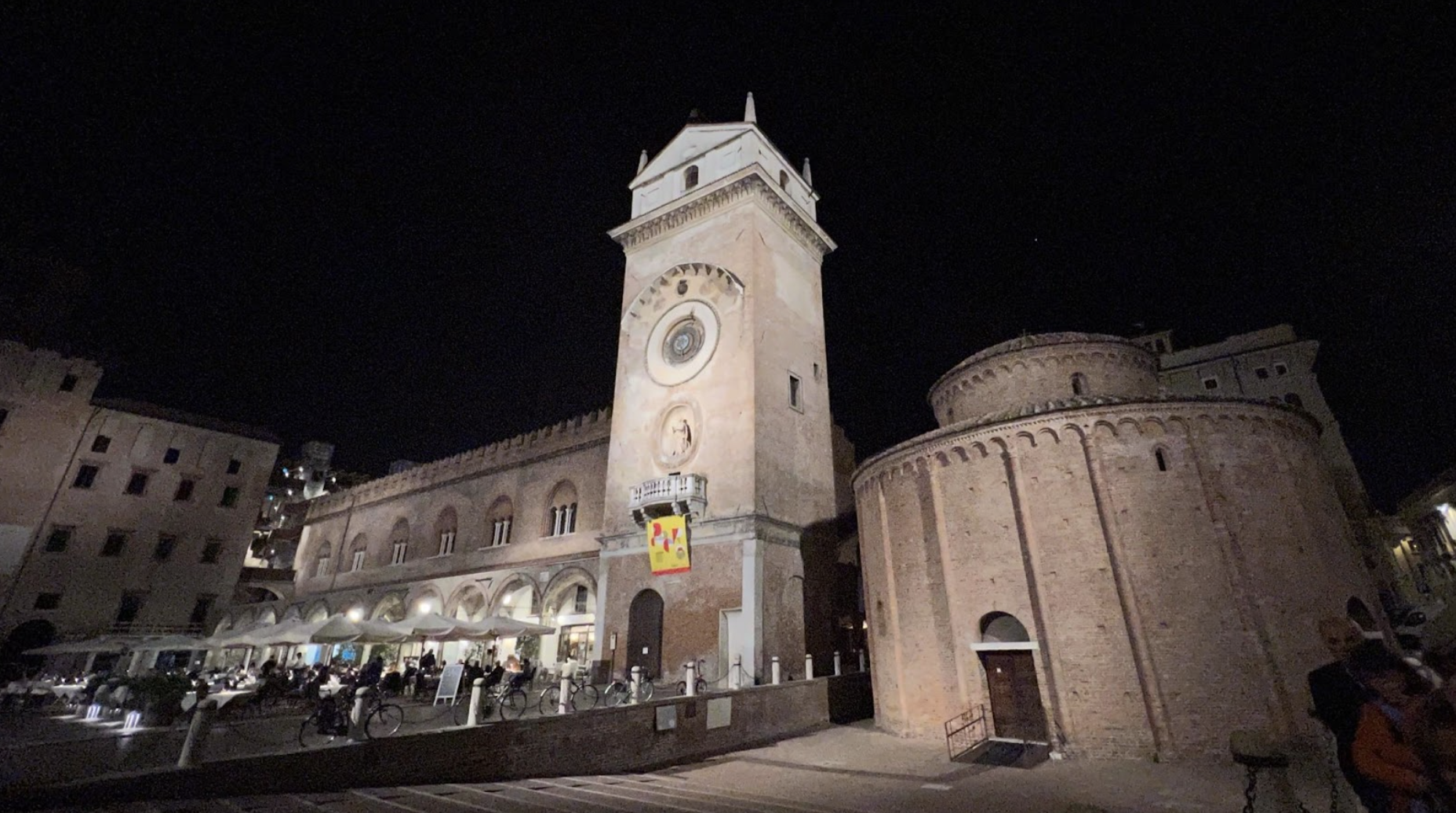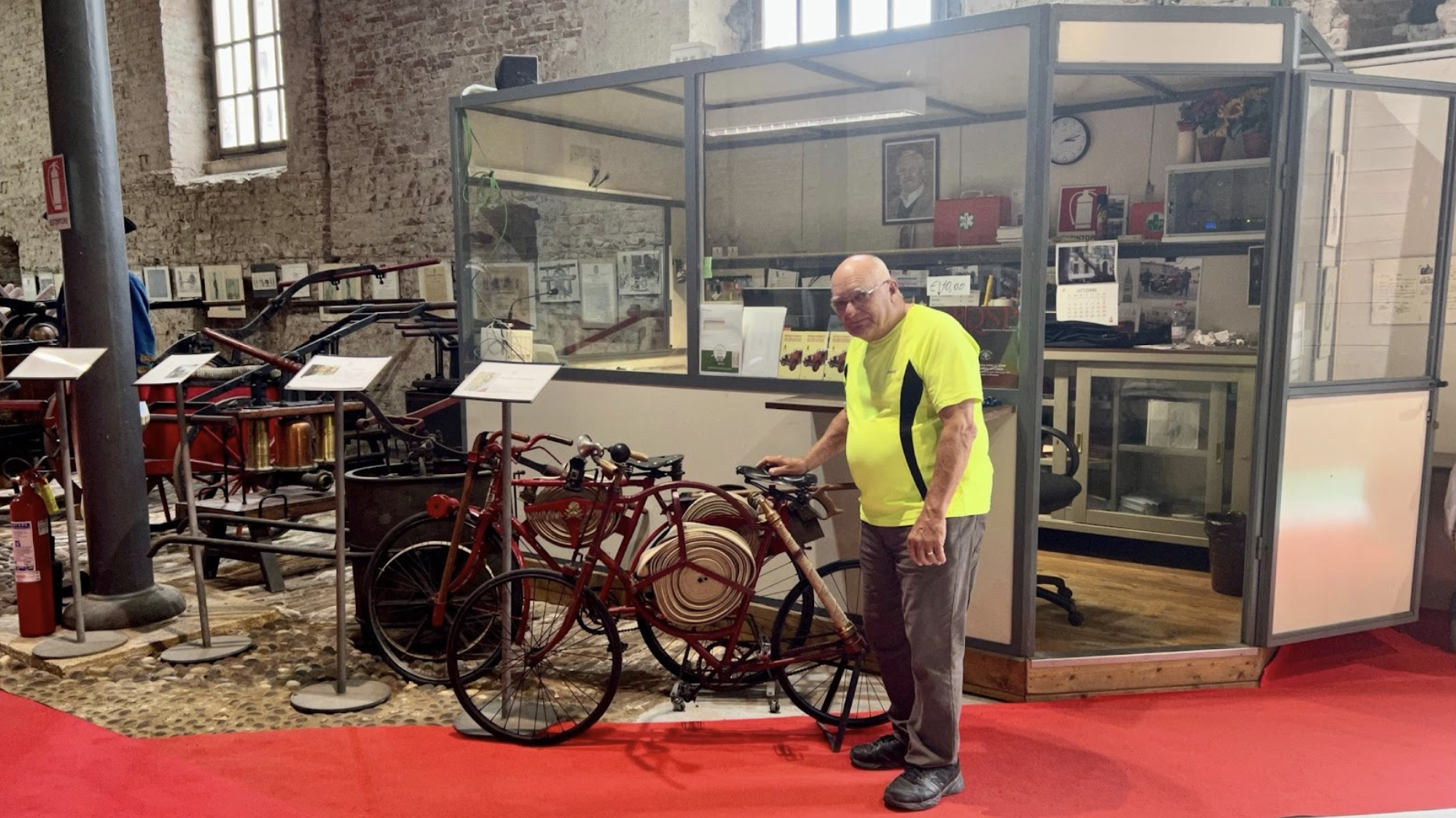 We scheduled an extra night in Mantova so I asked out tour leader for some suggestions for other sights to see. She directed us to several gems, including the Fireman's Museum. Since my dad was a firefighter, that was a must-see for me. They started with firehoses on bicycles and ended with helicopters and machinery used to save residents after floods and earthquakes.
Taste: When you are thinking about Italy, it's hard not to have high expectations for the food. Our chefs were two young Italian men who did not disappoint. We never did have pizza with French Fries on it, but their creativity with dinners made from fresh ingredients they got that day in the towns where we docked and included recipes from their nonas as well as their wild imaginations. Their squash blossom lasagna literally melted in your mouth, and the lemon gelato with pineapple and mint leaves was the best I had in Italy – and I tried a lot of gelato!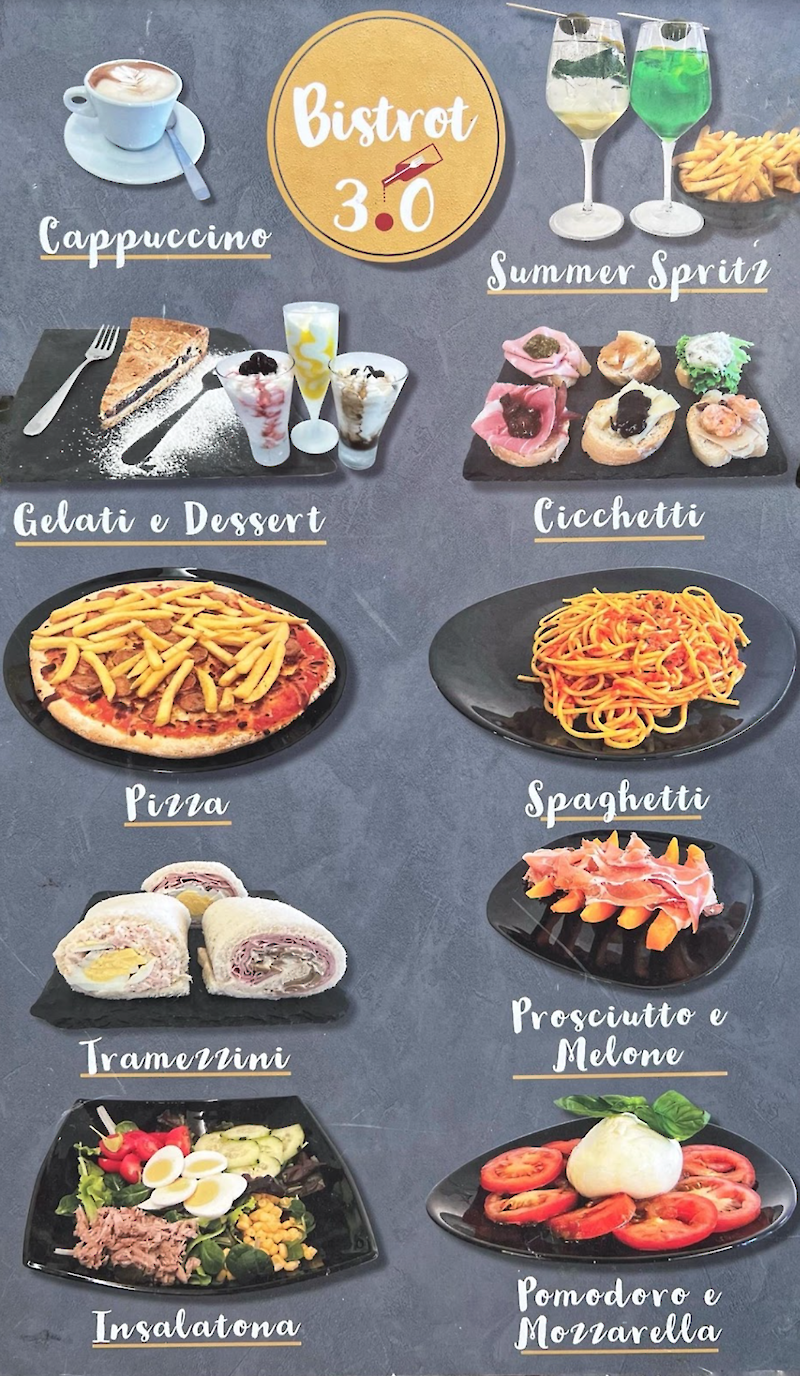 Sound: At the top of my list are the local guides we had in Venice and Mantova who were so honest and interesting about their homes. After our tour of San Marco Piazza, our guide took us down confusing little side streets to see the real Venice, including this mask makers' shop that displayed, along with the tools of their craft, some historical masks including the Plague Doctor's mask in the lower left-hand corner that shows the doctor in his full suit, including the stick he used to touch his patients and the elongated nose that he packed with spices and herbs to protect him from contagion and smells.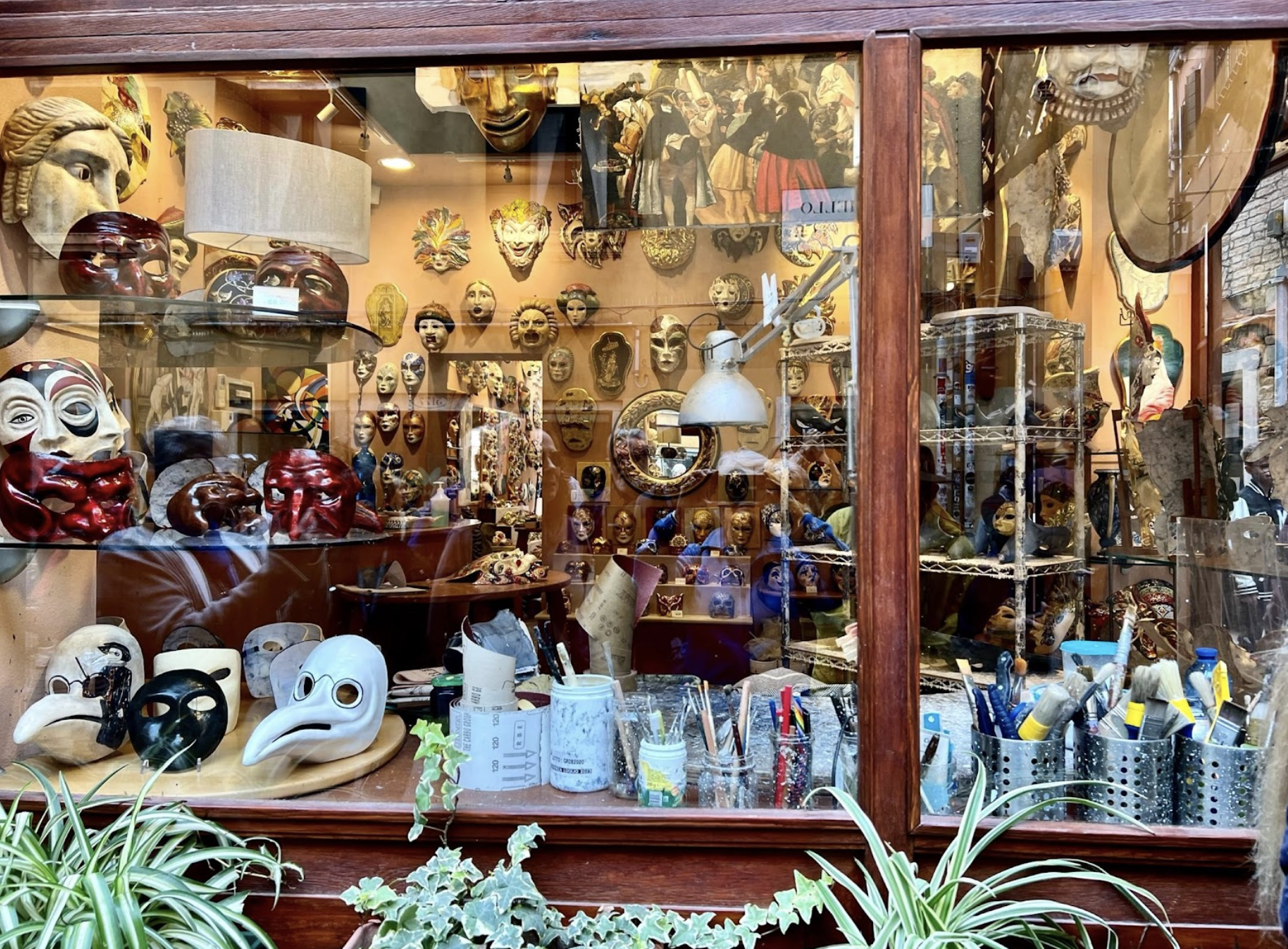 Touch: When you ride a bike for 3-4 hours straight over gravel and old pavement you feel it, padded bike shorts and e-bikes alike! But you also feel the cool morning air on your face at our dock in Zelo.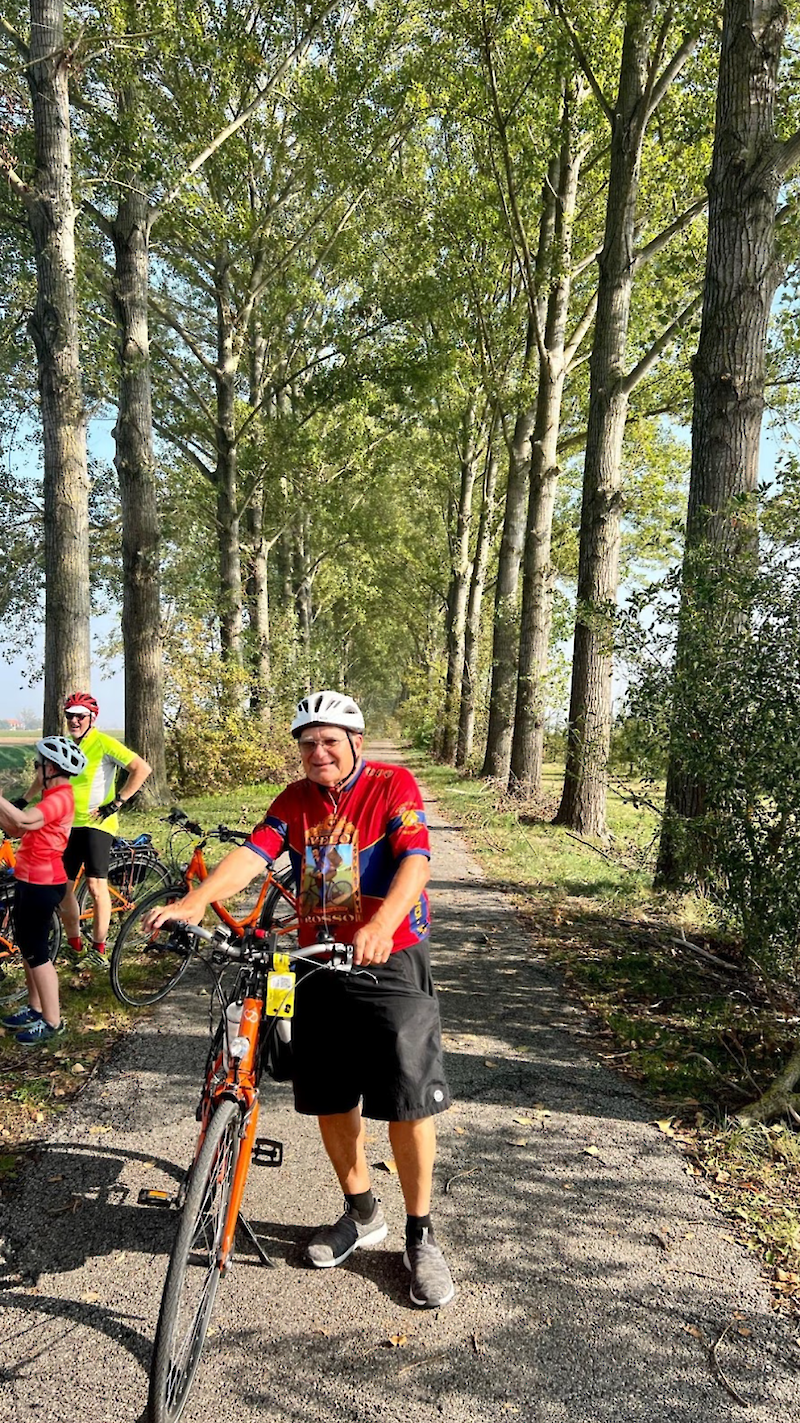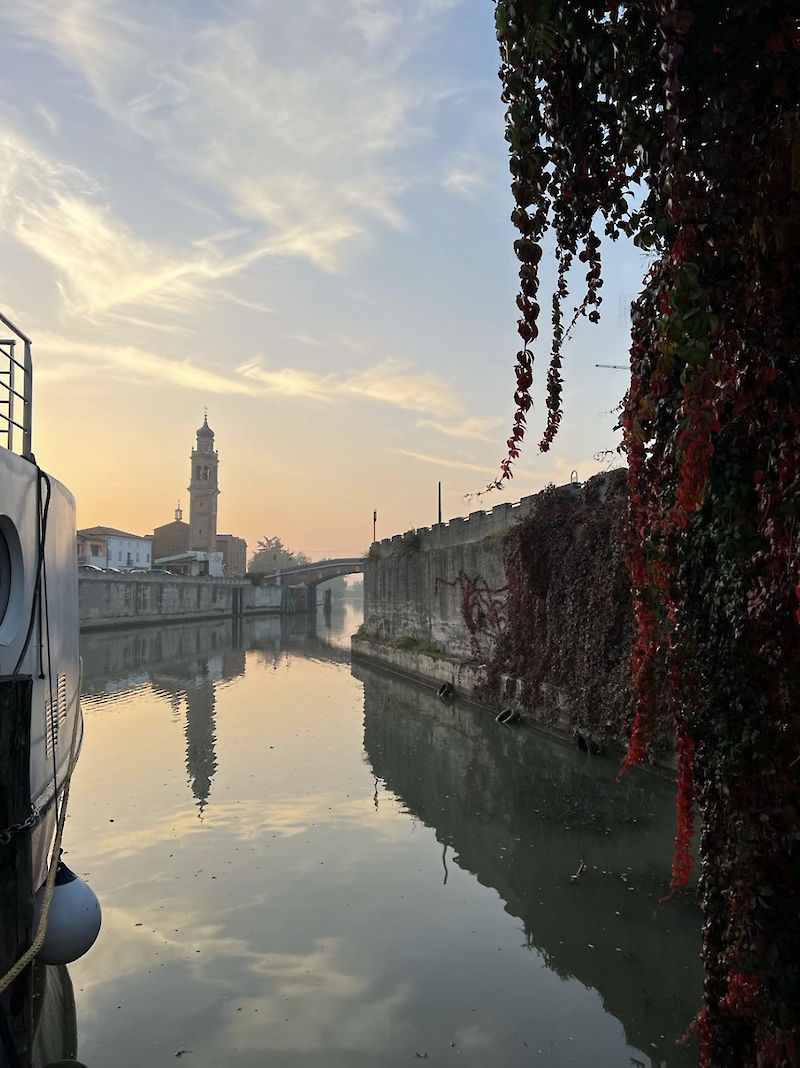 Smell: You could mention the "country fresh" smell of fields being fertilized and plowed for winter, but the standout for me would be the Grana Padano factory in Bergantino. Every day, twice a day, fresh milk is brought into the factory from surrounding farms. The cows are fed a special diet of grains (the Grana in the name) that gives the cheese its grainy texture, high protein content and slightly sweet taste. Then it is processed, formed into wheels and aged for "9 months and a day" before it is inspected. Only those wheels that pass this rigorous inspection can be called Grana Padano. The sight, and smell, of this aged cheese is unforgettable!
Wheels of Grana Padano aging in the factory at Bergantino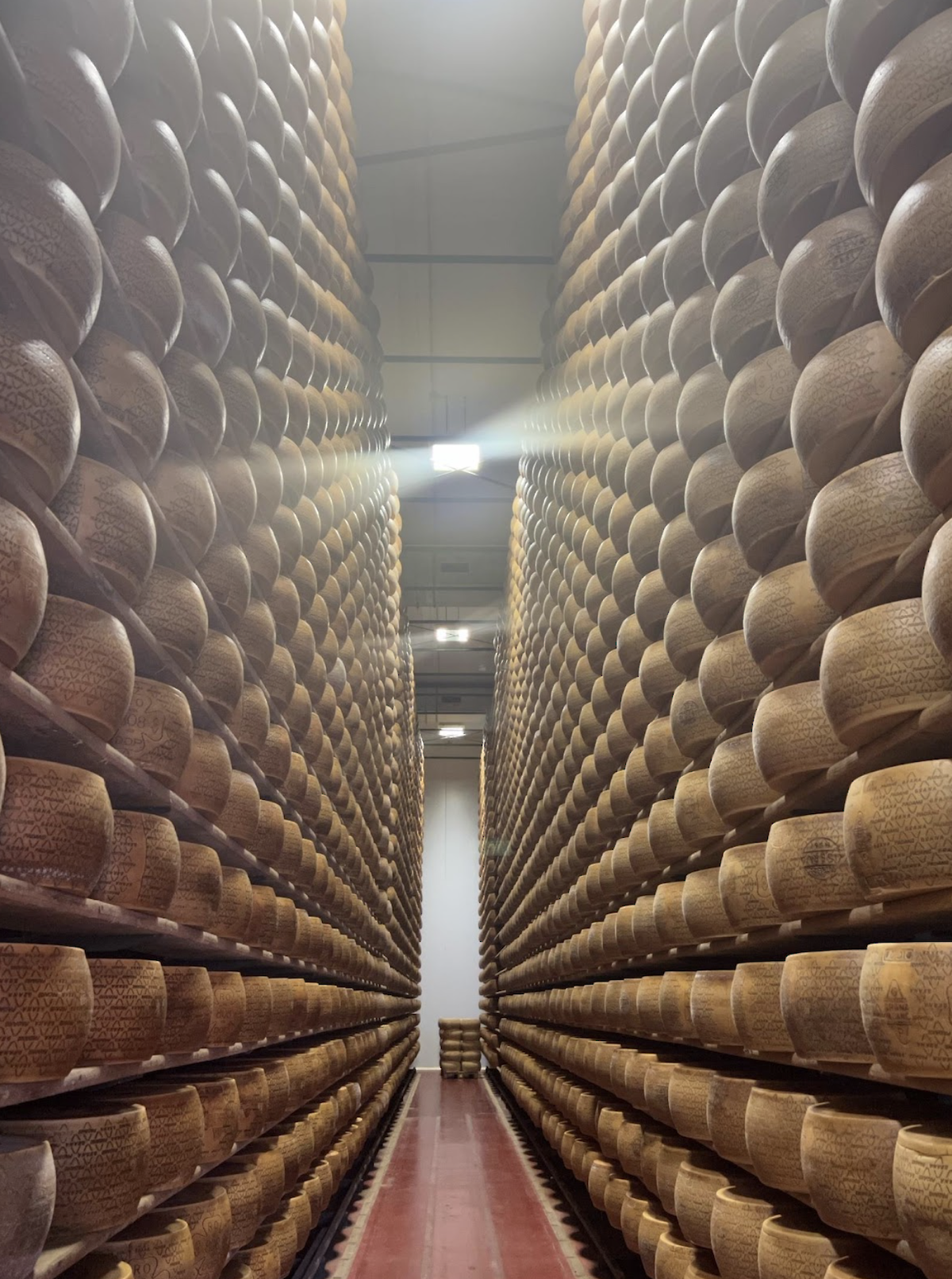 There are two other senses that come into play on a Bike and Barge trip. The first I'll call that "sense of comradery" that develops on the boat. It is our snug harbor after a long day of biking, where they greet us with snacks cleverly made from leftover food from the night before and spritzes to quench our thirst. And there are the old friends we have known that are traveling with us and the new friends we have made on the trip.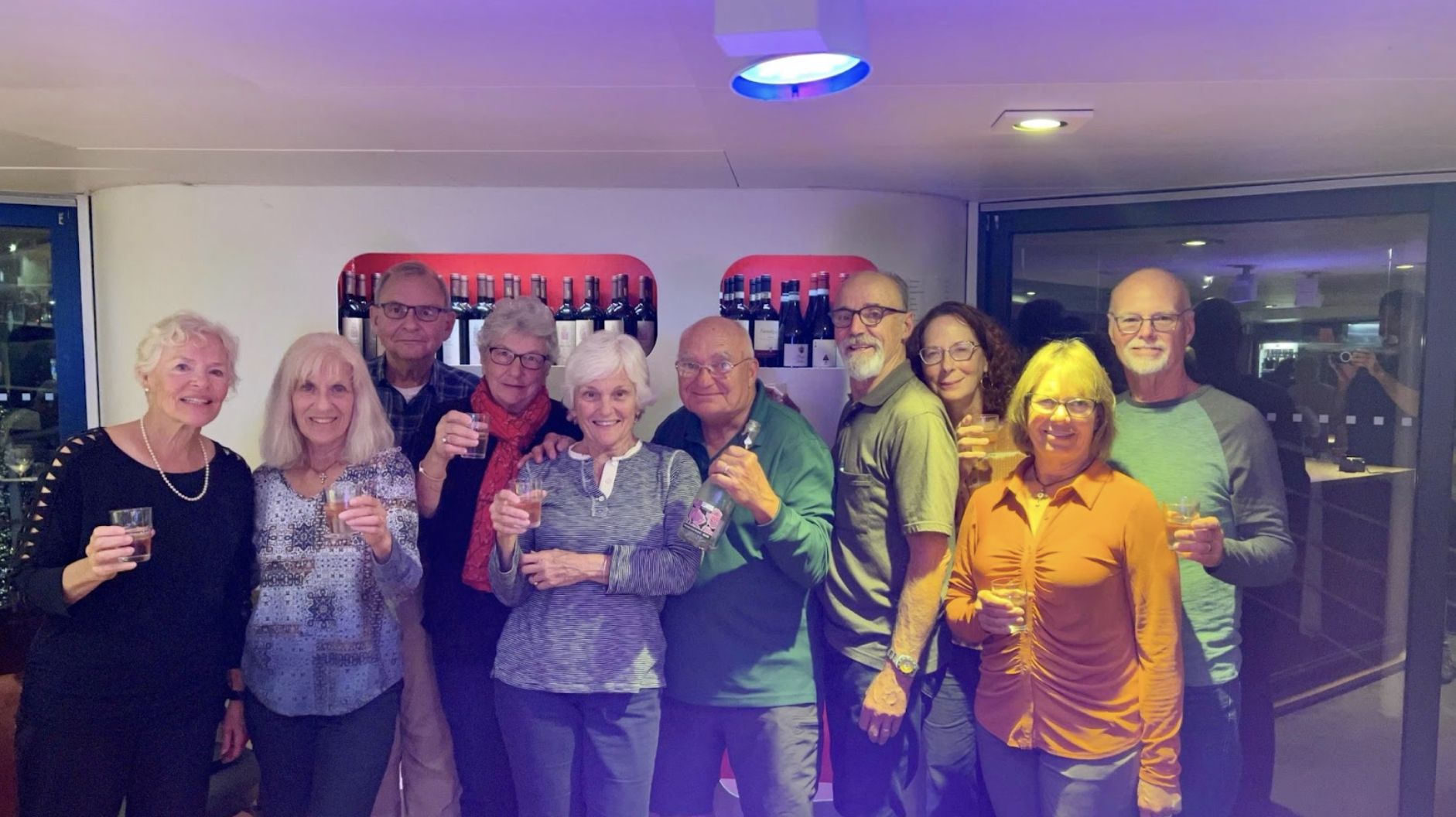 The final sense that I will mention is essential to all types of travel but came in handy more than once on our trip – a sense of humor. We were cycling in a nature preserve. Rich and I were last, as usual, along with our guide Stefania who was serving as sweeper. I was a little crabby, since I hate being last. We came up to a group of local bird watchers who I noticed were taking photos of US. Turns out that they were enjoying Rich's T-shirt he bought in a bar 16 years before on our first trip to Italy. It says "A man without a paunch is like the sky without stars". With Stefania there to translate, we were able to tell them Rich is Italian, from Chicago and his grandmother was from Breganze, near Padua in the Veneto, making him an Alpini or "born in the Alps." What follows is Bepe's reaction and needs no translation. These personal connections are what makes these small group, close to the land trips so special.
| | |
| --- | --- |
| | Written by Linda Nicoli who, along with her husband Rich, has been on 3 Bike and Barge tours. The Nicolis live in Cocoa Beach, FL but spend their summers traveling to see sons in Washington, Wisconsin, and her native Minnesota. They share 4 sons, 9 grandchildren, and have been married for 52 years. |
---
Comments
Post Comment