Czech Republic
Bike + Barge Tours
The Czech Republic is known for its beer, natural springs and of course the gorgeous capital of Prague. Prague was left relatively untouched during WWII so when you bike Prague you'll find many crooked, little, cobbled streets with hidden eateries and shops as well as an abundance of historic architecture.  The city is a popular location for Hollywood movie makers. Prague alone is worth a bike tour, but also intriguing is the lush countryside, and where else can you experience true "Beer Spas"?!  The Czech Republic is rife with amazing scenery and truly unforgettable cycling
Be sure to check out all of our featured bike and boat tours, or our full list of bicycle tours.
Czech Republic

Bike + Barge Tours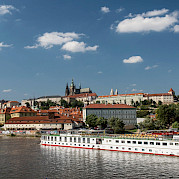 The Elbe River and Prague Czech Republic Saturdays: July 6, July 13, July 20, July 27, August … Come and cycle in the Czech Republic through lush river landscapes, picturesque villages, and romantic castles, immersed in history and architecture that can …
view details
Tour
Bike+Boat
Type
Self Guided
Skill
Easy
Length
8 days
From

€

789
Czech Republic
Boats + Barges
MS Florentina Czech Republic Premium Class Boat The MS Florentina was originally built in 1980 and has been refurbished twice since. It offers a bright, friendly restaurant with bar, lounge, observation saloon with panoramic windows, and a large sun deck with deck chairs for sitting and river watching.
---