Luxembourg
Bike + Barge Tours
Luxembourg is part of the Benelux countries with Belgium and the Netherlands. Its flag is almost identical to the Netherlands except their blue stripe is a lighter shade. They speak 3 languages in Luxembourg: French, German and Luxembourgish. The country is smaller than Rhode Island. They suffered much during World War II with the Battle of the Bulge having been fought in the Ardennes, which make up a large part of the country. Biking Luxembourg is a fascinating way to discover the history and culture of this country.  
If the Benelux is not your thing, view all of our featured bike and boat tours, or our full list of bike trips.
Luxembourg

Bike + Barge Tours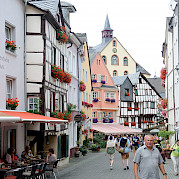 Metz to Cochem or Cochem to Metz France, Luxembourg, Germany 4.8/5 (24 ratings)2019  Metz to Cochem Aboard the Quo Vadis: July 6, … This amazing bike and boat tour offers a biking experience through 3 countries! You will begin biking in France at the confluence of the Moselle and the Seille …
view details
Tour
Bike+Boat
Type
Guided
Skill
Easy
Length
8 days
From

€

1285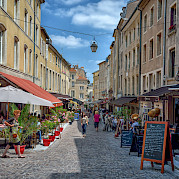 Lorraine Tour France, Germany, Luxembourg 4.5/5 (14 ratings)2019 Dates Wasserbillig to Toul August 24, September … The lovely setting for this bike and boat adventure in France is the green heart of Lorraine, a region of culture and history. The art and architecture in …
view details
Tour
Bike+Boat
Type
Both
Skill
Easy–Moderate
Length
7 days
From

€

939
Luxembourg
Boats + Barges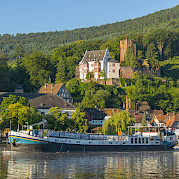 Allure Netherlands, Germany, Luxembourg Comfort Class Boat The Allure is a very comfortable comfort class ship. It has ten, 2-person cabins, each with their own private bathroom.
---