Slovakia
Bike + Barge Tours
Slovakia easily gets forgotten amongst its larger neighbors: Austria, Hungary, the Czech Republic, Poland and Ukraine. However, it is a gorgeous country to see on a bicycle. Nestled against the Carpathian Mountains, a bike tour in Slovakia is full of castles, restored palaces, ruins, and vineyards.  You'll see historical churches in almost every village and town as well as well preserved folk architecture.  Check out all of our bike tours in Slovakia!
If you are looking to bike outside the eastern block, take a look at our featured bike and barge tours, or our full list of bicycle tours.
Slovakia

Bike + Barge Tours
Slovakia
Boats + Barges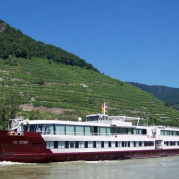 My Story Austria, Hungary, Germany, Slovakia Comfort Plus Class Boat The My Story is a very spacious and traditional ship. The crew aims to satisfy and the ambiance on board is very comfortable and informal. The Sun Deck with its awnings allow you to enjoy the passing scenery. On deck there are both deck chairs and ordinary chairs and tables. The Panorama Restaurant and the Panorama Lounge with its bar provide not only excellent food and drinks, but also a sense of conviviality with old friends and new acquaintances.
MS Normandie Austria, Hungary, Germany, Slovakia Comfort Plus Class Boat Last refurbished in 2011, the MS Normandie has a total of forty-nine 2-bed cabins and two single cabins with one bed. The cabins are equipped with two lower beds, shower / toilet, shampoo and soap, TV, safe, hairdryer, individually controlled air conditioning and panoramic windows. The windows on the upper deck can be opened. The beds during the day turn into sofas. The 1-bed cabins have a lower bed. On the upper deck you will find the cozy Panorama Lounge with bar and on the main deck, a lovely restaurant.
MS Carissma Austria, Germany, Slovakia, Hungary Comfort Plus Class Boat Introducing a new Comfort Plus/Deluxe vessel on the Danube!
---