Spain
Bike + Barge Tours
Our only bike boat tour in Spain takes you through the Baeleric Islands of Mallorca, Cabrera, Ibiza, and Formentera.
Want to see more tours like this?  Check out all of our featured bike and boat tours, or our full list of bicycle tours.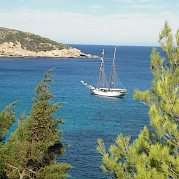 Balearic Islands Spain 4.7/5 (3 ratings)2018 Mallorca to Ibiza: August 26, September … Come experience a bike and boat tour in Spain and explore the best known and most popular group of islands in Europe! The holiday includes an Ibiza bike tour - …
view details
Tour
Bike+Boat
Type
Guided
Skill
Moderate
Length
8 days
From

€

1590
Spain
Boats + Barges
Atlantis Spain Comfort Plus Class Boat This 3-masted sailing vessel was built in 1905 and reconstructed in 2005. The unique charm of the Atlantis is due to the caring maintenance of the owner and his crew who already sailed this vessel around the world. It is always an adventure when the crew sets sail with the help of their guests and when the proud barque begins to move through the water.
---