Vietnam
Bike + Barge Tours
Discover by bike and boat this fascinating and mystical country on the other side of the world.  On a traditional junk, the rocky fairytale world of the famous Ha Long Bay spreads before you. Halong translates as 'where the dragon descends into the sea'.  Legend claims that the dragon descended from the rocky crags and created the islands. What better way to explore this unique landscape then  by bike, boat, and kayak.  Vietnam's color, chaos, and natural beauty underscore its contrasts with bustling cities like Hanoi, a fascinating blend of east and west, and sleepy villages where time has stood still.
Looking for more?  View all of our featured bike and boat tours or our full list of bicycle tours.
Vietnam

Bike + Barge Tours

1

to

1

of

1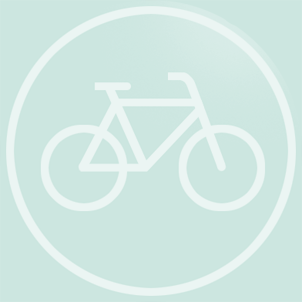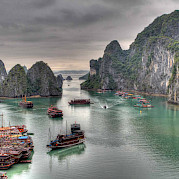 Vietnam Vietnam, Cambodia 4.8/5 (6 reviews)2020 March 15, March 29, April 12, October 25, … This bike and boat tour in Vietnam uncovers the hidden beauty of Eastern Asia, a unique country blessed with astonishing beauty; soaring mountains, magnificent …
view details
Tour
Bike + Boat
Type
Guided
Skill
Easy–Moderate
Length
15 days
From

€

2910
Vietnam
Boats + Barges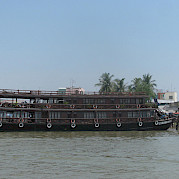 Funan Cruise Vietnam Premium Class Boat The Funan Cruise is one of the largest and most modern ships in the region. Its shape is reminiscent of the vessels of the famous river delta in southern Vietnam. This comfortable wooden boat is protected by the watchful dark eyes of the red dragon painted on the prow. Three times a day, the large common room becomes the dining room with beautifully set tables.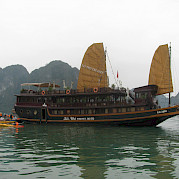 Vietnamese Junks Vietnam Premium Class Boat Carved dragon heads decorate the prow of the Junks in the Ha Long and Bai Tu Bay. Dragons belong to the circle of four sacred animals of Vietnam and they proudly guide the traditional wooden boats through the fairytale cliffs of the South China Sea. It is easy to feel at home on the junks: the saloon with its upholstered wicker furniture and colorful carpets are a comfortable feature of the ship. For each meal, the tables are lovingly set and the folded cloth napkins are a piece of art. The crew, in their brilliant white uniforms, greet you warmly with a welcome drink with the hospitality that is so common Vietnam.
---