Vietnam Bike + Boat Tours
4.9 out of 5 (8 Reviews) Reviews of Vietnam Bike + Boat Tours
Discover by bike and boat this fascinating and mystical country on the other side of the world. On a traditional junk, the rocky fairytale world of the famous Ha Long Bay spreads before you. Halong translates as 'where the dragon descends into the sea'. Legend claims that the dragon descended from the rocky crags and created the islands. What better way to explore this unique landscape then by bike, boat, and kayak. Vietnam's color, chaos, and natural beauty underscore its contrasts with bustling cities like Hanoi, a fascinating blend of east and west, and sleepy villages where time has stood still.
Bike + Boat Tours in Vietnam 1 to 1 of 1
---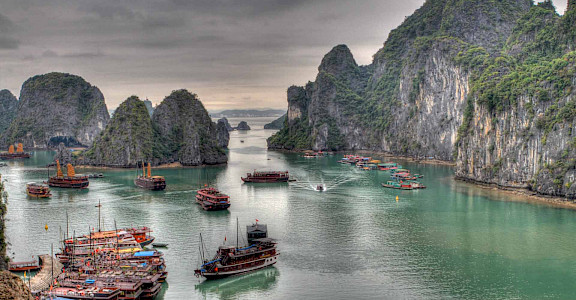 Vietnam & Cambodia
Easy–Moderate Bike + Boat Tour in Vietnam, Cambodia
This bike and boat tour in Eastern Asia uncovers the hidden beauty of Vietnam, a unique country blessed with astonishing beauty; soaring mountains, a magnificent coastline, and pristine waters.