Highlights of the Culture of Holland
Luxury cruise through the culture of North Holland, South Holland, and Utrecht
Cruise through culture, art, history, and much more on this all-inclusive journey through the Dutch provinces of North Holland, South Holland, and Utrecht. There is no better way to experience and understand a country than to travel the waterways of the land. These same canals and rivers were the life-blood of old, both the sustenance and sustainer.

You will gain deep insight into the Dutch culture through the art, museums, churches, ancient towns, markets, and landmarks that make up the lowlands.

As you travel through time, you'll be wined, dined, entertained, and informed by a first-class crew and expert tour guide.

Come to the true Holland, it's people, culture, and cuisine!

Highlights:

Amsterdam, Dordrecht, and Gouda
Rijksmuseum
Saint Bavo's Cathedral
Rembrandt and Leiden
Kinderdijk's windmills, and Zaanse Schans
14th-century Vianen
Gouda
The Green Heart of Holland

We have other cultural cruises in our portfolio. Take a look!

Travel

Fly to Amsterdam Schiphol International Airport (AMS)

Local Travel

From AMS airport, it is just a short train ride to Amsterdam Central Train Station, close to the center where the ship is moored. There is a direct train that leaves 6 times per hour from the airport to Amsterdam Central Station. It takes about 16 minutes. The price for a train ticket Schiphol-Amsterdam Central is € 4,20 per person for a single journey. Sometimes the mooring location is within walking distance or only a short taxi ride away. In your final travel information, we will also provide details regarding public transportation if necessary.

Climate

Yes, it will be cooler from the end of October into November. But, it will also be past normal tourist season, so the throngs will have moved on! Do check local conditions before your arrival and plan on layering. The Netherlands has a temperate maritime climate influenced by the North Sea and Atlantic Ocean. A good website to use to research regional weather including average high/low temperatures, average rainfall, and more is weatherbase.com.

Recommended

It is highly recommended to take advantage of the bicycles on board. On two occasions you will be offered the opportunity for short, easy bike rides to explore the Dutch way. Did you know that Holland has more bikes than people?

Remarks

No premium tour aboard a luxury floating hotel is complete without a world-class chef onboard to wow guests with his culinary creations! Chefs prepare fresh meals every day onboard one of the Magnifique-ships from ingredients that are locally sourced and delivered fresh to the ship each time it docks along its journey. Each meal is themed according to the area you'll be visiting and perfectly paired with the finest wines and best beers to complement their distinctive flavors. Though Dutch, Flemish, and classic French cuisine are favorites, the chefs often surprise guests with Asian dishes or a barbeque on deck manned by none other than the captain himself!

Documents

Before you travel, please check your country's passport and visa requirements and the passport and visa requirements of the country/countries you plan to visit. For US citizens, the US Department of State website is a good source of information. The Country Information tab in the International Travel section provides details about passport validity, blank passport pages required, etc.

*Important note: Beginning July 1, 2021, additional documentation from the European Travel Information and Authorization System (ETIAS) will be required to visit any of the 26 Schengen-member countries for tourism, business, medical, or transit. This is an additional check on security rather than a visa.

---
Where
You'll Stay
Unlike your typical river cruise, your accommodations will be smaller, more intimate, but no less luxurious! Step aboard your vessel, the Magnifique II, and you will immediately feel pampered. The novelty of having a luxury floating hotel room that accompanies you through the canals, rivers, and waterways of Europe is one you will never grow tired of. The entire ship with its spacious private cabins were designed by an expert Dutch shipbuilder and will quickly come to feel like home as you explore Europe by water.
What's
Included
8 days/7 nights
7 breakfasts
4 lunches
6 3-course dinner
Wine with dinner
Coffee and tea on board free of charge
Welcome drink
Daily cleaning of the cabin
Climate-controlled cabin
Daily briefings and lectures by professionals
Fully guided tours
Some short fully guided cycling tours on request
All fees for museums, transportation during tours
Unlimited wifi on board
What's
Not Included
1 dinner in Gouda
2 lunches
Drinks
Gratuities (at your discretion)
Transfers to/from the docking place
Parking fees if needed
Tour
Dates
2021
To be determined
Tour
Boats
Day-To-Day
Itinerary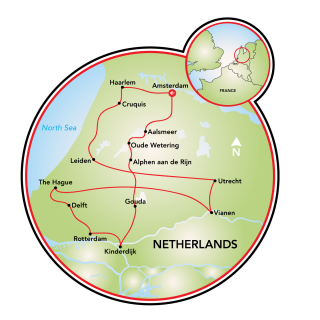 Day 1: Amsterdam
Day 2: Amsterdam – Haarlem
Day 3: Haarlem – Cruquis – Leiden – Utrecht – Vianen
Day 4: Vianen – The Hague Delft – Rotterdam
Day 5: Rotterdam – Kinderdijk – Gouda
Day 6: Gouda – Oude Wetering
Day 7: Oude Wetering – Amsterdam
Day 8: Amsterdam
The planned itinerary is subject to change due to nautical, technical, or meteorological reasons, or other unforeseen circumstances. If there is low or high water and a route cannot be undertaken, the captain reserves the right to change the route in view of your safety. This will not be considered a reason for free cancellation or reimbursement as this will fall under Force Majeure or circumstances or events for which no party can be held accountable.
Day 1: Amsterdam
Your cultural tour of Holland kicks off with a welcome by, and introduction to the crew and your tour guide. After that you will visit the stunning Rijksmuseum of Dutch art and history, where a knowledgeable local guide will show you the best the museum has to offer.
At the end of the afternoon, you'll drift back towards the ship on a canal boat for a bubbly welcome drink, followed by the first dinner aboard.
Day 2: Amsterdam – Haarlem
While you're enjoying a leisurely breakfast, the ship will sail to Haarlem where you'll take a stroll through Haarlem to visit the magnificent Saint Bavo church to hear its famous organ, followed by a guided visit to the Frans Hals museum.
Day 3: Haarlem – Cruquis – Leiden – Utrecht – Vianen
After breakfast, you will board a bus to the Cruquius museum of water management. After that, the bus will take you to Leiden center, the birthplace of Rembrandt and home to the oldest university of the Netherlands.
After lunch, you can rest your feet on the bus while it rolls through the 'Green Heart' of Holland. The Magnifique II awaits you in Utrecht, and from there you'll sail to the port just outside the fourteenth-century fortified town of Vianen.
Day 4: Vianen – The Hague Delft – Rotterdam
From Vianen, the bus departs for The Hague. A walking tour of the inner city leads to the beautiful museum villa, The Mauritshuis, where you'll see Vermeer's "Girl With a Pearl Earring."
After lunch, the bus transports to Delft where you'll walk to the Candelaer, a small factory where the famous Delft Blue pottery is made. It is then on to  Rotterdam, where the ship is docked for dinner on board.
Day 5: Rotterdam – Kinderdijk – Gouda
You begin day five in the village of Kinderdijk visiting the nineteen beautiful old windmills that were built over 300 years ago to pump water out of the surrounding lowlands. Lunch will  be served aboard the Magnifique as it continues its journey to Gouda. You may explore the quaint town of Gouda on foot or by bike. And of course, a cheese tasting is part of the excursion!

Day 6: Gouda – Oude Wetering
You will visit Gouda's Market square, after which a guide will show you around the 123 majestic meter-long Saint Jan's church with its 72 stained glass windows, depicting many biblical and historical scenes.
At the town of Alphen aan den Rijn, you can either stay on the ship and sail to Oudewetering or, if you're feeling adventurous, you can continue your journey the Dutch way and ride the twenty kilometers there on a bicycle (highly recommended!).
Day 7: Oude Wetering – Amsterdam
After a light, early breakfast, a bus takes you to the world's biggest flower auction in the town of Aalsmeer. On returning to the ship, you can enjoy a second breakfast while sailing to Amsterdam. We'll then visit "THIS IS HOLLAND", which uses the latest technology to let you experience what it's like to fly across the country.
Farewell dinner on the boat during which you can celebrate new friends and memories the many happy memories!
Day 8: Amsterdam
End of tour. Disembarkation begins after breakfast.
Email or Call 800-951-4384 +1 570-965-2064
---
Highlights of the Culture of Holland
Boats + Barges
Magnifique II Belgium, Netherlands Deluxe Class Boat In 2016, we saw the launch of a new premium barge, the Magnifique II, to wonderful reviews. The ship boasts a classical style with emphasis on superior comfort. Highlights of the barge include 4 upper deck suites, with cozy seating area, and lovely large panoramic windows. This ship has earned the premium designation!