5

/

5

(

3

reviews)
Merlijn's Magical Christmas Cruise in Germany
Christmas Markets in Germany the old world way
Your bikes are put away for the winter and the holidays approach. You are not ready to hibernate just yet! May we suggest a Christmas Market Cruise?

Expect magical!
Welcome to your small boat experience as you celebrate Christmas the old world way and cruise the traditional Christmas markets in Germany. This is where it all began.

Expect mystical!
This is a wonderful time of year to visit Germany. As the cold, dark days of winter take hold, and sun-drenched summer travel and active adventures are just a memory, all of Germany begins to sparkle as the Weihnachtsmarkt (Christmas markets) set up and take over. It is like stepping into a childhood fantasy.

Expect festive!
Everyone participates and the towns and cities take on a fairy-tale-like glow and twinkle.

Expect enchantment!
There's nothing in the world quite like the holiday season in Germany. Half-timbered houses all decked out for the holidays, stately cathedrals iced with snow, the old market squares twinkling in the winter evenings...and of course, spicy gingerbread cookies and hot mulled wine.

Highlights:

Small and cozy boat atmosphere (unlike the traditional Christmas cruises on very large river cruisers)
Focus on smaller, less crowded markets, away from the throngs
All the magic of the marketplaces: nativities, carved nutcrackers, arts, and crafts
Food! Gebrannte Mandeln (candied, toasted almonds), traditional Christmas cookies such as Lebkuchen and Magenbrot (both forms of soft gingerbread), and Bratwurst
Hot mulled wine! or Glühwein, (with or without a shot of brandy), or Eierpunsch (an egg-based warm alcoholic drink)

2020

Twin/double: $ 1746 £ 864 $ 1,509 € 945 $ 1782 kr 10651 $ 1,076

Single supplement (on request): $ 739 £ 366 $ 639 € 400 $ 754 kr 4508 $ 456

2021

Twin/double: $ 1838 £ 910 $ 1,589 € 995 $ 1876 kr 11215 $ 1,133

Single supplement, on request.  
 

please

note

Rates are per person based on double occupancy.

A non-refundable admin fee of 20 Euros per person is included in the deposit amount.

Information to read before you book.

We recommend purchasing bike trip insurance.

† Currency exchange rate set 90 days before travel.

Travel

Please do not make any air travel arrangements until you have been officially confirmed. Official confirmation will be based on the minimum number of participants being reached. We can provisionally confirm you and will update your status accordingly. The closest international airport to your tour start in Düsseldorf and tour end in Münster is Düsseldorf International Airport (DUS).

Local Travel

Düsseldorf International Airport (DUS) is located 7 km north from downtown Düsseldorf. The airport is well connected by public transportation. Within the airport, you will find two train stations.
More than 350 trains, from the S-Bahn to the ICE, arrive and depart daily from the Düsseldorf Flughafen station located at the eastern end of the airport, connected to the terminals by SkyTrain. In addition, Düsseldorf Airport has an S-Bahn station, known as the Düsseldorf Airport Terminal. This is below Terminal C and can be reached from the arrivals area via a moving walkway. To research train travel from the airport to the center of Düsseldorf and from Münster back to the airport, the German site Bahn.com is a good resource.

Climate

By December, temperatures in Germany officially begin to look like winter. Average lows in the country dip to -3 º C (27 º F) with average highs barely peeking into the pluses at 5ºC (41° F). Plan on layering!

Remarks

Munster is a great city to extend your holiday in Germany!

Documents

Before you travel, please check your country's passport and visa requirements and the passport and visa requirements of the country/countries you plan to visit. For US citizens, the US Department of State website is a good source of information. The Country Information tab in the International Travel section provides details about passport validity, blank passport pages required, etc. For our other international clients, please be sure that you research your own country's travel requirements. It is each traveler's responsibility to ensure proper documentation.

*Important note: Beginning July 1, 2021, additional documentation from the European Travel Information and Authorization System (ETIAS) will be required to visit any of the 26 Schengen-member countries for tourism, business, medical, or transit. This is an additional check on security rather than a visa.

Life on Board

In the mornings, the boat will begin to navigate during breakfast between 8 - 9 am.
Lunch will be served around 1 to 2 pm.
Dinner will take place generally at 6 or 6:30 pm

The Christmas markets are open until 10 pm.

 

---
Tour
Dates
2020 
Düsseldorf - Münster: December 2, 2020
Münster - Düsseldorf: December 6, 2020
2021 
Düsseldorf - Münster: December 2, 2021
Münster - Düsseldorf: December 6, 2021
Please note that a minimum number of 14 is required to confirm a departure. Once you reserve, if the minimum has not been met, we will provisionally confirm you and keep you fully informed of the status of the departure.
Where
You'll Stay
On board the deluxe vessel, the Merlijn. The Merlijn is always dressed up in her finest but imagine this beauty decked out for the holiday. Nobody will come away feeling anything less than festive!
What's
Included
4 nights accommodations on board in a double/twin room with private bathroom
Daily cabin cleaning service
Welcome drink
4 breakfast buffets, 3 two-course lunches, and 3 three-course dinners
Coffee, tea, & water, self-service.
Excursion to Landschaftspark
Service of tour guide
Guided city tour in Munster; by local guide
What's
Not Included
1 dinner
All beverages
Entrance fees, excursions other than mentioned as 'inclusive'
Gratuities
Extra
Stay
Since this is a mini-cruise of 5 days, we recommend that you explore extending your Christmas Market experience!
Day-To-Day
Itinerary
Day 1: Düsseldorf
Day 2: Düsseldorf – Oberhausen
Day 3: Oberhausen – Dortmund
Day 4: Dortmund – Münster
Day 5. Münster

 The itinerary is subject to change due to unforeseen circumstances such as inclement weather, lock repairs, and mooring requirements.
Day 1: Düsseldorf
You will be welcomed on board starting at 3:30 pm. The crew will assist you with check-in. Around 5 pm your captain and host will offer you a welcome drink, introduce the crew, and educate you regarding the ship, your home for the next few days, and safety. In the evening, after dinner, you can stroll to several Christmas markets in 'der Altstadt'. Well known is the market on the 'Engelchen-markt' (angels market) or 'Heinrich-Heine-platz'. To warm yourself up, you can drink a traditional 'gluhwein' (hot wine) or visit the longest bar in the world! Overnight in Düsseldorf.
Day 2:  Düsseldorf – Oberhausen
Before breakfast, you can enjoy a morning walk over the boulevard, along the Rhine. The Merlijn will depart during breakfast and sail the mighty river downstream towards Duisburg where you will enter the German channel, the 'Rhein-Herne-kanal'. As the ship navigates, you can relax in the lounge, fully decked out for the holidays. After your first lunch on board, you will arrive in Oberhausen. Here your included excursion to the industrial 'Landschaftspark" will start, which is a nice variation to all the Christmas things! After the last coal mine was closed in 1985, the steel factories were closed and mostly dismantled. Nowadays this area is an acknowledged UNESCO world heritage site. The park was designed in 1991 by Peter Latz, who wanted to emphasize understanding the industrial past, rather than trying to reject it. You will enjoy a 2 hour guided tour through an old steel factory, where you will follow the way of Iron ore until steel. 
In the eveningyou can visit the Christmas market from Oberhausen,an old tradition in a new style. One of Europe'slargest shopping malls 'CentrO' is converted into a Christmas heaven, with trees, Santas, and lights everywhere!
Day 3: Oberhausen – Dortmund
Today starts with a sailing breakfast which is always a very relaxing way to begin your day.  You will enjoy a lunch prepared by the chef on board and by the afternoon, you will arrive in Dortmund. A local guide will be waiting for the group to show you around this beautiful old city. During this excursion, you can already look for your favorite restaurant, because this evening you can taste the local cuisine while eating out. Or perhaps you prefer to sample all the local delicacies while you visit one of Dortmund Christmas markets with the largest Christmas tree in Germany.
Day 4: Dortmund – Münster
Enjoy your warm morning coffee on the sunny aft lounge-seats or on the spacious front terrace while cruising, don't forget to wear your winter jacket it might be cold! After breakfast, you spend
your last morning onboard. The captain steers the ship through the 'Dortmund-Eems-kanal'. Along this channel, we will see more nature and some architectural highlights from hydraulic engineering. The ship will arrive in Münster after lunch where a local guide is waiting to walk you through the city. This is a tour that you don't want to miss! Before diner there is
still plenty of time to stroll through the large but cosy Christmas market and buy your last
souvenirs.
The captain's dinner is held this evening. This is an old tradition on ships where the captain would share the best products that he had with everybody on board.
Day 5. Münster
After a delicious breakfast, your tour officially comes to an end. We hope that you have planned onward travel in Germany (perhaps Berlin for the Christmas market there or elsewhere in Europe as 5 days might not be enough!
Email or Call 800-951-4384 +1 570-965-2064
---
Merlijn's Magical Christmas Cruise in Germany
Boats + Barges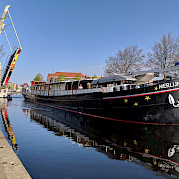 Merlijn Germany, Netherlands Deluxe Class Boat "The Divine Miss M" as we lovingly call the Merlijn is a diva, for sure. What can we say? Is it the luxurious cabins with most comfortable beds you have ever slept in? Is it the lovely dining area with the large windows and skylight that let the air, light, and sun pour in? Or perhaps it is the sun deck, where you can relax with newfound friends, sharing good wine and good conversation. We think you will find it is the entire divine package! Step onboard and discover for yourself!