By Gina Friedlander • November 13, 2017
The Anti-Cruise Cruise
A bike and barge holiday is the polar opposite of a cruise ship vacation. While on a mega-sized ship, you see the world from the top down, high above the water and leagues from the shore. The luxury and size of the ship insulate you from your environment. It's rather like watching the world from a super-sized, super formatted, flat screen TV.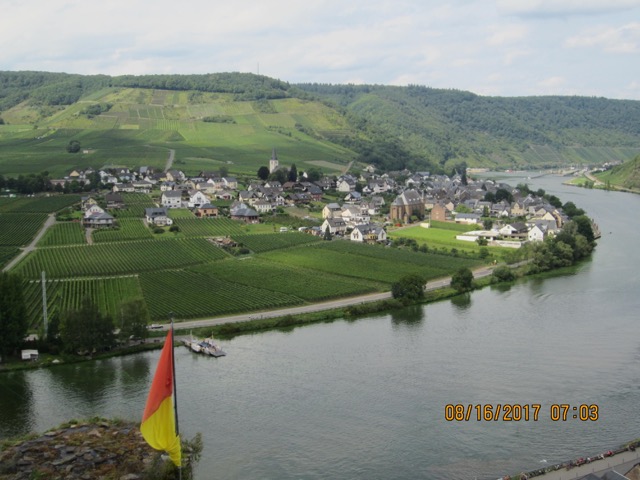 On the beautiful Mosel River
Not so on a barge. A barge is so close to the water that you can almost reach down and touch it. With only 22 or so fellow passengers, you develop a camaraderie that you just can't on a bigger vessel. And traveling by bike is in many ways superior to going by bus or van or driving. It allows you to see, smell and feel your surroundings up close. You can smell the lavender as well as the horse manure, feel the wind on your back and in your face, hear the church bells and the thrum of distant airplanes, and reflect on life at a slower pace while pedaling briskly.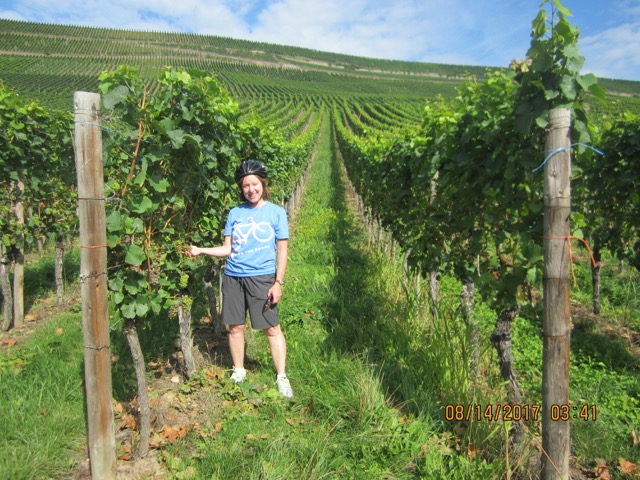 We always found time to relax amonst the vineyards
Last August, I, along with my long-time friend, embarked on a bike and barge to an area of Europe that could be called "the road less traveled." After some research and much debate, we settled on the Metz to Mainz excursion. The only problem with our choice was that when friends asked where I was going on vacation, it took a lot of time to explain how the whole operation worked. My response was usually met with blank stares. First, I had to explain what a barge was (at least in terms of a ship you'd want to travel on) and how the whole biking thing worked. All asked how many miles we would be traveling and I'd say about 20 to 25 miles per day, although honestly I wasn't sure and was tempted to exaggerate.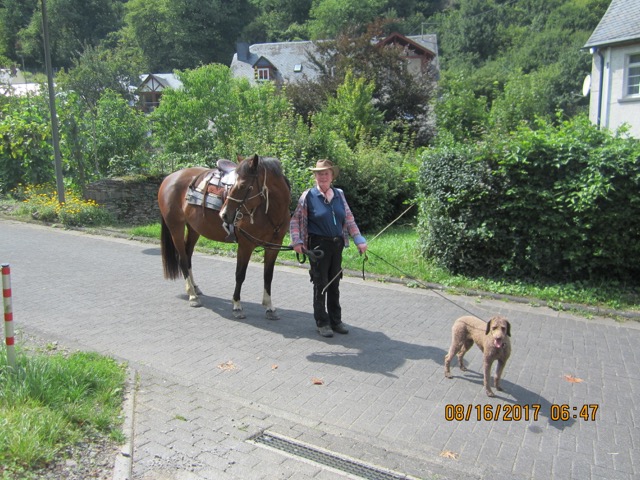 Do you know the way to Burg Metternich Castle?
Then they would want to know where we were going and that took even more effort. When I said "from Metz to Mainz," (enjoying the alliteration), I would be met with blank stares. To add to the fun, I would then reel off some of the other stops on our itinerary –Trier, Cochem, Remich, Koblenz all on the Mosel River – which only added to their bewilderment. I must admit that the naughty in me began to enjoy the novelty of my upcoming trip. Taking pity, I would finally throw in the Rhine River and say "not far from Frankfort" and that usually did the trick. They naturally would assume that I was an expert on Franco- German territory, but in reality I, too, was totally clueless about all of these places before embarking on this trip. All I knew for sure was that we would be visiting parts of France, Luxembourg and Germany in just seven days and would never need to ask for directions the whole time.
Because I had no preconceived notions of where the route would be taking us, I found the trip even more satisfying. Despite the relative obscurity of the sites we visited, we learned the area was rich in historically noteworthy areas. Because they weren't among the more popular touristy sites and perhaps a little harder to get to, the cities and villages were less crowded with tourists but locals were abundant.
Our adventure began when Jantein, our hostess and co-owner of the barge, welcomed us to her home, the Merlijn. When a boat has a name, it automatically becomes more than a mode of transportation – it turns into a living, breathing organism. Jantein clearly took great pride and pleasure in explaining how the boat worked. Our room was small but extremely clean and cleverly organized. In the tight quarters of a barge, we learned, everything has to be well positioned. We were also on a first-name basis with Henk, our captain. We immediately felt at home on our vessel that served as both hotel and transportation.



Even the nuclear towers appeard scenic
Each day held some surprises. Our first surprise came early on. Arriving early to the Merlijn, Sharon and I set out on our own to have an early lunch and explore the town of Metz. There were so many restaurants to choose from, it was difficult to choose one. Ordering the local Riesling wine, we giddily made a toast to the new adventure awaiting us. Among the interesting buildings we looked into before the official start of our cruise was the Metz Cathedral with its impressive architecture, similar to Notre Dame, and beautiful stained glass windows including out-of-place Marc Chagall works.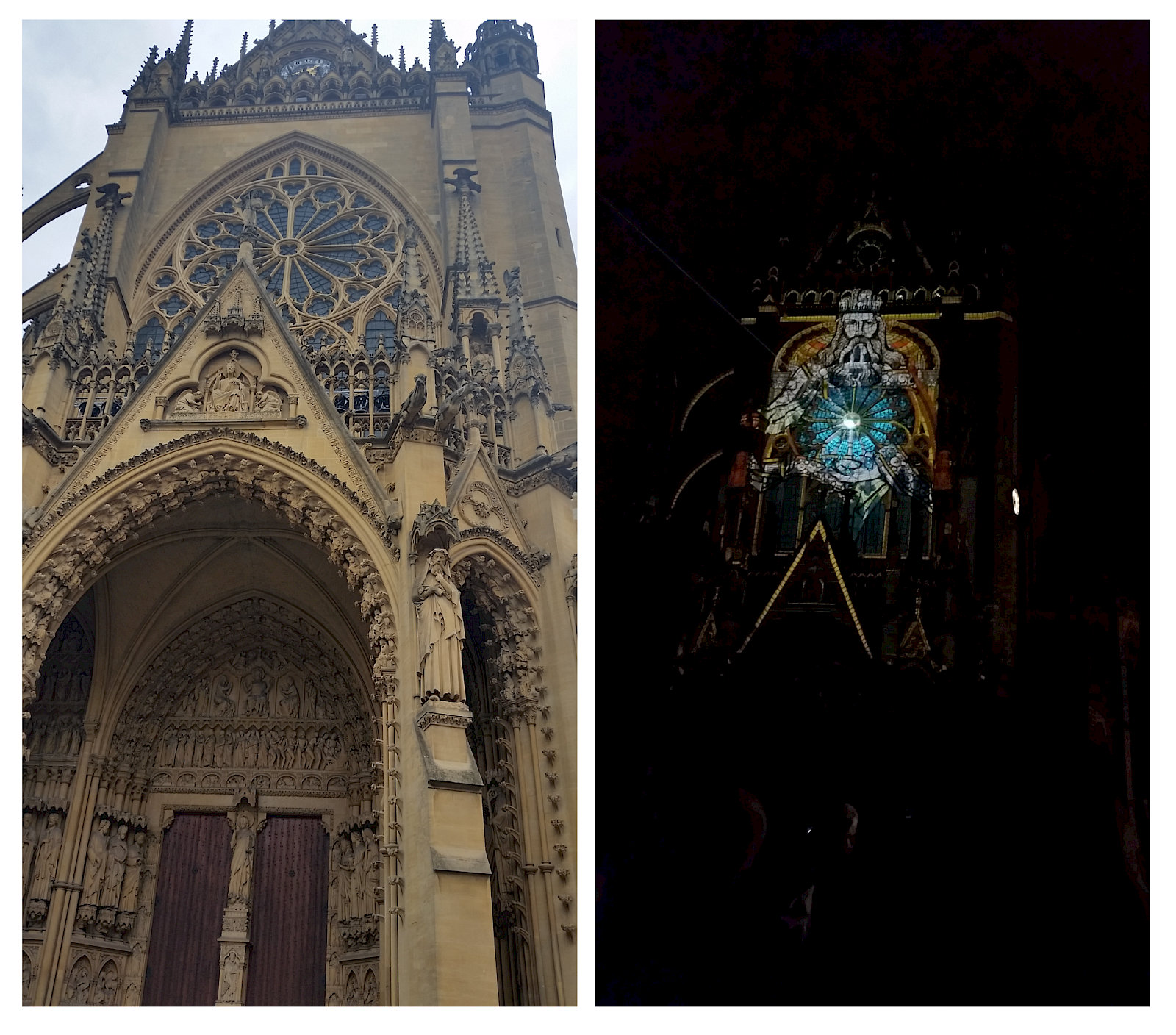 Mosel Catherdral by day and by night

We noticed several posters advertising a Light Show to take place that evening.
After our first dinner aboard the Merlijn, several of us trekked to the village of Metz to view the local light show. I wasn't expecting much given the tacky look of the posters featuring an astronaut. At 10:30pm, we stood alongside hundreds of locals awaiting the show. How to describe? It took my breath away. Using the best of modern technology the lasers transformed the chapel into a kinetic, Disneyesque video. The building shuddered, images fluttering, spiraling, rising up and cascading down. It was like viewing a work of art that becomes alive. The old becomes older, then sinister, then confusing, stern and then playful, exuberant and yet unsure. How could this be the same static building we had visited earlier? Several of us stayed for the next performance, trying to catch what we missed. And that was just Day One. France.
Trier was our first dock in Germany, but we may as well have been in Italy. We saw an ancient city-gate, Porta Nigra, built by the Romans but in the subsequent years undergoing numerous transitions as different rulers came into power. Filling with UNESCO designations, Trier was a treasure trove of not-to-be-missed sites. The most impressive were the Cathedral and Liebfrauenkirche, two amazing churches so close to each other that you could almost touch both at the same time and yet completely different in terms of architecture and emotion.


Trier Cathedral
There were more surprises as the week wore on, castles, extremely steep vineyards, odd shrines to the grape, charming marketplaces, beer gardens and city squares, a cable car ride, and the palace of a questionable count and countess.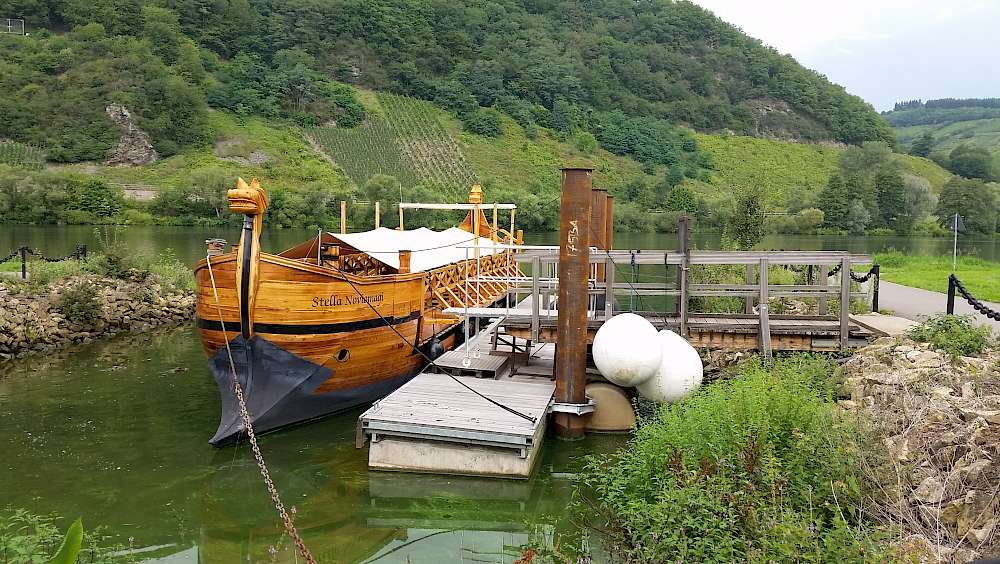 The Stella Noviomagi, a wooden ship based on ancient vessels that carried wine and was propelled by rowers. So glad our barge had an engine!
The Merlijn itself offered interesting insights. We went through numerous locks on the Mosel. We all gathered to watch as the boat slowly sunk down until all we could see were bricks and stones until the gates opened and on we went. Our cultural immersion including dishes served by Jantein, who prepared meals based on local cuisines and not found in typical restaurants paired with carefully selected regional wines. Almost as interesting as the boat were our 21 fellow cyclist-tourists. Among our ranks were Australians, South Africans, Mexicans and a few Americans. We had a Mexican yoga instructor, an Aussie who had just completed 600 miles of cycling through the Pyrenees, a physician pedaling with a boot, and a lawyer who had us in fits with his impersonations of German campers upset by cyclists trespassing on their turf. Not to mention our habitually unruffled tour guide, Felix, who spoke six languages and knew the best spots for wine tasting.

Our fun-loving group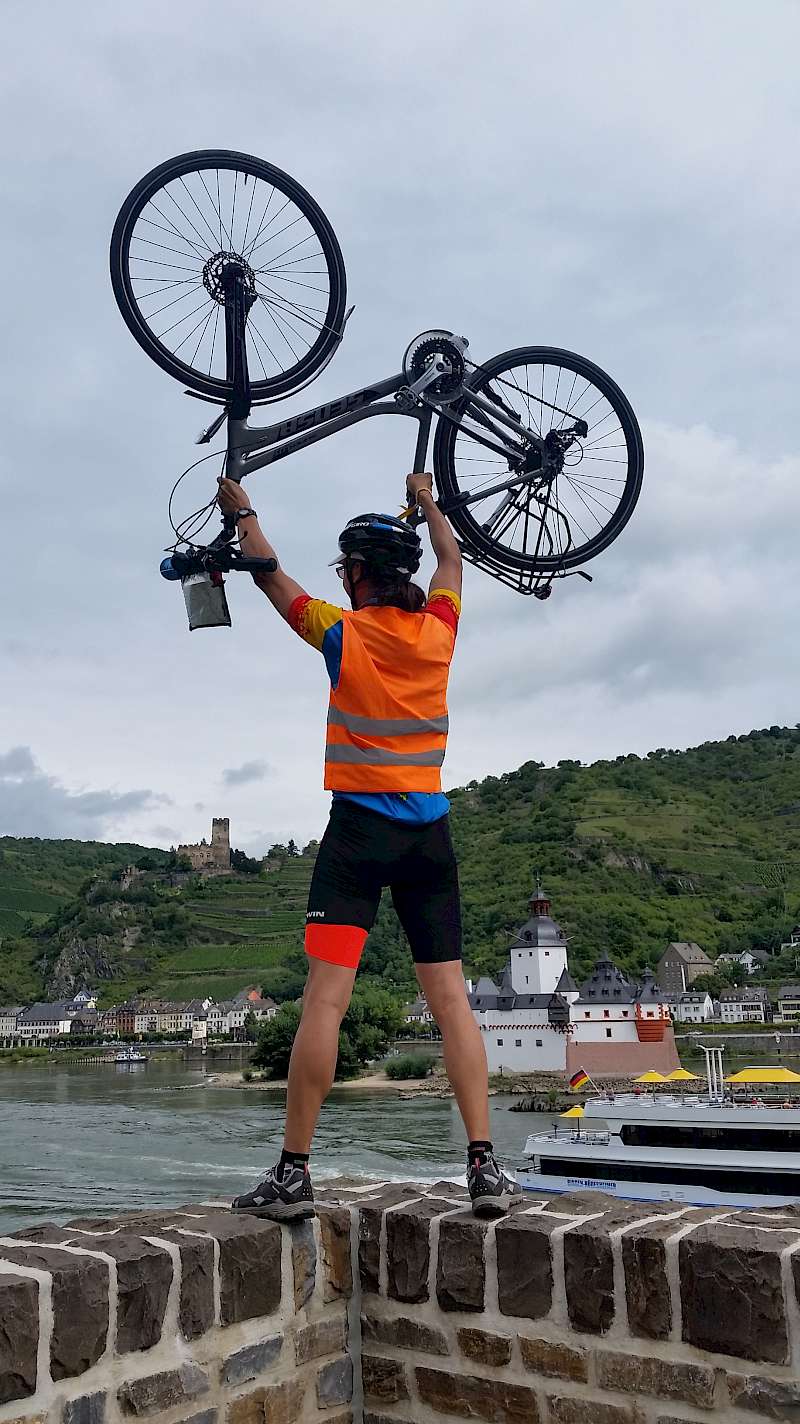 One of Felix's many duties
Revealing too many surprises might dilute the impact for future travelers so I'll close with just one more. As we were strolling back to our boat one evening in Cochem, we heard the voices of men singing in harmony.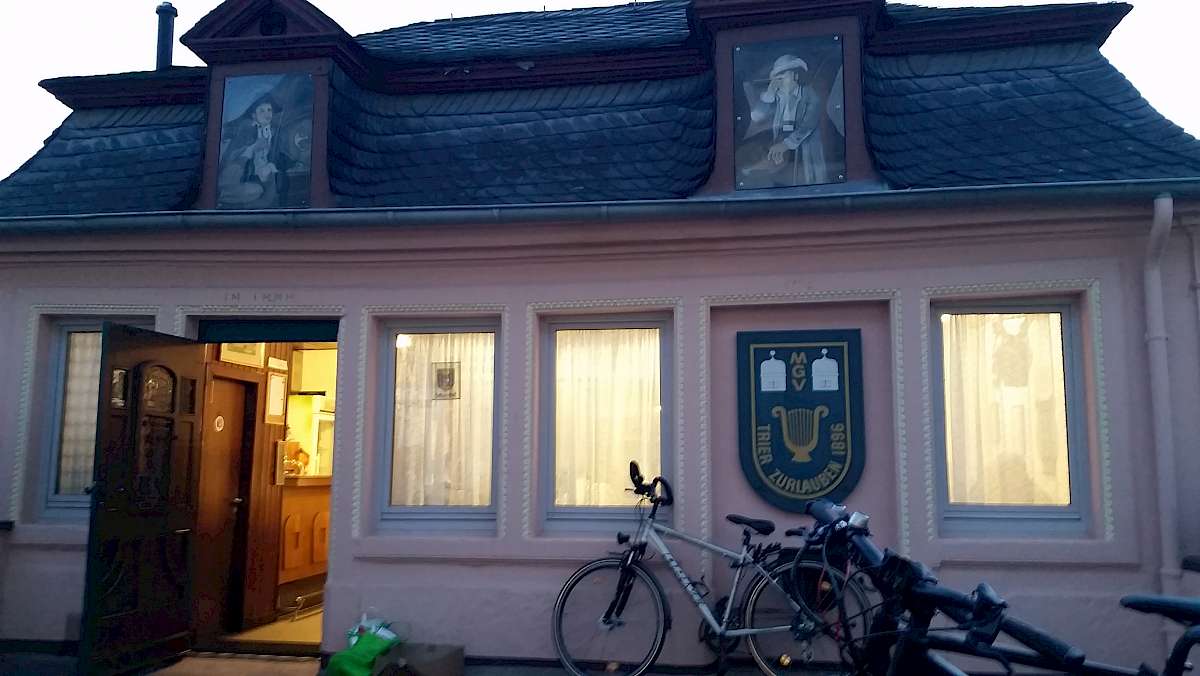 A glee club beckoned us
We stopped and were beckoned inside where we listened to about a dozen local singers enjoying a night of singing and drinking at a local community house. There we basked in the very German concept of Gemütlichkeit: a feeling of warmth, friendliness, and good cheer.
Photo Gallery
(Click to enlarge)

All of our
bike and barge tours in Germany
can be found here.