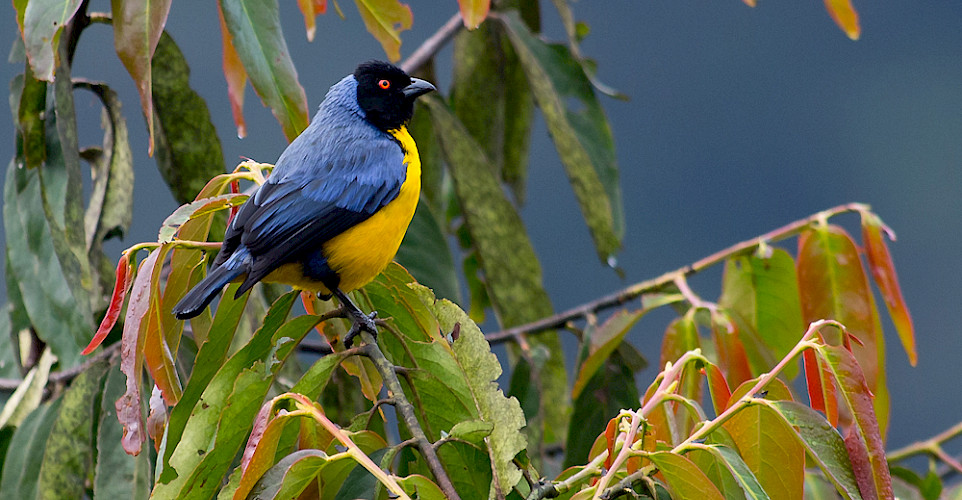 Birding on Colombia's Caribbean Coast
Beaches, mountains, & birds!
Overview

Welcome to the world's premier birding destination! So much awaits you on this birdwatching tour in Colombia.

Of the over 1,900 recorded species of birds found here, 80 are endemic. You will have the opportunity to see such specialties as the Blue-billed Curassow, the Santa Marta Parakeet, the White-lored Warbler, the Yellow-crowned Whitestart, and dozens more!

Various species of tanger, parakeet, finch, and sparrow call this area home and will give you the chance to fill your birding journal and hopefully tick off some rare finds.

In addition to the plethora of birds that inhabit Colombia's Caribbean Coast, you will also experience the raw beauty of the Sierra Nevada and La Guajira. Snow-capped mountains, pristine beaches, and unique flora and fauna make this birding tour truly magical.

Highlights

Dozens of endemic and near-endemic bird species
Perijá Nature Reserve, protecting a 1,850 acres area of cloud forest which is home to the Perijá thistletail, the Perijá metaltail, the Perijá brush-finch
Riohacha, capital of La Guajira department and home to the indigenous Wayuu community
Tayrona National Park, home to 300 species of birds including the Montane Solitary Eagle, the Military Macaw, Black-backed Antshrike, White-bellied Antbird, and the Lance-Tailed Manakin
The Sierra Nevada, the highest coastal mountain range in the world, with snow-capped mountains within view of the ocean

Itinerary

Bienvenidos a Colombia - Welcome to Colombia! 

Your English-speaking tour guide will be waiting to pick you up from the airport. You will be brought to your first hotel and enjoy a nice dinner at the hotel or a local restaurant before an overview of the tour. Feel free to ask any questions you may have during this time!

Accommodation: Hotel Arawak Upar 
Meals: Lunch and dinner (depending on your arrival time)

In the morning, you will be transferred 35 minutes to Los Besotes Reserve which is Colombia's first Important Bird and Biodiversity Area (IBA).  Species present here include the Blue-billed Curassow (endemic), Collared Forest-Falcon, Red-legged Tinamou, Shining-green Hummingbird, Keel-billed Toucan, Rufous Nightjar and many other desert species that habit the region, such as the Northern Scrub-Flycatcher and White-whiskered Spinetail. Other species include: Black-backed Antshrike, Sooty-capped Hermit, Military Macaw, and Pearly-vented Tody-Tyrant amongst many others. After some time birding, a transfer will follow mid-morning towards Perijá, where you will stop again at a local reserve where Lance-tailed Manakin are common.

You will then continue your journey to the Perijá Mountains, and after 3 1/2 hours, you will arrive at the reserve. You will have lunch on the way as you bird watch along the road towards the reserve, looking for species such as the Moustached Puffbird, Yellow-bellied Chat-Tyrant, Golden-breasted Fruit-eater, Yellow-breasted Brush-Finch, Bluish Flowerpiercer, Rufous-breasted Wren and Spectacled Owl. At the reserve, you will enjoy a delicious dinner. The evening will be spent owling, looking for the Mottled Owl. 

Accommodation: Perijá Nature Reserve
Meals: Breakfast, lunch, and dinner

You will spend the day birding around the upper elevations of the Perijá Mountains, looking for the local rarities such as: Phelp's Brush-Finch, Perijá Thistletail (near-endemic), Perijá Metaltail, (near-endemic), Perijá Brush-Finch, Perija Tapaculo (near-endemic), and many more species typical of the high-Andes, such as the Hooded Mountain-Tanager, Red-crested Cotinga, Buff-breasted Mountain-Tanager, Fulvous-headed Tanager, Golden-bellied Starfrontlet (near-endemic), Mountain Wren, Black-crested Warbler, Rufous Spinetail, Orange-throated Sunangel, Crested Quetzal, Glowing Puffleg, Chestnut-crowned Antpitta, Plushcap, Rufous-shafted Woodstar, Slaty-backed Nightingale-Thrush and many more.  

Accommodation: Perijá Nature Reserve
Meals: Breakfast, lunch, and dinner

After breakfast, you will continue your search for the various species that can be found at the lower to mid altitudes both above and below the lodge, ticking off what was not seen the day before. 

Accommodation: Perijá Nature Reserve
Meals: Breakfast, lunch, and dinner

This morning will be spent birding below the lodge before starting the long transfer to Riohacha which will take between 6-7 hours. You will have lunch on the way as you will arrive late to Riohacha. Here, you will enjoy dinner at the hotel. 

Accommodation: Gimaura Hotel 
Meals: Breakfast, lunch, and dinner

You will spend the full day at Los Flamencos Flora and Fauna Sanctuary (SFF), looking for local dessert specialties such as The Bare-eyed Pigeon, Buffy Hummingbird, Chestnut Piculet (near-endemic), White-whiskered Spinetail (near-endemic), Slender-billed Tyrannulet (near-endemic), Northern Scrub-Flycatcher, Orinocan Saltator, Vermilion Cardinal, Glaucous Tanager, Tocuyo Sparrow (near-endemic), and Pileated Finch. 

Lunch will be enjoyed back in Riohacha before an optional afternoon at Los Flamencos again to finish the day aiming to pick up what wasn't seen in the morning.

Accommodation: Gimaura Hotel 
Meals: Breakfast, lunch, and dinner

Today starts early with a transfer to the Tayrona National Park which will take around 2.5 hours. Upon arrival, you will start birdwatching along the entrance, looking for targets such as the Jet Antbird, Black-crowned Antshrike, Golden-winged Sparrow (near-endemic), Scrub Greenlet, White-bearded Manakin, Lance-tailed Manakin, Long-billed Gnatwren, Northern Royal Flycatcher, White-bellied Antbird, Ochre-bellied Flycatcher, Rufous-and-white Wren, Blue-billed Curassow (endemic), Yellow-breasted Flycatcher, and many more. Around mid-morning, you'll head straight to the foothill town of Minca which will take around 2 hours. Here, you will spend the remainder of the morning on the road between Minca and the El Dorado lodge high above looking for interesting birds. 

You'll finish the day at El Dorado reserve with a beautiful view of the highlands of the Sierra Nevada, where the feeders attract many special species. 

Accommodation: El Dorado Lodge
Meals: Breakfast, lunch, and dinner

The endemics of Santa Marta await you. Before first light, you will drive up to San Lorenzo Ridge to enjoy a nice breakfast in the field. Birds that are possible to see here are: The Santa Marta Parakeet (endemic), Santa Marta Blossomcrown (endemic), White-tailed Starfronlet (endemic, pictured below), Santa Marta Woodstar (endemic), Santa Marta Sabrewing (endemic), Santa Marta Foliage-Gleaner (endemic), Santa Marta Antbird (endemic), Santa Marta Antpitta (endemic), Santa Marta Bush-Tyrant (endemic), Santa Marta Mountain-Tanager (endemic), Santa Marta Brush-Finch (endemic), Santa Marta Warbler (endemic), White-tipped Quetzal (near-endemic), Santa Marta Wood-Wren (endemic), White-lored Warbler (endemic), Sierra Nevada Brush-Finch, Yellow-crowned Whitestart (endemic), and a lot of others birds from the Andes. After descending from the ridge, you will be looking for raptors circling above and the various hummingbirds around the lodge feeders. Hopefully, the Black-fronted Wood-Quail will be active at the feeders as they are always a treat.

At night, you'll search for the Santa Marta Screech Owl, local Kinkajous, and Grey-bellied Night Monkeys that habit around the lodge before or after dinner.

Accommodation: El Dorado Lodge
Meals: Breakfast, lunch, and dinner

Depending on your previous couple of days, you can choose to either re-visit the forest above or below the lodge or simply continue scouring the trails within the reserve itself, looking for any of a number of targets that have eluded you so far.

Accommodation: El Dorado Lodge
Meals: Breakfast, lunch, and dinner

It is time to say goodbye to this beautiful country. Your tour guide will accompany you to the airport in Santa Marta to take a flight to Bogota and connect for your flight back home.

Meals: Breakfast

Map

Accommodation

The accommodations used on this tour include a mix of elegant hotels and unique and beautiful ecolodges.



Hotel Arawak Upar (1 night) – This is a spacious hotel with large and comfortable rooms located near the historical sector of Valledupar, close to the main plazas, shopping center, colorful parks and historical monuments.


Perijá Nature Reserve (3 nights) – The cabins of this lodge are basic, but clean, ample and comfortable, with private bathrooms and hot running water. A new generator provides electricity. It has a small, quaint restaurant.


Hotel Gimaura (2 nights ) – A colorful beach-front hotel located just outside the main cluster of streets in Riohacha, providing a quiet location for a couple of days exploring La Guajira. All rooms are large, comfortable and have A/C – very much needed in La Guajira. The hotel has a nice restaurant by the beach, and a beautiful pool surrounded by lush gardens and typical kiosks with hammocks and lounge chairs to relax after a long day.


El Dorado Lodge (3 nights) – This is easily Colombia's most beautifully designed ecolodge. Rooms are in a wood-cabin type building with amazing views over the Sierra Nevada de Santa Marta, and the Caribbean Sea can be seen on a clear day. The Kogihabs are new constructions with morning panoramic views of the Sierra Nevada itself. Beds are clean and comfortable and rooms are cool, given the lodge's altitude. Here you'll be exposed to the various endemics that make the Sierra so special and you'll understand why it is the world's best places to bird. There are no other lodging options in the area – we highly recommend staying at the reserve given its distance in by car to Santa Marta (3hrs).


Inclusions

What's Included

Accommodations for 8 nights in double rooms with private facilities
All meals & snacks
English speaking tour guide
All transfers as mentioned in the itinerary
Airport pick up in Valledupar & drop off in Santa Marta
Entrance fee into Tayrona National Park
Entrance fee into El Dorado
Entrance fee to an observatory on day 8

What's Not Included

Arrival & departure flights
Excursions not mentioned in the itinerary
Drinks with meals
Birding equipment such as binoculars or cameras
Gratuities

Dates & Pricing

Dates

2023

This tour is possible any day, all year round! 

Please Note

Rates are per person, based on double occupancy
Tour prices are based on the fuel costs at time prices are set, often months or years in advance. In rare cases, additional fees may apply for fuel cost increases.

Pricing

2023

Ask us!

---

IMPORTANT NOTES:

Prices do not include the Colombian VAT tax (19%), but foreignor travelers do not have to pay this.

Tours can only be confirmed based on availability and if the guest(s) provides their passport upon booking, this is a requirement. 

The mentioned rates might be modified due to currency devaluation.        

Extra Info

Skill Level — Easy

Birding in Colombia involves visits to a wide range of private reserves, national and regional parks, farms, and private properties. Although transport is provided to and from the main birding sites, participants of this tour should be prepared for walking on paved/well-maintained trails, as well as uneven and sometimes steep terrain. At the end of the day, birdwatching can entail as little or as much walking as you want.

Airport Info

Fly into Alfonso López Pumarejo Airport in Valledupar (with connections from Bogota with Avianca, EasyFly, and LATAM Colombia).

Fly out of Simón Bolívar International Airport in Santa Marta.

Local Travel

Airport pick-ups and drop offs are included with your English speaking tour guide. Major cities are never too far away from the main birding sites meaning that connections by both road and air are easy to coordinate. Infrastructure is generally excellent in the cities with it understandably lowering in level the more remote you go. Road connections are very good between major cities thanks to the construction of new highways, with most secondary and tertiary (unpaved) roads in good condition.

Recommended

While birding and bird watching does not require a huge investment or much equipment, we absolutely recommended a good pair of binoculars and comfortable boots or walking shoes. A field guide and notebook are also a helpful addition, although your English-speaking guide would be happy to identify the birds you see along the way.

Remarks

Meals: Most meals have been included as detailed in the day-by-day itinerary. Breakfasts will be generally early (around 5am most days) to ensure we maximize the best times for bird activity. Field or packed lunches will generally be locally prepared dishes with a meat, rice or pasta, salad and a natural fruit juice or water.


Activities: This is an extensive and well-paced birding itinerary, taking in a vast amount of birds across a wide variety of ecosystems. Expect final bird lists to be long and full of surprises. Most days will include a morning and afternoon session of birding, finishing before last light which tends to be around 5:30pm.


Guides: A bilingual Birding Tour Leader will lead the tour from beginning to end and will have great experience at all of the sites mentioned. Local guides will be employed wherever possible to aid in identification and also to involve the local communities as much as possible.

Important to know

Documents

Before you travel, please check the passport and visa requirements of the country/countries you plan to visit. US and Canadian citizens do not need a visa to enter Colombia for stays shorter than 90 days. For any other nationality, Colombia's Foreign Affairs website has a useful tool to determine if you will need a visa (scroll towards the middle/end of the page to the dropdown menu and select your home country).

---

Photos
Have you been on this tour?
Please leave your feedback