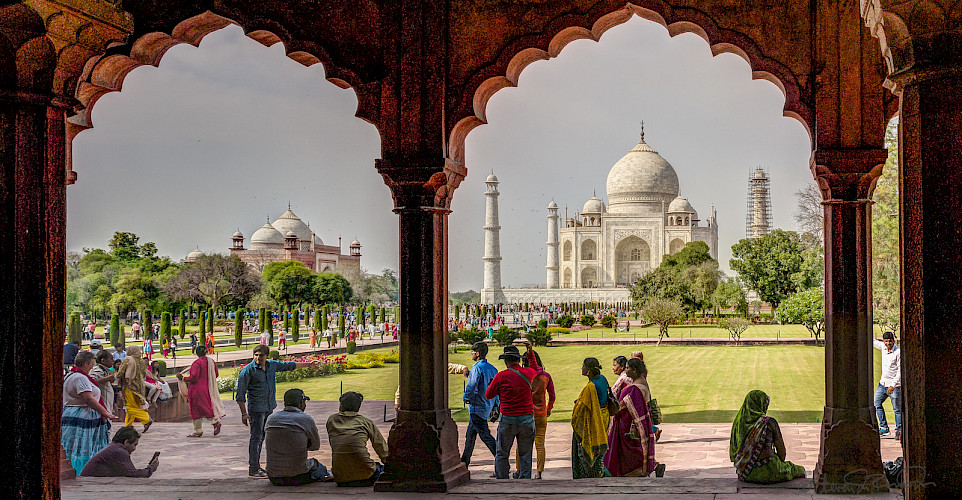 Birds of Northern India
Home of the Taj Mahal, the Bengal Tiger, & plenty of birds!
Overview

India is one of the few countries in the world where Nature has been extremely kind. Even in bustling cities like New Delhi, the wildlife has adapted and continues to thrive. Not only will you have the chance to see hundreds of bird species on this guided birding tour, but the diverse topography of the country supports a variety of unique plant and animal life.

You will visit an array of protected areas, home to resident and migratory birds such as the rare Siberian Crane, the Indian Vulture, the Grey headed Fish Eagle, and the Great-horned Owl.

Herons, ibis, cormorants, spoonbills, and storks are plentiful in the wetland areas, giving you the opportunity to fill your birding journal with new finds!

Birds are only part of this once-in-a-lifetime tour, as you will also have the chance to spot the majestic Royal Bengal Tiger, the graceful South Asian river dolphin, the Smooth-coated Otter, and maybe a Marsh Crocodile or two!

No trip to India would be complete without a visit to the Taj Mahal, the ivory-white marble mausoleum does not disappoint.

This unique birdwatching trip is ideal for amateur and expert birders alike, as well as anyone looking to experience Northern India in all its glory!

Highlights

Old and New Delhi, the historic and bustling capital of India
Sultanpur National Park & Bird Sanctuary, a stomping ground for approx. 90 migratory bird species
Okhla Bird Sanctuary, home to several critically endangered and nearly threatened bird species
Chambal River Boat Safari
The Taj Mahal
Keoladeo National Park where approximately 364 species of birds have been identified
Safari in Ranthambore National Park
Lots of unique plants and animals such as the Bengal Tiger

Itinerary

Upon arrival in Delhi, you will be met by our representative at the Indira Gandhi International Airport and transferred to your first hotel.

There is lots to explore in this bustling capital between its old and new cities. In New Delhi, you can drive past the 12th century 230-foot high Qutab Minar, the imposing Lakshmi Narayan temple, the India Gate (a memorial to the Indian army soldiers who died in World War), and various government buildings. Old Delhi is quite historic and contains many beautiful buildings such as one of the largest mosques in all of Asia: The Jama Masjid. Drive past Red Fort, built by Emperor Shah Jahan in 1648. Finally, walk through Chandni Chowk - this famous market of Old Delhi is a chaotic and amazing crisscrossing of lanes and by-lanes that seem to stock everything under the sun, from spices and perfumes to jewelry and dress materials.

Accommodation: Claridges
Meals: Breakfast and dinner

Sultanpur National Park & Bird Sanctuary is located in the Gurgaon district of Haryana, just 28 miles (46 km) from Delhi. The Sultanpur National Park is lush with shrubs and clusters of bougainvillea, a bird watcher's paradise with only a few trees obscuring the view of the lake. Waterbirds such as Darters, Egrets, Shovellers, Cormorants, Kingfishers, Spoon Bills, and Lapwings can be easily spotted wading, swimming, or flying. Every year, 90 migratory bird species arrive here in search of feeding grounds and to spend the winter. 

To facilitate bird watching, there are four watch towers (machans) located at different points. 

Accommodation: Claridges
Meals: Breakfast and dinner

320 bird species have been recorded at the Okhla Bird Sanctuary (OBS). 10 of these species are considered either critically endangered (CR), such as the White-rumped Vulture or the Indian Vulture, or nearly threatened (NT). You will have the opportunity to spot the Baikal Teal, Baer's Pochard, Sarus Crane, and the Sociable Lapwing. The Ferruginous Pochard, Black-bellied Tern, and Grey headed Fish Eagle can also be sighted. A haven for birds, Okhla Bird Sanctuary is also home to Indian Skimmer, Pallas's Fish Eagle, Lesser Adjutant, Bristled Grassbird and Finn's Weaver. Many more species await you!

Besides lovely winged friends, the Sanctuary is home to unique mammals such as nilgai, Indian mongoose, blacknaped hare, jackals, and many types of reptiles.

Accommodation: Claridges
Meals: Breakfast and dinner

Leaving the bustling city behind, you will be transferred to the National Chambal Sanctuary (NCS) - a 400 km stretch along the river Chambal.

The Chambal Ravines (altitude 200-500m) are the product of centuries of soil erosion by flood and rain waters. They form an incredible maze of intertwining mud cliffs, with tropical dry scrub forest vegetation, that provide shelter for numerous birds, mammals, and reptiles. The Sanctuary boasts of a rapidly increasing and impressive bird list of over 330 species of resident and migratory birds, and is gaining a reputation as one of the most reliable places to see the Indian Skimmer. Other species include the Pallas's Fish Eagle, Indian Courser, lesser flamingos, Pallid Harrier, Black-bellied Terns, Ferruginous Pochard, Red-crested Pochard, Bar-headed Goose, Great thick-knee, darters, greater flamingos, and Brown Hawk Owl.

In the evening, you can participate in a nature walk in and around the lodge to get an idea of the varied wildlife of this reserve. 

Accommodation: Chambal Safari Lodge
Transfer Time: 7 hours (270 km)
Meals: Breakfast, lunch, and dinner

Today you are in for a special treat, as you will take a morning boat safari on Chambal River. Set against a stunning backdrop, framed by the ravines and sandbanks, the calm waters of the Chambal River are best explored on boats. The gentle pace of the River Safari is designed to provide spectacular sightings of the gharials, muggers & turtles basking in the sun, as well as the many migratory and resident birds, and the occasional glimpses of the Gangetic river dolphins breaking surface.

The Chambal Safari boatmen are exceptionally skilled at cutting the boat engines, and maneuvering as close to the birds and animals as possible without disturbing them. Trained naturalists accompany visitors and provide expert information on the Chambal wildlife. The River Safari is a most relaxing, enjoyable, and special experience.

Later in the afternoon, you will visit Batheswhar Temple. The ancient settlement of Bateshwar is situated on a crescent bend of the river Yamuna, 12 km – 20 minute drive from the Chambal Safari Lodge. More than 40 temples dedicated to the glory of Shiva glisten pearly white along the ghats of the river. A multitude of architectural styles, time periods, and historical events are reflected in these simple shrines. 

Accommodation: Chambal Safari Lodge
Meals: Breakfast, lunch, and dinner

You will make another visit to the riverside today. The river provides protection for 1200 Gharials & 300 Marsh Crocodiles. It is also the home to eight species of Turtles and the Smooth-coated Otters. This morning is a perfect opportunity to try and catch a glimpse of any of the bird species you might have missed from the previous days. After lunch, you will be transported to Agra.

Accommodation: Trident
Transfer Time: 1.5 hours (65 km)
Meals: Breakfast and dinner

In the morning you will visit the Taj Mahal, a poem in white marble built in the 16th century by the emperor Shahjahan as a monument of love. The Taj is one of the most famous buildings in the world, serving as a mausoleum of Shah Jahan's favorite wife, Mumtaz Mahal. It is one of the New Seven Wonders of the world and is also one of the three World Heritage Sites in Agra. After the magnificent Taj, you will move on to Agra Fort. An imposing fort on the banks of the river Yamuna, it encloses numerous palaces and houses. Later, you will drive to Bharatpur.

On the way, you will visit Fatehpur Sikri, the deserted red sandstone city built by the Great Mughal Emperor Akbar as his capital and palace in the late 16th century. It was abandoned soon after it was built when the local wells went dry. It remains today in much the same condition that it was over 300 years ago.

Bharatpur is a paradise for the avian world and a pilgrimage for bird lovers. It was designated as a reserve for birds in 1956 and later upgraded to National Park and as UNESCO World Heritage Site.

Accommodation: Laxmi Vilas Palace
Transfer Time: 2 hours (55 km)
Meals: Breakfast, lunch, and dinner

You will spend a full 2 days in the park and have your very own rickshaw puller for both days.

The Keoladeo National Park or Keoladeo Ghana National Park is formerly known as the Bharatpur Bird Sanctuary is one of the major wintering areas for large numbers of aquatic birds from Afghanistan, Turkmenistan, China, and Siberia. Some 364 species of birds, including the rare Siberian Crane, have been recorded in the park, as well as globally threatened species such as the Greater Spotted Eagle and Imperial Eagle. During the breeding season, you will catch a glimpse of the most spectacular heronry in the region, formed by 15 species of herons, ibis, cormorants, spoonbills, and storks. In a well-flooded year, over 20,000 birds nest can be seen teetering in the tree-tops.

Accommodation: Laxmi Vilas Palace
Meals: Breakfast, lunch, and dinner

Various waterfowl have been identified within the park, such as gadwalls, shovellers, common teals, tufted ducks, pintails, white spoonbills, Asian open-billed storks, and Oriental Ibises. Today, you'll have more time to look for them, and other species, and hopefully tick off some major finds.

Keoladeo is also an excellent place to watch for mammals like the Golden Jackal, Striped Hyaena, Fishing Cat, Jungle Cat, Nilgai, Sambar, Blackbuck, and wild Boar. The park derives its name from the temple of Keoladeo (Shiva) and 'ghana' which locally means dense, implying the nature of the vegetation. During the cool winter months, it is also possible to see large Indian Pythons sunning themselves.

Accommodation: Laxmi Vilas Palace
Meals: Breakfast, lunch, and dinner

You will be transferred to the train station to board a train to Sawai Madhopur. Upon arrival, you will be transferred to Ranthambore National Park, one of the biggest and most renowned national parks in Northern India. It is majorly famous for its Royal Bengal Tigers and is one of the best locations in India to see these majestic predators in their natural habitat. The tigers can be easily spotted even during the day, hunting and caring for their young. 

Besides being home to various wildlife, ancient stone structures dot the park. The Raj Bagh Ruins, for example, are set on the outskirts of dense jungle which are a popular hideout for the tigers; it lends an air of mystery to the surroundings. Certainly, a visit to Ranthambore National Park is a treat for every wildlife and nature lover.

Accommodation: Dev Vilas
Transfer Time:
Meals: Breakfast, lunch, and dinner

Around 320 species of birds have been identified in Ranthambore. A morning and afternoon safari will give you the opportunity to spot Serpent Eagles, Painted Spurfowls, Sarus Cranes, Bronzed-winged Jacanas, Sandpipers, Kingfishers, Nightjars, Painted Sandgrouse, and the Great-horned Owl. A large number of migratory birds in the winter season also make Ranthambore and its wetlands their home, giving bird lovers and orinthologists reasons enough to visit.

The most important birds in Ranthambore includes Graylag Goose, Indian Gray Hornbills, Bee Eaters, Cuckoos, Parakeets, Asian Palm Swift, Terns, Great Crested Grebe, Egrets, Herons, Wagtails, Munias, Bulbul, Mynas, Falcons, and many more!

Accommodation: Dev Vilas
Meals: Breakfast, lunch, and dinner

You will have one last safari ride to catch any of the species you may have missed. 

Afterwards, you will be transported to Jaipur, the pink city, colored to welcome Prince Albert in 1876. It a bustling capital city and a business center with all the trappings of a modern metropolis but yet flavoured strongly with an age-old charm that never fails to surprise visitors. 

Accommodation: Alsisar Haveli
Transfer Time: 4 hours (180 km)
Meals: Breakfast and dinner

Today begins with a visit to Amer Fort, a classic and romantic palace. Maota Lake sits in the foreground, providing a breathtaking landscape.

Later on, you'll take a half-day tour of the city, visiting several interesting sites. Jaipur's walled City Palace (1732 AD) occupies one-seventh of the city's area. You'll see the Mubarak Mahal, museums of textiles and armoury, and the Diwan I Khas and Diwan-e- am. Jantar Mantar, literally meaning "instruments for measuring the harmony of the heavens" is the oldest observatory in India. Each instrument has a specific purpose and still gives an accurate reading. Be sure to take photos at the Hawa Mahal (Palace of the Winds). You'll also drive past the rose-pink residential and business areas of Jaipur.

Accommodation: Alsisar Haveli
Meals: Breakfast and dinner

It is time to say goodbye! You will be transferred to the airport in Delhi

Transfer Time: 6 hours (245 km)

Map

Accommodation

This guided birding tour uses a mix of delightful hotels and luxurious lodges. Please refer to the sample hotel list below, keeping in mind these accommodations are based on availability:
New Delhi - Claridges
Chambal - Chambal Safari Lodge
Agra - Trident
Bharatpur - Laxmi Vilas Palace
Ranthambore - Dev Vilas
Jaipur - Alsisar Haveli

Inclusions

What's Included

Accommodation for 13 nights
Breakfast & dinner in Delhi, Agra, & Jaipur
Breakfast, lunch, & dinner in Chambal, Bharatpur, & Ranthambore
Entrance fee to the bird sanctuaries of Sultanpur, Okhla, & Bharatpur
Rickshaw ride in Bharatpur on 4 occasions, 2 hours each
Three Jeep Safaris in Ranthambore on a private basis
Two boat rides on the Chambal River
All park activities with an English speaking Naturalist
All visits in Delhi, Agra, & Jaipur with a local English-speaking guide
All entrance fees to monuments & sites, as per the itinerary
All airport transfers, intercity drives, tours, excursions, etc. using an Air-conditioned car/ van/ mini-coach, depending on the number of people
Mineral Water in the car during the tours and inter-city drives

What's Not Included

Optional tours/excursions
Meals not mentioned in the itinerary
Alcoholic beverages
Airfare
Tips

Dates & Pricing

Dates

2022/2023

Daily departures possible from October 2022 through April 2023

Please Note

Rates are per person, based on double occupancy
Tour prices are based on the fuel costs at time prices are set, often months or years in advance. In rare cases, additional fees may apply for fuel cost increases.

Pricing

| | |
| --- | --- |
|   | Oct 2022 to Apr 2023 |
| 1 person | $ 8137 £ 4265 $ 7,272 € 4973 kr 746313 ₪ 19841 ¥ 776264 Mex$ 92899 NZ$ 8743 NOK 58379 kr 56032 $ 5,249 |
| 2 people | $ 5130 £ 2689 $ 4,584 € 3135 kr 470480 ₪ 12508 ¥ 489361 Mex$ 58564 NZ$ 5511 NOK 36803 kr 35323 $ 3,309 |
| 3 people | $ 4690 £ 2458 $ 4,191 € 2866 kr 430100 ₪ 11434 ¥ 447361 Mex$ 53538 NZ$ 5038 NOK 33644 kr 32291 $ 3,025 |
| 4 people | $ 4494 £ 2355 $ 4,016 € 2747 kr 412185 ₪ 10958 ¥ 428727 Mex$ 51308 NZ$ 4828 NOK 32243 kr 30946 $ 2,899 |
| 5 people | $ 4355 £ 2282 $ 3,891 € 2661 kr 399389 ₪ 10618 ¥ 415417 Mex$ 49715 NZ$ 4679 NOK 31242 kr 29985 $ 2,809 |
| Single Room Supplement | $ 1704 £ 893 $ 1,522 € 1041 kr 156258 ₪ 4154 ¥ 162529 Mex$ 19451 NZ$ 1830 NOK 12223 kr 11732 $ 1,099 |

 

Extra Info

Airport Info

Fly into and out of Indira Gandhi International Airport in Delhi

Local Travel

You will be transferred to and from the airport on the first and last day of this birding tour.

Recommended

While birding and bird watching does not require a huge investment or much equipment, we absolutely recommended a good pair of binoculars and comfortable boots or walking shoes. A field guide and note book are also a helpful addition, although your English speaking guide would be happy to identify the birds you see along the way.

Important to know

Before you travel, please check the passport and visa requirements of the country/countries you plan to visit. All U.S. and Canadian citizens need a valid passport and valid Indian visa to enter and exit India for any purpose. U.S. and Canadian citizens seeking to enter India solely for tourist purposes, and who plan to stay no longer than 60 days, may apply for an electronic travel authorization at least four days prior to their arrival in lieu of applying for a tourist visa at an Indian embassy or consulate.  Please visit the Indian government's website for electronic travel authorization for additional information regarding the eligibilities and requirements for this type of visa.  Without the electronic travel authorization, visas are not available upon arrival for U.S. or Canadian citizens. 

---

Photos
Have you been on this tour?
Please leave your feedback