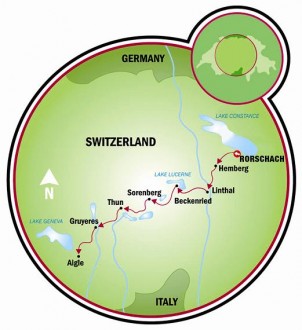 Cycling Switzerland from Rorschach to Montreux
This sporty mountain tour on two wheels takes place on the route known as the "king of kings" in Veloland Switzerland! Beautifully situated between Lake Constance and Lake Geneva, the Alpine Panorama Route takes you up to 2000 meters above sea level and crosses several major and minor mountain passes. You've certainly got your work cut out for you, but the rewards are truly sensational!! And don't forget that there is a postal bus and/or train available every day to help shorten the distances/climbs if so desired. This great cycling route in the Veloland region is the only long-distance one that is paved the entire way, and therefore perfect for road biking. A real treat for the sporty cyclist!!
Starting in the beautiful city of Rorschach on magnificent Lake Constance, you'll ride through the enchanting Appenzell countryside and have glorious views of the Mt. Säntis Massif. Cycling over the Ricken Pass shouldn't be too difficult, and after that comes the flat Linth River valley. The Klausen Pass is the most difficult on the way to Lake Geneva (and possible to do via bus). From the summit, the ensuing ride along the shores of Lake Lucerne is pure pleasure. A ferry will take you from Gersau across the Lake to Beckenried. Then the route follows the Lakes of Alpnach and Garnen to the pass summit at Glaubenbielen (1611m – again also possible via bus). An exhilarating ride down into Montreux is a fitting finish to this route!
tour
dates
Daily from May 1 to October 15, 2014.
our contact information
Mailing Address
Pack & Pedal Europe, Inc.
218 Hunter Rd
Springville, PA 18844-9578
USA
Telephone
Phone: 570.965.2064
Toll free: 877.965.2064
Fax: 570.965.0925
E-Mail
Alpine Panoramic Trail
Make a Reservation
Before you book, please read this important information regarding our reservation and booking process.