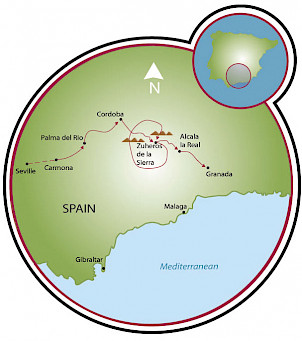 Seville to Granada Bike Tour
This diverse riding week blends Andalusia's three monumental gems; Seville, Cordoba and Granada with some of Spain's finest rural landscapes and pleasant backwaters where little has changed. A one-of-a-kind cycle experience that caters to both lovers of history, art and romanticism and those seeking harmony with nature, fresh Andalusian air and some gentle riding days.
Peaceful rides through quiet plantations of orange, avocado, olive, cotton and sunflowers offer a glimpse of rural life in Andalucia's colorful valleys bordering the historic Guadalquivir River. Evenings are spent immersed in the historic and cultural elements of the cities and small villages on route. A particular highlight is the culinary delights to be had such as the wide range of local 'tapas' dishes, wines, Sherries and fresh nuts, berries and fruits growing wild throughout the region.
Experience the magnificence of Seville with its wonderful Cathedral housing the tomb of Columbus and an original Mosque tower; the charming Barrio Santa Cruz that inspired the opera Carmen and the sheer power of the Alcazar Fortress. At night feel the vibrancy of Seville's flamenco roots, or simply be part of the energy and get lost in the labyrinth of lanes and alleys in the old town.
In Cordoba, once capital of the Western world, your leader will guide you on a historic tour of the old Jewish quarter and throughout the famous 'patios' with their wonderful floral displays. A stay in Cordoba would not be complete without touring possibly the most beautiful Mosque in the world, the Mezquita, with an enormous 16th century Cathedral suspiciously placed in its center!
At Granada, the final destination and arguably one of Europe's most exotic cities with its snow peaked backdrop and the imposing Alhambra Palace in the foreground, you venture deep into Moorish culture and explore the lanes and plazas reminiscent of Moroccan souks in the Albaizín district plus much more.
Between these inspirational cities are 4 nights in lovely small rural towns of Roman and Moorish origins including 1 night in the birth place of California's namesake Palma del Rio and another in the classic 'white village' of Zuheros – nestled snugly against a backdrop of steep, mountainous crags and pine forests where an optional cave visit offers glimpses of Palaeolithic man's existence 25,000 years ago.
Overall, this unique itinerary has something for everyone and every level of interest and ability. Classic moments such as flamenco evenings, wine tasting, spring wild flowers and village fiestas make up only part of this holiday. If there is something of interest going on, you will be part of it – and in Andalusia, there is never a dull moment!
If you are interested in this tour, you may also want to check out our Coastal Andalusia bike tour.
For a list of all of our bike tours in Spain click here.
tour
dates
March 29 (Easter supplement, please see pricing), May 17, September 27, and October 18, 2015
Please note: Additional dates are available on request for groups of 4. An additional supplement per person applies for groups less than 4 people.
our contact information
Mailing Address
Pack & Pedal Europe, Inc.
218 Hunter Rd
Springville, PA 18844-9578
USA
Telephone
Toll Free in the USA/Canada: +1 800.951.4384
Phone: +1 570.965.2064
Fax: +1 570.965.0925
E-Mail
Andalusia - Seville to Granada
Make a Reservation
Before you book, please read this important information regarding our reservation and booking process.