Bruges to Amsterdam
Make a Reservation
Before you book, please read this important information regarding our reservation and booking process. International customers, please note the order of MONTH/DAY/YEAR in this form.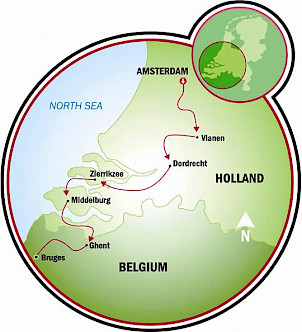 Bike and Boat on one of Europe's classic bike routes through Belgium and Holland
extra
options
2019
Magnifiques, Fleur, Zwaantje:
Electric bike rental: €95
Gluten free or dairy free diets: Supplement will apply, please ask.
Fluvius and Gandalf
Electric bike rental: €100
Helmet rental: €10
Sailing Home, Zwaan, Liza Marleen, Wending, and Anna Antal:
Electric bike rental: €80
Set of maps for self guided option, only with advance reservation and payment: €57
Gluten free diet: €50
Child's bike, trailer bike (tag-along), bike trailer, and child seat available on request.
tour
dates
On the Comfort plus class boats:
Magnifique: Saturdays, May 11, May 25, July 6, July 20, August 3, August 17, August 31, September 14, September 28, and October 12, 2019
Magnifique II: Wednesdays, May 29, June 12, July 24, August 7, August 21, September 18, October 2, and October 16, 2019
Magnifique III: Saturdays, June 1, June 15, June 29, July 13, August 10, August 24, September 7, September 21, and October 5, 2019
Fluvius: April 27, May 25, June 8, June 22, July 20, August 3, August 17, and August 31, and September 28, 2019
Fleur: October 12, 2019
Sailing Home: 
Low season: Saturdays, July 13, October 12, and October 26, 2019
Standard season: Saturdays, June 15, August 17, and September 28, 2019
High season: Satrudays, September 14, 2019
Liza Marleen:
Standard season: Saturday, August 31, 2019
High season: Saturday, September 21, 2019
On the Comfort class boats:
Zwaan:
Low season: Saturdays, July 27, 2019
Wending:
Standard season: Saturdays, June 1 and June 15, 2019
Gandalf:
June 29 and August 17, 2019
On the Standard Plus class boats:
Anna Antal:
Low season: Saturdays, July 6, July 20, and August 3, 2019
Standard season: May 18, June 8, and October 5, 2019
High season: September 7 and September 21, 2019
Clair de Lune: July 6, 2019
Tijdgeest: June 29, August 3, August 31, and September 14, 2019
Click the link to see the tour and dates for Amsterdam to Bruges