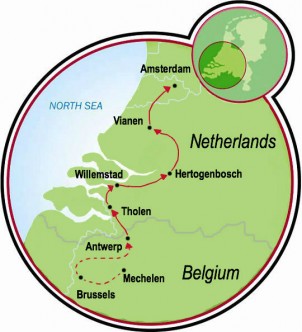 From the largest city in Belgium to the largest in Holland..
This bike and barge holiday combines the countries Belgium and the Netherlands in a very surprising and attractive way. In 8 days time you will cycle from Brussels to Amsterdam.
On the arrival day your floating hotel stays in Mechelen. The next day you have time to visit the beautiful Belgian capital of Brussels.The Flemish port town of Antwerp is also one of the highlights of this tour. Belgium is famous for it's tasty beers. They say you don't really know Belgium without tasting some!
Crossing the Dutch border you reach the well preserved fortified town of Willemstad. In the old town of 's Hertogenbosch, the St. Jans cathedral is certainly worth a visit. Across Hollands fruit garden, the Betuwe, and along the rivers Vecht and Amstel you cycle to Amsterdam.
Standing at the Dam Square in Amsterdam the Market Square in Brussels seems miles away!
Be sure to check out our full list of bike and barge tours in the Netherlands.
tour
dates
On Standard plus boats: 
Tijdgeest: June 20 and August 29, 2015
Holland: August 8, 2015
our contact information
Mailing Address
Pack & Pedal Europe, Inc.
218 Hunter Rd
Springville, PA 18844-9578
USA
Telephone
Toll Free in the USA/Canada: +1 800.951.4384
Phone: +1 570.965.2064
Fax: +1 570.965.0925
E-Mail
Brussels to Amsterdam
Make a Reservation
Before you book, please read this important information regarding our reservation and booking process.