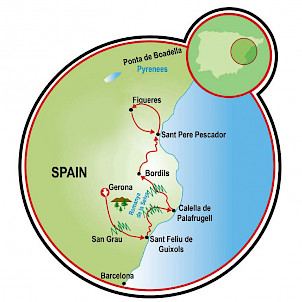 A Girona bike tour unlike any other.
Costa Brava, where the mountains meet the sea, is the setting of this exciting new bike tour in the Spanish province of Girona, deep in Catalonia along the Pyrenees mountain range. Its landscapes, climate and history combine to let you cycle Spain through a haunting beauty. Craggy cliffs, sandy coves, pristine beaches and inland, the fascinating, ancient history all awaits to be explored and experienced. Not too mention, it is also the home and setting for the surreal world of Salvadore Dali.
This is the region in which the renowned artist was born, lived, worked and died. His birth city, Figueres, is home to the Teatre-Museu Dali, which you will have the opportunity to visit. In his own words: "The two most fortunate things that could happen to a person are, first, to be Spanish, and second, to be named Salvador Dalí. These two things have happened to me," from "Diary of a Genius". Modest, Dali was not, bold and extravagant he was, as you will experience. His museum is in itself the largest surrealistic object in the world.
If you love surrealism, you will love the Dali touches of this tour and the opportunity to personally visit his home and museum.
If you love wild coasts and pristine beaches, you will love the Costa Brava and is varied Spanish cycling routes.
If you love wine and experiencing regional cuisine, you will love this Emporda region of Spain. Wine has been made here since the 5th century BC, when Phoenicians first colonized the coast. The gastronomy is based on a Mediterranean diet, rich in seafood, rice and fresh vegetables. The combination of seascape and rural countryside provide the freshest ingredients and makes Costa Brava one of the loveliest wine regions in the country.
This is a bicycle tour in Spain that offers something for just about everyone, it blends the mystical surreal consisting of the fantastical Dali interpretations of reality with the breathtaking real, encompassing the wild Costa Brava.
Want to see more of our bike tours in Spain?
tour
dates
Arrival possible any day in 2015.
our contact information
Mailing Address
Pack & Pedal Europe, Inc.
218 Hunter Rd
Springville, PA 18844-9578
USA
Telephone
Toll Free in the USA/Canada: +1 800.951.4384
Phone: +1 570.965.2064
Fax: +1 570.965.0925
E-Mail
Dali's Country
Make a Reservation
Before you book, please read this important information regarding our reservation and booking process.