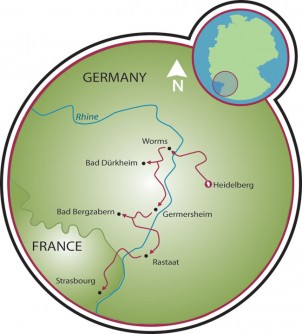 A fascinating three region bike tour in Europe
This bike tour in France and Germany takes in areas renowned for their wine growing: Pfalz, Baden and Alsace. By day, you'll cycle through scenic landscapes dotted with farms, meadows, cathedrals, and castles, while in the evening, you can sit, relax, enjoy some local wine with your dinner, and possibly stroll through whatever lovely little city you'll be spending that night in. Since you will be spending a few nights in spa-resort towns, there will be ample opportunities to treat yourself to after an invigorating day of cycling.
You will bike Heidelberg, whose fame and history extend back to Martin Luther and the Calvinists. Located nicely on the Neckar River, Heidelberg is well-known for its University, which was the leading one of its kind in 19th century Germany and is also the oldest in the country (having been founded in 1386)! 
Worms contains an impressive imperial Cathedral (Wormser Dom) that is one of Germany's finest examples of Romanesque architecture! Worms also played a prominent role in the ancient German Nibelungenlied (an epic poem that tells the tragic story of a dragon slayer and the royal Burgundians family). A festival is held every year to retell the tale. The Nibelungensaga is said to be factually based on individuals and events of the 5th and 6th centuries. While in Worms, be sure to indulge in some of their well-known Liebfraumilch wine! And what about Bad Dürkheim's Wurstmarkt? It is said to be the greatest wine and sausage festival in the world held every September.  These are just some of the highlights on this great tour!!
Want to see more bicycle tours in France?
tour
dates
Arrival possible daily from April 25 to October 11, 2015
Season 1: April 25 to May 8 and September 26 to October 11
Season 2: June 13 to August 14
Season 3: May 9 to June 12 and August 15 to September 25
our contact information
Mailing Address
Pack & Pedal Europe, Inc.
218 Hunter Rd
Springville, PA 18844-9578
USA
Telephone
Toll Free in the USA/Canada: +1 800.951.4384
Phone: +1 570.965.2064
Fax: +1 570.965.0925
E-Mail
Heidelberg to Strasbourg
Make a Reservation
Before you book, please read this important information regarding our reservation and booking process.