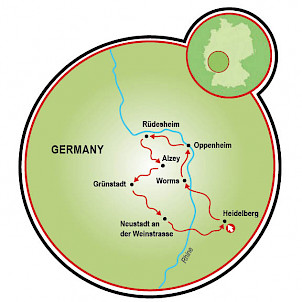 Cycle German Wine Country!
On this tour, you will experience the three great Imperial Cathedrals of Speyer, Worms and Mainz that sit magnificently along Europe's longest river. Each of them was erected at the crossroads of important trading and traveling routes, surrounded by beautiful scenery. This bike tour offers a varied and interesting route along bike paths predominantly flat as you follow the Rhine, and once in the wine-growing regions, a bit more hilly. You will cycle into the largest German wine producing areas of Rhein-Hessen and the Pfalz as well as ride some of the long and famous German Wine Route or Weinstrasse, the 2nd largest wine-growing region in Germany. Bad Dürkheim especially pays homage to the wine with a huge Wurstmarkt (Wine and Sausage Festival) every September that is said to be the largest wine festival in the world!! Of course, the wine flows freely all summer long. In and around Bad Dürkheim alone, there are a reported 144 wineries, many of which offer wine tastings.
This tour includes many great cities in its itinerary. Heidelberg is known for its University, and its 16-17th century Schloß that still looks over the town and contains a huge wine cask in its cellar. Worms is famous for the legend of the Nibelungenlied, for which a festival is held every year, as well as its Imperial Cathedral (Wormser Dom). Oppenheim is best known for its wines, especially those from the Oppenheimer Krötenbrunnen vineyards. Rüdesheim is Germany's biggest tourist attraction (except for Cologne Cathedral). This is because of its winemaking, the picturesque town itself and also its location within the Rheingau region and the Frankfurt Rhine Main Region. Neustadt an der Weinstrasse is also just a gorgeous little town with its heart in wine making.
For some more cycle tours that feature Wine, click to see the Alsace Wine Route, Bordeaux Wine Country, the Castles and Wine tour in Portugal, and New Zealand's Wine Trail!
tour
dates
9 day tour: Arrival possible on Saturdays from April 12 to October 12, 2014
6 day tour: Arrival possible on Sundays from April 12 to October 12, 2014
Season 1: April 12 to May 2 and October 4 to October 12
Season 2: May 3 to May 30 and July 26 to August 29
Season 3: May 31 to July 25 and August 30 to October 3
our contact information
Mailing Address
Pack & Pedal Europe, Inc.
218 Hunter Rd
Springville, PA 18844-9578
USA
Telephone
Phone: 570.965.2064
Toll free: 877.965.2064
Fax: 570.965.0925
E-Mail
Rhine River's Three Imperial Cathedrals
Make a Reservation
Before you book, please read this important information regarding our reservation and booking process.