Bordeaux - Châteaux, Rivers & Wine
Make a Reservation
Before you book, please read this important information regarding our reservation and booking process. International customers, please note the order of MONTH/DAY/YEAR in this form.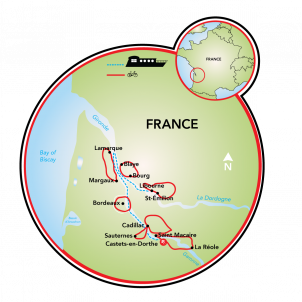 A bike and boat tour in the Bordeaux.
tour
dates
2017 Dates
Castets-en-Dorthe/Cadillac to Libourne
Low Season: April 22, 2017
Mid Season: May 6, 2017
High Season: May 20, June 3, June 17, August 26, September 9, September 23, October 7, 2017
Libourne to Castets-en-Dorthe/Cadillac
Mid Season: April 29 and October 14, 2017
High Season: May 13, May 27, June 10, June 24, September 2, September 16, Septembr 30, 2017
*Castets-en-Dorthe/Cadillac: The tour is planned to begin or end in Castets-en-Dorthe, pending the completion of a new dock. If it is not finished in time, the boat will remain docked in Cadillac.
*TRANSFER*: An optional transfer is offered and can be booked one-way or round-trip for a supplement. Booking this transfer is recommended, especially to/from Castets-en-Dorthe/Cadillac. Arrival day transfer meets at 2pm at Gare St Jean Train Station in Bordeaux and takes you directly to the boat. On departure day, the transfer will bring you back to Gare St Jean Train Station around 10am. See more information below in "Local Travel" under pricing.
A group discount is being offered on all departures. For groups of more than 10, one person travels free, equivalent to lower deck twin cabin pricing. Single supplement will still apply. These offers are not retroactive.
our contact information
Mailing Address
Tripsite.com
218 Hunter Rd
Springville, PA 18844-9578
USA
Telephone
Toll Free in the USA/Canada: 1.800.951.4384
Phone: +1 570.965.2064
Fax: +1 570.965.0925
Office Hours
8:30am-6:30pm EST Monday - Friday
Voice messages left over the weekend will be addressed on Monday
Emergency contact information is on our voicemail plus we are on email almost around the clock.
E-Mail