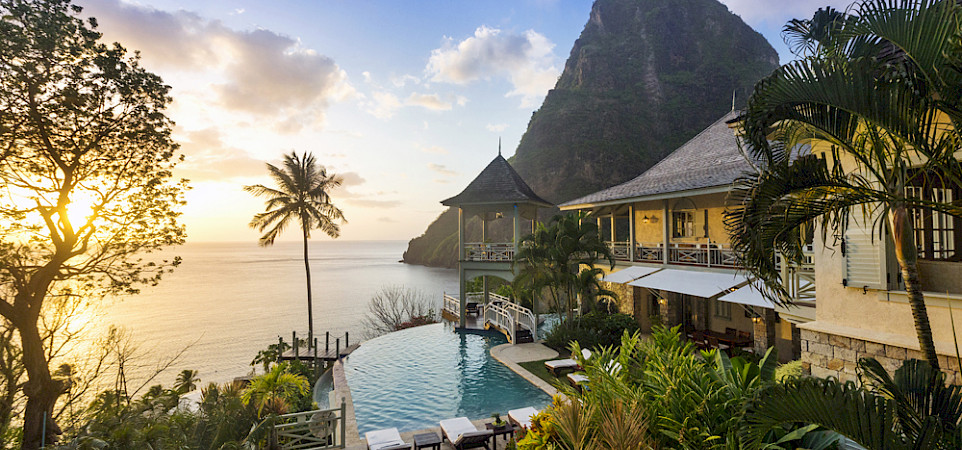 Arc En Ciel
Perfect for large groups!
5 bedroom St. Lucia villa in Soufriere
'Arc En Ciel' is a wonderful property, spectacularly situated on Beau Estate, between the World Heritage site of the Pitons. The property is situated above the Caribbean Sea and is a short distance from Jalousie Beach and hotel. The nearest town is Soufriere, which is a sleepy fishing village.
Book This Villa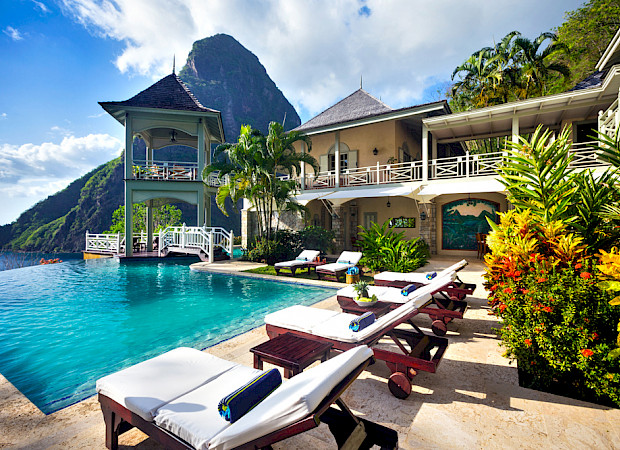 Overview

5 bedrooms

5.5 bathrooms

Sleeps 10

A/C

Chef

Pool

'Arc En Ciel' has been imaginatively designed to a very high standard by architect Lane Pettigrew, who has also created the interior design with handmade furniture from Honduras and some select pieces from Tommy Bahama. The house incorporates many aspects of traditional Caribbean style with its verandas, jalousie shutters and wooden railings. It has been constructed as a number of small pavilions connected by verandas. The exterior of the house has been partially finished with a facing of hand-chipped stones to resemble the exterior of the forts, which were constructed on the island many hundreds of years ago. The house is situated in an extensive, landscaped garden that has a wide variety of tropical flowers and trees.


'Arc En Ciel' has five double bedrooms, all of which are air-conditioned with ceiling fans. Each bedroom has its own TV, DVD player and stereo. Bedroom 1 has a queen-size bed and a patio with a unique view of Petit Piton. There is an en-suite bathroom, where the wall facing Petit Piton is glass, so guests can enjoy views of this mountain from the Jacuzzi bath and the shower. There is a private swimming pool and sun deck, that is situated off the bathroom, in an enclosed garden area. Bedrooms 2 and 3 each have a queen-size bed, a private patio and an en-suite bathroom with shower and Jacuzzi. Bedrooms 4 and 5, which are situated downstairs and open onto the swimming pool deck, each have two single beds, a private patio and an en-suite bathroom with shower and Jacuzzi.

Show More Show Less

The living/dining room is situated in the centre of the house and is tastefully furnished and equipped with a TV, DVD and stereo The formal dining table can seat 10. This room opens out onto a patio which leads to a spectacular dining gazebo, where guests can dine with the backdrop of the Caribbean Sea and the Pitons.

The balance of the entertainment areas are situated downstairs. Here you enjoy the outdoor living of the Caribbean in the large, covered patio with a casual dining area and bar with its own fridge. This leads onto an extensive pool deck and a series of smaller pool patios. There is a comfortable, air-conditioned family roof with two large sofas, one of which can convert into a double bed. The infinity-edge pool weaves its way around this area and includes a stone cave with a waterfall. A modern, well-equipped kitchen completes the villa.

Villa Details

Amenities

Air-conditioned bedrooms
BBQ
CD Player
Ceiling fans
DVD player
Gazebo
Hairdryer
High-speed wireless internet
Safe
Staffed Villa
Stereo
TVs
Telephone
Washing machine

Pool details

Infinity-edge swimming pool

Bedrooms

Bedroom 1: Queen-size bed, en-suite bathroom with Jacuzzi bath and glass wall facing Petit Piton, air-conditioning, ceiling fan, TV, DVD player, stereo, patio, private plunge pool and sun deck in an enclosed garden area
Bedroom 2: Queen-size bed, en-suite bath with shower and Jacuzzi, air-conditioning, ceiling fan, TV, DVD player, stereo, private patio
Bedroom 3: King-size bed, en-suite bath with shower and Jacuzzi, air-conditioning, ceiling fan, TV, DVD player, stereo, private patio
Bedrooms 4 and 5 (situated downstairs and open onto the swimming pool deck): Two single beds, en-suite bathroom with shower and Jacuzzi, air-conditioning, ceiling fan, TV, DVD player, stereo, private patio. Twin beds can be converted to a king.
Additional bedding: Sofa bed in family room
Can convert TV room into an extra room for $200 per night based on double occupancy.

Beach

Staff

Housekeeper
Houseman & Chef - 7 days a week

Staff (additional)

Personal laundry service available at an additional cost
Groceries for this villa are only to be done by the team at the villa, this will include a standard 20% service fee.

Location

The area also boasts the drive in volcano, hot waterfalls, diving and snorkeling at Anse Chastanet beach and exotic tropical gardens and mineral baths at Diamond Estate.
Access road is very long and narrow, an arrival transfer is included with rental to transport guests.

Please note

No pets permitted
This property is a non smoking property. External areas ONLY may be utilized for the smoking of cigarettes/cigars. Also, if any illegal substances are located or found on the property the result will be immediate eviction and charges may be levied against you.
Please note the the TV room can be converted into an additional bedroom for $200/night.
Children are considered to be under the age of 12, older than 12 will be considered a teen or adult.
Please add a 10% surcharge for stays during the Jazz Festival, usually the 1st and 2nd week of May. Please inquire for details.

Photos

Pricing

Travel dates
Bedrooms
Min. stay
Nightly rate
Weekly rate
Available?
April 15, 2021 – December 14, 2021
5

bedrooms

3 nights

minimum stay

$ 2,300

USD

nightly

$ 16,100

USD

weekly

5%

Limited dates available (5%)

December 15, 2021 – January 4, 2022

• Christmas / New Year's

5

bedrooms

7 nights

minimum stay

$ 3,190

USD

nightly

$ 22,330

USD

weekly

Booked

Fully booked (no dates available)

January 5, 2022 – April 14, 2022
5

bedrooms

3 nights

minimum stay

$ 2,900

USD

nightly

$ 20,300

USD

weekly

13%

Limited dates available (13%)

April 15, 2022 – December 14, 2022
5

bedrooms

3 nights

minimum stay

$ 2,300

USD

nightly

$ 16,100

USD

weekly

91%

Many dates available (91%)

Please note

Tax and service charges: Please add 10% tax to all rates. Adults - 17 upwards $6 US per head per day 12-16 Years $3 US per head per day 0-11 Years $0 Groceries for this villa are only to be done by the team at the villa. This will include a standard 20% service fee.
Security deposit: $3,000

Map

Availability

2021

October 2021

| MON | TUE | WED | THU | FRI | SAT | SUN |
| --- | --- | --- | --- | --- | --- | --- |
| | | | | 01 | 02 | 03 |
| 04 | 05 | 06 | 07 | 08 | 09 | 10 |
| 11 | 12 | 13 | 14 | 15 | 16 | 17 |
| 18 | 19 | 20 | 21 | 22 | 23 | 24 |
| 25 | 26 | 27 | 28 | 29 | 30 | 31 |

November 2021

MON
TUE
WED
THU
FRI
SAT
SUN
01
02
03
04
05
06
07
08
09
10
11
12
13
14
15
16
17
18
19
20
21
22
23
24
25
26
27
28
29
30

December 2021

MON
TUE
WED
THU
FRI
SAT
SUN
01
02
03
04
05
06
07
08
09
10
11
12
13
14
15
16
17
18
19
20
21
22
23
24
25
26
27
28
29
30
31

---

2022

January 2022

MON
TUE
WED
THU
FRI
SAT
SUN
01
02
03
04
05
06
07
08
09
10
11
12
13
14
15
16
17
18
19
20
21
22
23
24
25
26
27
28
29
30
31

February 2022

MON
TUE
WED
THU
FRI
SAT
SUN
01
02
03
04
05
06
07
08
09
10
11
12
13
14
15
16
17
18
19
20
21
22
23
24
25
26
27
28

March 2022

MON
TUE
WED
THU
FRI
SAT
SUN
01
02
03
04
05
06
07
08
09
10
11
12
13
14
15
16
17
18
19
20
21
22
23
24
25
26
27
28
29
30
31

April 2022

MON
TUE
WED
THU
FRI
SAT
SUN
01
02
03
04
05
06
07
08
09
10
11
12
13
14
15
16
17
18
19
20
21
22
23
24
25
26
27
28
29
30

May 2022

MON
TUE
WED
THU
FRI
SAT
SUN
01
02
03
04
05
06
07
08
09
10
11
12
13
14
15
16
17
18
19
20
21
22
23
24
25
26
27
28
29
30
31

June 2022

MON
TUE
WED
THU
FRI
SAT
SUN
01
02
03
04
05
06
07
08
09
10
11
12
13
14
15
16
17
18
19
20
21
22
23
24
25
26
27
28
29
30

July 2022

| MON | TUE | WED | THU | FRI | SAT | SUN |
| --- | --- | --- | --- | --- | --- | --- |
| | | | | 01 | 02 | 03 |
| 04 | 05 | 06 | 07 | 08 | 09 | 10 |
| 11 | 12 | 13 | 14 | 15 | 16 | 17 |
| 18 | 19 | 20 | 21 | 22 | 23 | 24 |
| 25 | 26 | 27 | 28 | 29 | 30 | 31 |

August 2022

MON
TUE
WED
THU
FRI
SAT
SUN
01
02
03
04
05
06
07
08
09
10
11
12
13
14
15
16
17
18
19
20
21
22
23
24
25
26
27
28
29
30
31

September 2022

MON
TUE
WED
THU
FRI
SAT
SUN
01
02
03
04
05
06
07
08
09
10
11
12
13
14
15
16
17
18
19
20
21
22
23
24
25
26
27
28
29
30

October 2022

MON
TUE
WED
THU
FRI
SAT
SUN
01
02
03
04
05
06
07
08
09
10
11
12
13
14
15
16
17
18
19
20
21
22
23
24
25
26
27
28
29
30
31

November 2022

MON
TUE
WED
THU
FRI
SAT
SUN
01
02
03
04
05
06
07
08
09
10
11
12
13
14
15
16
17
18
19
20
21
22
23
24
25
26
27
28
29
30

December 2022

MON
TUE
WED
THU
FRI
SAT
SUN
01
02
03
04
05
06
07
08
09
10
11
12
13
14
15
16
17
18
19
20
21
22
23
24
25
26
27
28
29
30
31

---

2023

January 2023

MON
TUE
WED
THU
FRI
SAT
SUN
01
02
03
04
05
06
07
08
09
10
11
12
13
14
15
16
17
18
19
20
21
22
23
24
25
26
27
28
29
30
31

February 2023

MON
TUE
WED
THU
FRI
SAT
SUN
01
02
03
04
05
06
07
08
09
10
11
12
13
14
15
16
17
18
19
20
21
22
23
24
25
26
27
28

March 2023

MON
TUE
WED
THU
FRI
SAT
SUN
01
02
03
04
05
06
07
08
09
10
11
12
13
14
15
16
17
18
19
20
21
22
23
24
25
26
27
28
29
30
31

April 2023

| MON | TUE | WED | THU | FRI | SAT | SUN |
| --- | --- | --- | --- | --- | --- | --- |
| | | | | | 01 | 02 |
| 03 | 04 | 05 | 06 | 07 | 08 | 09 |
| 10 | 11 | 12 | 13 | 14 | 15 | 16 |
| 17 | 18 | 19 | 20 | 21 | 22 | 23 |
| 24 | 25 | 26 | 27 | 28 | 29 | 30 |

May 2023

MON
TUE
WED
THU
FRI
SAT
SUN
01
02
03
04
05
06
07
08
09
10
11
12
13
14
15
16
17
18
19
20
21
22
23
24
25
26
27
28
29
30
31

June 2023

MON
TUE
WED
THU
FRI
SAT
SUN
01
02
03
04
05
06
07
08
09
10
11
12
13
14
15
16
17
18
19
20
21
22
23
24
25
26
27
28
29
30

July 2023

MON
TUE
WED
THU
FRI
SAT
SUN
01
02
03
04
05
06
07
08
09
10
11
12
13
14
15
16
17
18
19
20
21
22
23
24
25
26
27
28
29
30
31

August 2023

MON
TUE
WED
THU
FRI
SAT
SUN
01
02
03
04
05
06
07
08
09
10
11
12
13
14
15
16
17
18
19
20
21
22
23
24
25
26
27
28
29
30
31

September 2023

MON
TUE
WED
THU
FRI
SAT
SUN
01
02
03
04
05
06
07
08
09
10
11
12
13
14
15
16
17
18
19
20
21
22
23
24
25
26
27
28
29
30

October 2023

MON
TUE
WED
THU
FRI
SAT
SUN
01
02
03
04
05
06
07
08
09
10
11
12
13
14
15
16
17
18
19
20
21
22
23
24
25
26
27
28
29
30
31

November 2023

MON
TUE
WED
THU
FRI
SAT
SUN
01
02
03
04
05
06
07
08
09
10
11
12
13
14
15
16
17
18
19
20
21
22
23
24
25
26
27
28
29
30

December 2023

| MON | TUE | WED | THU | FRI | SAT | SUN |
| --- | --- | --- | --- | --- | --- | --- |
| | | | | 01 | 02 | 03 |
| 04 | 05 | 06 | 07 | 08 | 09 | 10 |
| 11 | 12 | 13 | 14 | 15 | 16 | 17 |
| 18 | 19 | 20 | 21 | 22 | 23 | 24 |
| 25 | 26 | 27 | 28 | 29 | 30 | 31 |
Inquire about booking this villa
More villas you might like