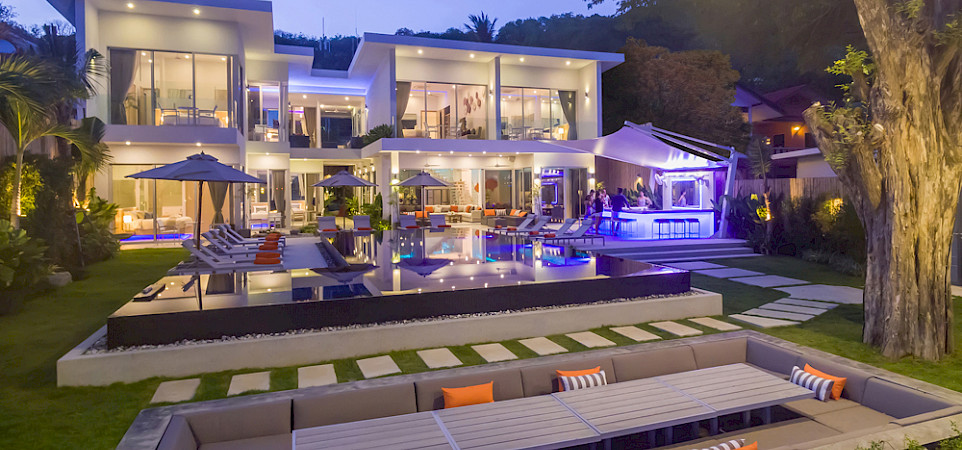 Baan Amandeha
beachfront splendor, great for families!
10 bedroom Thailand villa in Phuket
Phuket's most exclusive beach front villa, located directly on the island's most beautiful white sand beach. Including 10-en-suite bedrooms, two Jacuzzi's, spa, award-winning infinity pool, sea-front dining, plus every luxury including full-time housekeeping staff and your own personal concierge.
Book This Villa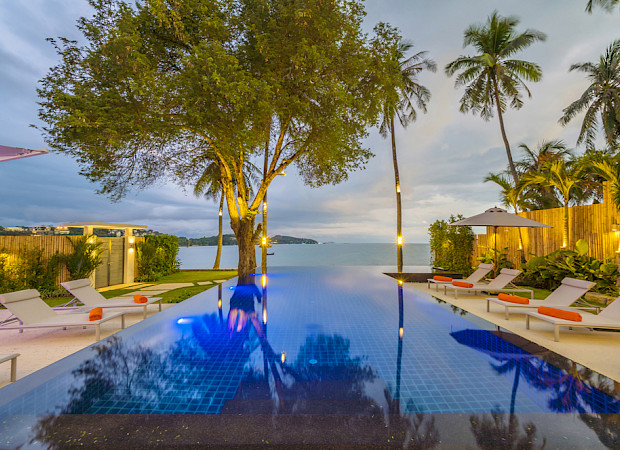 Overview

10 bedrooms

13 bathrooms

Sleeps 24

A/C

Beachfront

Pool

Waterfront

Baan Amandeha is a brand new private luxury beach villa, located in the center of Ao Yon Bay, Phuket's most beautiful white sand beach. Ao Yon beach is picturesque and sheltered, and is therefore one of the select few beaches on Phuket that offer you 365 days a year swimming. Phuket's west coast beaches are all closed for most of the period from May thru Nov, plus closed on any days with strong tides. This is especially important for families with children.

It is located on Phuket's famous Cape Panwa peninsular, which is surrounded by beautiful islands and is the gateway to the islands of southern Phuket such as Phi Phi Island and Koh Racha. Cape Panwa, on Phuket's southern coast is where you'll find the luxury end of tourism and away from Phuket's lower-end mass-tourist offerings found on the west coast, making it perfect for both families and those seeking an exclusive, luxurious and relaxing beach holiday.

The villa is also only 10-15 minutes away from Phuket Town with all of it's bars, restaurants, colourful markets and designer shops; 15 minutes from the main shopping centres of the island; 15 minutes from Phuket's famous night market; 5 minutes from Cape Panwa peninsular with it's bars, restaurants, and The Phuket Aquarium.

You could decide not to leave Ao Yon Beach as there are wonderful restaurants and bars on your doorstep, including The Brasserie on The Beach, the beach restaurant and beach club of Phuket's best restaurant and 'institution', The Brasserie in Phuket Town, which is only a 30 second walk along the beach from the villa. They'll prepare champagne and oysters, a 'just-caught' barbecued fish, or the island's best fillet steak tenderloin! The Beach Restaurant just one minute away also serves delicious Thai food directly on the beach – a real 'no shoes' experience and always popular.

Show More Show Less

The villa has been designed by one of Thailand's finest architects, Khun Navachon Suksawat. She has created a luxury villa that is contemporary, spacious and light. It is visually stunning, but most importantly, it makes the guests feel special. She created the villa over two separate buildings connected by a sky bridge. This gives all guests maximum light and space. In fact all 10 bedrooms enjoy sea views, all have either a private terrace or balcony, and all enjoy en-suite facilities. She also designed its sister property - The Beach House at Ao Yon Bay with the same inspiration, which is located just next door and can be used when more space is required for larger groups.

To give the villa a spacious feel and to ensure it is bright, she used huge floor-to-ceiling glass windows and doors in all bedrooms and living areas to enable the beautiful views of the beach, sea and islands to flood into every area of the villa. In fact of over 50% of the villas exterior is glass to give you a feeling of being part of the wonderful surroundings.

Continuing the theme she has used high ceilings in all areas. The main living area is over 200 sqm and features a huge open-plan living, dining and kitchen with seated bar. Equipped with lounge and soft seating it will be such a wonderful place to read a magazine, or catch up with friends on Facebook.

Outside there are carefully landscaped gardens, with ornamental pots, tropical plants, palm trees, and a 200 years old tamarind tree. There is a fully-equipped professional bar with fridges, freezer, ice and wine coolers, pizza oven and large BBQ. There is an infinity edge 12m swimming pool, with sunken seating, and integral Jacuzzi. Surrounding the pool there are sun loungers plus umbrellas to give you shade, or enjoy to enjoy a pool-side massage overlooking the sea. You'll enjoy wonderful sea views from every corner of the garden, and can access the beach and sea directly from the garden.

The villa also enjoys a fully equipped spa, with a two bed massage room, plus 8-person steam room. Within the spa there is also a private outdoor two-person Jacuzzi with chromotherapy lighting system. Our massage therapists will come to the villa and you can enjoy a whole range of relaxing treatments.

Baan Amandeha Beach Retreat is a very special place, a one in a million property. It is arguably Phuket's finest property when you consider it's direct beach access and seafront location, plus it's modern contemporary design. Consider the attentive service levels you will receive with a full-time housekeeper. Baan Amandeha is perfect for families due to the direct beach access and safe seas for children, but would also make the perfect party house for groups of friends or a private wedding too.

Villa Details

Amenities

2000+ movie library, of classic movies, latest releases, all Oscar winners, plus children's and family movies
65" HD smart TV, with HD DVD player in living room
8-Foot pool table (designed for both pool & snooker)
Dryer
Free high-speed WI-Fi internet access
Full international satellite with 200+ TV channels
Fully equipped kitchen
High-speed wireless internet throughout all bedrooms and living areas
Home-cinema system with 4 m screen and professional HD Projector
Iron & ironing board
Luxury indoor and outdoor towels
Luxury toiletries in the bathrooms
Selection of board games, cards, backgammon, chess, and draughts
Selection of books and magazines
Surround sound speaker system, with MP3/iPhone/iPod dock
Table tennis
Washing machine

Pool details

Infinity edge 12 meter swimming pool, with sunken seating, sun loungers plus beach-club cabana style seating

Bedrooms

Bedroom 1 (West Wing, Ground Floor): King bed or two large single beds with large luxury en-suite bathroom, with feature glass walls, large indoor walk-in rain & rail shower. High-vaulted ceiling, contemporary artworks, built-in wardrobes, vanity table, sitting area, personal bar, safe, plus private terrace with panoramic sea views
Bedroom 2 (West Wing, Ground Floor): King bed or two large single beds with large luxury en-suite bathroom, with feature glass walls, large indoor walk-in rain & rail shower. High-vaulted ceiling, contemporary artworks, built-in wardrobes, vanity table, sitting area, personal bar, safe, plus private terrace with panoramic sea views.
Bedroom 3 (West Wing, Ground Floor): King bed or two large single beds with large luxury en-suite bathroom, with feature glass walls, large indoor walk-in rain & rail shower. High-vaulted ceiling, contemporary artworks, built-in wardrobes, vanity table, sitting area, personal bar, safe, plus private terrace with panoramic sea views
Bedroom 4 (West Wing, Upper Floor): King bed or two large single beds with large luxury en-suite bathroom, with feature glass walls, large indoor walk-in rain & rail shower. High-vaulted ceiling, contemporary artworks, built-in wardrobes, vanity table, sitting area, personal bar, safe, plus private terrace with panoramic sea views.
Bedroom 5 (West Wing, Upper Floor): King bed or two large single beds with large luxury en-suite bathroom, with feature glass walls, large indoor walk-in rain & rail shower. High-vaulted ceiling, contemporary artworks, built-in wardrobes, vanity table, sitting area, personal bar, safe, plus private terrace with panoramic sea views
Bedroom 6 (West Wing, Upper Floor): King bed or two large single beds with large luxury en-suite bathroom, with feature glass walls, large indoor walk-in rain & rail shower. High-vaulted ceiling, contemporary artworks, built-in wardrobes, vanity table, sitting area, personal bar, safe, plus private terrace with panoramic sea views
Bedroom 7 (Main Pavilion, Upper Floor): King bed or two large single beds with large luxury en-suite bathroom, with feature glass walls, large indoor walk-in rain & rail shower. High-vaulted ceiling, contemporary artworks, built-in wardrobes, vanity table, sitting area, personal bar, safe, plus private terrace with panoramic sea views
Bedroom 8 (Main Pavilion, Upper Floor): King bed or two large single beds with large luxury en-suite bathroom, with feature glass walls, large indoor walk-in rain & rail shower. High-vaulted ceiling, contemporary artworks, built-in wardrobes, vanity table, sitting area, personal bar, safe, plus private terrace with panoramic sea views. Two-person private Jacuzzi bath on balcony
Bedroom 9 (Main Pavilion, Upper Floor): King bed or two large single beds with large luxury en-suite bathroom, with feature glass walls, large indoor walk-in rain & rail shower. High-vaulted ceiling, contemporary artworks, built-in wardrobes, vanity table, sitting area, personal bar, safe, plus private terrace with panoramic sea views. Two-person private Jacuzzi bath on balcony
Bedroom 10 (Main Pavilion, Upper Floor): King bed or two large single beds with large luxury en-suite bathroom, with feature glass walls, large indoor walk-in rain & rail shower. High-vaulted ceiling, contemporary artworks, built-in wardrobes, vanity table, sitting area, personal bar, safe, plus private terrace with panoramic sea views

Beach

Located in the center of Ao Yon Bay, Phuket's most beautiful white sand beach.

Staff

Complimentary airport transfers
A mid-week bedding change
8 Hours of daily housekeeping

Staff (additional)

Additional housekeeping services can be arranged
Daily laundry services
Concierge services
Car rental
Tailor-made tours and activities
Day trips to local markets
Private Chef & catering services.
Wedding and event planning services (family reunions or surprise birthday parties, etc.)
Tickets and restaurant reservations
Luxury private transportation
Bodyguards and personal security services
Nanny and babysitting services
Personalized cakes & bakery goods
Massage, health and beauty treatments
Personal shopper
Corporate retreat and team-building services
Golf course reservations
Personal training services
Fresh flower arrangements
Thai cooking lessons or demonstrations
Private yacht charter

Location

The villa is also only 10-15 minutes away from Phuket Town with all of it's bars, restaurants, colorful markets and designer shops
15 minutes from the main shopping centers of the island
15 minutes from Phuket's famous night market
5 minutes from Cape Panwa peninsular with it's bars, restaurants, and The Phuket Aquarium

Please note

The standard number of guests for Villa Baan Amandeha is 20 in 10 bedrooms. If required, it is possible to increase the number of guests by setting up extra beds within the existing rooms. The maximum capacity is 30 guests
Baby cots are subject to availability
Use of all of the amenities within Baan Amandeha, luxury beach retreat are included
Use of all beach equipment such as canoes and snorkeling equipment are included
Complimentary use of the spa and steam room

Photos

Pricing

Pricing is available upon request. Please complete the form below to inquire about this villa and pricing.

Please note

Tax and service charges: Rates are based on 20 guests with a maximum occupancy of 30. Rates are based on a 7 night stay. Shorter stays are possible at a higher rate. Additional guests are charged £49 (for stays of up to 6 nights) and £34 (for stays for 7 nights or longer) per person per night for each additional bed above the standard number of sleeps. Exceptions to this clause are made only for infants under 24 months old at the time of travel. This covers the costs of linen and towels, linen change, washing linen & towels, electricity usage, water usage, the setting up of the addition beds, plus normal wear and tear. Baby cots are subject to availability.
Security deposit: £1,000 

Map

Availability

2023

February 2023

MON
TUE
WED
THU
FRI
SAT
SUN
01
02
03
04
05
06
07
08
09
10
11
12
13
14
15
16
17
18
19
20
21
22
23
24
25
26
27
28

March 2023

MON
TUE
WED
THU
FRI
SAT
SUN
01
02
03
04
05
06
07
08
09
10
11
12
13
14
15
16
17
18
19
20
21
22
23
24
25
26
27
28
29
30
31

April 2023

| MON | TUE | WED | THU | FRI | SAT | SUN |
| --- | --- | --- | --- | --- | --- | --- |
| | | | | | 01 | 02 |
| 03 | 04 | 05 | 06 | 07 | 08 | 09 |
| 10 | 11 | 12 | 13 | 14 | 15 | 16 |
| 17 | 18 | 19 | 20 | 21 | 22 | 23 |
| 24 | 25 | 26 | 27 | 28 | 29 | 30 |

May 2023

MON
TUE
WED
THU
FRI
SAT
SUN
01
02
03
04
05
06
07
08
09
10
11
12
13
14
15
16
17
18
19
20
21
22
23
24
25
26
27
28
29
30
31

June 2023

MON
TUE
WED
THU
FRI
SAT
SUN
01
02
03
04
05
06
07
08
09
10
11
12
13
14
15
16
17
18
19
20
21
22
23
24
25
26
27
28
29
30

July 2023

MON
TUE
WED
THU
FRI
SAT
SUN
01
02
03
04
05
06
07
08
09
10
11
12
13
14
15
16
17
18
19
20
21
22
23
24
25
26
27
28
29
30
31

August 2023

MON
TUE
WED
THU
FRI
SAT
SUN
01
02
03
04
05
06
07
08
09
10
11
12
13
14
15
16
17
18
19
20
21
22
23
24
25
26
27
28
29
30
31

September 2023

MON
TUE
WED
THU
FRI
SAT
SUN
01
02
03
04
05
06
07
08
09
10
11
12
13
14
15
16
17
18
19
20
21
22
23
24
25
26
27
28
29
30

October 2023

MON
TUE
WED
THU
FRI
SAT
SUN
01
02
03
04
05
06
07
08
09
10
11
12
13
14
15
16
17
18
19
20
21
22
23
24
25
26
27
28
29
30
31

November 2023

MON
TUE
WED
THU
FRI
SAT
SUN
01
02
03
04
05
06
07
08
09
10
11
12
13
14
15
16
17
18
19
20
21
22
23
24
25
26
27
28
29
30

December 2023

| MON | TUE | WED | THU | FRI | SAT | SUN |
| --- | --- | --- | --- | --- | --- | --- |
| | | | | 01 | 02 | 03 |
| 04 | 05 | 06 | 07 | 08 | 09 | 10 |
| 11 | 12 | 13 | 14 | 15 | 16 | 17 |
| 18 | 19 | 20 | 21 | 22 | 23 | 24 |
| 25 | 26 | 27 | 28 | 29 | 30 | 31 |

---

2024

January 2024

MON
TUE
WED
THU
FRI
SAT
SUN
01
02
03
04
05
06
07
08
09
10
11
12
13
14
15
16
17
18
19
20
21
22
23
24
25
26
27
28
29
30
31

February 2024

MON
TUE
WED
THU
FRI
SAT
SUN
01
02
03
04
05
06
07
08
09
10
11
12
13
14
15
16
17
18
19
20
21
22
23
24
25
26
27
28
29

March 2024

| MON | TUE | WED | THU | FRI | SAT | SUN |
| --- | --- | --- | --- | --- | --- | --- |
| | | | | 01 | 02 | 03 |
| 04 | 05 | 06 | 07 | 08 | 09 | 10 |
| 11 | 12 | 13 | 14 | 15 | 16 | 17 |
| 18 | 19 | 20 | 21 | 22 | 23 | 24 |
| 25 | 26 | 27 | 28 | 29 | 30 | 31 |

April 2024

MON
TUE
WED
THU
FRI
SAT
SUN
01
02
03
04
05
06
07
08
09
10
11
12
13
14
15
16
17
18
19
20
21
22
23
24
25
26
27
28
29
30

May 2024

MON
TUE
WED
THU
FRI
SAT
SUN
01
02
03
04
05
06
07
08
09
10
11
12
13
14
15
16
17
18
19
20
21
22
23
24
25
26
27
28
29
30
31

June 2024

| MON | TUE | WED | THU | FRI | SAT | SUN |
| --- | --- | --- | --- | --- | --- | --- |
| | | | | | 01 | 02 |
| 03 | 04 | 05 | 06 | 07 | 08 | 09 |
| 10 | 11 | 12 | 13 | 14 | 15 | 16 |
| 17 | 18 | 19 | 20 | 21 | 22 | 23 |
| 24 | 25 | 26 | 27 | 28 | 29 | 30 |

July 2024

MON
TUE
WED
THU
FRI
SAT
SUN
01
02
03
04
05
06
07
08
09
10
11
12
13
14
15
16
17
18
19
20
21
22
23
24
25
26
27
28
29
30
31

August 2024

MON
TUE
WED
THU
FRI
SAT
SUN
01
02
03
04
05
06
07
08
09
10
11
12
13
14
15
16
17
18
19
20
21
22
23
24
25
26
27
28
29
30
31

September 2024

MON
TUE
WED
THU
FRI
SAT
SUN
01
02
03
04
05
06
07
08
09
10
11
12
13
14
15
16
17
18
19
20
21
22
23
24
25
26
27
28
29
30

October 2024

MON
TUE
WED
THU
FRI
SAT
SUN
01
02
03
04
05
06
07
08
09
10
11
12
13
14
15
16
17
18
19
20
21
22
23
24
25
26
27
28
29
30
31

November 2024

MON
TUE
WED
THU
FRI
SAT
SUN
01
02
03
04
05
06
07
08
09
10
11
12
13
14
15
16
17
18
19
20
21
22
23
24
25
26
27
28
29
30

December 2024

MON
TUE
WED
THU
FRI
SAT
SUN
01
02
03
04
05
06
07
08
09
10
11
12
13
14
15
16
17
18
19
20
21
22
23
24
25
26
27
28
29
30
31

---

2025

January 2025

MON
TUE
WED
THU
FRI
SAT
SUN
01
02
03
04
05
06
07
08
09
10
11
12
13
14
15
16
17
18
19
20
21
22
23
24
25
26
27
28
29
30
31

February 2025

MON
TUE
WED
THU
FRI
SAT
SUN
01
02
03
04
05
06
07
08
09
10
11
12
13
14
15
16
17
18
19
20
21
22
23
24
25
26
27
28

March 2025

MON
TUE
WED
THU
FRI
SAT
SUN
01
02
03
04
05
06
07
08
09
10
11
12
13
14
15
16
17
18
19
20
21
22
23
24
25
26
27
28
29
30
31

April 2025

MON
TUE
WED
THU
FRI
SAT
SUN
01
02
03
04
05
06
07
08
09
10
11
12
13
14
15
16
17
18
19
20
21
22
23
24
25
26
27
28
29
30

May 2025

MON
TUE
WED
THU
FRI
SAT
SUN
01
02
03
04
05
06
07
08
09
10
11
12
13
14
15
16
17
18
19
20
21
22
23
24
25
26
27
28
29
30
31

June 2025

MON
TUE
WED
THU
FRI
SAT
SUN
01
02
03
04
05
06
07
08
09
10
11
12
13
14
15
16
17
18
19
20
21
22
23
24
25
26
27
28
29
30

July 2025

MON
TUE
WED
THU
FRI
SAT
SUN
01
02
03
04
05
06
07
08
09
10
11
12
13
14
15
16
17
18
19
20
21
22
23
24
25
26
27
28
29
30
31

August 2025

| MON | TUE | WED | THU | FRI | SAT | SUN |
| --- | --- | --- | --- | --- | --- | --- |
| | | | | 01 | 02 | 03 |
| 04 | 05 | 06 | 07 | 08 | 09 | 10 |
| 11 | 12 | 13 | 14 | 15 | 16 | 17 |
| 18 | 19 | 20 | 21 | 22 | 23 | 24 |
| 25 | 26 | 27 | 28 | 29 | 30 | 31 |

September 2025

MON
TUE
WED
THU
FRI
SAT
SUN
01
02
03
04
05
06
07
08
09
10
11
12
13
14
15
16
17
18
19
20
21
22
23
24
25
26
27
28
29
30

October 2025

MON
TUE
WED
THU
FRI
SAT
SUN
01
02
03
04
05
06
07
08
09
10
11
12
13
14
15
16
17
18
19
20
21
22
23
24
25
26
27
28
29
30
31

November 2025

| MON | TUE | WED | THU | FRI | SAT | SUN |
| --- | --- | --- | --- | --- | --- | --- |
| | | | | | 01 | 02 |
| 03 | 04 | 05 | 06 | 07 | 08 | 09 |
| 10 | 11 | 12 | 13 | 14 | 15 | 16 |
| 17 | 18 | 19 | 20 | 21 | 22 | 23 |
| 24 | 25 | 26 | 27 | 28 | 29 | 30 |

December 2025

MON
TUE
WED
THU
FRI
SAT
SUN
01
02
03
04
05
06
07
08
09
10
11
12
13
14
15
16
17
18
19
20
21
22
23
24
25
26
27
28
29
30
31
Inquire about booking this villa
More villas you might like