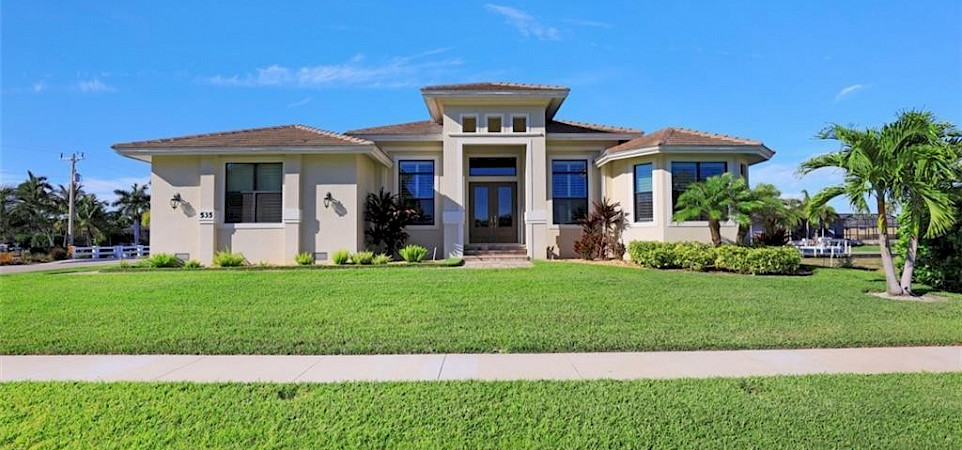 Nautical Retreat
4 bedroom Florida villa in Marco Island
This incredible million-dollar home on the water is one of the most talked-about waterfront properties on Marco Island.
Inquire About This Villa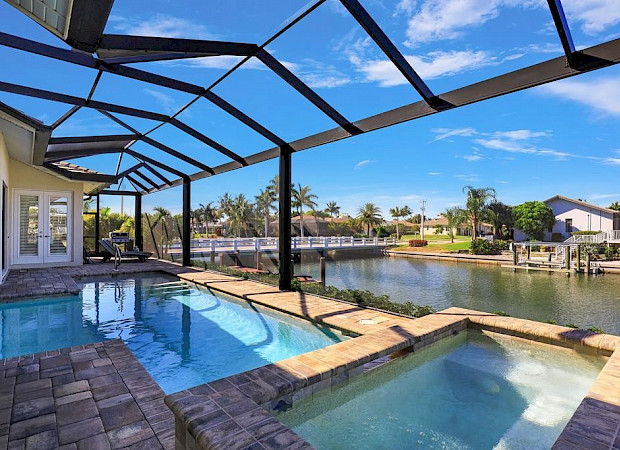 Overview

4 bedrooms

3 bathrooms

Sleeps 8

A/C

Internet

Jacuzzi

Pool

Waterfront

This four-bedroom home plus den boasts high ceilings, gorgeous modern architecture, a gourmet kitchen, spacious living areas, three spa-inspired bathrooms, and a private pool and spa that overlook the water. Every detail in this home was designed with luxury and elegance in mind, and it is a comfortable and convenient place to experience the authentic island lifestyle.

To get to this beautiful property, you'll drive down quiet suburban streets lined with impressive houses and swaying palm trees. When you get to the home, you'll immediately notice the lush green landscaping, tropical bushes and trees, and stunning architecture and large windows. There is plenty of room in the driveway to park your vehicle and then head inside.

When you walk in, the first thing you'll notice is the beautiful central living area. Complete with vinyl plank flooring, high ceilings, recessed lighting, and high-end furniture, this bright and welcoming living space features color tones that mimic the nearby ocean. Sit back on this L shaped couch or in one of the many comfortable armchairs and enjoy the view of the pool.

Show More Show Less

The living room features subtle ocean-inspired accents, and there are sliding glass doors that allow for unobstructed views out to the patio, over the pool, and into the calm channel behind the home.  There is a seating area tucked off of the living room up against a large window that overlooks the front of the property. This intimate area has four comfortable lounge chairs and modern lighting. It is a great place to read a book, play a game of cards, or set up your laptop and get some work done.

Directly off of the main living room is the stunning gourmet kitchen. This open-concept space features sleek granite countertops, custom wood cabinets, beautiful tile work, high ceilings, and stainless steel appliances. An industrial size sink and whisper-quiet dishwasher make it easy to clean up after a family meal, and the center island doubles as a breakfast bar with bistro-style seating. This kitchen is equipped with all of the appliances and gadgets you need to cook just like you do at home, such as a coffee maker, bakeware, utensils, dishes, a gourmet knife set, blender, and more.

A formal dining room is tucked off of the kitchen and sits in a nook of windows overlooking the pool. This contemporary dining space features seating for six at an expansive wooden table under hanging decorative lights. Enjoy breakfast with a view or sit together with your family and plan in your adventures for the day.

The split floor plan allows families and friends to find peace and privacy in bedrooms tucked off of the main living areas. The master bedroom features a high-end King size bed with luxury mattress and name brand pillows, sheets, and comforter. This bedroom has plank flooring, large windows, and a neutral color scheme that reflects the colors of the ocean. This bedroom has a spacious private bathroom, complete with elegant double vanities and hotel quality towels. Relax your muscles after a busy day exploring the island in the deep garden tub set under large windows. Or spend some time in the walk-in shower.

The second bedroom has navy blue and tan color tones, and two comfortable twin size beds. There are subtle nautical accents throughout the room, and large windows allow for plenty of natural light. This is a great room for kids but can be comfortable for adults as well. This bedroom is just steps from the family bathroom, which is complete with a tub/shower combo with rain shower features and an elegant granite vanity area. The nautical and ocean themed accents can be found throughout the home. The third bedroom has a plush King-size bed, vinyl plank flooring, and decorative light fixtures. This simple but elegant bedroom is quiet and inviting, and gets plenty of natural light. There is also a private bathroom that leads out to the pool. The fourth bedroom located in the front of the home has a plush Queen-size bed with ample sun shining in.

The extra room can be used as an office/den space or an additional bedroom (full sleeper sofa). This cozy room has a desk that can be used as a laptop-friendly workspace, and a comfortable navy blue sofa that pulls out into a bed. If you're doing a little bit of work while on vacation, sneak away to this quiet office space to make phone calls or check emails.

From almost every room in the house, you get a clear view of the stunning outdoor entertainment area. Step through the sliding glass doors of the living room and you'll be out on the shaded lanai. Here you'll find high-end lounge furniture, perfect for enjoying the poolside activities in the shade.

Fire up the grill and eat dinner in the shade, or pull the luxury loungers out into the sun and work on your tan. The sparkling private pool is completely enclosed with a screen, which allows all the sunshine in but keeps the dirt and debris out. The bubbling hot tub waterfalls into the pool, and is a warm and relaxing place to relax your muscles after a busy day.

One feature of this outdoor entertainment space that you'll love is the unobstructed view of the water from the pool. While most of the pool is screened in, the rear wall of the screen enclosure has been removed so you have unobstructed views of the private dock behind the home and the channel.  Step out of the screened-in enclosure and walk down to the private dock behind the home. This is a great place to look for wildlife, sunbathe, or even go fishing! If you've been wanting to experience the waterfront lifestyle in luxury, this is a place to do it. Every feature and amenity in this home is designed for ultimate relaxation.

Villa Details

Amenities

Alfresco dining
BBQ grill
Beach Chairs
Bikes
DVD player
Flat Screen TVs
Fully equipped kitchen
Keurig Coffee maker
Private dock
Screened-in patio
Sonos Sound System
Washer and dryer

Pool details

Private screened in swimming pool

Bedrooms

Bedroom 1: Master bedroom with high-end king size bed, spacious private bathroom with double vanities, deep garden tub, and walk-in shower
Bedroom 2: Twin size beds - great room for kids but can be comfortable for adults as well, steps from the family bathroom with tub/shower combo with rain shower features and an elegant granite vanity area
Bedroom 3: King-size bed, private bathroom that leads out to the pool
Bedroom 4: Queen-size bed
The extra room can be used as an office/den space or an additional bedroom (full sleeper sofa)

Beach

Distance to Tigertail Beach Entrance: .02 Miles
Distance to Marco Island South Beach Entrance: 3.5 Miles

Please note

Photos

Pricing

Pricing is available upon request. Please complete the form below to inquire about this villa and pricing.

Map
Inquire about this villa
More villas you might like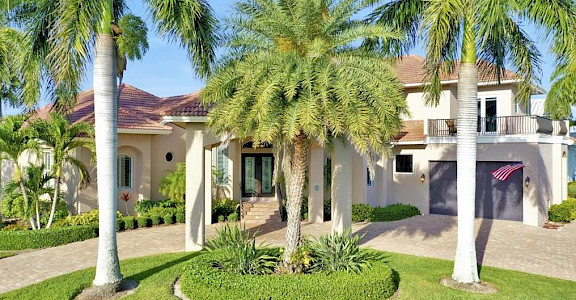 Hyacinth
6 bedroom 6.5 bath Florida villa in Marco Island
Beauty, luxury, comfort, and ultimate relaxation come together to create a stunning, two-story pool home overlooking the quiet channel that leads out to the Gulf of Mexico.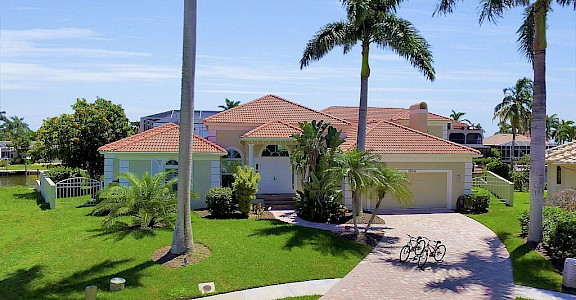 Calusa
4 bedroom 3 bath Florida villa in Marco Island
Marco Island is well known for its water based activities including fishing, windsurfing, kayaking and boat trips.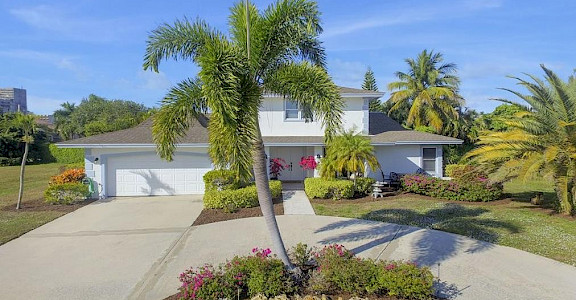 Baltic Terrace
4 bedroom 3 bath Florida villa in Marco Island
For the perfect combination of luxury and convenience, look no further than Baltic Terrace.