Secret Bay - Zabuco Honeymoon Villas II & III
1 bedroom Dominica villa in Secret Bay
Secret Bay's Zabuco Villas are the most beautiful Honeymoon villas in the Caribbean.
Book This Villa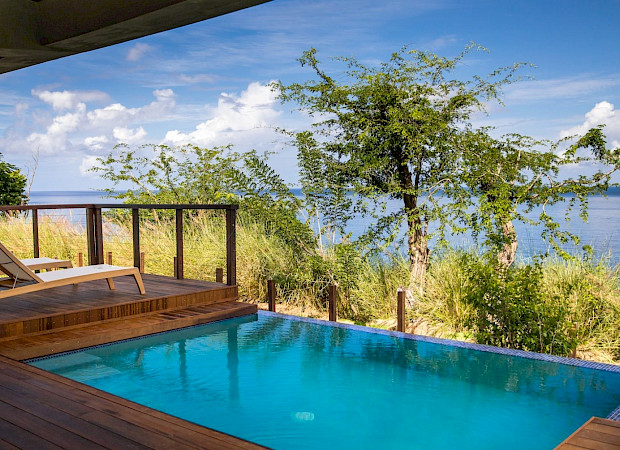 Overview

1 bedroom

1 bathroom

Sleeps 2

3,028 sqft.

A/C

Pool

Perfect for all romantic occasions—including honeymoons, private beach weddings, anniversaries, babymoons or simply rekindling your love and reconnecting with one another—these idyllic hideaways are the ultimate retreats to do so. The Zabuco Villas are secluded on the north edge of the property overlooking Secret Beach, the paradisaical white-sand escape accessible by a quick swim, kayak or paddle board. Surrounded by lush foliage and gardens, Zabuco II and III are for guests who want the feel of renting their very own secluded villa home combined with discreet yet personalized five-star service.

Zabuco is another name for the Bwa Bande tree, renowned in Dominica for its aphrodisiac qualities. In 2013 the Zabuco Honeymoon Villas were voted the third sexiest bedroom in the world by the Smith Awards, complete with indoor-outdoor living room, breathtaking plunge pools and hammocks and daybeds positioned to make the most of the views in your own private tropical escape. Both villas located in a more elevated position than the original Zabuco Villa and, like the original villa, they are raised to ensure the most spectacular views out to sea and that same feeling of floating in the air that has captivated so many guests since we first opened.

Show More Show Less

Design & Location

Zabuco Villas II & III offer breathtaking 180-degree views over the mountain peaks of Dominica and the sparkling Caribbean Sea. The floors and interiors are made of Guyanese Greenheart; the bedroom furniture was crafted from Dominican Red Cedar by local craftsmen; and the finishes throughout the villa are of the utmost luxurious quality. You'll feel as if you're floating above the world in an airy, sunlight-filled yet totally secluded space.

Services

Secret Bay's concierge will create personalized itineraries for your stay, arranging everything from yoga at the Bwa Mang Wellness Pavilion to couple's massage at the tree-top Gommier Spa or exhilarating adventure in the mountainous landscape of Dominica. Your dedicated villa attendant will be on call and will provide discrete service, allowing you to experience the perfect balance of romance, privacy and pampering.

Features & Amenities

3028 sq. ft.
1 Bedroom, 1 bathroom,
Private plunge pool with spacious deck area
Barbecue area
Shaded hammock sofa suspended from beneath the villa
Modern fully-equipped open-plan kitchen
High speed wireless Internet access
State-of-the-art Sonos Bluetooth speakers,
Apple TV with Netflix access
Cable flat-screen television
iPhone for your exclusive use on- and off-property
A wide selection of books and board games
Safe
Air-conditioning

Secret Bay

Elegantly immersed within a clifftop rainforest on "The Nature Island" of the Caribbean is Secret Bay, among the leading boutique hotels in the world. Comprised of eight secluded and sustainably-built villas and bungalows, Secret Bay is the genuine embodiment of a luxurious hideaway, allowing guests to melt into the soul of the island; to dwell within a rudimentary habitat amid five-star amenities and access to unfathomable experiences.

Conceptualized by celebrated architect Fruto Vivas, Secret Bay's body of residences are renowned for their artful fusion of high design and locally-sourced craftsmanship, forming open-air luxury residences enveloped in an eden of lush vegetation. As an eco-luxury resort composed entirely of sustainably-sourced materials, Secret Bay exists in a beautiful equilibrium of responsibility to its environment and a commitment to guest comfort. A dedicated attendant tends to guest needs in-villa, inclusive of intimate fine dining, spa services and an adventure concierge. Five-star service is extensively personal, from mattress firmness to pre-stocked refrigerators, tailored to the desires, lifestyles, and preferences of each individual guest.

This secluded compound is just a 10-minute drive to the quaint town of Portsmouth and one hour from Dominica's capital, Roseau. The beautiful expanse of Prince Rupert Bay, edged by one of the longest, often deserted, white-sand beaches on the island, is a 10-minute kayak ride away. Other nearby sites include the well-preserved Fort Shirley at the Cabrits National Park, the ever-enchanting Indian River and the Northern Forest Reserve.

Secret Bay has direct access to two paradisaical swimming beaches: Tibay Beach, and the soft white-sand Secret Beach, inclusive of a natural rock-formed arch, hidden sea-cliff cave, and rich marine life. Guests are given unlimited complimentary access to adventure equipment such as kayaks, paddle boards, and snorkel gear.

While a Secret Bay getaway is one enveloped in natural luxury—from the lush rainforest just beyond your bedroom to the open-air architecture of your state-of-the-art kitchen—we believe indulgence shouldn't stop there. The luxurious amenities complete the most unrivaled, romantic Caribbean escape. Begin your day with a rejuvenating yoga class at the Bwa Mang Wellness Pavilion, find peace of both body and mind at the Gommier Spa, delight in succulent local fare at Zing Zing Restaurant and cap your evening with cocktails on the Vetivert Sunset Deck. This is, truly, paradise found.

Please note: The whole resort including the Zabuco Honeymoon Villas, Ti-Fèy Villa, and the Ylang Ylang Villas can be rented exclusively. Contact a villa specialist for details.

Villa Details

Amenities

Air conditioned bedrooms
Bose Bluetooth speakers
Cable TV
DVD player
Fully equipped kitchen
Safe
Selection of books, DVDs and board games
Small library of books
Wireless internet

Pool details

Bedrooms

Bedroom 1: King sized bed, air-conditioning

Beach

Direct access to Tibay Beach and Secret Beach

Staff

Welcome dinner for stays of 7 nights or more
Concierge
Housekeeping
Laundry service
24-Hour security
Linens and towels changed every 3 days
Airport transfers for stays of 7 nights or more are included

Staff (additional)

The Waitukubuli Wanderer – An all-terrain air-conditioned 4-door 4-wheel drive vehicle with a knowledgeable driver for day excursions
Car rental for the duration of your stay
Personal chef service
Pre-stocking of your favorite foods (where available) as well as a delicious and wide selection of locally grown produce
A selection of organic food baskets
Private evening one-man jazz concert on your terrace (villas only)

Location

10 Minutes from Portsmouth
1 Hour from Roseau
Approximately 1 hour from Douglas Charles Airport (DOM)

Please note

2700 sq ft including: Inside (1,010 sq ft), Covered terrace (378 sq ft), Pool deck (1,200 sq ft.), and pool (140 sq ft)
Adventure equipment is provided (including: mountain bikes; kayaks; stand-up paddle board; yoga mats and snorkeling and swimming gear)
Check-in: 3 pm
Check-out: 11 am
Non smoking villa
Children between the ages of 7 and 16 years old are welcome in any of our one-bedroom villas with a signed liability waiver from an accompanying parent or guardian

Photos

Pricing

Travel dates
Bedrooms
Min. stay
Nightly rate
Weekly rate
September 25, 2022 – December 17, 2022

• Autumn Breeze

1

bedrooms

3 nights

minimum stay

$ 1,727

USD

nightly

$ 12,089

USD

weekly

December 18, 2022 – January 6, 2023

• The Great Escape

1

bedrooms

5 nights

minimum stay

$ 2,110

USD

nightly

$ 14,770

USD

weekly

January 7, 2023 – April 7, 2023

• Warm South

1

bedrooms

5 nights

minimum stay

$ 2,005

USD

nightly

$ 14,035

USD

weekly

April 8, 2023 – June 23, 2023

• Caribbean Spring

1

bedrooms

3 nights

minimum stay

$ 1,794

USD

nightly

$ 12,558

USD

weekly

June 24, 2023 – September 22, 2023

• Island Summer

1

bedrooms

3 nights

minimum stay

$ 1,583

USD

nightly

$ 11,081

USD

weekly

September 23, 2023 – December 15, 2023

• Autumn Breeze

1

bedrooms

3 nights

minimum stay

$ 1,899

USD

nightly

$ 13,293

USD

weekly

December 16, 2023 – January 5, 2024

• The Great Escapes

1

bedrooms

5 nights

minimum stay

$ 2,321

USD

nightly

$ 16,247

USD

weekly

Please note

Tax and service charges: Please add 10% tax and 10% service charge to all rates
Security deposit: Credit card is collected upon arrival

Map
Inquire about booking this villa
More villas you might like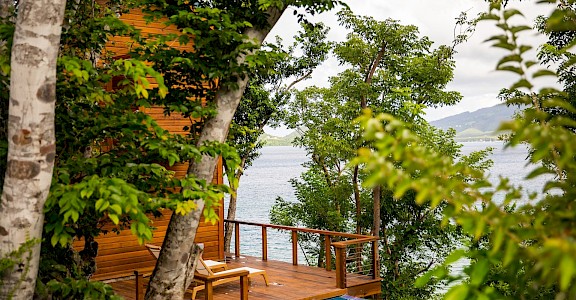 Secret Bay - Ti-Fey` Villa I
1 bedroom 2 bath Dominica villa in Secret Bay
A six-star all-villa rainforest resort experience, featuring secluded clifftop residential-style villas with private plunge pools, dedicated villa hosts, on-call concierge, chefs and guides, secret beaches, and transformative experiences curated just for you.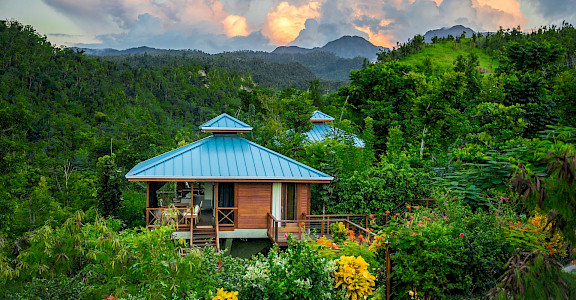 Secret Bay - Ylang Ylang Villa I & II
1 bedroom 1 bath Dominica villa in Secret Bay
Rising up from the ground from a single stem, the Ylang Ylang Villas are the latest stunning creation at Secret Bay.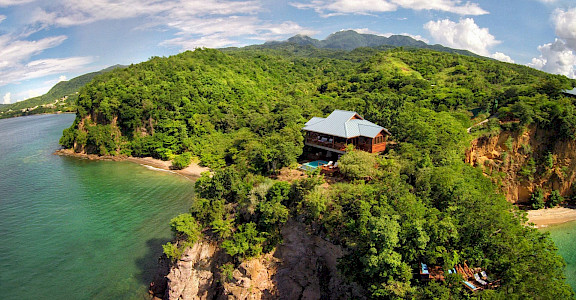 Secret Bay - Zabuco Honeymoon Villa I
1 bedroom 1 bath Dominica villa in Secret Bay
Secret Bay's original Zabuco Villa is where the beautiful dream of Secret Bay began.