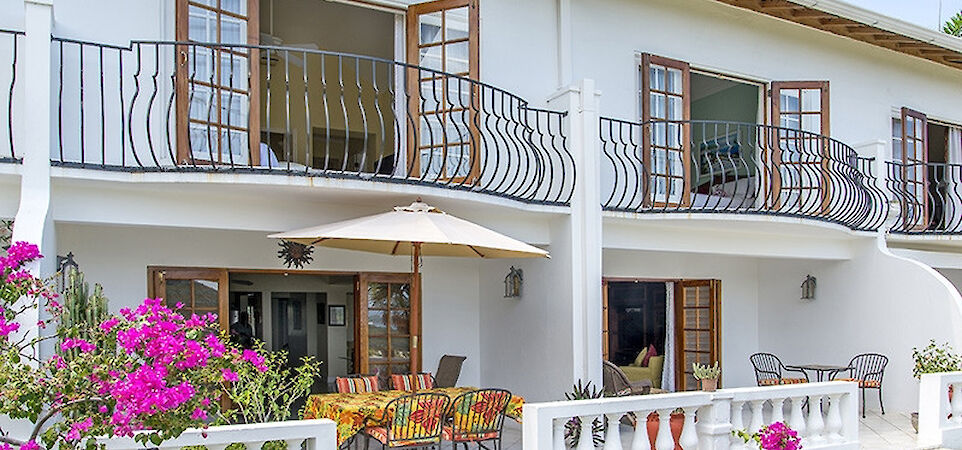 The Charles and the Earl
2 bedroom Jamaica villa in Montego Bay
With over 2,500 square feet of living space, The Charles, The Earl is a two bedroom villa suite and offers spectacular views and a spacious patio.
Inquire About This Villa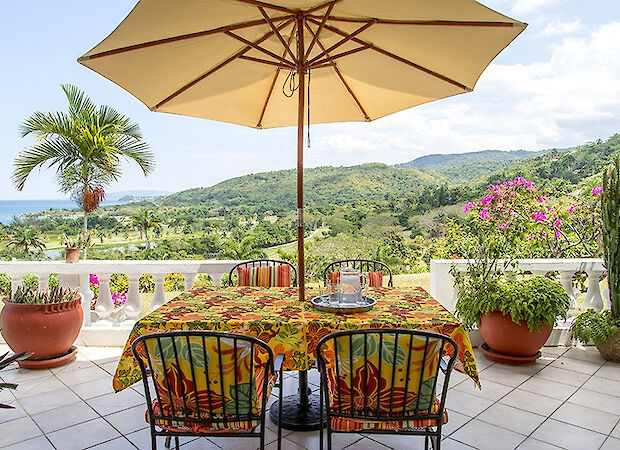 Overview

2 bedrooms

2 bathrooms

Sleeps 4

2,500 sqft.

The villa is located within the Great House Villas, which includes many facilities such as tennis, the Tryall Shops, gym and Kid's Club are within easy walking distance. The golf course is a short ride away with the villa golf cart.

Upon entering the villa, a lovely painting which depicts the vibrant rhythm of Caribbean life welcomes guests and leads them to two spacious bedrooms, each of which boasts a Jacuzzi and has an en-suite bathroom.  The bathrooms boast large walk in showers and are painted in pastel tones which provide a feeling of tranquility. Beach inspired art featuring sea shells and starfish along with wicker hampers and baskets epitomize island living.  The Master bedroom features a sleigh bed and has a flat screen TV and safe while the additional bedroom has two double beds and a smaller TV. Both rooms boast walk-in closets and large mirrors with tiled counters.  The rooms open out to a balcony which provide the most beautiful views of the world-renowned fairways of the Tryall Club's 18-hole championship golf course and sea.

Show More Show Less

The lower level of the suite is tastefully decorated including a kitchen with stainless steel ware and all the comforts of home. The dining and lounge area is spacious and perfect for a small gathering.  Boasting a flat screen TV and DVD with surround system capable of playing MP3 CDs, the living room (which has a pull-out sofa) is also another great space for a cozy gathering. Games are also available for guest's entertainment and there is a large patio on the lower level perfect for relaxing.

Daily housekeeper and laundry service is provided. Breakfast can be delivered to the villa or the housekeeper will prepare breakfast for you – whichever you prefer. Lunch and dinner are available at the Beach Restaurant and an in-villa dining service is available from the restaurant dinner menu. 

The Tryall Club Membership 

A significant amenity for guests in this villa is membership at the excellent Tryall Club.  On 2,200 acres, Tryall's golf course is among the most beautiful in the world.  It's 18 hillside and seaside fairways have been home to the Johnnie Walker, Mazda, and other PGA championship events.  The resident pro offers workshops and private lessons.   The Tryall tennis club features 4 Agile Turf courts and 5 Nova Cushion courts, some lit for night play, with world-class pros on call.  All white attire is required. 

The beach is well-planned for parents and children. Have lunch at the beach bar.  Work out in the well-equipped gym and compete in the Usain Bolt Games Room at the Great House (teens love it).  Jog the marked trails. Snorkeling, kayaking, Hobie Cat, and sunfish are complimentary.  Glass bottom boats, charter fishing, a boat to the reef, and any captained craft attract various fees.  Enjoy weekly events like a complimentary Manager's Cocktail Party on Mondays, as well as Beach BBQ and Reggae Night beach parties for an additional fee.

*Tryall Club Temporary Membership Dues

The Tryall Club is a private club where members may use most facilities at no charge except for the tennis shop, ball boys, bar & restaurant, spa, motorized watersports, nanny services, and golf.  Complimentary amenities include the beach, non-motorized watersports, tennis, the fitness room, the Hummingbird Kids Club, Great House afternoon tea, the Manager's Cocktail Party, and various special events.

The Tryall Club requires all villa and condo guests to become members during their stay via a Temporary Membership Dues cost of US$160 (plus a 15% service charge) per week for each guest 16 years and over, or US$32 (plus a 15% service charge) per day per person for stays of less than 7 days. Children between the ages of 13 and 15 are at a discounted rate of 50% plus a 15% service charge. For children 12 years and younger, the Temporary Membership Dues are complimentary.  

Plan to pay your TMD fee at the Front Desk in the Great House when you register (see below).

Please note: There may be occasions when some or all the facilities for the hotel may be closed for membership guest services due to a private hotel event. The Tryall Club reserves the right to change or alter its membership packages with no advance notice.

REGISTRATION

When your driver brings you to Tryall, you will check in at the front desk.  You will be asked for your passport as a means of identification.  You will sign a waiver & need to provide a driving license for the use of the complimentary golf carts provided at the villa as well as any additional golf carts you may wish to rent.

The Tryall Club can set up an account for your stay.  A credit card is required at check-in and a credit hold will be placed until check-out for budgetary items & signing privileges (i.e., groceries, restaurant dining, golf, and activities).  The calculated amount for the credit hold is approximately US$150 per bedroom per night.  If you plan to make payment for your Folio Account in cash, they will request a cash deposit.  If you plan to make payment by credit card, they will place a hold on your credit card. 

The Tryall Club will charge your credit card or take a cash payment for the Temporary Membership Dues of US$160 (plus a 15% service charge) per person per week for each guest 16 years and over, or US$32 (plus 15% service charge) per person per day for stays of less than 7 days; a discount of 50% (plus the 15% service charge) applies to children who are ages 13-15 years old.  Children 12 years and younger are complimentary.  


A US$149 Damage Deposit Waiver Fee applies to your reservation. It is our goal to ensure that you have a remarkable experience at our villas. And we understand that accidents happen. Instead of a large security deposit, your reservation will include a $149 Accidental Damage Waiver fee. This will cover accidental damages of up to $2,500 that occur during your stay.

Villa Details

Amenities

Flat screen TV
Air conditioning in all bedrooms and living room
Communal gym
Community tennis court
DVD player
Golf Cart
Near golf course
Outdoor dining

Pool details

Bedrooms

Bedroom 1: Master bedroom with sleigh bed and flat screen TV and safe, walk in closet, en-suite bathroom
Bedroom 2: Two double beds and a smaller TV, walk in closet, en-suite bathroom

Bathrooms

The bathrooms boast large walk in showers

Staff

Staff (additional)

Breakfast and dinner preparation
Room service

Photos

Pricing

Travel dates
Bedrooms
Min. stay
Nightly rate
Weekly rate
November 26, 2023 – December 15, 2023

• Low Season

2

bedrooms

5 nights

minimum stay

$ 500

USD

nightly

$ 3,500

USD

weekly

December 16, 2023 – December 23, 2023

• Rates are not available. May be accepted on request.

2

bedrooms

7 nights

minimum stay

Ask us
Ask us
December 24, 2023 – January 2, 2024

• Christmas/New Year's - Dec 19 to Jan. 03 or any 7 nights that includes Dec 25th and or Dec. 31st. Additionally any 7 nights (eg. Dec 17-24) that prevents a Christmas reservation will be invoiced at the Christmas rate.

2

bedrooms

14 nights

minimum stay

$ 1,390

USD

nightly

$ 9,730

USD

weekly

Please note

Tax and service charges: Government Consumption Tax: 10% Administration Fee: 7.5% Service Charge: 15% (Tryall Membership)
Security deposit: The Tryall Club will collect a security deposit on arrival. If no damage occurs, your security deposit will be refunded and credited to your account. However, if damage does occur, we will reimburse you for any amount which does not exceed US$2,000.
Rate notes: Please be advised that The Tryall Club is currently updating all 2024 rates and associated dates. Please call your Villa Specialist to confirm pricing and availability.
Inquire about this villa
More villas you might like